Gambler Mikki Mase: From Homelessness to Winning Millions in Baccarat and Exposing Casinos
Categories:
Gaming
|
Published by:
Sean van der Merwe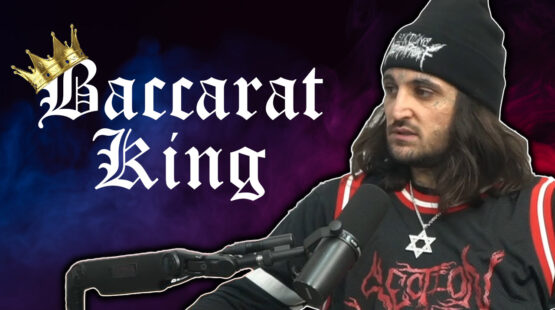 Most folks who hit the casino floor realize that the house always wins. Casino games are engineered in such a way, that no matter what you do, the house always carries the edge. It doesn't mean that gamblers can't walk away with winnings, it just means that over the long haul, you are likely to lose far more than you win.
Mikki Mase is, however, someone different! The unofficial king of baccarat has allegedly developed an algorithm that gives him the edge each time he takes to the card floor. Rubbish you say? Well, you can't be blamed for your skepticism. Even renowned investigative content creator, Spencer Cornelia, dismissed his claims and wrote Mikki Mase off as a con. However, even he retracted his statements when Mikki invited him over for a one-on-one interview.
Who is Mikki Mase?
Upon first glance, Mikki Mase does not wear the look of the quintessential multi-millionaire. There is no tie, no suit, and to be honest – no pretenses about him at all either. It's hard to see past the tattoos and baggy clothes, but beyond the tough-guy image is a soft-spoken, intelligent individual that reminds you that you cannot judge a book by its cover. One of the most outstanding visual traits of Mase is his multiple tattoos.
Mase did reveal that he regretted the ink and has actually become a discourager of tattoos. It has had a negative effect on the way people perceive him out in the public space. Though he is covered from head to foot in body art, he is in the process of having much of it laser removed. But aside from his image issues, Mikki is certainly confident about how to make money and enjoys living a richer life than most.
More on Mikki Mase and His Celebrity Shoulder Rubbing
Mikki Mase has only just recently burst into the public sphere. He turned to social media in 2020, where his content was an instant hit. He's even started attracting big celebrity gamblers, who enjoyed spending time gambling with him. Guys such as roulette lover and hip-hop artist, Drake, and rapper, Lil Baby, were some of the first to hit him up.
But gambling is only his most recent career. He was extremely busy long before then, too. The playboy and gambling extraordinaire has become extremely successful over the years, having owned, and sold many of his own businesses. In fact, it's the wealth he earned in business that provided him the opportunity to take up residence in Los Angeles and soak up the socialite lifestyle.
While not initially planned, Mikki Mase's baccarat skills have turned him into a pro-gambler that regularly cleans up at the tables. In fact, he is so good, that most casinos in Las Vegas have banned him from playing on their floors. The very first to give him the axe was the MGM Grand. As it stands, Mikki is allowed to play at only three casinos in Vegas, one of which he refuses to spend money at.
But Mikki wasn't always living the dream. He admittedly had a troubled youth, where he would indulge in under-aged gambling, drug dealing, and various other crimes. This landed him in jail on several occasions. But somehow, Mase managed to turn his fortunes around.
Facts about Mikki Mase
| About Mikki Mase | Details |
| --- | --- |
| Real Name | Michael Meiterman |
| Date of Birth | 27 October 1991 |
| Nickname | Dirty Goth Boi |
| Nationality | American (New York) |
| Net Worth | $10 Million |
| Girlfriend | Multiple |
Mikki the Gambler – Living the Dream
Mikki Mase's life sounds way too good to be true. It seems that everything he puts his hands on turns into success. If only everyone had this sort of favor! He made millions by buying pharmaceutical licenses and then selling them to pharmacy start-ups. He developed and sold his own NFT tokens, and claims that he is the faceless man behind bringing crypto to the "social life."
But that's not the only place he allegedly excels. Apparently, the ladies cannot get enough of him either. In fact, he allegedly has a staff member that organizes and manages his itinerary when it comes to his female meet-ups. It seems like pro-gambling and social media stardom is a strong magnet for the opposite sex. We say this as Mikki is not the only gambler of this caliber that is surrounded by gold diggers. TikTok legend, Dan Bilzerian, shares a similar lifestyle. Dan shared on Joe Rogan's podcast how he made his initial riches at the tables, albeit that his penchant was for poker and not baccarat.
Win Upon Win
Mikki Mase is a high-stakes gambler. He explained to Spencer Cornelia in an interview that a big bankroll is the key to coming out on top. It gives him enough money to allow his special algorithm to work. He explains that it's far easier to lose small bankrolls, as the law of averages does not have time to play out. A few grand can be lost in one or two bad rounds, whereas large bankrolls last numerous rounds, allowing him to exercise his skills. With a bankroll of a few hundred thousand dollars or more, Mikki Mase is usually quite confident that he will come out on top. He acknowledges that his strategy is not 100% guaranteed, but that he has a very high win rate.
When interviewed on the Full Send Podcast by the Nelk Boys, Mikki Mase was asked what his biggest win to date has been. He didn't pause long before revealing that he had once won $11,526,000 in a single sitting at the baccarat table. You must be wondering what sort of wagers he makes to land on such a giant number. Well, Mikki is a gambler for high stakes only! According to him, his average bet per round is about $250K.
Winning Proof
Just when you think it's a hoax, Mikki Mase steps up and reveals all to the Full Send crew. He opened his accounts on his mobile phone and allowed their cameraman to capture his tax certificates at MGM Casinos and at the Venetian.
MGM 2020: + $1,245,275.00 at MGM Grand and + $44,100.00 at Park MGM
Venetian 2020: + $ 4,292,005.00
MGM 2021: + $3,207,575.00
Venetian 2021 + $10,080,630.00
Mikki Mase has since been banned from both land-based casino groups since.
Mike V, CEO of NS Modern decided to put Mikki Mase to the test. He gave him $5K to gamble with. Mikki turned that $5,000 into $200K. Mike V reports on his Instagram:
"Two ten-minute sessions, we took $5K out, he flipped it, got it up to $15K, came down to like break even and then just ran it up to like $100K."
Who wins like this though? Usually only cheaters, right? The only other gambler to have been so successful with Baccarat is Poker sensation, Phil Ivey. Ivey took Borgata Casino in New Jersey and Crockford Casino in London to the cleaners, using a tactic called edge sorting. It's a strategy whereby he exploited inconsistencies in the printing on the back of the cards to identify what cards were coming next. Ivey ended up in court with both casinos and lost both cases. But Mikki claims that this is not his strat at all.
Outing The Casinos
Although Mikki Mase has won good money from casinos, he holds them with contempt. Why? Because he has caught them cheating on numerous occasions. He describes one encounter where the casino had just introduced a new interface to "help" players with their baccarat strategy. However, he noticed that the computer was displaying incorrect data after hands. While it was accurately displaying the number of wins attributed to the player or bank, it was not displaying the correct card combinations used in those wins/losses. This means that it was feeding false information to players.
When he questioned the data and further accused the casino of cheating, he was immediately perma-banned from the premises.
But this is not the only time casinos have given him trouble. He has been subject to security strong-arming. He swears that the casinos play mind games with him too. He's had his Wi-Fi cut off and his hot water shut off in his hotel room.
A Strategy Worth Millions – Letting us Into Some Secrets
But Mikki is one gambler that is confident that he could bring the casinos to their knees if he shared his algorithm with others. When asked why he has not done that yet, he replied with the fact that his secrets are worth at least $50 million. He was just biding his time and would most probably relent in due time when he is certain he can reap the rewards for his knowledge.
But what could this alleged strategy be? Every gambling professional out there is adamant that there is no way to legitimately beat the house. It boggles the brain how a game with such straightforward rules could be bent to favor the gambler.
Some Secrets of Mikki Mase the Baccarat King
While Mikki Mase is not willing to release his formula just yet, he did give us a hint as to how he has managed to build his edge. He says the secret lies in reverse engineering the game you are looking to beat. If you can understand how they have created their edge in the game, you can work out how to use that to your favor. But there are a few things that Mikki has going for him here:
Mikki is great at maths: As a problem solver, he has the technical nouse to reverse engineer mathematical problems to solve equations. Gambling is a maths game, so having this talent has definitely helped him.
He's been a self-proclaimed degenerate gambler since he was a kid. So, he has a great understanding of gambling.
He has managed to pick out a few key behavioral characteristics of the cards and has cottoned on to the marketing and development behind some of the gambling games he plays, including baccarat.
Skepticism Kicks In
Even with this testimony, it's extremely difficult to believe that Mase's reports are legit. Spencer Cornelia also made a tough case against Mikki. If you view the material in the video below, you may also be hard set against Mase and his reports.
But Mikki Mase watched this video too. He admits that Spencer made a great case against him with the evidence he was given. But he really didn't have all the facts at his disposal. So, Mikki invited Spencer to Vegas. There he would vindicate himself to the YouTuber by showing him the proof.
Their meeting did take place, and Mikki managed to prove to Spenser that every comment he made about beating the casinos, receiving bans, and being hounded by women was true. He also went on to explain to Spenser how his buying and selling of businesses were all part of the plan and that he had never sought-after running pharmacies in the first place.
Pro gambler, Mikki, opened up his casino account in live time and revealed his tax statements to Spencer on video. He also allowed Cornelia the luxury of scrolling through the DMs on his phone to show him just how much attention he gets from women. At the end of the interview, Spencer Cornelia admits that he was skeptical but has himself, become a believer. Will you believe it? Be sure to watch the last interview below.
Mikki, Spencer, and WSOP Poker
Well, it seems that Spencer and Mikki have formed somewhat of a friendship. Upon learning that it is possible to beat the house, Cornelia decided to stake Mikki at the 2022 World Series of Poker with the aim of returning at least $1 million from the competition. Now, admittedly, poker is not Mikki's favorite game, and it's not one of his money-makers. He's been quite open about the fact that playing poker is more about the social element behind the game than the money-making part. But he is rich, and not everything has to be about money for him.
WSOP was quite brutal for many pros, with many crashing out quite early on, including top names like Phil Ivey and Daniel Negreanu. And yes, the $1 million + target for the competition was not met by Mikki Mase either, as he crashed out along with the best. He is, however, excelling in the game and has great relationships with top coaches in the industry. It may not be long before he finds his rhythm here too.
Can Mikki Mase's Net Worth Cultivating Ways Wear Off on You?
Well, the proof seems to be undeniable at this point. His very haters have turned into his greatest supporters. His algorithm seems to be solid. It's been one of the main catalysts behind the growing Mikki Mase net worth figure. So, how much is Mikki the Gambler worth? Figures suggest that his bank balance and assets hover at the $10 million mark at the moment. With the valuation of $50 million on his secrets, he may be worth a whole lot more in the next few years. It seems plausible that if Mikki the Gambler's algorithm is shared, it could change numerous lives in short succession. But it won't last long!
What Will Happen to Baccarat?
The day Mikki Mase comes forward with a legitimate strategy to beat the casinos, is the day that either Baccarat evolves or disappears altogether. There is no way that a casino will continue offering a game that costs them money. After all, they are in this to make a profit. Mikki, must be aware of this, which is probably one of the big reasons he is biding time to set himself up financially before he brings the curtain down.