The 'Live Now' Philosophy of Poker Player, Bill Perkins, and How He Earned His Net Worth in Business
Categories:
Money
|
Published by:
Sean van der Merwe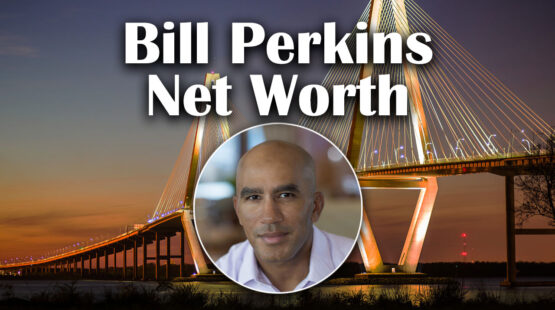 Anyone involved closely in financial/business circles might know the name, "Bill Perkins". But it's not just in this industry that Bill has made a name for himself. While only playing poker as an amateur, he has made quite an impression and has walked away from several first-class tournaments with some decent winnings to show for it.
He lives a quality life by anyone's standards. That's because he embraces a philosophy of living in the moment, which he has written about in his new book, which we will feature later in this article. So, if you'd like to learn a bit more about his winning mindset and see it in practice in real life, take a journey with us into the life and net worth of Bill Perkins.
What is Bill Perkins' Net Worth?
Bill Perkins' personal net worth is calculated at $120 million in assets, stocks, and liquid. Most of his wealth was made in the finance industry with a focus on hedge-fund management and venture capitalism in the energy sector. He is the founder and managing partner of the highly successful firm – Skylar Capital – which manages $500 million in assets, after growing in strength by 208% in 2022.
Bill is also a film producer and a successful high-stakes poker player. In fact, you can catch him streaming online poker live on Twitch quite regularly. These side hustles generate a decent amount of funds in their own right. One stand-out year was 2015, when Bill managed to add $2.5 million to his net worth in poker tournament winnings. Just over $1.9 million of those winnings were mustered at the WSOP for landing in third place in the One Drop Cash event.
From Lowly Beginnings
Perkins grew up in the 1980s when Wall Street and the stock market were a big part of the pop culture of the day. While he studied electrical engineering at the University of Iowa, his primary attractions became finance and trading. He doesn't see his studies as a waste, as he admits to wanting to have learned what he did there. Bill just didn't want to spend the rest of his life in that line of work.
He openly admits that he was pinched between two career paths but decided to chase the one that would give him more of an ability to leverage his own time. Hence finance and trading were his choices.
After his graduation, Bill's pursuit in the finance industry was not a blazing success from the start. In fact, he started off as a clerk at the New York mercantile exchange. From here, he moved on to secure positions at El Paso Energy, Statoil, and AIG. Finally, his breaking point came in 2002, when he joined Centaurus and secured a job working for oil trader, John D. Arnold. That same year, huge doors opened for him, and he was offered the CEO position at Skylar Capital, which is a Houston, Texas-based energy hedge fund company.
Since coming into money and securing a stable Bill Perkins net worth portfolio, the man has ventured into the stock market, produced films, and started engaging in high-stakes poker games.
Summary of Bill Perkins' life
| Bill Perkins | Details |
| --- | --- |
| Date of Birth | 2 February 1969 |
| Nationality | American |
| Marital Status | Married to Lara Sebastian |
| Occupation | Founder and Managing Partner at Skylar Capital |
| Net Worth | $120 million |
| Income streams | Hedge funds, venture capitalism, film, and poker |
So, Where Has Bill Perkins Made His $120 Million Net Worth?
Bill Perkins seems to be successful at everything he puts his hands on. The tale of his walk to riches is thought-provoking and something we can all hope for if we are willing to adapt and change. So, just how has Bill Perkins' net worth been earned over the years? Well, let's look at his money-making successes over the years.
1. Business Successes and Stock
There is so much that we could divulge when it comes to Bill Perkins' net worth earnings accumulated from his business portfolio. With over a decade entrenched in the high-end echelons of the finance world, Bill has managed to direct Northern Star Natural Gas, was the CEO of Cutuco Energy Central America, and has been behind the Skylar Group and all its subsidiaries. Salaries and benefits at this level are in the seven-digit range per annum.
Hedge funding and venture capital business have been a mainstay, earning him the majority of his worth. He is certainly one of the most respected people in this line of business in the USA.
Perkins has also actively invested in the stock market. A certain Goldman Sachs profit trade in September 2008 earned him a comfortable $1.25 million, alone.
2. Poker Winnings
Apart from gas and energy, Bill Perkins has made somewhat of a name for himself in poker circles. Not only does he stream online poker gameplay live from Twitch, but he has done extremely well in the live poker scene and has managed to take home wins of up to $2.6 million playing in them. That's not a bad feat for an 'amateur' player.
He's competed in numerous tournaments, including The WSOP Big One for One Drop (where he won over $1.9 million), PokerStars Caribbean Adventure, and PokerStars Big Game to name a few.
His online play is often accompanied by multi-millionaire Dan Bilzerian, who is a close friend of the energy magnate. Much of Bill's streaming is done on the open waters from Perkins' stream boat. More on this later.
3. Film Production
Bill is a man without restrictions. If he enjoys an industry, he gets right into it. He's been involved in the production of several movies, many of which you will recognize straight away.
His portfolio includes:
After Life (2009)
The Chameleon (2010)
Unthinkable (2010)
Cat Run (2011)
The Baytown Outlaws (2012)
Dark Around the Stars (2013)
Cat Run 2 (2014)
The 'Roseanne for President' Documentary (2015)
Frank and Cindy (2015)
How to Start a Small Business (2021)
Ghetto Zombies (In pre-production as of May 2022)
While most of the movies above included Bill as one of the financial contributors, "Roseanne for Presidency" saw him take on the role of Executive Producer.
4. Book Sales of Bill Perkins' Philosophy For Life
Unlike many other successful people out there, Bill Perkins has opened up on his road to a big net worth and a free life with a book called "Die with Zero – Getting All You Can From Your Money and Your Life." The book focuses on how to live your life to the fullest in the moment. Many people put off enjoying their lives until they retire. By that time, they're often too old to do things they wished they had. His life is about creating great memories to look back on and to stop living on autopilot. The book is a "common-sense guide to living rich instead of dying rich."
As a result of his philosophies, Bill and his family live life to the fullest. He is big about exposing his kids to this sort of lifestyle. In a classic example of making the most of situations, Bill took his mom (and family) to Scotland for Christmas (which is also her birthday) as a birthday present. Their family has quite a strong Scottish heritage, so the trip meant more than the average holiday would have. His thinking was that you only get limited time with your family (especially your parents), so make the most of them and create memories.
What Luxury Assets Does Bill Perkins Own?
While Bill Perkins is not afraid to live life, he keeps his home life pretty private. So, much so that all we know about his mansion is that it is inside a Lake Austin Estate in Texas. Very little else is known about his luxury lifestyle aside from what he showcases on his streams. And even then, it's very little. However, he is a friend of Dan Bilzerian, which means that there must be room for parties and adventures along the way.
One luxurious item that seems to get a fair bit of attention is his Sea Ray Stream Boat. This sporting yacht is a marvel built for both speed and comfort. When it's not being used for poker video streams, it's a toy for the family on weekends.
The 55-foot craft is a sight to behold. It's powered by 2x 900HP diesel engines capable of propelling the craft to comfortable cruising speeds of 25 knots and more. The boat boasts a fully stocked galley, indoor and outdoor seating, two comfortable cabins (sleeping 6), 2 full bathrooms, a washer, dryer, air-conditioning, and of course plenty of room for sunbathing on deck. It's understood that the price tag on his boat was a little over $1.3 million when new.
In the End
While some celebrities are looked up to for superficial reasons, Bill Perkins is different. Yes, Bill Perkins has a big net worth, but he is grounded and understands that there are greater values to life than money itself. While cash is a great means to an end, family and fun are far more important.
If you're wondering how one man can invest so much in business, poker, and films, and still have time for fun and family, perhaps you should purchase his books and learn more about his stoic mindset and how he rolls with what life throws at him.