A Complete Roulette Guide | Rules and Helpful Strategies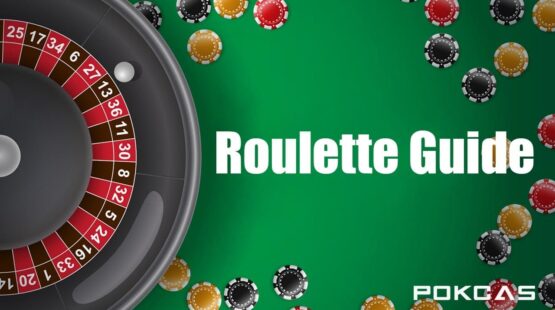 Roulette is one of the most popular table casino games played in both land-based and online casinos around the world. It's super popular because it offers its players the chance to bet in line with the desired risk they would like to take. As such, you can play for odds as low as 1:1 or as high as 35:1. The greater the risk, the greater the reward if your numbers come in.
There are three main international variations of roulette available at casinos around the world. These include:
French Roulette:  Here, the table is set up in the traditional sense with French phrases and branding on the cloth.
European Roulette:  This game is played similarly to the French game, but the branding in the cloth is usually in English.
American Roulette:  An American variant of the game is played in a similar fashion to the European version; however, the wheel incorporates an additional '00' notch. The additional betting options raise the game stakes and reduce the return to player ratio.
PokCas Fact: European Roulette wheels contain 37 notches in which there is only a single '0'position. American wheels contain 38 with a '0' and '00' position.
Players looking for the best RTP usually gravitate to the French/European versions of the game, while high rollers will find the American version far more fulfilling.
TOP 5 ONLINE CASINOS FOR ROULETTE
If you are looking to play roulette online, then we suggest that you sign up with one of the stellar casino brands below. Be sure to read our detailed brand reviews to learn more about why each one is approved by PokCas for the safest and most exciting entertainment.




GAMEPLAY SUMMARY
Roulette is a casino game that was invented in France where a ball is spun around the mouth of a circular bowl. At the base of the bowl is a spinning wheel with divisions numbered from 0-36. The numbers are coloured red or black and include a green 0 (and '00' in American roulette).
A croupier will spin the wheel and roll a little white ball onto it in the opposite direction. When the ball drops it may hit metal ridges (called diamonds) between the mouth and the base which deflect the ball. They disrupt the trajectory of the ball and make it more difficult to predict its landing.
The game revolves around guessing the outcome of the spin. There is a betting mat/grid situated at the table next to the wheel. On it, you will find a number of possible game outcomes. The aim of the game is to place real-money bets on where you think the ball will land. There are multiple betting options offering different odds at varying risk levels.
BETS AND MARKETS
The game mat is formatted in a specific manner. Inside bets are situated in the middle of the table and usually include riskier wagers. Here you can choose one digit or a series of numbers for the best rewards.
Around the perimeter of that grid are the outside bets. These usually include lower-risk betting categories where the chances of winning are far better. The payouts are suitably lower as a result.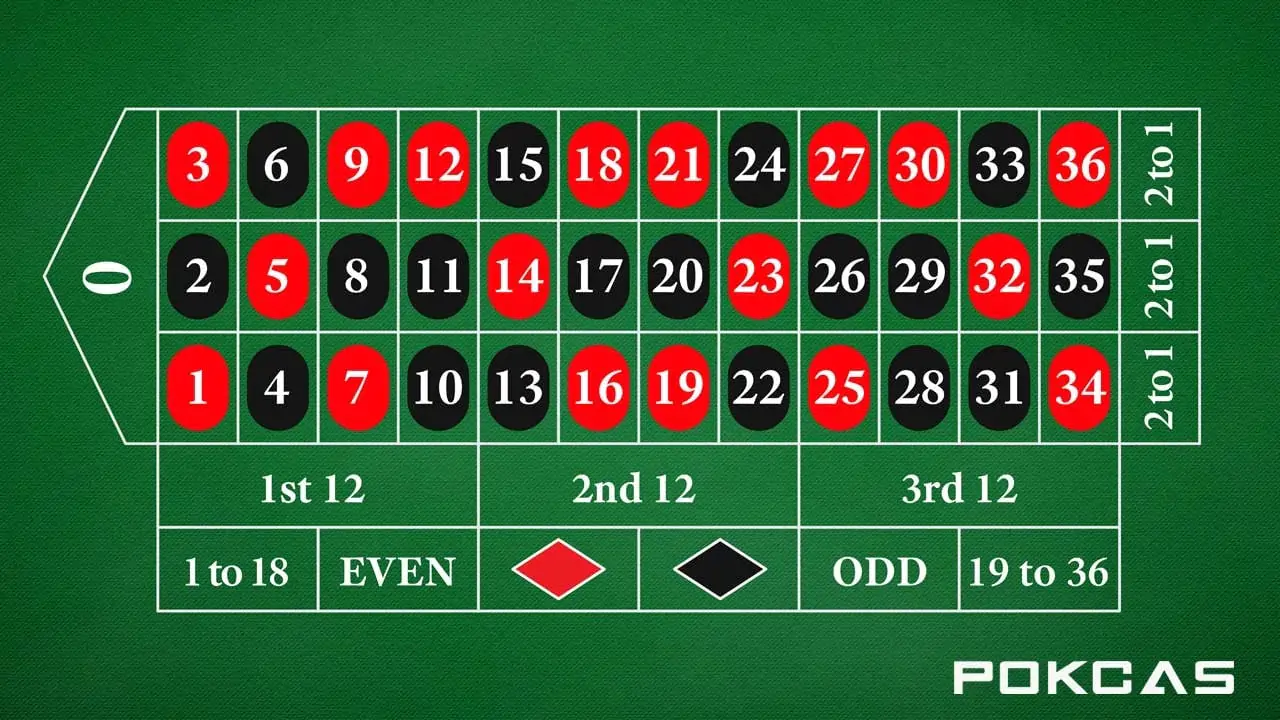 SELECTION OF OUTSIDE BETS
The following roulette bets have odds of 48.6% with a 1:1 payout:
Even/Pair – The ball will land on an even number
Odd/Impair – The ball will land on an odd number
Red/Rouge – The ball will land on a red number
Black/Noir – The ball will land on a black number
1-18/Manque – Manque is French for "failed" meaning the ball has failed to pass the mid-point
19-36/Passe – Suitably named because the ball has passed the mid-point
The following roulette bets have odds of 32.4% with a 2:1 payout:
First dozen/Premiere douzaine/1-12 – The ball will land on a number between one and 12
Middle dozen/Moyenne douzaine/13-24 – The ball will land on a number between 13 and 24
Last dozen/Dernier douzaine/25-36 – The ball will land on a number between 25 and 36
Column/Colonne – A column of 12 numbers as laid out on the mat
SELECTION OF INSIDE BETS
 You can also bet on single roulette numbers (straight-up bets) which have a 35:1 payout with 2.7% odds.
There are various other numbered betting combinations that are popular among roulette players. Some of the more popular ones include:
Line bet/Sixain – Bet on six numbers by putting a chip at the intersection of two rows – Payout: 5-1 Odds: 16.2%
Corner bet/Carre – Bet on four numbers by putting a chip on the corner of four numbers – Payout: 8-1 Odds: 10.5%
Street bet/Carre simple/Transversale – Bet on a row of three numbers by putting a chip at the end of the row – Payout: 11-1 Odds: 8.1%
Split bet/En Chaval – Bet on two numbers by placing a chip on the line dividing two numbers – Payout: 17-1 Odds: 5.4%
When the ball comes to a stop in one of the slots the croupier will announce the result collect up the losing bets and hand out winnings.
ROULETTE ODDS
Odds in Roulette are always slightly weighted in the house's favour. In European roulette, the house edge is 2.7% and on an American wheel, the house has an advantage of 5.26%. The main reason the European version offers better odds is because if the white ball lands on the green '0', the bets will be voided as if the result was a tie.
Working out your odds on the fly can be difficult as it requires mathematical calculations. You will need to divide 36 by the total number of squares your bet covers. For your payout subtract one.
To save you the hassle of the calculation, we have provided a quick guide below:
| | | | |
| --- | --- | --- | --- |
| Bet | Payout | European Odds | American Odds |
| Single Number | 35:1 | 2.7% | 2.6% |
| Two Numbers | 17:1 | 5.4% | 5.3% |
| Three Numbers | 11:1 | 8.1% | 7.9% |
| Four Numbers | 8:1 | 0.8% | 10.5% |
| Five Numbers | 6:1 | 13.5% | 13.2% |
| Six Numbers | 5:1 | 16.2% | 15.8% |
| Column (Colonne) | 2:1 | 32.4% | 31.6% |
| Dozen (Douzaine) | 2:1 | 32.4% | 32.6% |
| Even or Odd Pair/Impair | 1:1 | 48.6% | 47.4% |
| Red or Black Rouge/Noir | 1:1 | 48.6% | 47.4% |
| First 18 or Last 18  (1-18/19-36) Manque/Passe | 1:1 | 48.6% | 47.4% |
Roulette passage of play
Once you understand the betting options, the next step is to understand the sequence in which the game plays out. This is called the passage of play. The standard sequence in most virtual roulette games is as follows:
Betting: You have an allocated time before the wheel is spun to place your desired bets by moving your selected chips to the respective area on the betting mat. Different game versions come with different tools and betting shortcuts, so be sure to read the rules in the game files before playing.
Spin: Once the bets are in and you are ready to progress, you can hit 'spin' to get the wheel in motion. When playing live roulette, the dealer will call an end to bets and set the wheel in motion themselves.
Results: Once the wheel has stopped spinning, the number and colour selected will be called out and the results of your bets will be registered automatically, and your bankroll adjusted accordingly.
Rebet: Once the round is over, you will be able to place your bets again. Most virtual and live casino games will allow you to play a 'Rebet'. This shortcut toggle will then repeat your last wager.
The passage of play is simple and is easy to pick up. Be sure to try out some virtual games in free play mode to get used to the mechanics before you head to the real money virtual/live casino tables. This way, you can adequately prepare yourself for what lays ahead.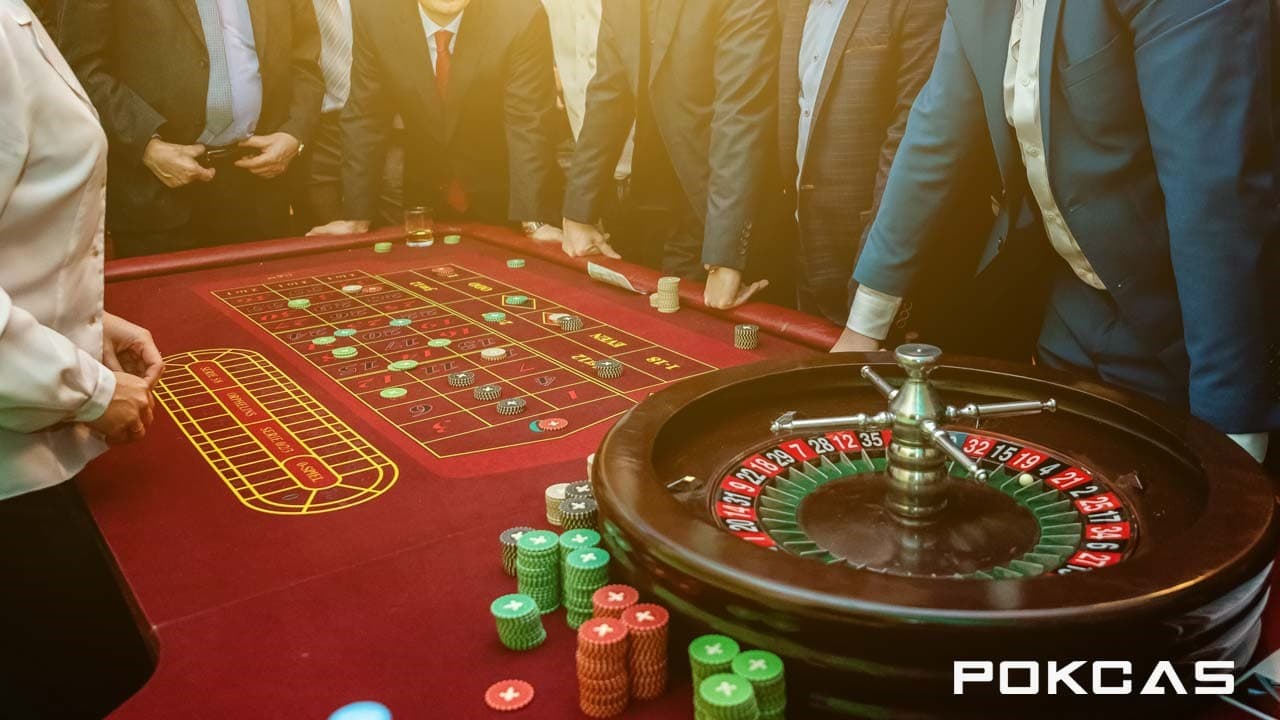 ROULETTE BETTING STRATEGIES
These are some of the best Roulette Betting Strategies around. It is often important to use a logical and proven strategy instead of completing random betting actions and/or trusting your instincts. Make sure to get familiar with some of the following and be ready to make necessary adjustments.
The MARTINGALE
The martingale method of betting on roulette encourages you to double your bet after a loss. If you lose a £5 bet, then your next bet will £10 meaning if you win will have made up your £5 loss and be up £5. This can result is heavy losses as you are doubling your bet every time you lose. It only takes four losses before you are betting triple figures.
THE FIBONACCI
The fibonacci sequence is a mathematical pattern in which the next number in a sequence is determined by adding together the previous two. 1, 1, 2, 3, 5, 8, 13, 21, 34, 55, 89, 144… You can use this sequence to decide how much you bet in each roulette round.
Let's say the first bet is £5, you lose and you bet £5 again. This bet loses and this time you bet £5 + £5 so £10. If this one loses you will bet £5 + £10 so £15. You continue doing this each time you place a losing bet.
THE CHAOS
As Jeff Goldblum briefly explains to us in Jurassic Park, small changes in a complex system can have devastating unpredictable effects. Roulette 'chaosticians' believe you should not think about your bets because it is impossible to predict events. Therefore, you should place your bets with reckless abandon, in no particular order or amount.
HALF EVEN BETS
Some houses have a policy where they only take half your bet and return the other half on 1-1 bets when the ball lands on 0. This reduces the house edge in half and any system which reduces the edge is the best one in our books.
LIVE OR VIRTUAL ROULETTE – WHICH IS BEST?
Once you are familiar with how to play the game using the helpful guide above, the next step is to choose the best type of game to suit you. Typically, online casinos offer the option of either virtual roulette tables or live-dealer roulette tables.
Virtual Roulette: This is played like a video game where the casino environment has been recreated through computer-generated graphics. Only you play in each round, so you can place the bets in your own time and simply press 'spin' when you are ready. The results are then produced by random number generator software.
This is the perfect game type to begin with if you are just starting off in roulette. Some of the best roulette games are produced by game studios like NetEnt, Microgaming, Yggdrasil, Felt Studios, and others.
Did you know? Different roulette games offer different table limits. Be sure to clarify all table limits before playing your first round to make sure that the game matched your budget and bankroll strategy.
Live Roulette: Live roulette is hosted by real-dealers and broadcast to your device via live stream. The game hosts multiple players at once and presents the same interactive qualities offered by land-based roulette tables, with the luxury of playing via your computer or mobile device.
Because the game is hosted in real-time, there is a time limit for the passage of play. Therefore, his game type is suited better to more experienced players. The best selection of Live Roulette games is offered by studios like Evolution Gaming, Pragmatic Play, and Ezugi.
The PokCas Way
At PokCas, we are dedicated to making sure that you can enjoy the best gambling entertainment at the safest and most reputable online casinos. Please enjoy a few rounds of roulette at our top casino partners with peace of mind.