Will Idris Elba Be the Next James Bond?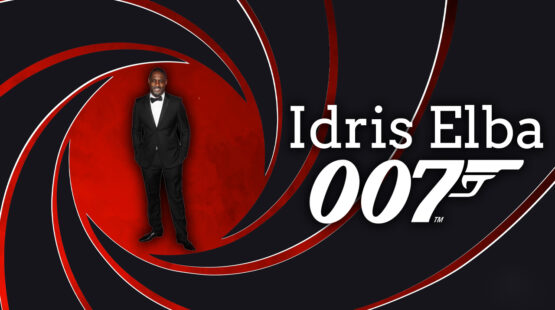 We wonder if Ian Fleming ever envisaged the legacy that he would leave when he sat down to write the opening chapter to his first James Bond novel, Casino Royale, in 1952. Since then, most of his novels have been a hit.
More than that, James Bond 007 has featured in twenty-five different official films, if we count the latest release starring Daniel Craig (No Time to Die) in 2021. Collectively, they have grossed nearly $7 billion at the box office to date. It has been strongly touted that an Idris Elba James Bond may be the next name on the list to reprise the role.
The MI6 spy has become an iconic symbol that has reached cult status across the world. Over the last 70 years, every generation has grown up knowing his character and has enjoyed his action-packed escapades, whether on paperback or film. Of course, with such a long history, there has been a long list of actors who have had to fulfill this charismatic British role.
JAMES BOND ACTORS AND MOVIES OF THE PAST
| Title | Actor | Year |
| --- | --- | --- |
| Dr. No | Sean Connery | 1962 |
| From Russia with Love | Sean Connery | 1963 |
| Goldfinger | Sean Connery | 1964 |
| Thunderball | Sean Connery | 1965 |
| Casino Royale | David Niven | 1967 (Un-Official) |
| You Only Live Twice | Sean Connery | 1967 |
| On Her Majesty's Secret Service | George Lazenby | 1969 |
| Diamonds are Forever | Sean Connery | 1971 |
| Live and Let Die | Roger Moore | 1973 |
| The Man with the Golden Gun | Roger Moore | 1974 |
| The Spy Who Loved Me | Roger Moore | 1977 |
| Moonraker | Roger Moore | 1979 |
| For Your Eyes Only | Roger Moore | 1981 |
| Never Say Never Again | Sean Connery | 1983 (Un-Official) |
| Octopussy | Roger Moore | 1983 |
| A View to a Kill | Roger Moore | 1985 |
| The Living Daylights | Timothy Dalton | 1987 |
| License to Kill | Timothy Dalton | 1989 |
| Golden Eye | Pierce Brosnan | 1995 |
| Tomorrow Never Dies | Pierce Brosnan | 1997 |
| The World is Not Enough | Pierce Brosnan | 1999 |
| Die Another Day | Pierce Brosnan | 2002 |
| Casino Royale | Daniel Craig | 2006 |
| Quantum of Solace | Daniel Craig | 2008 |
| Skyfall | Daniel Craig | 2012 |
| Spectre | Daniel Craig | 2015 |
| No Time to Die | Daniel Craig | 2021 |
Searching for the Next James Bond
With Daniel Craig having called it quits on the franchise after his last showing in 2021, the hunt is on for the next 007 agent. Many have teased that an Idris Elba James Bond would be a great addition to the franchise. But the responses have been very mixed!
It is very important that the movie franchise chooses the right guy for the job. Based on the 70-year-old storyline, the actor should be naturally suave, but with a raw edge. Many believe that an Idris Elba 007 may have a rough time living up to the likes of Sean Connery, Roger Moore, Pierce Brosnan, and Daniel Craig.
All the aforementioned Bonds have been marvels for the brand. As such, whoever's issued with the next "license to kill" will have to match up or even better his predecessors. That's some big shoes to fill from our perspective!
The Idris Elba James Bond Candidacy
While many names have been floated for the role, discussions always tend to return to an Idris Elba James Bond connection again. Anyone who has seen Mandela, Long Walk to Freedom, Hobbs and Shaw, The Take, The Mountain Between Us, Thor Ragnarok, or The Harder They Fall, will know that Elba is a quality actor who is able to take on versatile roles. Being a British actor with great looks and a sturdy physique, he fits the 007 requirements, right?
Of course, while the world tries to be as politically correct about the situation as possible, there have been concerns that a black Idris Elba James Bond may be a step too far. Others have dismissed the racial issue and just believe he is not the right man for the role, based purely on his personality. Such was the view of the screenplay writer, Anthony Horowitz, in 2015. He believes that Idris is "too street" for the role. He said:
"Idris Elba is a terrific actor, but I can think of other black actors who would do it better," he said. "For me, Idris Elba is a bit too rough to play the part. It's not a color issue. I think he is probably a bit too 'street' for Bond. Is it a question of being suave? Yeah."
But the public just won't let it go. Years down the line already, and he is still one of the fan favourites to put on the suit, tie, and Walther PPK sidearm.
What Idris Had to Say on the Topic
Idris Elba has discussed some disappointment about some of the opinions out there about an Idris Elba 007. In an interview in 2019, he said:
"You just get disheartened when you get people from a generational point of view going, 'It can't be.' And it really turns out to be the color of my skin. And then if I get it and it didn't work, or it did work, would it be because of the color of my skin? That's a difficult position to put myself into when I don't need to."
It's a valid concern too. While progressive liberals may turn a blind eye to racial differences, there are some traditionalists that just can't seem to do the same. American radio personality, Rush Limbaugh, openly admitted that his views may sound racist, but emphatically believes that the James Bond character should resemble a Scottish white man. In response to suggestions of an Idris Elba James Bond, he said, "that's (a black Briton) not who James Bond is."
However, Elba has been open about his thoughts on the role:
"James Bond is a hugely coveted, iconic, beloved character that takes audiences on this massive escapism journey. Of course, if someone said to me, 'Do you want to play James Bond?' I'd be like, 'Yeah!' That's fascinating to me. But it's not something I've expressed, like, 'Yeah, I wanna be the black James Bond. Because, by the way, we're talking about a spy. If you really want to break it down, the more less obvious it is, the better."
A Lady You Say?
Elba tried to add fuel to the flames when he suggested that Bond should be played by a woman. Whether said with tongue in cheek or not, it would really challenge the minds of many James Bond stalwart fans. Perhaps a black woman Idris? Now that would test the resolve of discrimination to the highest degree.
What Do The Filmmakers Say?
The franchise producers have been a little coy on the subject. While Barbara Broccoli said that she knew the actor and admired his acting skills, it's difficult to talk about replacing someone, when that someone (Daniel Craig) is still in the seat. She did, however, acknowledge that he has been included in conversations. Since then, Craig has completed his final movie as 007, so perhaps we'll hear soon who his replacement will be.
Others in the Pipeline
There have been various other names floating about with links to the role of the notorious master spy. These include Tom Hardy, Richard Madden, Michael Fassbender, and Henry Cavill to name a few. While Cavill has seen some real success at the bookies and even managed to leapfrog the Idris Elba James Bond favourite at 2/1 odds. He's since been ousted from the number one spot. William Hill bookmakers have now seen Rege-Jean Page take the top spot in the rankings with Elba just behind him.
So, if not an Idris Elba James Bond, then who? Here are the latest bookmaker stats at William Hill to give you an idea of the top 10 favourites for the role as of 21 March 2022.
William Hill Odds
| Place | Actor | Odds |
| --- | --- | --- |
| 1st | Rege-Jean Page | 9/4 |
| 2nd | Idris Elba | 9/2 |
| 3rd | Henry Cavill | 5/1 |
| 4th | Tom Hardy | 5/1 |
| 5th | James Norton | 6/1 |
| 6th | Lashana Lynch | 7/1 |
| 7th | Michael Fassbender | 7/1 |
| 8th | Richard Madden | 8/1 |
| 9th | Tom Hopper | 10/1 |
| 10th | Douglas Booth | 10/1 |
Our Conclusion
At the end of the day, the producers will decide on the right fit for the job. Auditions may be stiff but let's just hope that whoever it is will carry the performance on an upward trajectory the way that Craig was doing.
We must admit that there are some great candidates in the line-up to bring us the next MI6 hero. If the producers choose to go with the quintessential Bond image, then Cavill and Hardy would both make awesome stars for the role.
But in all honesty, surely colour could not make a dent in the image of the world's most well-known secret agent. If Elba can pull off the cool but lethal persona, then perhaps it would make for a welcome change to the narrative. Whichever way the casting goes, there is one thing we can say with surety – "Well done Daniel, you did a sterling job!"