Top 10 Gambling & Poker Movies of All Time
Categories:
Gaming
|
Published by:
Sean van der Merwe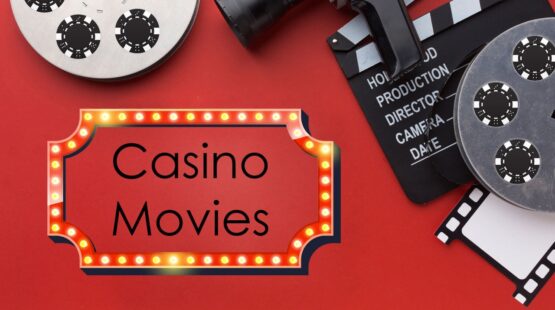 Everyone loves a good movie. Watching an entertaining film is a great form of relaxation that helps us shut off the mundanities of real life for just for a moment. It provides a sense of escape, where we can live out a fictional life for 80 minutes or more. Hollywood has made it easy to live the life of a soldier, a superhero, a sporting icon, an adventurer, a gambler, a mobster, or just about any other character on the planet.
Gambling Movies
Films give us the opportunity to experience things we would not ordinarily experience in life. For instance, the movie world has done a spectacular job in enabling us to live the spectacular Las Vegas life, even if we've never set foot in a brick 'n mortar casino before or played on a live roulette wheel or at a blackjack table. Those of us that are not fortunate enough to have visited the United States have been able to share in the magic of the "Strip" through the lens of dramatists and moviemakers who have done a tremendous job in keeping us entertained with casino movies.
The unique stories are told from various perspectives, providing us with a diverse taste of the land-based casino environment. With casino movies, we've been able to view the darker side of gambling, the adventurous side of it, and ultimately the more light-hearted side of it as well – all from our sofas and flat-screen televisions.
There are so many superb gambling movies out there. Most of them have been produced and directed with decent budget sizes from the likes of movie houses like Warner Brothers Pictures, Columbia Pictures, Metro Goldwyn Meyer (MGM), 20th Century Fox, and Universal Pictures,  to name a few. Many of these production houses have introduced headlining gambling movies including the likes of the '21' Blackjack movie, 007 Casino Royale 2006, and the 'Casino' Robert DeNiro film.
If you have an interest in the gambling film genre, then we invite you to join us on our walk through the casino movie hall of fame to explore our selection of the 10 best casino movies of the past few decades.
The Thrilling History of Vegas – The Setting for the Best Casino Movies
While not all top casino movies base themselves in Las Vegas, per se, the "City that Never Sleeps" is a popular setting for gambling-related hijinks. The rich history of Nevada combined with its current image as the "Capital of World Gambling", makes it a natural stage for mobster-related gambling novels and fictional gambling movies with an undercurrent of crime.
The history of Las Vegas alone is the perfect drama in its own respect. A simple understanding of its past will give you a great perspective as to why so many casino movies fixed in this setting do so well at the box office.
Gambling became legal in Nevada in 1931. Around this same time, extensive construction began in the area with the Hoover Dam (then known as the Boulder Dam). This project drew thousands of new workers into the area, which in turn created an environment where adult entertainment would thrive. As such, some of the first casino and showgirl venues opened in Vegas to cater to the predominantly male crowds.
The Mob Moves in
Once the news spread that the casino world was budding in the town, the Italian Mafia began making Vegas a new hub for organized crime. The infamous 'Bugsy Siegel' was the first to open up ' a shop'. He founded the Flamingo Casino with the backing of Mexican drug money. Casinos provided the perfect outlet to launder dirty money.
After Siegel died, the 50s and 60s were rife with mobster-related casino enterprise. In fact, it is said that the mob was heavily tied to establishments such as the Riviera, Sands, Sahara, and New Frontier casinos – all of which still exist to this day.
The Vegas of Today
Times have changed though. The commercialized city of Las Vegas is now heavily regulated by the state, and there is very little chance that any of the main casino establishments still have a criminal undercurrent. Much of the mob activity has been eradicated, and legitimate business and enterprise have taken over.
What the City's history has left in the wake though, is the prime stage to produce casino movies and films that straddle the truth and ride the coattails of established conspiracy theories still tied to the region. Hollywood does this to a "T" each time they produce a new crime drama linked to the casino industry.
Top 10 List of  Casino and Poker Movies over the Past Few Decades
While there is a decent selection of gambling movies available for you to enjoy out there, some titles are way better than others. Our list represents some of the finest films to meet the market. We have split the list of 10 into two categories of casino movies. The first 7 titles represent some of the best dramas and serious casino movies, while the second batch of 3 films represents a few comedy titles that will give you a good laugh throughout the narrative.
If you are at all intrigued by any of the gambling movies below, we recommend that you turn to IMDb or Rotten Tomatoes for a succinct rating of the film or to watch some trailers and clips. You can also keep up to date with all the latest Hollywood releases on these sites and set up your viewing calendar with ease.
1. Casino (1995)
This Robert DeNiro and Sharon Stone casino film is filled with other star-studded actors, including the likes of Joe Pesci and other familiar faces. Director, Martin Scorsese, brings to life the Nicholas Pilegg novel: "Casino: Love and Honor in Vegas" on the silver screen, in what is known as one of the most realistic dramatizations depicting the association between casinos and mobsters in the 1970s. The film rates well at IMDb and mustered a notable $116.1 million at the box office.
The story follows the business of Sam Rothstein, who is sent by the Los Angeles mob to run the Tangiers Casino in Vegas. He practically turns the casino around overnight, much to the delight of the mafia bosses, who receive a cut right off the top of the cash pile.
Sam's childhood friend, Nicky Santoro (played by Pesci), is sent as an enforcer to protect Sam, but his criminal ways slowly start to unravel relationships and cause issues with the mob. This casino movie provides the perfect balance between action, drama, and romance, and is an incredibly accurate portrayal of old life Vegas.
2. Rounders (1998)
This phenomenal poker-based casino movie scores an 87% audience approval rating on Rotten Tomatoes, and we are not surprised. It's probably one of the most enjoyable casino movies on the list when it comes to focussing on pure gameplay suspense.
Edward Norton and Matt Damon star in the lead roles of this film. In a bid to get Norton's character out of debt with a KGB loan shark, Mike (Damon's character) promises to help him recoup the money needed to come clean by playing in various underground poker tournaments in Atlantic City.
The casino movie clearly depicts the level of skill needed to be adept at playing poker. It also shines a light on the fact that not all poker games are as legit as the World Series Poker tournament, or the poker rooms hosted at reputable casino card rooms.
3. James Bond Casino Royale (2006)
007 is at it again, in a spy movie full of action, suspense, and bravado. This time, his spy work takes him to the Casino Royale in an attempt to foil a mob banker's high-stakes poker game. As always, the mission holds with it the fate of the world. As MI6's premier poker player, Bond must do his best to beat the banker and force him to seek asylum in Great Britain in exchange for information on his clients.
Watch as Daniel Craig re-enacts the original Casino Royale 1967 film in a suave manner. There is no doubt that his James Bond portrayal balances both the iconic charisma and bad boy image that the Bond of the novels exude. Casino Royale is probably one of the most iconic casino movies of all time and will live long in the heart of high-octane action lovers.
The movie made a whopping $616.5 million at the box office and scored a 8/10 by IMDb and 94% through Rotten Tomatoes – two of the industry's most respected rating houses. It is the highest-earning film on our list.
4. Ocean's Eleven (2001)
Ocean's Eleven is a different take on casino movies. This one does not concentrate on gambling as much as it does on the plans to rob one of Vegas's leading casinos.
The star-studded cast includes several high-profile actors. These include George Clooney, Brad Pitt, Matt Damon, Bernie Mac, Elliot Gould, Carl Reiner, Julia Roberts, Andy Garcia, and Casey Affleck to name a few. The ensemble cast was obviously a big attraction, as the movie made a whopping $ 450.7 million at the box office. That makes it the second largest earner on this list. It also rates extremely well among professional critics.
Ocean's team of Eleven each brings a specialty to the party, but they had better be at the absolute top of their game to pull off this impossible feat. The movie is followed by sequels – Ocean's Twelve, and Ocean's 13, all of which carry on with the narrative from this first film.
5. 21 (Blackjack) (2008)
Kevin Spacey acts as a maths professor who evidently runs a card counting syndicate that rakes in tens of thousands of dollars per night by cheating the house at various casinos around the country. The '21' Blackjack casino movie goes to show that cheaters never prosper as the pupil turns on the master in a bid to escape the criminal life he was sucked into.
If you are into casino movies that showcase gameplay, then 21 is a worthy title for you. The film comes balanced with blackjack card play, drama, romance, and more.
The film could have scored better than its 36% TomatoMeter and 66% Audience score on Rotten Tomatoes, if, according to the review site, the storyline had "not supplanted the true story on which it is based with mundane melodrama."
6. Molly's Game (2017)
This multi-award-winning casino movie follows the true story of Molly Bloom. She was a world-class Olympic skier who found herself at the center of an FBI investigation for running the world's most exclusive illegal high-stakes poker empire among the Hollywood elite. The player base included actors, directors, business tycoons, wall street wolves, and even the mafia.
This casino movie stars renowned actors, such as Jessica Chastain, Idris Elba, and Kevin Costner. As a real-life adaptation, this movie shines a real light on what the underground casino world is really like and what high stakes are all about in the unregulated arenas of the casino world.
7. Rain Man (1988)
We have waited till last to herald Rain Man as an honorable mention to the genre. While not specifically a casino movie, the film does have some interesting card-counting scenes. The casino movie stars Tom Cruise and Dustin Hoffman as Charlie and Raymond. After Charlie's estranged father dies, he notices that the full inheritance is bequeathed to an older brother he never knew he had. It turns out that Raymond is autistic and has savant syndrome.
Their adventures lead them through a myriad of trials. Along the way, Charlie realizes that Raymond is great with numbers and has a photographic memory. As he is in a bit of a financial dilemma,  he teaches Raymond to play blackjack and then motivates him to use his maths skills to ensure that he wins. The movie has excellent ratings across the board from IMDb and Rotten Tomatoes and has to date churned an awesome $354.8 million at the box office.
8. The Grand (2007)
While hardcore casino movies generally have a tough edge to them, every now and then the film world throws a light-hearted spin on gambling antics.
With a 60% approval rating from IMDB, this casino movie's appeal could go either way with you, but we believe it deserves a spot among the best casino comedies. The plot is unique, and the cast includes some top names, like Woody Harrelson, Dennis Farina, and Cheryl Hines.
The plot follows the story of Jack Faro. He is the grandson of a legendary poker champion and owner of a popular casino, which Jack inherits. Unfortunately, Faro loses all he has (including the casino) to a drinking addiction and alimony payments to multiple wives. The movie tells the story of his plan to win back the establishment by entering the upcoming World Championship of Poker tournament.
Those who enjoy casino movies and anything related to poker will most probably enjoy this film. The multiple characters in this film are what make it so entertaining. Each one hails from a different background. However, they comes together for the common purpose of competing in the world's most prestigious tournament.
9. Maverick (1994)
Set in the old West, Bret Maverick (Mel Gibson) is a professional gambler making his way across the country to play in a major five-card draw poker tournament. The destination is a steamboat casino called the Lauren Belle. Unfortunately, he is short on his tournament buy-in. The casino movie follows the antics of this gentleman as he tries to collect on debts and win the balance of the money through side games along the way. Unfortunately, he falls upon the wrong crowd and must flee for his life without collecting.
This Warmer Bros production scored a decent 7/10 on IMDb and 66% on Rotten Tomatoes and further study on the internet shows that 80% of Google users liked the film. The mixed appeal of old America, gambling, comedy, and action make for an entertaining casino movie that should not be missed.
10. The House (2017)
If you are in need of a laugh, you know that you can always turn to Will Ferrell to get you going. He takes the lead in this funny film. It showcases a desperate couple who open an underground casino in their friend's basement to try and cover college tuition for their daughter. What could go wrong, right?
Scott Johansen (Will Ferrell) makes quite a name for himself while rubbing the mafia up the wrong way. So,  sure to watch the casino movie to find out how it all turns out, We certainly aren't going to provide you with spoilers here. While the critics scored the film low, the film made $32.2 million at the box office and Google's analytics showed that 72% of users enjoyed the movie – which is a good majority.
May the Appeal Live On
At PokCas, we make it our business to stay ahead of the regulated gambling game. While casino movies present fabulous entertainment, remember that they should remain fiction. We only ever support responsible, legal gambling. Therefore, we implore you to make sure that if you decide to play at a casino, you play safe.
Well, we hope we have added to your list of "must-watch gambling movies." Many of the films listed here will provide hours of enthralling entertainment from start to finish.