The Best Gambling-Themed Books – Top 10 List of Casino & Poker Novels
Categories:
Gaming
|
Published by:
Sean van der Merwe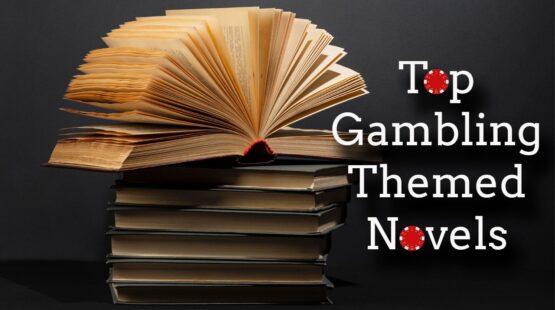 While the digital world seems to get the most attention nowadays, there surely is a place for classical pastimes and hobbies as well. Movies, videos, and e-books make your entertainment fast and accessible. However, there are still many people who love to enjoy the indulgence of written adventures on paper. Reading a captivating tale from cover to cover is a special brand of magic that never grows old. The smell of the paper and the sound of the crisp pages is unique and almost romantic. No Hollywood production company can capture the happenings quite as well as your imagination anyway.
As such, we have opted to take our gambling articles down a different avenue today. While we love casino movies and online iGaming, we understand that gambling can entertain you in multiple different ways. As such, we will explore a list of 10 top paperback novels and biographies related to the theme of gambling. If you enjoy this reading genre, then stay tuned to pick your way through our overviews of some best-selling titles.
Top 10 List of Paperback Gambling Books

Below, listed in no particular order, is a list of some of the hottest paperback novels and biographies out there. Their industry ratings are all very similar, proving good reading from the first showcase to the last. Read through our short summaries on each book to make up your mind about which storylines appeal to you most before buying the book. Most of the overviews below include a rating from goodreads.com, which is considered the best book review platform in the world.
1. Bringing Down the House – by Ben Mezrich
Bringing Down the House is a 320-page novel published by Penguin Books. It tells the story of one of the biggest real-life casino scams in American history. The story follows the antics of a team of mathematics and physics students from MIT. The team of card sharks uses their penchant for counting cards and deception to successfully scam high-profile casinos out of millions of dollars in cash.
The plot includes greed, high-profile spending, narcotics, sex, and scandal. You may have watched the 2008 film, 21 Blackjack, starring Kevin Spacey if you are a casino movie lover. The dramatic screenplay bases its storyline on this Ben Mezrich novel and was a big hit among film fans. They say though that "the film is never as good as the book." Well, now is your opportunity to test this theory with this best-selling read. It's rated 3.91/5 by goodreads.com.
2. The Gambler – by Fyodor Dostoevsky
This age-old classic was initially translated into English in 1887 by Constance Garnett. The latest edition came into print in 2003 as a paperback published by Modern Library. It is rated as a hot 3.9/5 on goodreads.com.
The novel tells the story of a young tutor working in the household of a Russian General. The story reaches the height of drama as the young man falls foul to his gambling addictions and embroils himself in a scandal by having an affair with the general's seductive niece, Polina.
The story does a wonderful job of showcasing the staunch established order of Mother Russia in the 19th Century and its intolerance for liberal contention.
3. The Professor, the Banker, and the Suicide King – by Michael Craig
This Grand Central Publishing book takes a look inside the "richest poker game of all time". Michael Craig re-tells the true story of Andy Beal and his love for the high-stakes poker rush. The self-made billionaire from Dallas challenged some of the biggest names in world poker to a tournament at the Bellagio Casino in Las Vegas. The game would go down in history as the highest stakes poker game ever played. Here, he and his opponents each came to the table with $1 million, betting $10K and $20K in blinds per round.
Read the story of how Andy's skills developed over several months and how he managed to use his giant bankroll to intimidate his opponents each time he sat down. Take a journey into the minds of the best card sharks in the world and explore the world of high-stakes gaming. The book is rated a decent 3.86/5 by goodreads.com and has an average 3.63/5 rating on the LibraryThing site.
4. Casino Royale – by Ian Fleming
Also acknowledged as one of the best casino films, this 007 action story translates well to its readers on paperback. The descriptive manner in which Fleming delves into the casino gambling scenes in the book is unrivaled by the movie. However, Daniel Craig's James Bond portrayal in the latest 2006 screenplay of this story is tipped as one of the best bond performances of all time by moviegoers.
Indulge in the escapades of the world's most renowned spy in the 50s as he seeks to foil a high-stakes banker's card game in an effort to save the world. While the movie received a notable 94% Rotten Tomatoes rating, the book holds an admirable 3.75/5 goodreads.com scoring.
5. Molly's Game – by Molly Bloom
Many of you might have watched Molly's Game film that aired in 2017 starring Edris Elba and Jessica Chastain. The screenplay was based on the true story of Molly Bloom; an Olympic-level skier who entered early retirement thanks to a debilitating injury on the ski slopes during the Olympic qualifiers.
The HarperCollins book grants detailed insight into Molly's emergence into the world of private high-stakes poker hosting. She tells a story that details a world of glamour, glitz, and of course, shrouded secrecy. From rubbing shoulders with famous businessmen, actors, and performers, to fighting off the mob, Ms. Bloom finally meets her match with the US government – or does she?
Read this 3.8/5 rated biography for an in-depth look into the adventurous and exciting world of unregulated card sharking. Here, people's livelihoods are either made or stripped in a few rounds of cards.
6. The Greatest Gambling Story Ever Told – by Mark Paul
If true-life dramas are your passion, then this book is sure to hook you. The story includes a true tale of gambling, contentious relationships, cartel interference and so much more.
The inspiring narrative follows the race life of a racehorse named "Winning Colors."  She was a filly that both excelled in the stallion-dominated sport of horse racing and inspired the crowds. The plot follows three gamblers who unknowingly place a long-shot bet on the filly with the Mexican Cartel. The drama unfolds as the trio encounters life-threatening situations with mobsters in their bid to claim their winnings.
This novel by Mark Paul scores nearly a full 4/5 stars with goodreads.com, with over 900 ratings posted on the site.
7. Titanic Thompson: The Man Who Bet on Everything – by Kevin Cook
Known as Titanic Thompson, Alvin Clarence Thomas was a gambler and hustler who made a living from being a con man who would bet on almost anything. Of course, that was after having tinkered with the odds so that the outcomes lay in his favor. With very little fear, the man was known to hustle men as dangerous as mob boss, Al Capone.
He lived a full life and died at the ripe age of 82, having defied death on many occasions. Kevin Cooks' take on Titanic's life provides insights into the personality of a cool operator who had married multiple times, killed five men, and engineered uncountable cons.
The Los Angeles Times depicts a man as emblematic to American history as Babe Ruth or Mark Twain. While that claim is arguable, once you have read the book, you'll certainly agree with his notoriety among the American people. He is certainly a character that is difficult to forget.
8. Blood Aces – by Doug J. Swanson
While not a novel per se, this biographical depiction of Benny Binion by Doug Swanson will give you a better understanding of how Vegas evolved into the city it is today. The book delves into the history of early gangsterism in the town. It draws its readers into a setting where Bugsy Siegel and Clyde Barrow were mighty influential in the casino world.
This book is a top read for poker lovers. After all, Binion was the founder and creator of the World Series of Poker. While technically a biography, critics, like The Daily Beast, applauded the fact that it reads like a crime drama. Like most books on our best-selling list, goodreads.com rates this gambling book close to 4/5 with a 3.86/5 rating.
9. One of a Kind: The Rise and Fall of Stuey "The Kid" Ungar. The World's Greatest Player – by N. Dalla and P. Alson
Finally, we hit a rating of 4/5 with one of the books listed in this article. Like Blood Aces, this book is a personal biography. It showcases the life of poker champ – Stuey Ungar. Those of you familiar with poker might know him as the best card player to have ever lived.
The story paints a picture of the rise and fall of this world-famous card shark. He was allegedly bankrolled by New York Mobsters before moving to Vegas. There, he won the World Series of Poker three times before dying of mysterious circumstances in a Vegas strip motel.
A prolific gambler, Stuey was surely in charge of his game. Unfortunately, the same cannot be said for the rest of his life, which fell by the wayside. The book is a formula devised from hours of tape interviews and conversations had with the man over the years.
10. Dreaming of You – By Lisa Kleypas
Here's one for the ladies by Avon Books. "Dreaming of You" is a story of romance, drama, sensuality, and perilous danger that will keep you enthralled throughout.
Sara comes from an innocent and well-groomed lifestyle. This is compromised the moment she is plunged into the dark world of her lover, Derek Craven, who is the owner of an elite gaming house. The tale showcases how even the most "kept" ladies can become the greatest seductresses. With the highest rating on our list of 4.18 out of 5, readers can expect a compelling storyline filled with passion and other powerful emotions.
Healthy Gambling Practices and Exciting Book Entertainment Can Co-Exist
At PokCas, we promote responsible and legal gambling. Fiction and early gambling history are fraught with unhealthy gambling practices. Fortunately, the gaming world has evolved for the better over time. Online gambling and retail commercial casinos provide safe and fair environments for you to enjoy poker and casino games nowadays.
Good entertainment is necessary today though, so if you are looking for a good novel or compelling biography to help you escape the mundanities of life, be sure to add some of our must-read books to your bucket list.