Conor McGregor was the Top Earning Athlete in 2021 and Boasts a Net Worth of over $300 Million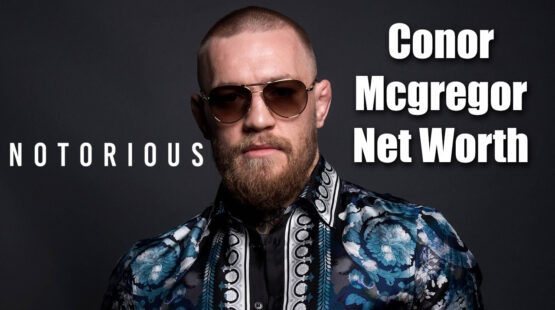 Some people in this world are simply gifted athletes. While they need to put the time into training and fitness, their raw skill and determination are influencing factors that keep them on the top of their game.
In 2021, there was no athlete more successful in the 'earnings department' than Conor McGregor. A born fighter, Conor McGregor's net worth is a monstrous amount that leaves him financially capable of buying anything he wants in life.
Who is Conor McGregor?
Before we settle on Conor McGregor's net worth, it's best that we uncover who the athlete is:
Conor McGregor (AKA Notorious) is a mixed martial artist from Kildare, Ireland. He is a former Ultimate Fighting Champion (UFC) featherweight and lightweight double-champion. He mustered 22 total wins and 6 losses in his professional MMA career. 19 of his wins were by knockout. His style of fighting is predominantly boxing oriented, but he is trained in both wrestling and Brazilian Jiu-Jitsu (Brown belt under John Kavanagh).
He was born Conor Anthony McGregor in Crumlin, Dublin on the 14th of July 1988. At the age of 18, McGregor made his MMA debut at an "Irish Ring of Truth Promotion" fight in Dublin. He beat Kieran Campbell by technical knockout (TKO).
Straight after the fight, he turned professional and was signed by the Irish Ring of Truth Promotion, and began training at the Straight Blast Gym under John Kavanagh. The rest is history. He is one of the most successful fighters in UFC history, having starred in several of the highest-selling pay-per-view fights sold by the championship in its history.
Conor McGregor's Wife and Family Details
While some might think that Dee Devlin is married to Conor, they are yet to marry as of January 2022. They are engaged and have been together since 2008. The couple has had three children together.
Conor met Dee when he was only 19 years old after he quit his job as a plumber to pursue fighting. The fighter said that Dee has supported him since the very beginning. In fact, she would drive him to his training sessions in the early days of his career.
Conor's life is a true rags-to-riches story. It's understood that he was on a $ 235-a-week welfare cheque until his MMA debut. Conor McGregor's net worth figure is now understood to place him among the most affluent sportsmen in the world.
How was Conor McGregor's Net Worth Earned?
There are several ways in which Conor McGregor has accumulated his net worth. We will take a look at the three main ways in the section that follows.
1. Fighting in the UFC
Conor quickly rose to become one of the most exciting fighters in the UFC. The self-dubbed 'Notorious' fighter appeared in 5 of the UFC's top 6 selling pay-per-view fights of all time. His most notable was his boxing match against Floyd Mayweather, which churned a 6.5 million legal viewer spectatorship, according to Dana White (president of the UFC).
Some of his greatest earnings have been made through special PPV fights. He mustered $22 million in his last fight against Dustin Poirier. He also earned a mammoth $30 million against Donald "Cowboy" Cerrone.
While McGregor is currently recovering from a leg break (from the Dustin Poirier fight), he has not shown any signs of wanting to throw in the towel for good yet. This means that Conor McGregor's net worth figure is sure to grow even more in the future.
2. Brand Deals and Endorsements
As with all sportsmen, some high-profile companies have sought Conor out to endorse their brands. These brand deals are often worth multiple millions of dollars each year. Some of McGregor's current endorsements include notable brands like Monster Energy, DraftKings Sportsbook, and the video game, "Dystopia: Contest of Heroes".
3. Business
Conor founded an Irish whiskey company in 2008, dubbed Proper No. 12. The whiskey is legally available in 8 different countries across the globe. He, however, sold the beverage brand to Proximo Spirits in April 2021 for a whopping $150 million. It is believed that this sale has made the biggest impression on the net worth of Conor McGregor.
The UFC fighting mogul also champions an exclusive suit company, called August McGregor (AM). This lifestyle brand is dedicated to making classy, tailored suits designed to fit suave and sophisticated millennials. As such, many of the hand-made designs are absolute showstoppers. This business venture fits the fighter's personality to a 'T'. Suits and expensive watches are, after all, iconic of his legendary image.
The Signs of Conor McGregor's Net Worth
McGregor doesn't seem like he is afraid to flaunt his wealth in the public space either. His showmanship seems to translate from the ring to real life in every facet. Below is a list of just a few tell-tale signs of the high net worth of Conor McGregor.
1. Yacht
Conor McGregor recently bought himself the esteemed Tecnomar for Lamborghini speed yacht for a cool $3.6 million. The vessel is only one of 63 boats of its kind in existence. He tweeted out a picture of it being delivered early in 2021, with the comment, "My Lamborghini Yacht is Ready".
As an avid Lambo fan, he was given the unique opportunity of purchasing the sporty luxury yacht, which certainly fits his aggressive character. It is one of the fastest crafts in its class, able to speed ahead at a velocity of up to 60knots (69 mph/111 kph).
2. Car Collection
It's quite apparent that Conor loves his cars. As such he owns a long list of the world's sportiest and most luxurious automobiles out there.
These include a Lamborghini Aventador Roadster, McLaren 650S, Lamborghini Urus, Rolls-Royce Ghost, Rolls-Royce Phantom Drophead Coupe, Bentley Continental GT, Cadillac Escalade, BMW i8, some Ferraris, Mercs, and more.
If you've got the money, you may as well flaunt it and enjoy it. As you can see from the types of cars in his possession, Conor McGregor's net worth is no measly sum of cash.
3. House Collection
Well, one mansion is never enough, is it? Well, not in Conor McGregor's life. Especially given the fact that he is called to work all over the world. His main residence is in Dublin, Ireland. He purchased the five-bedroom home for a whopping €2 million. The house comes with wide-open lawns and horse-riding facilities.
He also owns a holiday home in Marbella, Spain which he spent €1.3 million on in 2018. This is the perfect summer getaway for when he is in the mood for a Mediterranean escape.
To round off his trio of abodes, he also owns a mansion in Vegas, where he spends most of his time before and after UFC fights.  The fighter dubbed the 12,000-foot home "Mac Mansion". It boasts 7 bedrooms, an infinity pool, a luxury spa, and a mini-golf course in his backyard.
What's more, is that we have heard that McGregor intends on building 300 homes after purchasing an amazing Dublin site for €19 million. The mega-complex will boast modern rentable homes/apartments with several nearby amenities. One of these will be a brand-name supermarket. It seems that Mr McGregor plans on entering the property business. Who can blame him though, there is huge money to be made in this market space.
4. Watch Collection
Conor McGregor owns some of the best watch brands in the world. You can tell a lot about a man's wealth from the watches he wears. The thing with Conor is that he almost has a new watch for every occasion.
Each one of them hails from the best watchmakers in the world. He owns several Rolex watches, Patek Philippe timepieces, a diamond-encrusted Floyd Mayweather Hublot, Audemars Piguet, Franck Muller collection watches, and more. Keeping track of all his new timepieces is no easy feat!
5. Suit Collection
Outside of the arena, you'll very rarely see Conor turn up to an event without a flashy tight tailored suit or tuxedo. He has far more suits than most rich people will own in a lifetime. That's because he often buys 8 to 10 suits at a time.
Thankfully, with his own new Conor McGregor suit brand – "August McGregor", he won't need to support his competitors anymore. In the past though, he was known for wearing Armani, Louis Vuitton, Hermés, David August, and Gucci.
So, what is the Conor McGregor Net Worth Figure?
It's clear that the man-made $158 million outside of fighting alone in 2021 and accumulated a total of $180 million combined. As such, he was the highest-paid athlete last year. But that's only wealth made from one year of business. What about all the years prior to that? What about all the fights and their revenues? It certainly must all mount up. As a result, we place our estimate at around $300 million.
One thing is clear, Conor McGregor is a very rich man. But kudos to him, he built his empire from nothing. He is a tremendous encouragement to all 'down and outers' that you can make something of your life if you just put on the winning millionaire mindset, take risks for what you believe in, and apply yourself to your strengths.
If you enjoyed this article and are interested in finding out the net worth of other famous individuals, you should be sure to read our articles on the net worth of 2 Chainz and Mr Beast.