Top 5 Watch Brands for a Wealthy Gentleman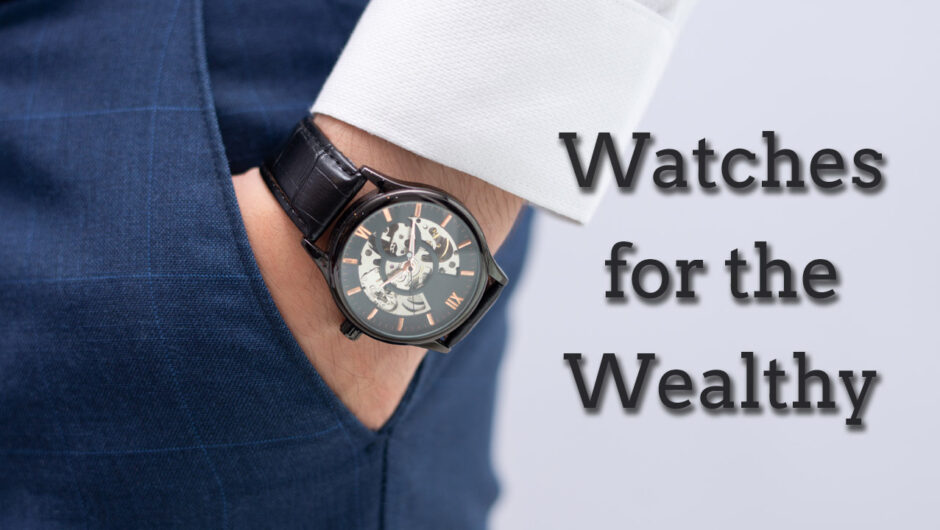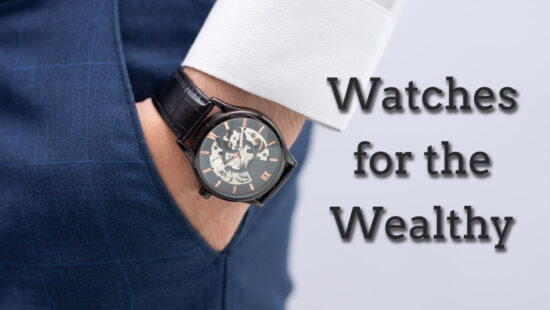 Every man aspires to be a success at what he does. In this materialistic world, that success is often portrayed to the world through the things that we own. Status symbols are prevalent among the rich and the famous. It's a way to flex wealth and display affluence.
Some of our most noticeable status symbols are the things that we wear. A watch, for instance, is probably one of the biggest showpieces of wealth. If you're interested in finding out what types of watches rich gentlemen wear, then be sure to carry on reading. We aim to highlight 5 of the finest products that big money can buy.
WHICH WATCHES ARE CONSIDERED AS RICH GENTLEMAN'S WATCHES?
There are many beautifully crafted watches and timepieces available for wealthy gentlemen on the market, ranging anywhere from $2,000 up to $980,000 and more. Some of the most prominent brands include Rolex, Patek Phillippe, Richard Mille, Audemars Piguet, Hublot, Jacob and Co, and others.
Rolex Watches
Rolex is probably the most renowned brand of expensive watches out there. You cannot say the name "Rolex" without envisaging dollar signs. But it's not just the name that makes the brand costly, it's the ingenuity that goes into each timepiece. As such, most Rolex watches have an incredible ability to hold their value, even years after being purchased.
These Swiss luxury watches not only use the most opulent materials on the outside of the casing, but also the finest components on the inside. The Calibre 2236 and 3235 mechanisms are world-renowned for their precision and durability.
Here are some of the Rolex timepieces that keep the brand on the leading edge:
Rolex Datejust – From $2,600 to $10,000 and more
Launched in 1945, Rolex Datejust watches were the first self-winding waterproof chronometer wristwatches in existence. You can tell them apart from other timepieces in the collection by the inclusion of a date window at 3 o'clock on the display.
The Datejust comes in a variety of finishes, including both white and yellow gold. They now boast the leading Calibre mechanisms, which ensure the best precision, power reserve, and protection against shock and magnetic fields.
You can also choose between various bezels around the Rolex Datejust clockface. These include a smooth edge, domed finish, fluted style, or a frame set in diamonds. This ensures that there is a Rolex Datejust style to suit any wearer perfectly.
Rolex Day-Date – From $8,500 to $185,000 and more
The Rolex Day-Date series of watches is often referred to as the Rolex Presidential collection. Launched in 1956, the watch debuted as the "first waterproof and self-winding chronometer wristwatch to offer a modern calendar with an instantaneous day display, spelt out in full in a window on the dial, in addition to the date."
Rolex refers to the Rolex Presidential as the "Ultimate Status Watch" and it's not difficult to see why. The watch is only made in either gold or platinum and embraces some high-end designs only prevalent among the world's best brands. The hallmark of the piece is the three-piece link President bracelet. Its unique style is fit for the wealthiest of buyers.
Rolex Submariner – From $6,100 to $40,000 and more
Unlike the Rolex Datejust and Day-Date, the Submariner collection is for active people. Sportsmen and athletes would benefit from this wristwatch's rugged durability and precision. Easily, one of the most recognizable watches in the Rolex collection, the piece boasts the best water resistance in the class, of up to 300m. Most other brands offer resistance of between 50m to 100m. The most sought-after styles in this watch include the two green options, namely the Kermit and the Hulk. However, the gold piece displayed above is a fine addition to the series.
Patek Philippe
If you think that Rolex comes with a hefty price tag, you'll be shocked to know that Patek Philippe produces some of the most valuable watches around. In fact, they boast the most expensive watch to ever sell in the open market. The Grandmaster Chimes (Ref: 6300A-010) sold for a whopping $31 million.
Patek Philippe Grand Master Chimes – $31 million
Patek Philippe has a rich history, stemming back to 1839. It is probably one of the biggest rivals for the Rolex Datejust and Date-Day products to date. Its keen attention to detail and precision place it as one of the best watch buys for wealthy gentlemen.
The "Complications" and "Grand Complications" series' of timepieces boast some of the most innovative mechanics found in chronometer wristwatches. The brand believes that the supreme test of watchmaking comes in how well you manage to provide complicated watchmaking designs. Some of the features available through Patek Philippe include annual calendars, dual time zone displays, world time displays, and more.
While there are myriads of watches on sale through this brand, some of the more notable pieces for the wealthy, include:
Nautilus Series – up to $216,000
Made of carbon fibre, this sleek all-black timepiece showcases the original Nautilus Stainless Steel watch in a re-imagined carbon style. It weighs less than any other watch in the Nautilus series. However, there are only 5 of these carbon models in existence. With its simplistic design and a single date display, you could say that this series of timepieces competes suitably with its Rolex Datejust competitors.
Grand Complications Perpetual Calendar – up to $225,000
As a grand complication's timepiece, the watches in the series boast a busy display. But this is its biggest appeal – a feature that is sure to attract flashy buyers. While the limited-edition piece in the picture above bolsters diamond edging, it is not the most valuable piece in the collection. There are other timepieces from the series that fetch upwards of $700k, each.
Richard Mille
The concept behind producing Richard Mille timepieces is to provide people with limited edition watches that are a showcase of technology and innovation. As such, these wristwatches are specifically crafted for connoisseurs of timekeeping.
While the brand is relatively new (established in 2000) compared with many of its competitors, it spares no cost to ensure that it adequately produces refined products suitable for the rich. The watches certainly have a more robust, sporty design to them. This makes them a sought-after item in luxury watch circles.
Many of the pieces that come forth from this maker attract a six-figure price tag. One of the most talked-about wristwatches to date has been the Richard Mille SO-03 Tourbillion Chronograph Ultralight McLaren F1. More on this below:
Richard Mille SO-03 Tourbillion Chronograph Ultralight McLaren F1 – $980,000
What a mouthful! But then again, the brand has to try and convey the superiority of this timepiece with a suitable tag.
This $980,000 watch was developed in conjunction with the McLaren car company. The team-up effort simply provides one of the most innovative pieces in the world at the moment. There are, however, only 75 of them in the world.
The watch is made from a revolutionary new product, called Graph TPT®. GraphTPT® is the branded version of graphene, which is a new product that is 6x lighter than steel, but 200x stronger. Its inventors, Prof. Andre Geim and Prof. Konstantine Novoselov won a 2010 Noel Prize in physics for producing this ground-breaking product. It is the graphene component that ensures that buyers can enjoy the feel of one of the lightest timepieces out there. The watch only weighs 38 grams.
Audemars Piguet
This premier watchmaking company had its roots in Vallée de Joux, Geneva in 1875. This luxury watchmaker's products are renowned for quality and prestige, having hailed from one of the foremost watchmaking centers of the world.
The current collection of modern and classic pieces includes the Royal Oak, Royal Oak Offshore, Royal Oak Concept, [Re]Master01, and Millenary collections. These represent everything from the vintage styles of 1943 to more modern sporty trends. All innards, of course, brandish modern high-tech innovations.
Below we showcase two of the brand's mainstay collections:
Royal Oak Silhouette – $56,000
Boasting the standard Royal Oak concept look and feel, this specific piece was the first to bring pink gold and dusty blue color tones together. It was designed as a celebratory piece for Royal Oak's 20th Anniversary. The 18-carat gold body features a folding clasp, "Grande Tapisserie" dial, and a water resistance of up to 50m.
If you've been a lover of Rolex Datejust pieces until now, perhaps you should look at adding a watch like this to your collection, too.
The Royal Oak Offshore – $26,000 to $30,000and more
Classed as a sportier watch, the Royal Oak Offshore collection boasts various timepieces since 1993. The "Méga Tapisserie Dial enhances the sporty feel, while its sizable diameter of 42mm helps the watch stand out on the arm. This is a must for all large-sized watch supporters. They build their timepiece with either steel, titanium, or gold (your choice). While the general look of the watch remains the same, there are options that boast varying stylistic changes.
Hublot
Hublot is another pioneering brand in the world of luxury watches. Some of their top-end brands compete with the older Rolex Datejust, Submariner, and Day-Date. They proclaim themselves as the masters of the "Art of Fusion". They boldly combine gold with rubber to provide a new flex on what modern watches should be. Other fusions they are proud of, include:
The fusion of past and present in a futuristic watch.
A fusion of traditional, contemporary, and innovative styles.
The fusion between quality craftsmanship and innovative design.
A fusion between conventional mechanisms and unique construction.
Below are two of their more popular timepieces:
Big Bang Series – Unico Arturo Fuente Ceramic 44mm – $28,300
With a real sporty feel, this Hublot timepiece boasts a durable engraved ceramic encasing with a sapphire crystal dial and black rubber/black calf strap. The watch showcases the HUB1280 Unico soft-winding flyback movement with a column wheel. Sports enthusiasts and everyday wearers will be pleased to know that it boasts 100m water resistance.
Classic Fusion Series: Aerofusion Chronograph Orlinski King Gold Blue – $37800
Hublot has developed a new gold color for its watches. This grand design showcases the metal in all its glory. The large face and grand display of mechanics make this piece unique. It is a sight to behold! It perfectly balances the "symbiosis between functionality, architecture, and design."
A Round-Up of Thoughts to Conclude
We know that the watches covered in this article are not the "be-all and end-all" of the industry. However, each brand featured here has proven to provide quality workmanship over the years. Each has a strong following among monied individuals.
We are by no means advocating that this is a list of the best timepieces in the world. That, dear friends, is a choice that each connoisseur must make on their own. Like with all things of quality in this world, tastes will differ. But if there is one thing we can agree on from here on in, let it be this – That no average joe or nine-to-fiver could readily purchase any of the timepieces mentioned in this article on a whim. That means that each wristwatch here bears a mark of premium and exclusivity and, therefore, deserves a spot in this article as one of the best brands for a wealthy gentleman.