What is the Net Worth of the American Rapper, 2 Chainz?
Categories:
Money
|
Published by:
Sean van der Merwe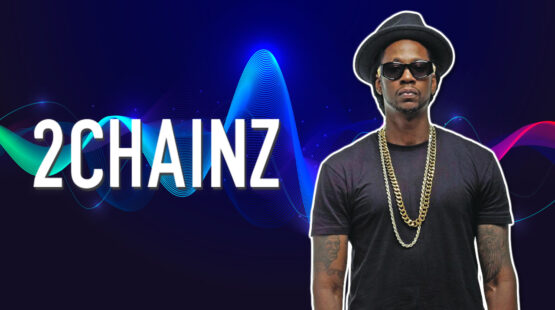 The music world is full of successful artists who have sold millions of albums and amassed great fame. Rap music has a predominantly huge following in the United States. Amongst the most famous artists, there are few who rival the success of veteran rapper, '2 Chainz'.
We seek to look more closely at the success of the music mogul and uncover how he amassed his wealth. Would you like to know 2 Chainz's net worth and gain insight into his millionaire mindset? Well, then join us on our journey as we seek to uncover it all for you.
2 Chainz Net Worth
As a popular rapper who has sold millions of albums over 2 decades with a record label of his own, we estimate 2 Chainz's net worth to be around the $50 million mark. His assets, investments, and YouTube music channel have helped keep his wealth at a stable level for many years now, despite his decline in record sales.
Who is 2 Chainz?
2 Chainz's real name is Tauheed Epps, a musician who has been in the music business since the late 90s. He is now an influential American Rapper s renowned for his rap, trap, and hip-hop music styles. He made a name for himself with Playaz Circle, which was an Atlanta-based indie hip-hop duo.
Epps and Earl Conyers (Dolla Boy) formed the group in 1997 and introduced an independently produced record to the market in 2002. Following the release of the album, "United We Stand, United We Fall", the group met Atlanta Rapper Ludacris who later collaborated with them and played their music on his radio station.
Of course, it wasn't long before Ludacris became one of the biggest music names in the United States. He eventually offered to sign Playaz Circle to his new record label named, 'Disturbing the Peace' (subsidiary to Def Jam Records). Epps initially signed on his own, initiating his solo music career which has seen him enjoy some serious industry accolades over the past two decades.
He rebranded himself as 2 Chainz in 2011, as he regarded it as more family-friendly than his previous stage name, Tity Boi. The new name was taken from his high school yearbook picture, where he is pictured with two thin ropes around his neck. Nowadays, he never has less than two gold chains around his neck.
Over the years, the artist has made massive strides in music and business, which is what has piqued our curiosity about 2 Chainz's net worth.
Personal Life
Born on September 12th, 1977, 2 Chainz's age is 44 as of September 2021. While parts of his life were allegedly dotted with controversy, he must have been a pretty model student to have received a scholarship from Alabama State University. Here, he played college basketball from 1995 to 1997. 2 Chainz's height of 1.96 meters (6ft 4 inches) was perfectly suited to the sport.
2 Chainz Wife
Who is 2 Chainz's wife? Well, the truth is, he isn't married yet. Instead, he parents two daughters (Heaven, Harmony) and a son (Halo) with his long-term girlfriend, Kesha Ward. The two have been together since 2006.
How 2 Chainz Has Made His Money?
Now we know a little more about the history of the man behind the lyrics, we'd like to dive into how he has managed to earn his money. His business dealings will help us calculate the 2 Chainz net worth figure more accurately. 2 Chainz has 5 apparent revenue streams. These include:
1. His Music Career
Most of 2 Chainz's net worth in the early days came courtesy of his record sales. At least 6 of his studio albums have featured on the Billboard 200. His career also boasts a #1 one selling album, landing him a nomination at the 55th Grammys. He finally won the Best Rapper Award at the 59th Grammy Awards. He has received 6 Grammy nominations in total. The rapper has featured alongside some biggest names in the business, like Drake, Ludacris, T.I, and Lil Wayne.
2 Chainz also established his own record label, The Real University (T.R.U), in 2015. Aside from releasing his own music through the label, some of their first artist signings included Cap.1, Skooly, Young Money, and Short Dawg (aka Fresh).
2. Investments and Property
It's believed 2 Chainz's net worth has been affected more by his investments, nowadays, than his music sales. He has a hand in a lot of ventures, which shows this man has a millionaire's mindset that knows how to keep the money flowing. Some of his more well-known investment ventures include:
A small share in the Atlanta Hawks NBA G League affiliate, the College Park Skyhawks.
Shares in Heliogen (a solar energy company). The company merged with SPAC Athena Technology Acquisition Corp, to become a leader in the energy industry.
Like all wise businessmen, 2 Chainz realizes investing in property is generally a great option for those wanting to make more wealth with their money. As such, he owns two investment properties in Las Vegas that provide a steady income.
3. Business Ownership
2 Chainz is invested in various business ventures that bring in a constant income. He owns the Escobar Restaurant and Tapas which draws Atlanta's celebrity crowd and A-list entertainers. He owns a Nail Salon called 'Pamper', a nightclub called 'Members Only', and a cannabis product line branded as 'GAS'.
2 Chainz also owns his own merchandise brand. It includes an exclusive line of t-shirts, hoodies, caps, socks, and even baby onesies.
4. TV Show Host
The iconic rapper turned to TV in 2017, which added further revenues to the 2 Chainz net worth numbers. He played host on Viceland's "Most Expensivist." It is a reality show which explores and uncovers all the extravagant ways in which the top 1% (richest people in the world) lavishly spend their money. The rapper hosted the show for 4 seasons (ending in 2020). A fifth season has not yet been renewed.
Some of the expensive features and gadgets showcased on the show include a $30,000 pair of headphones, a $4000 customizable toothbrush, a $1K Ice Cream Sundae, $1,000 luxury ice cubes, and a $2 million 1956 Mercedes-Benz 300SL, and way more.
5. YouTube
Content providers can potentially earn really good money with YouTube. They are paid well for viewer counts, subscriptions, and ad revenue. Well, YouTube is only the rapper's side hustle, and it makes him a mint in revenue.
He currently has 3.79 million subscribers, and his music videos receive between 20,000 and 200 million views each. The channel alone could keep him living a lavish life.
2 Chainz Wealth Showcase – Proof of his Wealth
2 Chainz is not scared of flaunting his net worth, either. While he doesn't dish out the numbers to the public, he definitely lives the high life and has bought a number of high-ticket items. Below are just some of the indicators pointing to the fact that 2 Chainz's net worth amounts to multiple millions of dollars.
The 2 Chainz Car Collection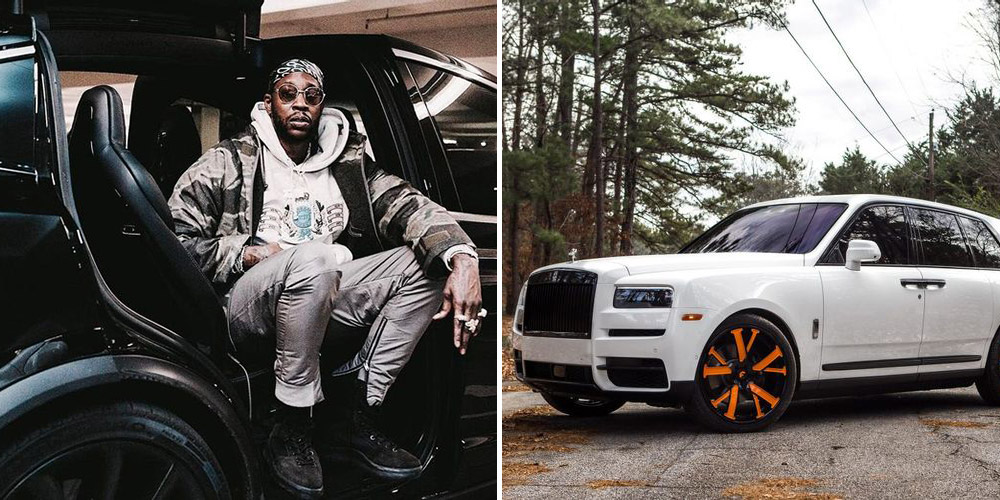 Like all wealthy showmen, 2 Chainz owns a seriously expensive collection of cars. Vehicles are always a great tell-tale sign of someone's affluence, especially when they own more than one. Well, 2 Chainz's net worth must be high, as he owns a whole bunch of iconic vehicles.
His cars include a custom Rhino GX (est. $500,000), a Rolls-Royce Phantom Drophead (est. price of $500,000+), Rolls-Royce Cullinan (est. price of $330,000), a Porche Panamera Turbo S (est. price of $180,000+), Aston Martin Rapide (est. price of $250,000), and a Self-driving Tesla (est. price of $80,000), to name some.
The Houses He Owns
2 Chainz owns two primary homes. He bought his Palmetto, GA house in 2011 for around $517,000. It has 5 bedrooms, 6 bathrooms, and 5,452 sq. feet of space. It is situated on a massive, well-kept property.
In 2016, he bought the former Hollywood Hills modern mansion of rockstar Steve Via for a sum of nearly $2.5 million. The multi-story 1,400 sq. foot home boasts all the rooms and amenities a family could want. The home includes a den, 3 bedrooms, 4.5 bathrooms, family rooms, an updated kitchen, and a fully kitted sound recording studio.
Jewellery
Finally, what shouts 'money' more than expensive jewelry? Well, in this case, 2 Chainz's net worth must be astronomically high, as he is always sporting some shiny bling. In an exclusive interview, the man shows off some of his insane jewelry collection.
He has become iconic for wearing a ring on every finger and multiple chains around his neck. The rapper admits he wears so much jewelry, that it takes way too long to strip it all off. As a result, he is never without some piece of bling on him. In fact, he often goes to sleep with at least two chains around his neck. Most of his items come from design houses like 'Pristine' and 'Avianne Co'.
He openly admits he likes to wear a new timepiece every day. As such, he owns 7 expensive watches. These include three plain designs and four glitzy timepieces which really shine in the right light.
The three plain watches include two Richard Mille pieces and a plain gold Patek Philippe. The three flashy pieces are a Hublot, Cartier, Patek Phillipe, and a Baguette AP (which is his favorite).
So, How do we Calculate 2 Chainz's Net Worth?
Finally, we come to the end of our article, and it's time to answer the question, "What is 2 Chainz's net worth?" It's not easy to come up with a precise number, as these millionaires are never completely open about their earnings. However, an educated guess would bring us to a number of between $30 million and $50 million at least.
There seems to be a consensus among some online that the rapper is only worth between $6 million and $9 million. But we simply cannot agree with these estimates. We believe 2 Chainz's net worth is far higher.
Here's our reasoning:
His property assets alone are worth multiple millions of US dollars.
His YouTube channel would have made him millions in revenue by itself.
As a top-selling artist for nearly 2 decades, there is no way he earned less than $10 million in all that time at the top of the industry. I mean, one of his albums was a number one hit.
Owning his own record label means he kept all the profits from his later albums. Many other artists have to split a huge share of their earnings with recording studios.
We could go on and on, but I think you get the picture. This musician and businessman is loaded. As a result, he could retire comfortably at any time if he saw fit.
The Net Worth of Other Celebrities
We hope you enjoyed our investigation into the net worth of 2 Chainz. If you like uncovering the wealth of your favorite celebs, then we recommend you read our article on the Net Worth of Conor McGregor for further insight into the fighter's riches.