Top 6 Most Expensive Modern Mansion in the World List – Each Worth More Than One Hundred Million Dollars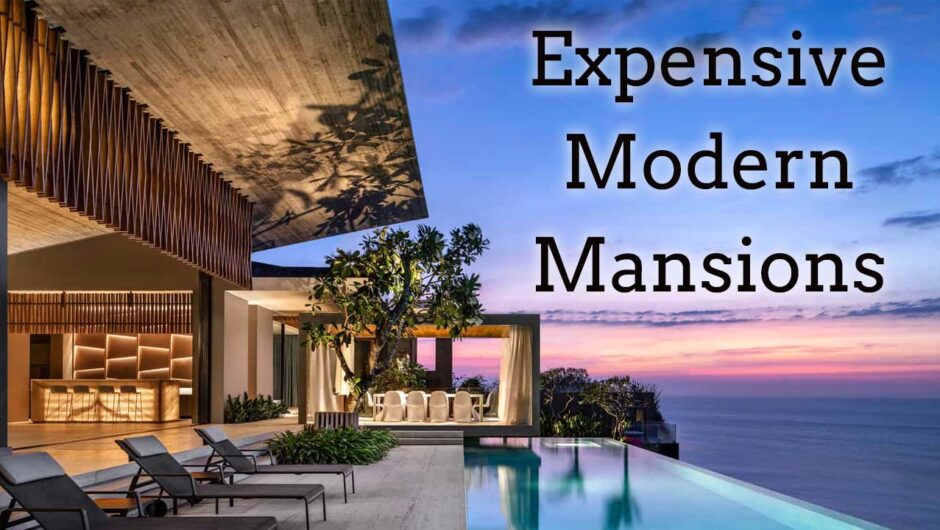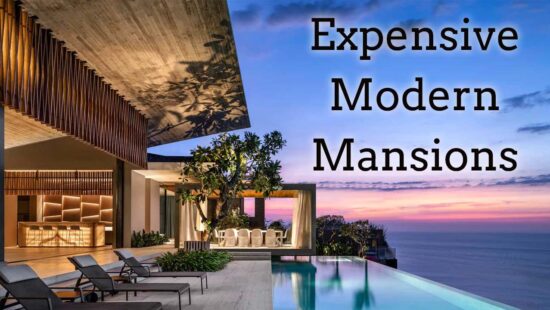 The billionaire lifestyle is an experience many of us dream about but few of us manage to live out. It's a glam life filled with Lamborghinis, Roll-Royce luxury cars, fine suits, Rolex watches, and far more outlandishly expensive things. But perhaps the greatest indicator of wealth, and certainly the most sought-after asset, is an expensive home.
Have you ever wondered how the ludicrously rich live? Well, our team set out looking for some of the most expensive modern mansions on the planet so that you can understand what sort of roof a billionaire puts over their head every night.
Most expensive mansions in the world
Now, we want to make something clear from the start about our list. It is not an exhaustive compilation of all the most expensive modern mansions out there, but rather an overview of some of the more well-known luxury homes around the world. There are many colonial homes that retail for hundreds of millions of dollars, but you won't find them here. Instead, we decided to keep our search for newer homesteads with modern finishings. One of the abodes on our list is the most expensive modern mansion in the world right now.
1. The Steve Wynn Mansion in Los Angeles – $115 million
When we hear of people spending between $2 million and $5 million on a home, we marvel. While these homes are usually palaces in comparison to the average home, they pale in comparison to some of the modern mansions out there in the world today.
The first house on our list is also the cheapest home you will see on this page, and it was on sale in 2021 for $115,000,000. This modern mansion belongs to Steve Wynn, the owner of Wynn Casino Resorts and a respected real estate developer in the United States. He purchased the 2.7-acre property in 2015 for $47.8 million. It just goes to show how the property market is booming right now.
The modern mansion exterior is a spectacular sight. The property holds much more than your eyes can fathom from these pictures though.  The rooms are massive and there are various entertainment spaces around the home, not to mention a movie theatre. The resort-like home also boasts highlights like a swimming pool, pool house, and a tennis court.
2. Bill Gates' Xanadu 2.0 – $145 million
Who said modern mansions couldn't blend into their background and assume a more natural look? While Bill Gates' "Richest Man in the World" title now belongs to Elon Musk, there is no way we could brand the former owner of Microsoft as a 'has been'. He was, after all, at the forefront of technology for decades. So, while his modern mansion may look like a wooden lodge on the outside, it is decked out with many high-tech modern conveniences.
This modern mansion, dubbed Xanadu 2.0, is a spacious 66,000 square feet in size and is made of half a million board feet of timber from 500-year-old Douglas Fir Trees. It is built into its natural surroundings to help regulate the temperature more effectively.
The modern mansion interior comes complete with all you would expect from a $145 million home. This includes 7 bedrooms, 24 bathrooms, a library, fitness center, and not one modern mansion kitchen, but 6. There are also several garages at different locations around the property. The most notable one is the underground parkade which houses up to 10 cars. I guess being one of the richest men in the world means you get to have as many luxury vehicles as you desire.
A 60-foot pool is housed in a 2,500-square-foot building. It even comes complete with a unique underwater music system. There is a massive reception area that can host 200 guests, an in-home cinema, and a specially built stream and estuary wetland to combat any issues with run-off due to the property's high walls. The waters are fully stocked with salmon and trout.
3. Modern Mansion at Cedarbrook Drive, Los Angeles – $250 million
The next modern mansion on our list is still in the process of being built. Once complete, it will be one of the two largest homes in the Los Angeles area. Its house and grounds will constitute as the biggest property ever permitted in the city of LA. Its only rival is Nile Niami's home, which we will feature later on the page. Once done, this modern mansion will be a gigantic 78,000 square feet in size.
The list of amenities set to showcase this 3-story home is staggering. Some of the features include 19 bedrooms, 33 modern mansion bathroom quarters, a bowling lane, fitness centre, wine cellar, tasting room, cigar lounge, a personal 36-seat cinema, yoga gym, a den, saunas, a fire pit, and an outdoor pool (with pool bar and pool lounge).
Of course, when you are this rich you have the money to frequently entertain guests. That said, the home will have a separate guest house for visitors and family. To top things off, the modern mansion is set to be the ideal setting for a car lover, as it boasts a 5-car garage with two turntables to display choice vehicles on.
4. The Ellison Estate – $200 million
This fourth modern mansion on our list firmly reinforces the fact wooden houses are definitely not a dying trend among the super-rich. This beauty pictured above is a $200 million home owned by Larry Ellison, the co-founder of Oracle. He is currently one of the richest men in the world and boasts one of the finest real estate portfolios around.
His 23-acre estate in Woodside, California is certainly one of his fanciest assets. Modeled after feudal Japanese architecture, the home was built by Paul Driscoll, an architect and Zen Buddhist teacher.
The property is divided into 10 units spread out around a man-made lake.  These include the main dwelling, a tea house, a bathhouse, guest homes, and food prep areas. The gardens also showcase many expensive trees, including maples, oaks, redwoods, and cherry blossoms.
This mansion is quite different from modern mansion layouts where tons of glass are used. Instead, this modern property is designed to provide a more tranquil and relaxed setting.
5. Nile Niami's "The One" Modern Mansion – $500 million
We are nearing the end of the modern mansion list, so it's only fitting that we showcase what was formerly considered the most expensive urban property in the world. The 105,000-square-foot behemoth is certainly the largest home in Bel-Aire. It is situated on 8 acres of land with a 360-degree view around the property. The amazing vistas spread all the way from Santa Monica to Pasadena. Its dominating presence in the property world has earned it the title, "The One."
This McClean Design is certainly intricately arranged. As such, the giant project took over 7 years to build to completion. It boasts 20 bedrooms, of which one is a 5,500-square-foot master. There are 30 bathrooms, a 6-lane bowling alley, 5 swimming pools, an inside modern mansion car gallery, a 36-seat movie theatre, and even a nightclub venue.
For most, this home would seem a little over the top. The expense involved in building such a gigantic modern mansion could even bankrupt the rich. This is a misfortune its former owner, Nile Niami, learned the hard way. He allegedly defaulted on $165 million in loans used to finance the project. The home was finally taken into receivership. While the mansion is currently valued at around $500 million, it will most probably be listed at a lower cost to pay off the outstanding debt as quickly as possible.
6. Antilia, Mumbai, India – $2 billion
The moment you have all been waiting for has finally arrived! Antilia is currently the most expensive modern mansion in the world. In fact, only Buckingham palace exceeds its value. But for $2 billion you better be getting something unique. Fortunately, in this case, you are.
Antilla is a 27-story high-rise building owned by the richest man in Asia, Mukesh Ambani. The 568-foot (173 meters) high skyscraper boasts a mammoth 400,000 square feet of living space overlooking the city of Mumbai in India.
Aside from a ridiculous number of bedrooms and restrooms, this one-of-a-kind modern mansion showcases 6 floors of car parking space, 9 elevators, a 50-seater theatre, a health spa, a ballroom, ice cream room, yoga studio, and 3 different helipads.
The sheer size of this palatial home requires a staff complement of 600 people just to run properly. It may be excessive to most, but when your business empire (Reliance Industries Ltd) is worth $217 billion, what's another few million here and there each month for salaries and expenses?
Conclusion
Now don't get all morbid on us about your current situation. It is possible to work your way up to earning a fortune. What separates most of us from the success many of these rich men and women share? Our mindsets. There are some tremendous rags to riches tales among the world's elite that prove this. You just need to arm yourself with a millionaire mindset and take a few risks occasionally. Hopefully, the modern mansions in this article provide you with all the motivation you need to steadfastly chase the leisure lifestyle you so badly want.