Andrew Tate Had to Prove His Net Worth When Buying His First Bugatti and It Turned Out to Be a Top Marketing Play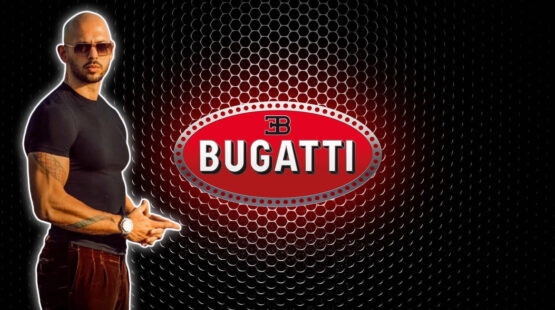 Andrew Tate's net worth has been somewhat of a talking point online. The man who came to prominence via social media has been banned from YouTube, Facebook, Instagram, and TikTok for his misogynistic comments. Yet despite his absence from the platforms, Andrew Tate's net worth has soared to around $500 million in only a handful of years. He made his first million at 27 and then his first 100 million by the time he was 31 years of age.
His climb to the top has been so quick and so radical, that Andrew Tate had to sell himself to Bugatti to secure a spot on the buyer's list for their limited-edition motor cars, as the car manufacturer was not aware of who he was. He finally received his copper-colored Chiron in mid-to-late 2022 and told the Motivational Mindset podcast that he has put down an order for another Chiron. All is revealed in the clip below:
Andrew Tate Proved His Net Worth to Bugatti
There are only around 60 Bugatti Chiron hypercars in the world right now, making them some of the most expensive vehicles on the planet. The low number of available cars has created fierce demand from the world's richest car enthusiasts. So, getting on the waiting list for a vehicle is not an easy feat at all.
His initial approach to Bugatti was allegedly met with a cold shoulder. Instead of Andrew Tate approaching the Bugatti car brand online, he walked onto the shop floor and told the sales executive that he was interested in purchasing a car. The representative's initial response was somewhat dismissive at first. He's probably heard it all before. But Andrew was not prepared to give up.
When questioned on video about what the process was like in acquiring the car, Tate said:
"It's difficult because there are a lot of people in the world with money and there are only 60 in the world of these [Bugattis] as a new build allocation. So, it's actually really, really difficult."
"I first walked into the Bugatti store in Germany, Munich. And I walked in there and said to them, 'Look, I'm interested in possibly buying a car'. They were like 'yeah, yeah, yeah, whatever, goodbye!' Cause they probably have so many people walking in and out, lying about how they want to buy a Bugatti, right? I said, look give me the email address. So, I emailed them, and I called and sent them my car portfolio, my Instagram, my Wikipedia page, and explained who I was. They kinda half replied, saying that all allocations were full."
THE PITCH
Bugatti went on to explain that once they have released a new car, they hit up their customer list and sell the vehicle within minutes. So, how did Andrew Tate get his Bugatti? Well, he used a strong sales pitch – that's how! He said:
"Why, instead of selling it to some Sheik who is going to hide it in a room forever – Why don't you give it to me so I can drive around and be an idiot in it? At least it's gonna be on the streets and it's going to be good for the brand."
This pitch got Andre Tate in Bugatti's door. They set up a meeting where he persuaded them to accept him into the family. The fact that Andrew Tate's net worth was built from nothing, and that the car brand is a show of what hard work and determination can get you, sealed the deal for Tate. Bugatti gave him an allocation. All that was left was to test whether he really had the wealth he was flaunting. As a result, they required a $2.5 million down payment on the vehicle, which he then paid. The rest is history.
Andrew Tate Lives Up to The Bugatti Promise
Much of Andrew's pitch basically boils down to the fact that he would be an inspiration to many that they have finally made financially when they can drive a Bugatti. Andrew has not backed down from this stance either. In fact, some of the comments he has made to his Twitter followers about the vehicle have inadvertently provided great brand awareness for Bugatti.
Andrew Tate ordered his Bugatti in a unique metallic copper color which is one of a kind. However, the color created a mixed reaction from his critics. But Andrew won't let anything bad be said about his favorite car. Instead, his standard reply was – "What color is your Bugatti?"
Now, this statement alone puts the car brand on a pedestal. His insinuation is that only the elite can own a car like this, and no one should have the right to poke fun at its prestige unless they have earned the right to own one themselves. It is honestly some of the best marketing the Bugatti brand could have ever hoped for. It's also great marketing for Andrew Tate as an influencer, as the level of his net worth is now indisputable.
His comments have set social media abuzz and have drawn many "What color is your Bugatti?" memes. But like they say in business – "No exposure is bad exposure" – Each time the Bugatti brand is mentioned in another video, the car brand's name becomes more and more embedded in the minds of the public.
Andrew Tate Pairs His Bugatti with a $450,000 Watch
To pair up with the purchase of his Bugatti, Andrew Tate flexed his net worth just a little more by buying a Jacob & Co Bugatti watch. The watch manufacturer is well known for its outlandishly innovative watch designs, including the iconic casino watches owned by Drake and Conor McGregor where the wheel actually spins.
True to the watch's pedigree, the Bugatti watch showcases a mechanically working W16 engine to mimic the motor inside the Bugatti Chiron. With 578 individual components involved in the manufacture of the timepiece, it is one of the most complex watch designs ever put together.
The gold rose casing matches the color theme of his car, making the duo the perfect pairing. Only one watch is made per car produced and they all match.
How Has Andrew Tate's Net Worth Exploded So Quickly?
Andrew Tate's Bugatti is only the tip of the iceberg. He has amassed a large collection of expensive assets to add to the Andrew Tate net worth portfolio. Andrew owns a $30 million mansion in Romania, over 25 sports cars in total, and a $20 million private jet. He has confessed that his Hustler's University business model is doing extremely well. Tate is said to rake in around $10 million a month from its revenues. Also known as The Real World, the business has been valued at around $300 million and boasts a current membership of more than 200K scholars.
The business model includes the "The War Room" private networking company. Together Andrew puts together a package that teaches men practical ways to make money online. He flaunts his money for a reason. It is a clear indication that the principles that he teaches work in the real world.