Andrew Tate Skirts the Limits While Increasing His Net Worth
Categories:
Money
|
Published by:
Sean van der Merwe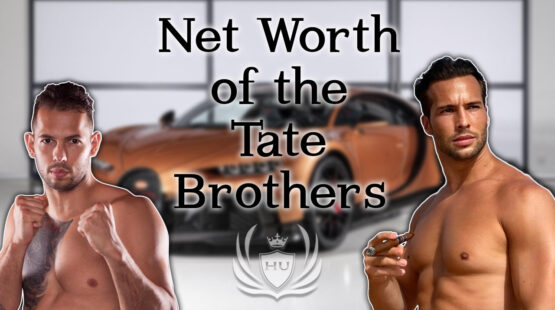 If you have been on social media in the last few weeks, it's not impossible to believe that you've run into a headline, video, or quote from Andrew Tate. But he's not really new to social media. In fact, Andrew Tate's Twitter accounts have been banned more times than we can count over the years.
Tate, who is 34 years of age, has hogged the limelight with controversial tweets and TikToks in the past. He once rubbished the notion that depression was a real illness and announced that sexual assault victims share responsibility for what happens to them. So, while some love him for his contributions to men's wealth, others love to hate him.
Andrew Tate's Net Worth – His Journey from Rags to Riches
Despite his infamy, Andrew is a successful businessman, casino owner, and podcaster. He has professed that his wealth hovers above the $100 million mark. But we are led to believe that this sum is a little exaggerated and place Andrew Tate's net worth in 2022 at around $30 to $50 million, instead. It's still not a bad purse at all and celebrity "Full Send" podcasters, the NELK BOYS, rate him as a high-value man in their books, so he certainly is successful. They recently interviewed him on their podcast while he was visiting Croatia. The video hit over 3 million views in 24 hours.
Andrew's backstory gets interesting from around 2009 when he won the ISKA full contact cruiserweight English championship for kickboxing. His martial arts seemed to build a foundation for his "success" as it certainly taught him dogged determination.
He went on to challenge for the light-heavyweight world championship a few years on. His first attempt at the title belt failed, though a rematch in 2011 saw him finally win the ISKA world championship in that weight division.
Andrew Tate launched himself onto the social media scene with Twitter around the time Harvey Weinstein was being prosecuted for sexual assault. His remarks at the time were very controversial, to say the least. But, as they say, no publicity is bad publicity. He used his notoriety to make somewhat of a name for himself on social media going forward, leading to the point where he would start his own Andrew Tate podcast ("The Art of the Hustle"). If you are a TikTok fan, you probably need no introduction to Andrew, as he airs shorts on the platform all the time with excessive regularity at present.
How Andrew Tate's Net Worth Has Been Earned
Andrew and his younger brother, Tristan Tate, come from a poor upbringing in England, however, after moving to Romania, the two dabbled in cryptocurrency and established several casinos in the country. Tristan Tate's net worth is not quite high as his older sibling's but he has still managed to reach the 8-figure mark. He is worth between $10 and $20 million to date. For those of you that are no good at math – that's around half of Andrew Tate's net worth figure.
Tristan Tate was also a highly successful kickboxing champion and is now a famous television figure. He is well known for his appearances as a fight commentator for Boxnation and Eurosport. His celebrity status began in the fourth season of the British reality TV show, Shipwrecked in 2019, which is where he made his television debut. It made him somewhat of a household name in the UK.
Andrew and Tristan Tate's Net Worth And Facts
| Categories | Andrew Tate | Tristan Tate |
| --- | --- | --- |
| Height | 185cm (6ft 1 inch) | 192cm (6ft 3 inches) |
| Weight | 89.81kg (198 lbs) | 85kg (187 lbs) |
| Date of Birth | 14 December 1986 | 15 July 1988 |
| Place of Birth | Chicago, IL, USA | Washington DC, USA |
| Net Worth | $30 million to $50 million | $10 million to $20 million |
Flaunting a Net Worth the Andrew Tate Way
The two brothers have used their fame to amass a tremendous fortune. Both love to flaunt their riches too. Andrew recently bought himself a beautiful 1-in-60 Bugatti Chiron Pur Sport. He announced the purchase of "his baby" in December 2021, which he added to his already massive 22-car garage. The limited-edition hypercar costs $3.4 million at base price, however, Tate's #18 vehicle set the tycoon back over $5 million. That's a neat little dent in Andrew Tate's net worth, although it is expected that he may be able to sell it for more in a few years to come. It means that the car could turn out to be a decent investment in the end.
Heck, Andrew Tate and his Bugatti have become such an exclusive partnership that even GTA5 fans are recreating his persona in their video game. There are even tutorials on YouTube for how to create Andrew Tate and his Bugatti in the game, using the bespoke character-building tools available.
Hustler's University
Andrew Tate doesn't want to conceal the way that he made his net worth. In fact, he uses it to make more money through the provision of online courses for those who want to know how to attain a millionaire mindset and earn heaps of money in the process. His course is called "Hustler's University 2.0".
The 'university' offers an unaccredited degree in Modern Wealth Creation. It currently has over 11,000 subscribers who learn from a select network of experts in freelancing, crypto, investments, and business. There are various packages available, ranging from £36 for the starter kit to £7,997 for the elite package deal. Most expensive colleges in the US charge multiple times that amount for an accredited course that doesn't even come with as much practical advice and real-world application as this does.
Opinions vs Results

Love him or hate him, one thing you cannot fault the man for is his ability to stay positive and driven. He and Tristan are self-made millionaires. While you could speculate that he reached into the gutter to build the Andrew Tate net worth portfolio and his infamous brand, the money-making examples he provides his students with, focuses on legitimate ways to forge forward in the modern world of online business.