Floyd Mayweather Challenges Conor McGregor to A Re-Match and Comes Under Scrutiny for A Waning Net Worth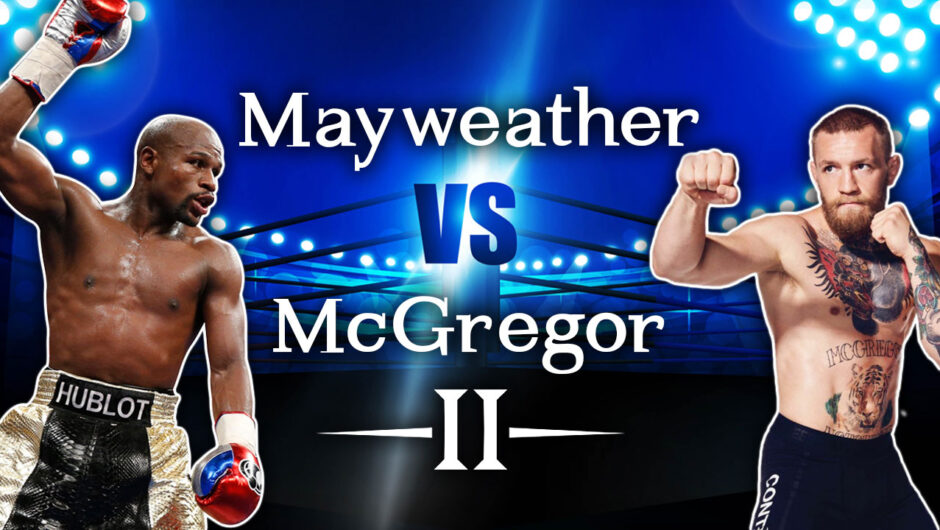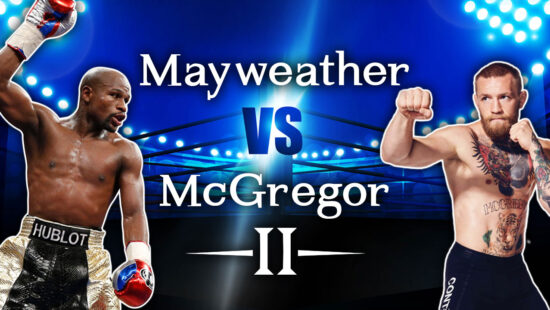 On the 26th of August 2017, two titans of the fighting world came together in a pay-per-view spectacular that lasted 10 rounds and ended in a TKO. That night, former boxing champion, Floyd Mayweather, secured his 50th straight career win against the UFC's mixed martial artist Irish bulldog, Conor McGregor.
The night had been the talk of the town (er world) for months prior with many heated exchanges of "tough boy" banter between the two professionals leading up to the exhibition. But now, 5 years on, the retired boxer is rumored to want to don the gloves again against Notorious in what he allegedly says is "easy work for easy money!"
He's reported to have offered Conor $157.9 million dollars (€150 million) to accept the challenge and step in the ring for another 12 rounds. He probably stands to scoop up a similar $275 million payday as last time, adding generously to his Floyd Mayweather net worth figure.
Floyd Mayweather vs Conor McGregor – The Sequel
Sources close to the star revealed that the 45-year-old ex-boxer is "training like he's 30". He's apparently hoping to stage the fight next March in the Middle East. 'Money' Mayweather has also hinted at a lightweight matchup between Ryan Garcia and Gervonta Davis as an undercard bout on the same night.
If it all comes off, the evening promises some spectacular fight entertainment. But will it top what Floyd Mayweather added to his net worth last time around? In truth, if they can get both matchups to align, it could possibly do better. I mean, who doesn't want to see Conor take a second crack at the champ.
So, what has Conor McGregor got to say about all of this? Well, the UFC superstar has been recovering from a broken leg he suffered in his last outing against Dustin Poirier. Dana White is expecting him to make a comeback to the Octagon and he, himself, has intimated that he has unfinished business with the UFC. However, McGregor teased his viewers on Instagram with a photo from the original match with Mayweather, with the caption: "I Accept!"
But McGregor has since rubbished the rumors even though the speculation is rife of a re-match. If money is something Conor is keen on, it's a no-brainer decision really.
The Critics on Floyd Mayweather's Net Worth
Famous YouTubers and now fighters, Jake Paul and His bother Logan, have had much to say about Floyd Mayweather's current net worth. In fact, they've gone as far as to claim that he is broke. Both of the men have used their socials to slam 'Money' Mayweather, with Logan having labeled the ex-pro-boxer as a "f***ing s**m bag" after he refrained from paying Logan his promised dues from their exhibition match in June of 2021. The fight went its full distance of 10 rounds with no one declared the winner.
As a result, Jake has publicly slated Mayweather, having stated that Floyd does not have the money to pay his brother. He went on to say that he spent it all paying for the entourage of girls that follows him everywhere he goes. He is quoted:
"Floyd is broke, man. I've been saying it the whole entire time. I think he probably spent it on all the girls he pays to be around him."
Floyd did, however, explain himself against the allegations. He said:
"This comes with the territory to them, that's real money, and I like the YouTubers. The money on the back end though, from pay-per-view, that takes a while. Nothing comes right away. I'm still collecting cheques from fights seven or eight years ago. "They just hate when the table is turned. Be happy with the biggest payday you ever got in your life."
It is rather strange that this is all coming out of the woodwork now. It almost seems as if the Paul brothers are insinuating that the push for another Conor McGregor fight is an attempt to save Mayweather from financial ruin.
Is Floyd Mayweather's Massive Net Worth in Trouble?
Well, it's not uncommon for ex-boxers to go broke. Floyd is not known as "Money" for nothing. He doesn't think twice when it comes to spending his cash. While he has professed himself to be a billionaire, he really does spend very lavishly. In an interview on the "Million Dollaz Worth of Game", Mayweather showed off $23 million worth of jewellery on himself as he sat there on the show.
His watch alone was worth $18 million. That's not including the value of his cars, his mansion, his salary bill, or anything else. You can view the interview below (Warning: Bad Language and Racial Expletives)
While pro-athletes are earning, spending is not a problem. But what happens when the income stream dries up but the urge to spend remains the same? Well, often they face bankruptcy. It doesn't mean they don't have millions in the bank, it just means they don't have enough riches to keep up with their expensive habits. If Floyd Mayweather's net worth was to be in trouble, he wouldn't be the only A-list boxer to suffer the same fate.
Other boxers who have gone under include the likes of Mike Tyson, Evander Holyfield, Riddick Bowe, Fernando Vargas, and Ray Robinson to name a few.
Round-Up – What is Floyd Mayweather's Net Worth
Money has shown earnings of over a billion dollars, but Floyd Mayweather's net worth is estimated to be around $450 to $500 million as of 2022. The majority of his riches have been earned in the ring, with a smattering of endorsement deals here and there. The question is, what are his expenses like and how long will that purse last? At least it seems like he is being proactive, even if it does mean coming out of retirement AGAIN for a top-up!