Jamie Foxx to Portray Mike Tyson in Epic Martin Scorsese Produced Mini-Series of the Boxer's Life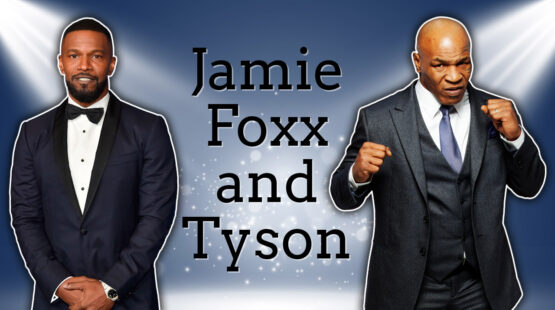 There was much-anticipated talk about Jamie Foxx's Mike Tyson movie coming to the big screen a while back. The life story of 'Iron Mike' has been begging to be told for years now and it looks like everything is on track for an end of 2022 or early 2023 release.
There have been a few hurdles to negotiate along the way, resulting in developmental delays. Not least of which was the interruption of the lockdown era in 2020. But it has not ended there – both the executive production team and directorship of the project have changed. So, complacency certainly has played no part to play in the delays. Instead, the project has been put off in order to ensure that when it is done, it is done properly.
The presentation format of the biopic has also seen big alterations when compared with the original plans for release. That's right, if you were waiting for a Jamie Foxx Mike Tyson movie poster, you are out of luck! To do the story justice, the team has decided to turn the biopic into a short mini-series instead.
So, who is Involved in the Jamie Foxx Mike Tyson Saga?
Finally, the series has been given the budget it needs to commence. Big-name producer and director, Martin Scorsese, has put up much of the money, but he will not be directing the project. Instead, co-executive producer, Antoine Fuqua, has been tasked with that role. The prominent personality has got a few hit films under his belt already, including Southpaw, Training Day, and The Equalizer. With such industry moguls behind the scenes and the Academy Award-winning Jamie Foxx as Mike Tyson, the show, dubbed 'Tyson' is set to be a hit.
Mike has shown nothing but excitement for the project. He said:
"I have been looking to tell my story for quite some time. With the recent launch of Legends Only League and the excitement from fans following my return to the ring, now feels like the perfect moment. I look forward to collaborating with Martin, Antoine, Jamie, and the entire creative team to bring audiences a series that not only captures my professional and personal journey but also inspires and entertains."
With 'Big Mike' working alongside the cast and crew, we are likely to become privy to parts of his life that few others have explored in the past. The only question now is, will the Jamie Foxx Mike Tyson impression fit the bill?
Firstly, that lisp is going to be difficult to replicate, and secondly… have you seen the size of Mike Tyson? Thankfully, we've seen Jamie in action in successful biopics before with his dramatization of Ray Charles' life story. In fact, it was for Foxx's role in 'Ray' that he won an Oscar for "Best Actor in a Leading Role" in 2005 at the 77th Academy Awards.
The Jamie Foxx Mike Tyson Workout Regime
Jamie Foxx certainly understands that the task of transforming his body is the first thing he needs to work on for this role. He announced on Instagram that production was finally going forward. The message was accompanied by some impressive pics (not great quality photos though) of a muscular Jamie Foxx.
He has been the first to admit that he still has a way to go. A regiment of pull-ups, dips, and push-ups are fiercely underway to increase the size of his chest, shoulders, and every other muscle you don't know you have until you exert yourself in this manner.
Where Can You Catch Jamie Foxx's rendition of Mike Tyson?
While the production is underway, there has been no clue as to which streaming platform will take possession of the series. Educated minds would guess at either Netflix or Jeff Bezos' Amazon Prime platform, but time will tell.
Much to Mike's dismay, Hulu announced earlier in 2022 that they would be releasing their own biopic series of Tyson's life, called "Iron Mike". It's alleged that they haven't offered any compensation to the former heavyweight champion of the world, nor have they approached him as a corroborative source for the series. Tyson slammed the project as a "tone-deaf cultural misappropriation of my life story."
Is The Jamie Foxx and Mike Tyson Corroboration Set to be A Success?
The television project has all the ingredients for success. An A-list actor is playing the part, and the series is being funded and directed by some of the top names in Hollywood. To top things off, the show is in direct consultation with Mike Tyson and those closest to him for fact corroboration.
If the biographic retelling of Muhammad Ali's life by Will Smith (in the movie "Ali" – 2001) is anything to go by, the fans will be queuing up for Tyson's true-life story. There are probably no two bigger names in boxing's history than Muhammad Ali and Mike Tyson. The Ali film won Will Smith the MTV Movie Award for Best Male Performance soon after it was released, but will Jamie walk away with accolades next year? All will be revealed in due course.
Conclusion – Not A Big Gap to Close
Will Smith did a smashing job as Muhammad Ali, and we have no doubt that Jamie Foxx will portray Mike Tyson in an accurate manner. The gap is not too difficult to close, really. While professional boxing and acting are two very different career paths, both carry with them smatterings of the celebrity high life, money, and the limelight. As such, the millionaire mindset is already installed in the life of Jamie Foxx, he just has to fill in the gaps with the missing parts of the storyline. This is a job he has managed to do so well many times before.