Celebrities on the Current Ferrari Blacklist Include Justin Bieber, Kim Kardashian, Floyd Mayweather, and Several Other Famous Personalities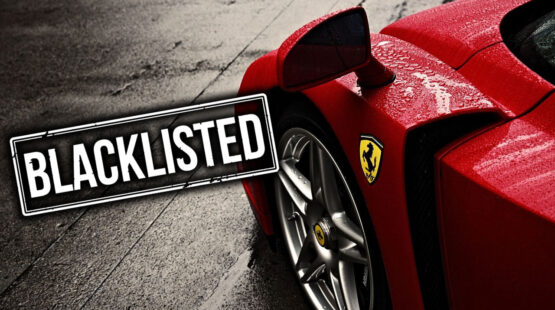 There are few sports cars with the sort of pedigree that is emblemized by the Prancing Horse of Ferrari. In fact, the iconic car company from Maranello, Italy, boasts car builds that only appreciate in value over the years. Many of their vintage sports cars litter the list of the world's most expensive selling cars.
Ferrari's acclaim has reached such a peak that it puts the car company in a position where they get to decide whether certain buyers can purchase their cars or not. Brand protection is of vital importance to them. As such, they have implemented a Ferrari blacklist that restricts certain individuals from ever owning their cars again, to avoid dragging the Ferrari name into disrepute. Among those on the list, are some popular celebrities that we all know and love.
Ferrari Vetoes Justin Bieber
Justin Bieber has donned many images over the years. From cute kid to bad boy, the now reformed celebrity singer still leaves a sour taste in the mouths of many – including Ferrari. Justin Bieber has committed not one, but two infractions to land him on the dreaded Ferrari blacklist. Well, he is partially banned, at least.
One infraction involved Justin and a drunken night out. He got so drunk that he lost his Ferrari for 3 weeks. It took his staff ages to retrace his steps and find the mislaid vehicle. If this was not enough disrepute associated with the brand, Bieber seemed to have taken the car-makers patience to the limit when he breached some of their ownership clauses.
Ferrari stipulates that new owners cannot excessively modify their cars and that they must not sell them within the first year of ownership. Well, Bieber bought a new Ferrari 458 Italia F1 Edition and contravened both clauses. The car was shipped off to  West Coast Customs for full customization of the color and trims.
They wrapped the car in an electric blue color, which is not a standard branded tone. To top it off, he added insult to injury by messing with the Prancing Horse logo on the vehicle too. Then, shortly after the customization was done, Bieber sold the car at an auction within the first year of ownership.
50 Cent Fuels Ferrari Disdain
Ferrari is devoted to its dear global brand image and is not bound to let anyone tarnish its name – even if you are one of the most recognizable rappers in the world. 50 Cent has met the fury of the Ferrari blacklist after his car's battery left him stranded on the side of the road.
In a rant, the rapper took to social media in a fit of rage, calling his Ferrari 488 a "F*#cking Lemon." Given the fact that batteries do need replacing from time to time, his tirade is believed to be a little uncalled for. Well, in view of preserving their blamelessness in the incident, Ferrari has removed the man's privileges when it comes to buying any future models of their car brand.
Ferrari Fed Up with Kim Kardashian
Kim Kardashian just managed to avoid the Ferrari blacklist but has been restricted from buying certain exclusive models and special editions of the carmaker's creations.
It all unraveled between Ferrari and Kim Kardashian when she accepted a Ferrari as a wedding gift from a known Malaysian fraudster in 2011. She then also denied having received it. The headlines indirectly associated the Ferrari brand with criminality – something the carmaker did not take lightly, given its devotion to its pedigree.
Deadmau5 "Purrari" Problem
In a similar fashion to the Ferrari of Justin Bieber, famous Canadian music producer and DJ, Deadmau5, managed to land himself on the unpublished Ferrari blacklist for customizing the look of his 458 Italia.
Not only did he implement a massive overall of the Ferrari's perceived paintwork, but he exchanged the Prancing Horse emblem for a kitten. He then dubbed the car his "Purrari." But Ferrari did not leave their disdain of the events at a mere frown – they sued him. They were outraged at the idea of turning a classy sports vehicle into a meme car.
Instead of facing the car brand in court, Deadmau5 relented and returned the car to its factory finish to appease the brand.
Turning Over Cars Like Mayweather
Not only the best boxer of all time but also the richest, Floyd Mayweather seems to do whatever he chooses. One thing he is known for is his quick turnover of prestigious vehicles. While other carmakers turn a blind eye, this is not something that Ferrari appreciates at all.
As noted with Justin Bieber, Ferrari requires its owners to keep the vehicle for at least a year before selling it. However, Mayweather is notorious for selling cars within months of buying them, giving him a bad rap over in Maranello. As such, it is believed that Floyd has made it onto the Ferrari blacklist.
Chris Harris Review Halts Ferrari's Love
You may know Chris Harris from BBC's Top Gear car show. The ex-racing driver and car journalist has found himself on the Ferrari blacklist for some unsavory things he wrote about the company back in 2011. He has not only been banned from owning a Prancing Horse vehicle, but it is alleged that he cannot receive a loaner for review either.
The trouble started when Harris questioned Ferrari's ethics. He professed that the car manufacturer had modified their test cars to perform better than the actual vehicles they were selling to the public. This ensured that they would get better reviews. While journalists usually have the right to say what they want about the vehicles, Ferrari believed his comments to be defamatory and denied this being the case.
Other Famous People on the Ferrari Blacklist
| Celebrity | Fame |
| --- | --- |
| Tyga | American Rapper |
| Preston Henn    | Former Racing Driver |
| Nicolas Cage | Hollywood Actor |
| Curtis James Jackson | American Rapper |
| Blac Chyna | Model and Socialite |
Ferrari Owner?
It seems that no matter how much money you have or how famous you are, you are not exempt from landing on the Ferrari blacklist. In fact, the term "Ferrari owner" is probably a little laughable. The brand seems to have more say about their cars than those who purchased them. It just goes to show what decades of racing pedigree can do for a brand. The cars are so sought after, that they actually get to pick and choose who gets one.