The Most Expensive Car Crashes Involving Celebrity Drivers Revealed
Categories:
Money
|
Published by:
Sean van der Merwe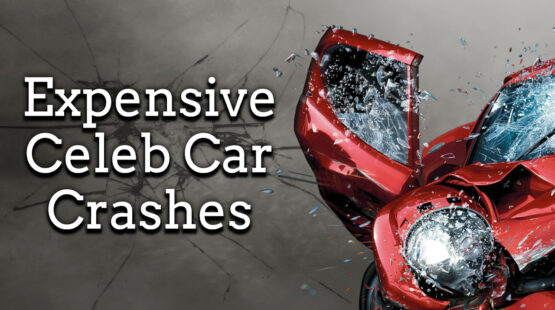 While so many people dream of driving exotic cars and luxury vehicles, it's a real-life virtue for a lucky few. In fact, many famous actors, celebrities, and high-value businessmen own homes with garages that home several vehicles worth 6 digits and more, each.
Ferraris, Lamborghinis, and Porsches are not even the most expensive car brands in their collections. But do you know what's more shocking than owning some of the most expensive cars on the planet? Being involved in some of the most expensive car crashes ever recorded.
The Top 4 Most Expensive Car Crashes Involving Famous People
Unveiling the list of the most expensive car crashes comes with mixed emotions. While it's always interesting to see how much a vehicle is valued when it is totaled, it's never great to revel in the losses of others, no matter how little it affects them. Fortunately, each of the extravagantly expensive cars on our list was built to protect its occupants at high speed, meaning that each driver survived to tell the harrowing tale in person.
1. Elon Musk – McLaren F1:

$1 million
Businessman and Twitter personality, Elon Musk,  maybe the richest man in the world right now, but that wasn't always the case. While the man is totally into Tesla right now, his first big payday came with the sale of a software start-up to Compaq in 1999. He used the money to purchase what most believe to be the most expensive car he has owned to date – a McLaren F1.
The, then $1 million 618 hp McLaren hypercar, was one of the quickest vehicles on four wheels. Perhaps this fact should have led Musk to take out insurance on the car. However, by his own admission, Elon believed that accidents only happened to other people. As a result, he passed on the extra premium.
Elon Musk and his business partner at the time, Peter Thiel, were on their way to a meeting one day when Thiel asked Musk what the car could do… Apparently, Musk's answer was: "Watch this!" Pretty sure that losing the backend of the car and careering into an embankment was not meant to be part of the demonstration. With no insurance for the vehicle, it turns out that the car became a one-million-dollar mistake.
2. Rowan Atkinson – McLaren F1:

$1.25 million
Perhaps Rowan Atkinson would have been more at home with the Mini that his altar ego, Mr. Bean, drives. Rather that, than the high octane fast and furious car that he managed to crash…twice! If he had stuck to four basic wheels with low power output, he probably wouldn't have made it onto the celebrity's most expensive car crash list.
He only bought the car for $890,000 in 1997, but by the time he fixed it the second time, the damages amounted to a whopping $1.25 million rebuild. Fortunately, the car was insured, but his misfortunes would have most certainly pushed him into a high premium pay bracket as a high-risk driver.
His first accident took place shortly after he bought the car in 1997. He rear-ended a Rover Metro. The frontal damages were repaired, and it wasn't until 2011 before the ride left the road again. While driving on damp roads, Atkinson lost control of this, his most expensive vehicle at the time, and crashed into a tree.
Rowan walked away with a broken shoulder, which honestly means he got off lightly. The vehicle damages were so severe that the car took McLaren over a year to rebuild. He sold the sportscar in 2015.
3. Gage Gillian – Pagani Huayra Roadster:

$3.4 million
Gage Gillian (17) is a prominent YouTuber with 179K subscribers tuned in to his Exotic GG channel at present. With a billionaire father and a plethora of exotic cars in the garage, Gage's content almost always has to do with some of the most expensive cars out there.
Gage took his dad's '1 of 1' $3.4 million Pagani Huayra Roadster out for a spin one day. He and fellow YouTuber, Zach Walker, were shooting a video for his channel when he lost control of the car. Fortunately, both walked away from the car (which was a complete write-off) with minor injuries. Gage's response to the accident: "Sh*t Happens!"
You can hear how it all transpired from the horse's mouth in the video below:
4. Richard Hammond – Rimac Nevera:

$2.4 million
Richard Hammond has become somewhat of a household name around the world thanks to his adventures with car shows like Top Gear and The Grand Tour. Any obsessed petrol head will know that the little man gets some of the most exhilarating opportunities to pilot some of the most expensive cars on the road…And he gets paid for it! It's no surprise then that a man with so much time behind the wheel of hypercars and exotic vehicles would eventually make it onto the list of most expensive cars crashed by celebrity drivers.
The Rimac Nevera is Croatia's very own pride and joy. It is a 1,900 hp electric car powered by not one, but four electric engines. That's right, one engine per wheel. What that translates to is a car that does the 0-100 km/h (0-62 mph) sprint in just 1.97 seconds and can reach a top speed of 412 km/h (256 mph).
The opening episode of the Grand Tour Season 2, saw Richard Hammond test this electrified beast on a countryside hill climb. On his final take for shooting that day, Hammond left the road at the top of the hill beyond the finish marker. The car was traveling at around 130 km/h (80mph) when he veered off the path sideways and hurtled down onto the road below before rolling multiple times over the course of 100m+.
The picture above looks like it may tell the tale of a celebrity lost to one of the most expensive car accidents ever recorded. However, Hammond lived to tell the story with nothing more than a compounded knee fracture. Unfortunately, none of the TV cameras were positioned to catch the full details of the accident.
Hammond and Mate Rimac discuss the crash in detail in the video below:
Car Crash Statistics
There are a large number of car crashes per annum. In fact, the statistics cite 20 – 50 million non-fatal road crashes every year. Around 1.35 million of them result in fatalities. Thankfully, the celebs on this list managed to fall into the majority. The only minority list they seem to qualify for is the most expensive car crash list. Many of these cars mentioned are worth multiple times the value of ordinary day-to-day automobiles.