Top 9 List of Coolest Fast and Furious Cars Shown in the Movies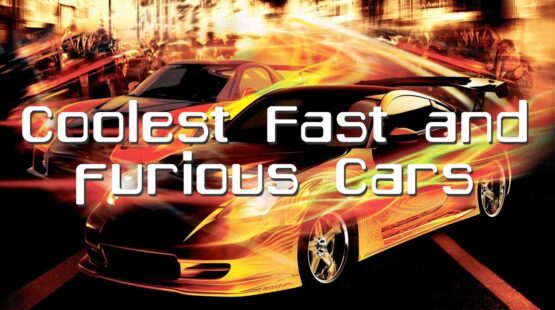 When we talk about movie franchises and cars, there should be only one name burned into the minds of all serious petrol heads – The Fast and the Furious! The film series recently launched its 9th feature movie in June of 2021. However, there are 11 installments altogether if we count short films like "The Turbo Charged Prelude for 2 Fast 2 Furious" (2003) and "Los Bandoleros" (2009). We won't add in "Hobbs and Shaw" this time around. While it was a brilliant film, it is more of a spin-off movie.
So, as a cult classic among car lovers, we thought that it would be a great idea to reminisce over some of the most iconic Fast and Furious cars that have helped make the brand a smash hit over the past two decades. So, fasten your seatbelts as we take a trip down memory lane a quarter mile at a time.
Top Fast and Furious Cars
There are really so many Fast and Furious cars that you could choose from to formulate this list. 9 films with multiple cars per feature leave the options open to endless debate as to which vehicles should make the cut and which shouldn't.
At PokCas, the Fast and Furious cars in the list below represent our favorite vehicles of the bunch. To pay homage to the number of films in the franchise right now, we've narrowed our list of favorites down to 9 cars.
1. Dom's Dodge Charger (Appears in Fast and Furious 1, 4, 5, 7)
Dom's Black 1970 supercharged Dodge Charger that he inherited from his dad is probably one of the most iconic muscle cars in movie history. While some might debate that Eleanor (the Shelby Mustang GT500 from Gone in Sixty-Seconds) is a strong rival for this award, Torretto's car appears in 4 times as many movies. As such, it gets our vote!
We receive an introduction to what this beast can do in the very first movie in the series. Dom and Brian line up on the mark and the Dodge charges off the green light on its back wheels. It was to the disgust of every muscle car junkie out there when this Fast and Furious Car ended up as a wreck down the road after being sideswiped by a truck entering the roadway.
Fortunately, motorheads can wipe the tears away, as the black beauty makes it into three more movies before being put to rest for good in Fast 7 by Shaw.
2. Brain's Mitsubishi Eclipse (The Fast and the Furious 1)
In the first movie of the franchise, Officer Brian O'Connor goes undercover into the illegal street racing world. He intends on busting a ring of racers that are hijacking parts shipments for high-end street racing cars. In an attempt to enter the underworld, he enters a street race at the beginning of the film. It's here, that we first take a glimpse of the now renowned 1995 green Mitsubishi Eclipse.
The green monster will probably go down in history as one of the most recognizable Fast and Furious Cars in the franchise. While he loses the race to Dom, he uses this car to ride Torretto to safety when the cops bust up the street 'party'.
Unfortunately, the Fast and Furious car does not make it too much further into the movie, as she meets a fiery end at the hands of Jonny Tran and his gang.
3. Brian's Toyota Supra (The Fast and the Furious 1)
Brian lost his Mitsubishi Eclipse to Dom in the opening race of the first Fast and Furious film. Unfortunately for him, they were racing for pink slips. After the car exploded a few scenes later, Dom reminded Brian, in jest, that he still owed him a 10-second car. As such, they set about finding a replacement for Brian to drive. That's when we come across a beat-up old Toyota Supra.
After a few weeks of work and some serious tune-ups and modifications, the bright orange 10-second beast is born like a phoenix from the ashes.
This orange Supra is put to the ultimate test against Torretto's Dodge Charger in one of the final scenes of the first movie. It is also with this Fast and Furious car that Dom makes his final getaway from the police after Brian hands him the keys. After all, he did owe Dom a car, didn't he?
4. Jesse's Volkswagen Jetta (The Fast and the Furious 1)
Our final car from the first film is Jesse's white 1995 VW Jetta. This Fast and Furious car is involved in a bit of controversy in the movie. While it is driven by Jesse, it is mentioned in the film that it belongs to his father who is in prison. As such, it has great sentimental value for its current driver.
The controversy starts when Jesse takes it to Race Wars. Against Brian's advice, he races it against Johnny Tran for pink slips. While it seems that he is about to win the race, Tran's Honda S2000 overpowers him right near the end and he loses. But instead of handing over the Fast and Furious car, Jesse leaves the race and makes a run for it.
A little later, he turns up at Torrento's house with the car to ask for protection. But it seems like he was followed, as Tran and his gang drive by on motorcycles and gun down Jesse in cold blood. The car takes a few bullets in the process. We surmise that the vehicle must have been impounded by the police as it never features in the series again.
Despite this Jetta's stardom, the Fast and Furious car sold for a measly $42,000 in a Barret-Jackson Auction in 2016. A Carbuzz article stated that "it's a good price for a used Jetta but awful for a movie car." While the car seems suped-up in the movie, in real life it only sports a stock standard 2-liter 4-cylinder motor mated to a 4-speed automatic transmission. Perhaps it would have fetched a higher price had it been tuned.
5. Suki's Honda S2000 (2 Fast 2 Furious)
Suki's bright pink Honda S2000 is famous from the opening race in 2 Fast 2 Furious (the second movie in the franchise). While the Japanese legend doesn't win the race, its high-revving engine and deep-throated growl make it one of the most loved Fast and Furious cars of all time.
She rides the roadster version of the car, which when stock standard, boasts the most powerful naturally aspirated 2 liter, 4-cylinder motor ever made. The car in the movie boasts a Comptech supercharger, Paxton Novi 1000 Toucan Industries exhaust, and of course, a bottle of nitrous oxide behind the front seats.
6. Brian's Nissan Skyline GTR-34 (2 Fast 2 Furious)
The opening scene to 2 Fast 2 Furious begins with Brian pulling up for an illegal street race in Miami with this beautiful silver turbo-powered Nissan Skyline GTR-34. If you want to know where the car came from all of a sudden, we suggest that you watch the short film – "The Turbo Charged Prelude for 2 Fast 2 Furious." It provides an overview of what happened between the first and second movies in the franchise.
The iconic Fast and Furious car commands the stage from its first rev to its last. Fortunately, Brian races it to victory in the opening scenes but, alas, its beautiful life is short-lived. The police break up the street race in haste and fire an EMP harpoon at the car, destroying its electronics in the process.
However short-lived its life was in the films; real petrol heads hold it in high regard as one of the better Fast and Furious cars in the franchise.
7. Ford Escort RS1600 (Fast and Furious 6)
A Ford Escort RS1600 is an odd addition to the Fast and Furious car listing but it's an iconic one, nonetheless. You'd normally associate it with Rally racing, however, it does well to aid our heroes in chasing down a tank on a Spanish motorway. As such, this little Ford is easily associated with some of the most ridiculous stunts in Fast and Furious history.
For those interested, an RS1600 Escort is a 1970s 113bhp car that churns out 142Nm torque from its twin Weber carb-powered motor. It boasts a lowly 8.9 second to 60mph sprint with a top speed of 113 MPH. It's not too bad for an older car with a 4-speed transmission, though.
8. Han's Mazda RX-7 FD (Tokyo Drift)
While true Fast and Furious fans may want to stone us for adding a car from Tokyo Drift, we couldn't help ourselves. It's technically part of the same series, so why not draw at least one hot vehicle from its script. And if we'd have to choose one, it would have to be Han's RX-7 drift car.
The beautiful yellow and black rotary is a sight to behold as it churns up the tar in the streets of Tokyo. Unfortunately, it met a miserable end in the movie.
The vehicle had a custom body built by a Japanese aftermarket automotive company, called Veilside. The Fast and Furious car was a real stunner. In fact, it's so beautiful that it won the Best Car Award at the Grand Prix Show in 2005. The 1.3 liters 13B rotary churns out 302bhp and 347Nm of torque.
9. Gurkha LAPV (Fast 5)
Who can ever forget the moment Dwayne "The Rock" Johnson joined the Fast and Furious franchise? The tank of a man was accompanied by a tank of a car. The Gurkha is a tactical armored vehicle produced by Terradyne Armoured Vehicles. Luke Hobb uses it to chase after Toretto and the gang in Fast Five. How much more badass can you get?
This Fast and Furious car is powered by a 6.7-liter V8 engine that produces 325bhp and more than 1,000Nm of torque. It's capable of crushing most of the speedsters under its gigantic wheels. Thankfully, the race cars are a lot quicker than this monster. Otherwise, there'd be few nice cars left to watch because they'd all be flattened.
Conclusion
Well, we hope we've stirred a bit of nostalgia in our trip down memory lane. Thankfully, you can go back and watch these iconic films anytime you want and concoct a top vehicle list of your own. However, I'm sure you can agree, that many of the iconic Fast and Furious cars mentioned in this article will make it onto your list anyway.