What Are The Top 5 Coolest-Looking Gold Lamborghinis?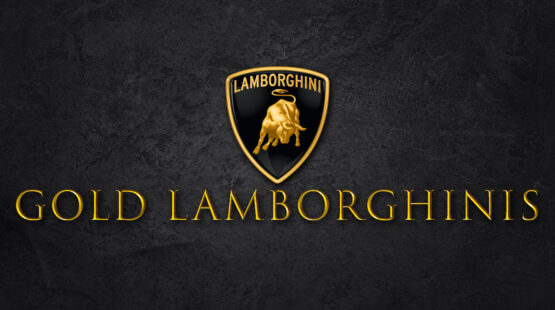 When most vehicle enthusiasts are asked to list their favorite exotic sports cars, it's very seldom that the name, 'Lamborghini' won't make it onto the page. The Italian sportscar (and now yacht brand) with the Raging Bull design logo is crafted for fun. From their fine finishings inside to their sleek, streamlined designs outside, they turn heads wherever they go.
Elite Gold Lamborghinis
There is even an exclusively refined selection of 5 Gold Lamborghinis for sale today. From plated paintwork to solid gold panels, these cars sell for anywhere between $575,000 and $7.8 million. All, except one, are Aventadors. the remaining star is a classic 1980s Lamborghini Countach 5000 SV.
Gold is the true color of riches. Take a look at the bling these Lambo drivers flaunt from day to day.
1. Plated Gold Lamborghini Aventador
Meet the world's first gold-plated Lamborghini. It was revealed to the world in Miami Florida in 2012 by Lamborghini Miami. The gold Lamborghini is certainly one of the shiniest cars around. If you get close enough, you may be able to pick the food out of your teeth with the help of the mirror-like reflection produced from its finish. It's alleged you can own a hypercar like this if you are prepared to dish out about $4 million for it.
We think plating an entire car in gold is an impressive feat, but we'd hate to know what the insurance premium on this beast must be. We also imagine that gold plating must interfere with the car's power-to-weight ratio, as it most probably weighs a bit more than a standard version of the car does. It's a good thing this gold Lamborghini Aventador LP700-4 is powered by a 6.5-liter V12 motor deriving 769 horsepower (544kW) and a whopping 690 Nm of torque. As such, it can still move along in a hasty fashion if need be.
While a plated gold Lamborghini is an eye-catching automobile, you could reproduce a very similar-looking finish by wrapping your Lambo in gold vinyl. Not only will it cost you far less, but it's not permanent either. This way, you could change the color every few years if you feel like it.
2. Dubai-based Gold Trim LP700-4
A completely gold Lamborghini may be a bit much for some people, but what about gold-plated trims and highlights? The tastefully crafted white Lambo with gold trimming in the image above was designed and finished by Dubai -based company, Maatouk Design London.
This 1/1 limited edition gold Lamborghini was a special order from Qatari businessman, Mr Jaber Bin Abdullah Al Hmaidi. His company requested the car be customised in time for the annual Qatar National Day 2015 festival. It boasts real gold-plated accents across the outside and in the interior of the car.
While the white and gold Lamborghini looks super special on the outside, it is untouched under the hood. But that is no downer, as a Lamborghini Aventador is already a lightning-fast streetcar that can sprint to 62 mph in just 2.9 seconds and reach up to 217 mph (350 kph).
3. Solid Gold Lamborghini Countach Trim
Lamborghini has a long lineage of sportscar production. One of the most iconic versions of the car brand in the 1980s was the Lambo Countach 5000 QV. While the later Lamborghinis are certainly faster and more refined, every true collector will want to get their hands on one of these earlier Italian marvels. The Countach is no slouch either. It can sprint along to a top speed of around 187 mph, courtesy of its 455 Hp V12 motor.
It seems gold-cool Lamborghini finishings are not only popular among modern car owners though. This particular car came from the factory with gold embellishments already in place.  While some can be seen on the rear of the car, the interior flaunts the trimming boldly. It clearly boasts 23-karat gold dashboard panels, sills, and more. The car's white color is stock standard, too. The designers opted to keep the interior leather and outer paint job a brilliant white to offset the gold accents properly.
The white and gold Lamborghini was shipped to the USA when it was brand new. It was kept there for many years before being exported to Japan. From there, a Dutch owner purchased the car, then restored the finish and overhauled the motor by sending it to Lamborghini Polo. It was then sold on a Sotheby's auction for an undisclosed amount in 2017. Early estimations suggested the car would fetch anywhere between €475,000 and €575,000.
4. $7.8 Million Diamond Gold Lamborghini Model Car
The next entry on our list of gold Lamborghini sportscars is an 8:1 ratio Aventador model car replica which is worth more than a full-sized road-going version. It's valued at around $7.8 million. The model car was crafted from a 500 kg block of pure gold by German model car designer, Robert Gulpin.
The outer casing and interior panels are crafted from gold and carbon fiber. The car's wheels are fashioned from platinum and the seats are encrusted with $1.5 million worth of diamonds.
Though it's worth so much money, it is missing all the parts of a Lamborghini that make it fun i.e., the powertrain. But what it lacks in usability, it makes up for in prestige. How do you ask? Well, the presentation of this Lamborghini gold car has broken not one, but three world records. It has a trio of entries in the Guinness Book of World Records. The accolades include the most expensive model car ever, the most secure showcase (bulletproof glass secures the model car), and the most luxurious logo.
5. Matt Gold Lamborghini Aventador SV Roadster
This final entry on our Gold Lamborghini car list is a little different from the golden Lambos featured before it. While all the other head-turners have got solid gold finishings, this Aventador SV Roadster in this image is gold in color tone alone. The matt finish coupled with black accents turns it into an aggressive-looking automobile meant for the run-of-the-mill Lambo driver (if there is such a thing).
Lamborghinis have come in bold colors for a long time. Some of the bright tones include purple, bright green, and orange. So, this golden tone is really a docile introduction in comparison. However, in our opinion, it seems to capture the finesse of the brand, perfectly.
Other Blingy Bulls
While gold Lamborghinis are blingy, gold is not the only color the Raging Bull brand has sported which seems a little OTT. In our search for our golden Lambo listing, we bumped into some other worthwhile mentions for those interested in flashy sports cars from this bull paddock.
First up is a Swarovski Crystal encrusted Aventador. It is owned by a Russian model, Daria Radionoca, and is worth around $425,000. Apparently, the paintwork revamp took 700-man hours to complete. That's two months to apply around 2 million crystals.
Bryan Salamone's Lambo duo which includes an Aventador and an Urus, are probably the shiniest cars on this page. That's because he had both of them fully chromed from head to toe. Can you imagine riding along the freeway and having what seems like a mirror race past you at lightning speed? Seems like a notion from a sci-fi movie, doesn't it? Well, it's not make-believe, just head to New York, USA to find out.
The End of the Race
As long as there are rich people amongst us with millionaire mindsets, things like gold Lamborghini vehicles and other outlandish car designs will be with us to stay. Well, why not – money is there to be enjoyed after all, right?
If you enjoyed our article and would like to see more articles pertaining to the lifestyles of the rich and the famous, stay tuned to our news page for fresh content each week.