Top 5 Highest Earning Hollywood Male Actor List for 2022 Revealed
Categories:
Entertainment
|
Published by:
Sean van der Merwe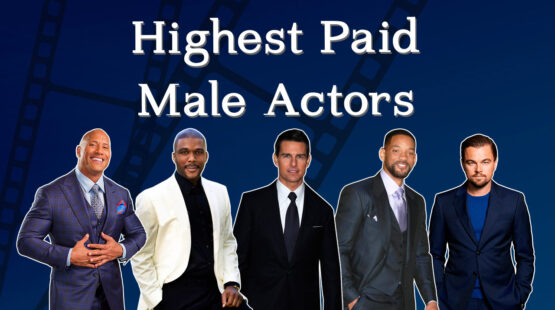 We're officially clear of the worldwide pandemic that hampered the health of millions and had a firm grip on the world economy at the same time. For almost two years, making movies slowed to a snail's pace because of the pesky limitations placed on the industry. 2020 was impossible for the industry, however, 2021 began to see rules relax and the talk of Hollywood and film began to resurface.
Now, well into 2022, the industry is back on its feet. We've seen some epic films land this year! The likes of Elvis, Top Gun's sequel, the last Jurassic World Movie and so much more have been released to enthrall us.
Like always, at PokCas, we're always interested in money. When someone's getting richer, we want to know about it, so we set out to find out which male actors have made the most money this year.
Top Earning Male Actors of the Year
We've elected to provide you with an accurate list of the top male actor earners of the year so far. No major surprises for us, except for the number 2 spot, but I guess there is space for us all to learn a few new things.
The 5 highest-paid male actors of 2022
⭐ Dwayne Johnson
⭐ Tyler Perry
⭐ Tom Cruise
⭐ Will Smith
⭐ Leonardo Di Caprio
Dwayne (The Rock) Johnson –

$270 Million
It has been common knowledge for a while now that Dwayne "The Rock" Johnson is the highest-paid male actor in Hollywood right now. He made a great comeback from the days of "Tooth Fairy" with the Fast and Furious franchise and then again together with Kevin Hart in "Central Intelligence" and the two later "Jumanji" films.
The man makes a whopping $30 to $50 million a movie nowadays. So, if you calculate that he released both "Jungle Cruise" and "Red Notice" this year and is due to release "Black Adam" in October, he will clearly pocket anywhere between $90 to $100 million + in movie salaries and bonuses, alone. However, this is still only a fraction of his total earnings for 2022. Most of this male actor's wealth has come from the sales of his own brand of tequila – Termana.
Tyler Perry –

$165 Million
Believe it or not, Tyler Perry is certainly one of the richest men on this list. The billionaire producer, director, and actor hit the silver screen 'big time' with the "Madea" movie franchise. Who knew that a male actor dressed like a strict conservative Christian woman would break the box office multiple times?
While the movies certainly do provide a decent payday, it's more about the brand that Tyler has built around Madea's persona that has made him extremely rich. He currently has a multi-year deal with BET Network and owns the successful "330-Acre" Production Studio in Atlanta.
Tom Cruise –

$100 Million +
The legendary Tom Cruise has been one of the highest-earning male actors since the 1990s already. He has acted in so many awesome movies over the years. Just think back to Top Gun, Cocktail, Risky Business, Interview with a Vampire, Mission Impossible, Edge of Tomorrow, Jack Reacher, and the list goes on.
Top Gun's sequel, Maverick, has flown to the top of the charts this year. This time, Tom is part of the production team as well. The movie-maker/actor has earned over $100 million for the film already and it's still at the cinemas. That's a huge bankroll to add to the wealth of one of the richest male actors in the industry.
Will Smith –

$75 Million
Guess you didn't think you'd see Will Smith's name on the honor roll for anything again. The Oscar incident that saw him slap Chris Rock in March 2022 seemed to derail his career for the most part. There were rumors that multiple scheduled productions with him on the cast had decided to offload him within days of that fiasco.
However, the movie "Emancipation" will go ahead with him in the lead and should release in 2023. He's already received a happy payday for that film to the tune of $35 million. Of course, bonuses and extras could kick in when it hits the box office.
You place that on top of the $40 million he made for King Richard (the movie he won the best actor Oscar for this year) right at the end of 2021 and we're talking about a bank balance that carries him ever closer to that billionaire mark. It just goes to show that if you keep going and keep positive in the midst of negative circumstances, you have a shot at redemption and success.
Leonardo DiCaprio –

$30 Million
Mr. DiCaprio took years to finally win an Oscar, much to the amazement of millions of his adoring fans. It almost looked certain that he was set for the glory the moment he captured our hearts in the opening poker scene of the movie, Titanic. He finally got to take the golden trophy home in 2016, when he won Best Actor for his film, "Revenant".
However, there is no questioning both the talent and status that Leo holds in Hollywood. He is one of the most versatile male actors in the game and that reflects in his paycheck. In fact, he makes it onto our top 5 list with only one movie under his belt this year.
To be fair, he should share the spotlight with Brad Pitt on this one, as they have both earned $30 million this year through a single feature each. Leonardo is the star of the latest Martin Scorsese film, "Killers of the Flower Moon", while Brad is working on some unnamed F1 drama.