What is the Net Worth of One of the Richest Comedians, Kevin Hart?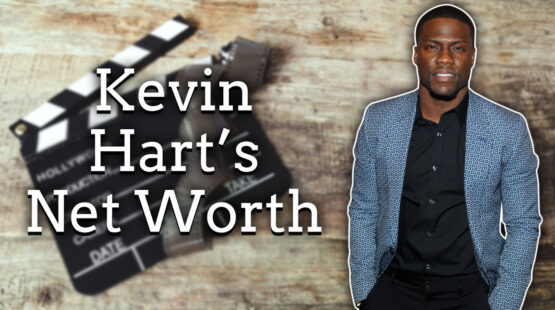 When people say that America is the "Land of Opportunity" they are not far wrong. There are many rags to riches tales to be told. Kevin Hart went from struggling comedian to one of the richest funny men in Hollywood. While it's not a dream every aspiring actor may attain in a lifetime, Kevin is a class apart and is one of the hottest assets in the film industry today.
How rich is Kevin, you ask? Well, stick with us and we'll not only give you insight into Kevin Hart's Net Worth, but we'll explain what sort of work made him the millionaire he is today.
What is Kevin Hart's Net Worth?
Kevin Hart has managed to earn a whopping net worth of approximately $200 million through various celebrity income streams, including stand-up comedy, acting, and brand ambassadorship. He is one of the wealthiest comedians in Hollywood with a bank account that is only set to grow as his career matures.
Who Is Kevin Hart?
Kevin Darnell Hart was born on July 6th, 1979 in Philadelphia, Pennsylvania. He lived a strained family life, with his drug addict dad in and out of jail throughout most of his childhood. His mother worked for the University of Pennsylvania and put him and his older brother through school. He graduated from George Washington High School and attended Community College for a while before dropping out.
Kevin's heart was always for comedy. He often used laughter to try and drown out his problematic past. As such, he left for New York, but finally landed a job as a shoe salesman near Boston while seeking part-time gigs. The bug for comedy bit hard after he performed at an amateur comedy nightclub in Philly.
His first paid gigs were held at "Laff House" in Philadelphia, but they were a rough few nights. He was booed off the stage several times. Only once he developed his own brand of comedy did his performances receive better ratings. His stand-up comedy career coupled with a few low-key roles in smaller films finally brought him to the fore, making him one of the industry's most sought-after comedians.
How Kevin Hart's Net Worth Was Made
Kevin has made his money through hard work and determination. Stand-up humour, acting, and endorsements have played a big role in the whopping Kevin Hart Net Worth figure.
1. Comedian and Funny Man
Hart's comedy career really took off in 2009, when he went on tour with an act entitled "I'm a Grown Little Man." But this was just the start. It was followed by "Seriously Funny" in 2010 and "Laugh at My Pain" in 2011, which grossed him a little over $15 million. This show and his 2013 release, "Let Me Explain" were both released as features at movie theatres.
In 2015, Kevin began his "What Now?" tour in Texas, but Universal Pictures bought the rights to the show and released it theatrically on the 14th of October 2016. The tour consisted of 168 shows around the world between April 2015 and August 2016. The "Irresponsible Tour" was almost as big, consisting of 119 shows between September 2017 and January 2019. These tour years boosted Kevin Hart's net worth by around $70 million alone, per annum.
In 2019, Kevin Hart became the majority shareholder of the comedy production company, "Laugh Out Loud" after buying out the majority of Liongate's shares. It's one of the biggest comedy production companies in the world. It currently has strong partnerships with YouTube, PlutoTV, Roku, Snap, Facebook, and SiriusXM. It's probably one of the biggest contributors to the Kevin Hart net worth figure to date.
2. Movies and Television
Of course, between his comedy tours, Kevin is busy with other money-making escapades, like acting in feature films. His movie career started slightly smaller, playing roles in films like "Paper Soldiers, " "The 40-Year-Old Virgin," "Soul Plane," and "Little Fockers."
You might find it difficult to remember those smaller roles. However, we're sure you're familiar with his characters in hits like "Ride Along," "Ride Along 2," "Get Hard," "The Wedding Ringer," "Central Intelligence," "Jumanji: Welcome to the Jungle," and "Jumanji: The Next Level."
The last three films mentioned saw him co-star alongside Hollywood Hulk, Dwayne (The Rock) Johnson. The two have great chemistry on and off the set. Kevin Hart's net worth is increased by around $25 million per movie nowadays, which is his going rate per film production.
3. Brand Endorsement Deals
In 2017, Kevin Hart became the face of PokerStars. His objective was to bring poker to the people while having fun. He said:
"I am going to make poker fun and working with PokerStars will give me the poker platform I need to do this. "I'm glad there are all these poker pros here who I can compete with and take their money. But the best thing about poker is that anyone can play it, whether you're making millions like Daniel Negreanu or just sitting around the kitchen table playing for coins."
He lasted with the poker brand for about a year earning well for his contributions. However, in 2020, PartyPoker snapped him up to represent their live poker brand. Hart was the right guy for the job. He is not just a celebrity player but an active member of the poker community, and a high roller that is renowned for playing high-stakes cash games.
These poker endorsements both increased Kevin Hart's net worth significantly. While the numbers have not been announced, it's hard to believe they would be anywhere under 8 figures.
How is Kevin Hart's Net Worth Spent?
The "little man" of Hollywood has a massive wallet and expensive taste. Of course, that means he lives a life of absolute luxury and leisure. Here are just some of the expensive things the Kevin Hart net worth fortune has been spent on.
1. Real Estate – Kevin Hart House 1 and 2
Kevin Hart had a modern mansion custom built to his specifications in a gated community on the outskirts of Calabasas. The 9,500-square-foot Mediterranean home sits on 26 acres of land. It comes with all the luxury amenities you could hope for and two separate detached guesthouses.
However, a large portion of the plot is on a hill and is wasted space. As such, Hart decided to buy the home next door to his to expand his grounds. The 9,349-square-foot house sits on 16.3 acres and boasts 6 bedrooms and 6 bathrooms. Amenities include an infinity pool, tennis court, huge lawn space, and beautiful gardens. He spent $7 million to acquire the new home, denting the Kevin Hart net worth figure by a tiny bit.
2. Cars, Cars, and More Cars
When it comes to boys' toys, Kevin Hart is not sparing. In fact, his latest list of cars lies at around 18 vehicles, so let's hope he has a big garage. His vehicles range from classic muscle cars to four-wheel-drive Jeeps and $250,000 Ferraris.
Kevin's complete list of cars includes:
Ferrari 488 Spider black
A Ferrari 488 GTB red
Ferrari 458 Spider
Ferrari 488 Pista
Mercedes-Benz AMG SLS Black Edition
1970 Plymouth Barracuda "Speedkore"
Mercedes G65
Jeep Wrangler "Jeep Nasty"
GMC Yukon XL Denali
Land Rover Range Rover
1977 Ford Bronco
1967 Ford Mustang GT500E
1965 Mustang Convertible
1966 Pontiac GTO
2019 Aston Martin Vanquish
1970 Dodge Charger "Hellraiser"
1969 Chevrolet Camaro
1959 Corvette Convertible
Hart's love of Ferraris is certainly evident, though there are some good old American models on the list too. But it seems that speed and aggression are Mr. Hart's preferences, as there is no sight nor sound of refined luxury vehicles like Bentley or Rolls Royce. This line-up of toys certainly aligns with Kevin Hart's net worth of $200 million. Few people could afford such an expensive collection.
3. Watches
Like many multi-millionaires, Kevin Hart is a lover of fine expensive timepieces. Goodness knows how large his collection really is, but the ones we've seen are only made by the best Swiss timekeepers in the world. He owns Rolexes, Audemars Piguet, Richard Mille, Patek Philippe pieces and a lot more. Kevin is such a connoisseur that he not only owns the standard run-of-the-mill watches but has some of the rarest pieces out there.
He easily has 30 to 40 different high-end watches, which means that he easily competes with celebrity watch heavyweights out there like Conor McGregor, who has an impressive collection of his own.
Round-Up
Making it in the comedy business is not an easy task and making it to this level of affluence is even rarer. It's always heart-warming to hear the tale of struggling wannabes becoming some of the most recognizable faces on the planet. Kevin Hart's net worth story takes the man from zero to hero; it's an inspiration to all that your life could become worth something if you pair your talents with dogged determination.