PokerStars is one of the biggest and oldest only poker sites in the world. Every professional player has played here at some point. We will have a look at PokerStars' history, bonus, rakeback, games, schedule, MTT series & more.
PokerStars Deposit Bonus
There are plenty of good offers to choose from at PokerStars, especially if you sign up with PokerStars for the first time. Make sure you do not miss out on these good offers by following these instructions and using the bonus code we supply here:
When you make a deposit on any of these two rooms for the first time, you get two options, use a code

STARS600

 and get a 100% bonus up to $600 (if your first deposit was less than that, you have two more deposits to make up for it)
 Or if you do not like this bonus and just want some freebies handed out to you, then simply use the code 

THIRTY

 when making a deposit of at least $20 and you will receive 30usd worth of freebies (tickets and cash) over the next 6 days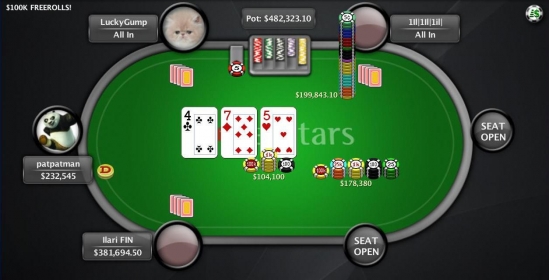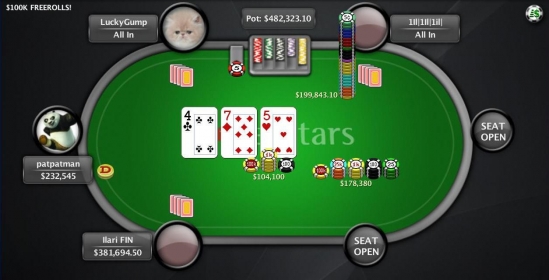 The software is amazing and is one of the best in the industry, plus you get access to all the biggest games. Biggest MTT series here and on PokerStars are massive (tens of millions), you can qualify for the biggest live tournaments like PCA. It also has very popular 3 player Spin and Go games which are very fast and can earn you up to a million dollars.


PokerStars highlights
There are so much going on at PokerStars that is difficult to present it all here. PokerStars is, without a doubt, one of the largest poker sites in the world at the moment. This is thanks to a lot of reasons, and some of them you will read about in this review. But we still want to try and sum up some of the highlights with PokerStars here, but bare in mind that these are just a fraction of everything you can enjoy at PokerStars.
First Deposit Bonus – 100% bonus up to $600 (Bonus Code:

STARS600

)
Free $30 First Deposit Offer (Code:

Thirty

)
$3 Million Spin & Go's
PokerStars Sunday Million – $1,000,000 guaranteed prize pool
Anniversary Sunday Million runs every year and has at least a 10 million dollar prize pool
Juicy SCOOP, WCOOP and other tournament series
Spin & Go Poker
PokerStars has awesome Spin and Go games which give you a chance to win millions by playing very quick 3 player tournaments. Simply enter and see what multiplayer you got. Besides a classic 3 minute and 500 chip format, PokerStars also has Spin and Go formats such as Spin and Go Max & Spin and Go Flash.
Quick but requires skill in the long run
Classic version has a 500 chip starting stack and 3 minute blinds
Also has Spin & Go Max / Flash variations
A chance to win millions of dollars
Very fun and take less time than tournaments
An exciting poker format for those who get bored playing slow games
For more information please read our Spin & go Guide.
PokerStars: The Deal
The deal is a game based on luck, but here you don't spend money, only StarsCoins which are given as a loyalty cashback in Stars VIP Chests.  You selected two cards from several facedown ones and make a poker hand. If you get a Royal Flush then you get to spin a Jackpot Wheel. If the wheel stops on Jackpot, you win a half of it while the other half goes to players to played it recently.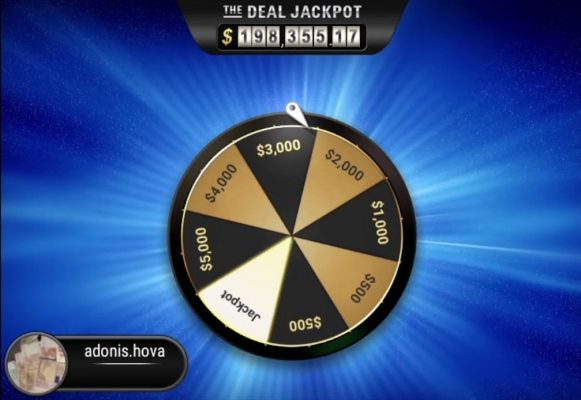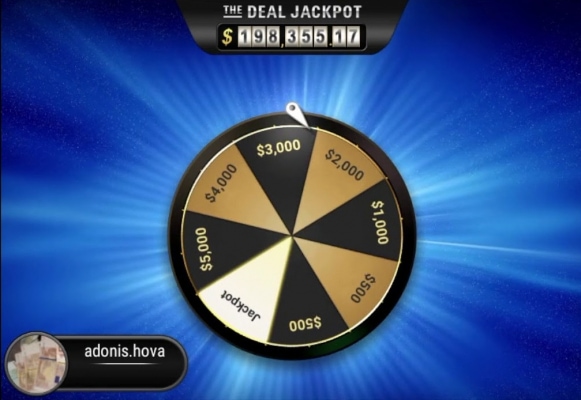 PokerStars Live: Tournaments around the world
PokerStars runs various tours and championships around the world, you can qualify online by winning an entry or a special package with travel expenses. They are loved by players around the world and their main events have huge prize pools.
PokerStars Players NL Hold'em Championship

(25,000$ buy-in, one million dollar guaranteed first prize)
European Poker Tour (EPT)


Asia Pacific Poker Tour (APPT)

Brazilian Series of Poker (BSOP)
PokerStars Weekly tournaments
PokerStars offers a variety of weekly tournaments and for a new player at PokerStars it can be a hard to keep track of all the different tournaments available. This wide selection of poker tournaments makes PokerStars an 'okay' place to play poker for most players. These are the biggest tournaments which you can find every week.
Sunday Million

Sunday Warm-Up

Sunday Storm

Sunday Supersonic

Sunday Kickoff

Saturday Speedway

Saturday Ko

Daily Big and Hot Tournaments

Bounty Builder tournaments

Saturday Eliminator
PokerStars Online Tournament Series
Pokerstars poker site has some of the best online poker tournament series in the world and very few brands can compete with them.
Unless the series is targeting low limit players, they usually have tens of millions in prize pools including Main Events with live-changing prizes for the winners.
WCOOP – Winter Championship of Online Poker

SCOOP

– Spring Championship of Online Poker

TCOOP

– Turbo Series

MicroMilions

– Series for low limit players
Bounty Builder Series
Biggest PokerStars Online Tournament Winners
There have been some really big poker tournament winners during the years at PokerStars. All these winners only represent a small part of the lucky winners who have won massive prizes and money by playing at PokerStars online tournaments.
Tyson POTTERPOKER Marks: $2,27 Million (WCOOP Main Event, 2010)
Yevgeniy Jovial Gent Timoshenko: $1,7 Million (WCOOP Main Event, 2009)
Jonas llJaYJaYll Lauck: $1,5 Million (WCOOP Main Event, 2016)
David PlayinWasted Kaufmann:

$1,49 Million

(WCOOP Main Event, 2013)
Talal raidalot Shakerchi:

$1,468 Million 

(SCOOP Main Event-High, 2016)
PokerStars Casino
If you will like casino games such as online slot machines, live Blackjack, Roulette, Monopoly Live or any other game then you have to check this out. Since PokerStars started as a poker site and not a casino, they offer interesting promotions and cashback. They have a huge amount of games and quite a few are their own ones, meaning you will not find them elsewhere.
Click here to read our full PokerStars Casino Review.
PokerStars Casino is available for mobile and desktop gameplay
Huge jackpots, lots of games and players
Plenty of promotions and slot reel races
Good cashback, you receive Stars Chests which give extra value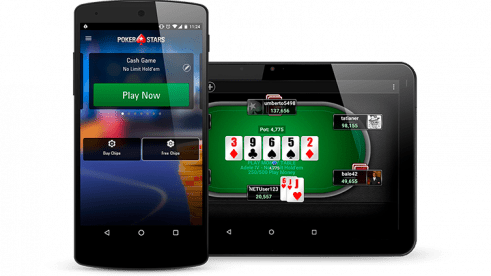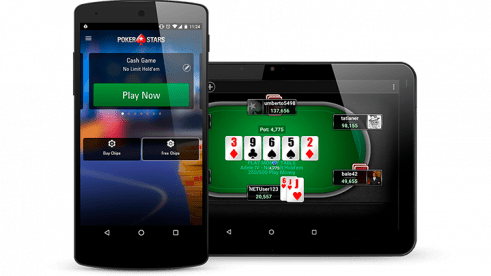 PokerStars Mobile App
PokerStars has one of the best Igaming mobile apps in the world. It is perfect for poker, casino and sports betting. It is very easy to use, there is no lag so you will not feel that you are missing out if you will decide to choose a mobile version. The graphics are are outstanding so it is way ahead most of the gambling apps in the market. It works well with all Android and IOS (Apple) smartphones.
The app looks nice and is smooth
Works with all IOS and Android smartphones
Can also play Casino games and Bet on Sports
Easy to multitable, good for playing Spin and Go games
Access your Stars Rewards, Promotions and The Deal game
PokerStars Zoom
PokerStars Zoom is an online poker format where you switch to a different table every hand (once at the final table – switching stops). It is used for various poker format but mainly for Texas Hold'em and Pot Limit Omaha.  Most major poker sites offer this poker format and it has different names such as: Zoom, Fast Forward, Fast Fold, Rush Poker, Speed Poker & Snap Poker.
PokerStars Zoom is very quick so it doesn't get boring
You can't play too many tables and have to pay a lot of attention
Useful for collecting rakeback points (chests, to get an actual rakeback – try another site)
Many different opponents (harder to remember each other), leaving notes is important
Recreational (fun players) may play too tight and fold many weak hands
PokerStars Tempest Hold'em
PokerStars Tempest Hold'em is a unique poker format, based on a classic Texas Hold'em version. It has antes that increase until a showdown is reached, an extra pre-flop blind, and just two options for all players: all-in or fold.
With each hand, every player posts an ante, the value of antes for a given hand is based on previous hands dealt at the table
If the previous hand had a showdown, the ante is reset to its lowest value
If the previous hand did not have a showdown, the ante value increases (up to a maximum value, shown in your game window)
In addition, the player sat to the left of the Big Blind posts a third blind called the Giant Blind, which is double the value of the Big Blind
The hand then plays out according to Texas Hold'em rules, but with two significant differences:
Players have only two options, pre-flop: to go all-in, or to fold
Every pot is capped, meaning that no player can wager (or lose) more than 10 Giant Blinds in a single hand
PokerStars Boom Share Hand Replayer
With PokerStars Boom Hand Replayer you can share your favourite moments online. With just the click of a button, you can instantly upload your unforgettable hands in video form. There are two quick ways to share a hand replay from PokerStars tables:
Click on the star in the table chat box once the hand is over
Open the instant hand history (the quickest way to do this is click the hand ID in the top left corner), highlight your chosen hand and hit the BOOM! button
That's it, now you can share it with others! All your shared hand replays will be saved on BoomPlayer.com
PokerStars School
If you are new to poker and want to learn the basics the PokerStars poker schools could be a good idea. You can also make use of these if you are an experienced poker player but wants to take the poker to the next level. To sum up; PokerStars own poker school could help you become a better poker player and help you make money. PokerStars has its own poker school which is running for quite some time. It is full of free poker training content for beginners and it includes:
Online Courses (Basics, Bankroll Management, Cash Games, Spin & Go, Live tournaments and more)
Many articles on Poker Strategy
Access to the special Discord channel (chat with trainers and other players)
Live Training streams on Twitch
Special promotions (get free tickets and other rewards)
Summary
There was some controversy with current Stars Group (Amaya) leadership and how they treat poker players. For example, an addition of Stars Rewards has received a lot of criticism because it offers random rewards from the reward chests and not a set rakeback percentage. Your "rakeback" value does increase because you receive better chests which have better prizes, however you never know what is in there. Some players might like this since this might bring some excitement if you are lucky to catch a bigger prize. Sometimes some additional prizes (like very expensive tickets for SCOOP/WCOOP online tournament series) are added.
So our final verdict is this, if you care about the software/traffic and cannot find a better poker room that suits your needs and if this new rakeback model is okay for you, then you should have no problems playing here. Otherwise, you will have to consider playing only some of the games here and prioritise some other poker site.