GGPOKER Review – Special Bonuses, Spin & Gold, Software
GGPoker is one of the largest poker networks and sites in world, during peak times all GG sites combined sometimes manage to reach the first place in terms of the number of players online. GG also owns Natural8 which is the second most popular GG Poker site.
GGPoker network/site has its own unique software which is quite different when compared with others. As soon as you start playing, you will notice a "squeeze" option. If it annoys you, you can always turn it off in the settings. You can do the same for the dealer voice which we decided to turn off as well. Even though it may be cool in the beginning, imagine playing in a tournament where the dealer announces every single action taken? Ummm no thanks.
Another thing which you will notice is the card flipping for every river. This slowroll is accepted by some players but it definitely needs a turn off option. This poker site (and the whole network) does not allow the use of HUDS (poker trackers).
That's not something new nowadays, since major sites such as PartyPoker, also have this rule. However, when you right click the player's name, you will see his last top 5 finishes (if it was a tournament), all time cashes for that particular game (for example Spin & Gold, tournaments, cash games, AOF etc). There you will also see player's VPIP percentage which shows how selective the player is when choosing starting hands (only hands from that particular game count).
GGPoker is running various great poker tournament series. Some of them are weekly while some are running during special occassions. GGMasters and Multi Million$ tournaments are running every Sunday and they have a lot of value. Since there are a lot of Asian players and tracking software is not allowed, the average player is not that good when compared with some major poker sites.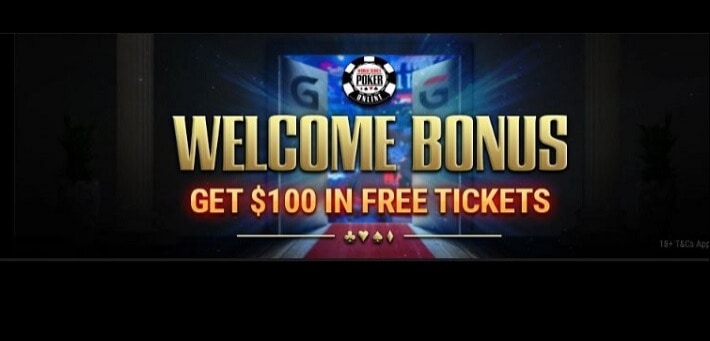 GGPOKER Deposit Bonus
We have a special treat for you guys, if you sign up through this link, with a 20$+ first deposit, you will receive up to 100$ in free tickets or you can choose a 100% matched bonus to a maximum of $600! If you are playing high stakes – please send us an email before signing up, since then we will be able to offer you a better deal.
If you already have an account – get in touch with us and we will see what we can do in order to transfer it.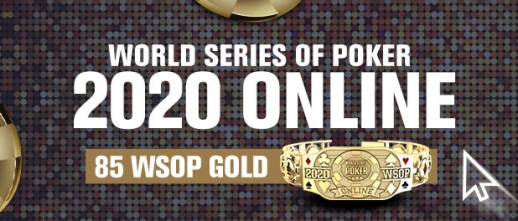 Word Series of Poker (WSOP) Online
Back in 2020, GGPOKER was running World Series of Poker (WSOP) Online version for the first time in history. Because of Covid, live events were on hold. After successfully running WSOP Online Circuit Series in 2020 Spring, GG Network made a deal with WSOP and was allowed to host 2020 World Series of Poker for non-American players (unless they travel to Canada/Mexico or other country and play from there, GGPoker is allowing that). So from now on, during extreme circumstances, GGPOKER is likely be the poker site that cooperates with WSOP.
Rakeback – Fish Buffet
These are the VIP levels which will award you a prize based on your PVI ratio. Once you reach your target, you will spin a Fish Buffet wheel and claim a cash prize. These levels also have sub-levels, once you reach the highest one, your average spin will provide you better prizes. For higher levels you will have more time to upgrade your status or maintain it. GGPoker also has a new VIP program which is called Black (Black Fish, Black Shark, Black Octopus, Black Whale and Black Shark), it provides a flat rakeback (up to 60%, however, PVI is still used when calculating your points).
Plankton – 7 Days (up to 15% Expected Cashback)

Shrimp  – 7 Days (up to 20% Expected Cashback)

Goldfish – 7 Days (up to 28% Expected Cashback)

Crab – 7 Days (up to 32% Expected Cashback)

Octopus – 7 Days  (up to 41% Expected Cashback)

Whale – 15 Days (up to 47% Expected Cashback)

Shark – 30 days (up to 50% Expected Cashback)

Black – flat rakeback, no time limit (up to 60% depending on the level)
GGPOKER's Rake
This is a list of current GGPOKER Rake percentages for various games. Cash Games have a rake cap so you will not pay anything above that (for example, NLHE 1/2$ cap is 6$).
No Limit Hold'em Cash Games – 5%

Pot Limit Omaha Cash Games – 3%

6+ Hold'em Cash Games – 3%

Poker Tournaments – around 10%.

Rush & Cash (NLH and PLO) – 5%
PVI (Player Value Index)
GGPOKER PVI or a Player Value Index is a weird system which takes some rakeback from the winning players and gives it to the losing ones. In other words, makes sure that the whole ecosystem is balanced. Once you start playing or if you haven't played in a while, you will start with a default ratio and will not be 'screwed'. However, if you do not deposit much, play high limit games, keep winning a lot and/or make frequent cashouts, we recommend the following in order to increase your potencial Fish Buffet rewards:
Don't do cash outs during your sessions, cash out during off days only!

Make a small deposit at the start of every session (especially if you play high limit games), this is is very good for PVI

Switch to another game (for example from Spin & Gold to AOF) if you see that your PVI ratio is very low and come back after a few weeks or so
Honeymoon Bonus
Within the first 3 days of opening the account, make sure to make a deposit and complete the missions in order to claim these rewards (these missions will not be available to you later and the number shows the number of missions which have to be completed).
Ticket to Omaholic $1 (3)

$2.50 (5)

1 Ticket to T$ Builder $4 (7)

T$12.50 (15)

$20.00 (20)

T$110 (25)

$150 (30)
Special PokCas' Gifts
If you sign up through PokCas or transfer your old account to us, sometimes we will award you special gifts if you are an active player. Plus, by being a PokCas' player, you will be able to access all our future promotions and some of them are for our players only. We can also provide special deals for GGPOKER's sister sites. Please get in touch for more information.
Deposit and Withdrawals Methods
These are the payment methods available to GGPoker players. If you can't see some of them – just message them on their Live Chat and they will add the rest for you. Deposits have no extra fees just make sure that you deposit in the same currency. While cash outs have a 1$ fee (except for Bitcoin). You can withdraw up to $15,000 at once, but if you win more, you can always ask support to increase this limit for you.
Visa

MasterCard

Skrill

Neteller

ecoPayz

MuchBetter

Bitcoin

Astropay Card
PokerCraft
With PokerCraft tool you can have a look at your game history, check your winnings, losses, position statistics and more. It is quite a useful tool considering the fact that poker tracking software is not allowed. So if you play often, make sure to keep checking it. Any game can be replayed, filtered and analysed, no matter the length of time spent at the table. PokerCraft can visualise any session or set of hands in a variety of ways, providing insights into your play that the raw data alone won't show. Is is available on both GGPoker's mobile and desktop applications.
Overview tab – The first tab you see when opened. It provides general information about your progress and results.

Timeline – a timeline history of your big moments from recent games and events.

Game Type – The game type tab displays cumulative statistics for your game history in that variant, including your Play Style, Luck Rating etc.

History – The Game History tab allows you to view details about every hand in the game session(s) you select for review. Any hand can be analysed or exported.

The Hole Card tab shows a matrix of all possible combinations, and provides you with the total net earnings for each hand combination you have played.

The Position tab displays your net earnings from each seat at the table, allowing you to see the positions from which you are strongest and weakest.

The Opponent tab displays your net earnings versus individual opponents from the sessions you select to review.

The All-In or Fold tab displays overall AOF stats.

Every hand can be accessed and exported/shared as a Hand Moment through PokerCraft.
Spin & Gold
Everyone knows Spin & Go games and Spin & Gold is another variation of it. Depending on your multiplier, you start with a 200-500 chip stack and your blind levels also depend on it (1-5 minutes). You can win up to 12,000 times the buy-in and these are the buy-ins and possible jackpots. Plus, you also have a chance to pay one extra buy-in for Spinsurance. Insurance refunds you that extra buy-in if you get a x2 multiplier while playing.
$1 – with a chance to win up to $12,000

$2 – with a chance to win up to $24,000

$5 – with a chance to win up to $60,000

$20 – with a chance to win up to $240,000

$50 – with a chance to win up to $600,000
Spin & Gold Challenges
Spin & Gold Challenges let you to earn additional money without spending anything. Just select your challenge and keep playing like normal. These challenges will make you more money on top of what you get from bonuses and rakeback.
Opt in and set your time

Pick a challenge (don't go too low or too high)

Once the time is up, you will receive your gold (cash)
Spin & Gold Leaderboard
When major series such as WSOP aren't running, GGPOKER has a weekly 100,000$ Spin & Gold Leaderboard for various buy-in limits. In order to win the best prizes you have to be quite active, but there is a ton of value. And if a major series like WSOP is running, then they replace the leaderboard with something else. For example, they may award lots of WSOP tickets which you can use to win more money!
All-in or Fold (AOF)
With only 8 big blinds, you choose between moving All-In or folding on every hand. Exclusive to GGPoker and available for both Hold'em and Omaha, All-In or Fold (AOF) is an interesting poker variant that keeps things fast and simple.
Every time you are All-In, you've also got a shot at an instant cash prize in the All-In or Fold Jackpot. In All-In or Fold, the thrill builds as quickly as the cards are dealt. There is no tanking and no way for the action to slow down.
All-In or Fold Jackpot
To spice things up even more, you are in with a chance to win some of the All-In or Fold Jackpot every time you go All-In. The jackpot builds continuously, with 50% of the fee for all games of All-In or Fold contributing directly to the total. To win, the conditions are as follows:
To hit the jackpot in Hold'em, you have to make at least a straight flush by using both of your hole cards

To hit the jackpot in Omaha, you have to make a royal flush with two of your hole cards
Rush & Cash
Rush & Cash is GGPoker's unique take on fast-fold Hold'em and Omaha poker. Rush & Cash is like our standard cash game tables, except that there's no waiting for hands to finish after you've folded (similar to Zoom), and Cash Drops can offer massive rewards. Instead of waiting for the hand to play out, just hit the 'Rush' button and you'll be put into another hand straight away.
This is how Cash Drops work:
At the start of randomly-selected hands, chips will rain down on to the table

Cash Drop amounts range from 10bb to 600bb

Smaller Cash Drops will go into the pot, creating more action

Larger Cash Drops will be divided and added to each player's stack

1 blind is taken from pots equal to or greater than 30bb in order to build the Cash Drop pool
WARNING, don't use any Tracking Software or Poker Charts!
It has come to our attention that some players are using poker charts (programs or pictures) and GGPoker can see that by analysing your gameplay. It is a little bit controversial, since in theory you can memorise some of those charts. Anyways, make sure not to use them or they WILL ban you and confiscated the money. There is no IF, we know players who only looked at some chart pictures and nothing else and they were banned and had their funds confiscated. So be very careful and you will not encounter any issues.
Restricted countries
These are the countries which currently cannot access GGPoker. If your country is on this list – please get in touch and we will help you to find an alternative. American players who wish to participate in series such as WSOP, can always travel to countries such as Canada or Mexico and play from there. GGPoker will only require you to show a picture of your passport stamp.
Afghanistan

Algeria

Angola

Bahrain

Cuba

Curacao

Eritrea

Ethiopia

Iran

Iraq

Israel

Jordan

Kuwait

Libya

Mauritania

Norfolk Island

North Korea

Oman

Pakistan

Qatar

Rwanda

Saudi Arabia

Sudan

Somalia

South Sudan

Syria

Tunisia

United Arab Emirates

United States of America

Yemen
Pros and Cons
To sum up this review, we will mention some important pros and cons of playing on GGPoker. Some of them might be positive for one person and negative for another, so it is a matter of perspective. If you have any further questions – please get in touch.
No HUDs allowed, however shows some simple stats  + PokerCraft helps a little bit

Very good traffic, poker site and the whole network is growing very fast

Great promotions for everyone (they also care about players with smaller bankrolls, so a big plus for that)

Very Fast Cashouts and document verifications

Great Live Chat Support (easy to reach, good response time, very helpful)

Good mobile app (looks very nice and you can even leave player notes)

Extra features such as: straddle, tournament bubble protection and big hand jackpots