Online poker rooms and websites have received a mass upturn in popularity over the last few years. The number of players turning to the digital realm is impressive, though it could be the result of a world that has been forced into social distancing.
Some of the leading international poker sites right now include PartyPoker and GGPoker – because they are brands that are unafraid to be adventurous in their offering. As such, they offer a host of special features to enhance your gameplay and provide multitudinous tournaments and leaderboards to ensure that you will always have the greatest selection of competitive entertainment at your fingertips.
About GGPoker
A company, called Good Game Network founded GGPoker in 2017 in the Republic of Ireland. This premium site now offers an international audience some of the finest online poker, virtual casino games, and live dealer titles around. The games are available in various Asian countries, Europe, Canada, and beyond.
The company's most notable achievement to date was its hosting of the World Series of Poker (WSOP) in 2020 when international casino shutdowns forced the international competition online. While other sites hosted the American participants of the tournament, GGPoker offered space to the international player base and provided a masterclass in how to run the world's biggest tournament without a hiccup. The 2021 tournament is set for success as a result.
Play at GGPoker and you'll be able to enjoy several poker game variations, partake in numerous tournaments and leaderboard promotions, and claim bountiful bonuses to boost your bankroll. So, if you are super competitive, or simply want to relax with some standard cash games, GGPoker is the place for you.
THE GGPoker Team
As one of the leading poker platforms in the world, GGPoker has managed to secure a top-notch team of professional ambassadors who play both online and live tournaments and competitions on behalf of the GGTeam. Their most notable member is 2021's number 3 ranked player in the world, Daniel Negreanu but that is not where it ends. GG has also managed to secure sharks like Jason Koon, Elky, Jeff Gross, and Ali Nejad.
Download GGPoker on your Desktop or Mobile Device
Now that your mind is at ease about the legitimacy of the operator, there is nothing stopping you from signing up.
Accomplish this straightforward procedure in 3 easy steps:
Download and install: Click on the download button on the homepage of the site from your desktop, smartphone, or tablet. Download the software to your selected device and then launch the install. The app ensures the most seamless interaction between you and the poker/casino software.
Register a free account: Once the software is ready, head to the sign-up tab and create a player account. Simply follow the prompts to fulfill this task in seconds.
Use our Sign-up Code: Be sure to use our private POKCASGG sign-up code to enjoy exclusive PokCas perks.
Start playing: Once your account is validated, head to the cashier's page to load credits onto your profile so you can play the poker and casino games on offer for real money.
Once the credits reflect in your real money account, you can set about choosing your cash game of choice or enroll to play in one of the several exciting tournaments on offer.

Welcome Bonuses
When you join up to play at the GGPoker site, the company shows first-class hospitality through an exclusive welcome bonus where you can choose from one of two ways to embrace the deal:
🎁 Claim $50 free tickets
🎁 Claim up to $600 in bonus
Either way, you can boost your gameplay by playing for longer and winning rewards for free; the welcome bonus is only the start of it all. The most attractive promotions are the various leaderboards offered from month to month. Currently, you can play for tens of thousands of dollars in daily and weekly prizes on nine different leaderboards.
PokCas Exclusive GGPoker Rake Race

If you sign up through PokCas using our POKCASGG sign-up code or transfer your old account to us, we will often award you with special gifts if you are an active player over the minimum age of 18. Plus, by being a PokCas player, you will be able to access all our future promotions some of which are exclusive to us.
One of our exciting deals includes the inclusion into a private $35,000 monthly race (sign up by clicking the link at the top or the bottom of this review). All players that sign-up through us automatically become participators.
Other ''Not to Miss'' Promotions
There is so much to look forward to when signing on with GGPoker, but there are two ongoing promotions that you simply must know of!
🎉 Daily Freebies: Once registered, make sure that you log in to your account daily to collect free tickets (on Saturdays you receive a 1$ free Spin & Gold ticket)!
🎉 Honeymoon for Newcomers: Fall in love with this site and this offer but hurry up and claim it as it won't be around forever. Within the first 3 days of opening the account, make sure to make a deposit and complete the missions that form part of the promotion to claim these rewards. These missions will not be available to you later and the number shows the number of missions due for completion. Play for Ticket Dollars and Real cash rewards. See the rewards chart below.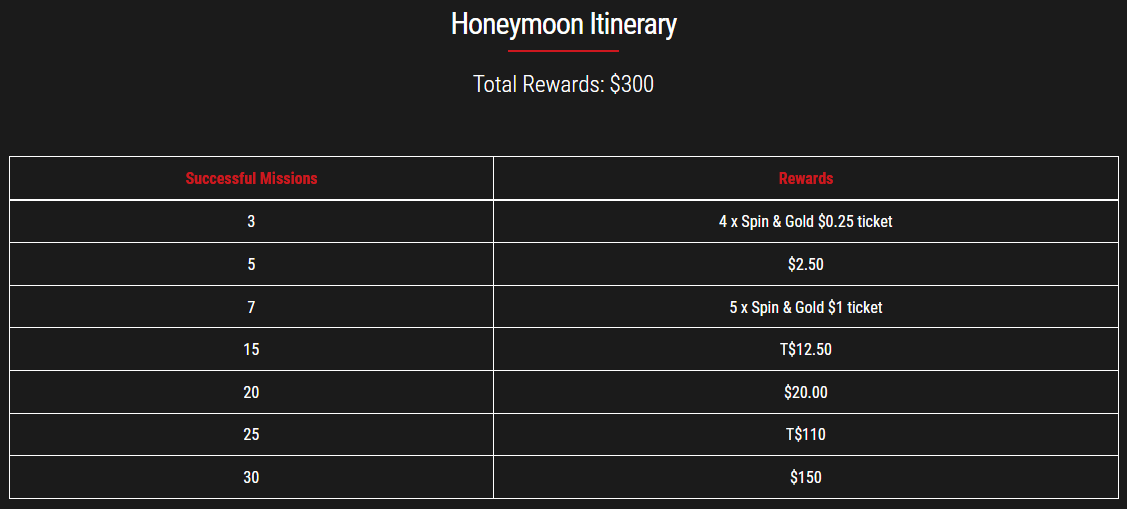 🎉 GGCare: If you ever find yourself in a sad predicament where you've just had a bad day or suffered a bad beat or fell victim to a suck-out, GGCare will be there. It will automatically register you in the daily Flipout and your ''all-in'' hand will compete with others for the chance to win a portion of the $30,000 daily jackpot.
We advise that you keep your eyes peeled on the promotion menu on the GGPoker website as the operator loves to push the boundaries of enjoyment by adding exciting new promotions from time to time.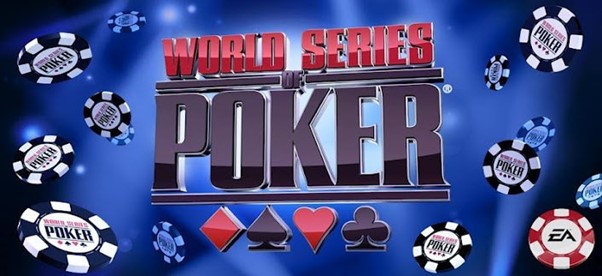 Tournaments
Those of you that are competitive, can jump into a flurry of tournaments. The site hosts regular features events like the WSOP, High Rollers Main Event, GG Masters, and more. Tournament formats on GGPoker:
Guaranteed Tournaments
Freezeout
N-Stack Tournaments
Progressive Bounty
Rebuy Tournaments
Satellites
Turbo Tournaments
Shootout Tournaments

P

rivate Tournaments
Explore several signature tourneys split over some of these formats. Each comes with unique buy-ins and rules.

GGPOKER Rakeback – Partake of the Fish Buffet
Fish Buffet is a loyalty program designed to award you prizes and perks based on your PVI ratio. Once you reach your targeted tier, you can spin the Fish Buffet wheel and claim a cash prize. These levels also have sub-levels. Once you reach the highest one, your average spin will provide you with better prizes.
GGPoker also has a new VIP program for esteemed players only. It's called 'Black' (Black Fish, Black Shark, Black Octopus, Black Whale, and Black Shark). It provides a flat Rakeback of up to 60%, however, PVI is still used when calculating your points.
Rakeback loyalty tiers
🐡 Plankton: 7 Days (up to 15% Expected Cashback)

🦐 Shrimp:

7 Days (up to 20% Expected Cashback)

🐠 Goldfish:

7 Days (up to 28% Expected Cashback)

🦀 Crab:

7 Days (up to 32% Expected Cashback)

🐙 Octopus:

7 Days (up to 41% Expected Cashback)

🐋 Whale:

15 Days (up to 47% Expected Cashback)

🦈 Shark:

30 days (up to 50% Expected Cashback)

🏴 Black:

Flat Rakeback, no time limit (up to 60% depending on the level)
You can collect Fish Buffet points and receive cashback on both casino games and poker play at GGPoker. This means that you'll receive rewards for your dedication to the site no matter what entertainment you enjoy most.

GGPoker Rake and Tournament Fees
Like at most poker sites, GGPoker charges a small commission on its cash games, called "Rake". This amount is not a set rate and differs depending on what game variant of poker you are playing at the time, and at what limit. Tournament fees are also applied to competitive play. Here, instead of extracting the rake from the pot, GGPoker will take a percentage of the buy-in.
GGPoker Rake

Tournaments – around 10%
Texas Hold'em Cash Games – 5% across all table limits

Omaha Cash Games

  – 5% across all table limits.
6+ Short Deck Hold'em – 5% across all table limits
AoF Sit and Go – 9% of the buy-in.
All-in or Fold – 0.025 – 0.050 of the BB
Battle Royale – 5% of the buy-in ($0.25 of the buy-in is subject to 4% of the rake)
Spin & Gold – 7% of the buy-in
Rush & Cash – 5% of the buy-in (no rake payable if the table is not full).
Exciting Game Options at GGPoker
Poker is the main drawcard on offer on the site and it does not disappoint when it comes to the volume of games on offer. These include cash games like Omaha, Texas Hold'em, and Short Deck 6+ poker and a list of exclusive game varieties.
GGPoker Leaderboards
You can win great prize pots daily by partaking in one of the many daily leaderboards found on the site. Some of the exciting games change from month to month, so it's best to visit the site regularly to find out what's hot at the moment. There are regular long-term leaderboards on promotion too. These include:
All-In or Fold
With only 8 big blinds, you choose between going All-In or folding on every hand. Exclusive to GGPoker and available for both Hold'em and Omaha, All-In or Fold (AOF) is an interesting poker variant that keeps things fast and simple. Every time you are All-In, you've got a shot at an instant cash prize in the All-In Jackpot. The top-ranking Hold'em and Omaha poker players on the leaderboard will take home their share of a $50,000 prize pool every day.
Spin & Gold
Opt-in with a buy-in of between $0.25 and $200 and win prizes worth up to 100,000x your buy-in amount. A $10 buy-in could win your table a $1 million in cash. Load up, select your preferred buy-in, select the number of games you want to play, and decide if you'd like to play with insurance or not. The winners will get to spin the wheel to apply a multiplier to their buy-in.
If you play 6-Max Poker, you'll qualify for twice the prize. A buy-in at $10 with a 200,000x multiplier could earn your table up to a whopping $2 million cash. Play daily to rank high on the leaderboard to take home your share of $50,000 in prizes each day.
What's more, is that you can elect to play special Spin and Gold challenges/missions in conjunction with your normal hands. These add great value to your gameplay without you spending a penny more. Select your challenge and play as normal to win exciting additional prizes.
Play daily to rank high on the leaderboard to take home your share of $50,000 in prizes each day if you manage to rank in the top 9 positions.
Rush & Cash
Rush & Cash is GGPoker's unique take on fast-fold Hold'em and Omaha poker. It is like the standard cash game tables, except that there's no waiting for hands to finish after you've folded (similar to Zoom), and Cash Drops can offer massive rewards of up to 600% Rakeback. Instead of waiting for the hand to play out, just hit the ''Rush'' button and you'll be put into another hand straight away. Top Omaha and Hold'em leaderboard ranks will share a prize pool of $40,000, daily.
Flip & Go
The end goal is to make the final stages of the Hold'em tournament without the extensive wait. Skip out on the boring parts and get right into the action. You'll receive a 3-card hand. Simply discard one card and play out the hand. Once the Flip-Out tourney ends, you'll resume the tournament from the ITM stage. Rank well on the leaderboard and you stand the chance of taking a share of $5,000 each day.
There is a game for everyone with any sized budget, so be sure to give each option a try to find your new favorite way of playing. Please bear in mind that GGPoker does take a rake percentage (commission) when you play the games on the site. They differ based on the type of game being played. This ranges between 3% and 5% on cash games and 10% on tournaments.
Special Features
Just when you think that things couldn't get better, the GGPoker site astounds us with a long list of special features and exclusive tools to aid you in your gameplay. The design of each tool ensures that you get the maximum out of every game. Read through the content below for the rundown on each unique feature.
1. Final Table Betting
Here, you can place bets on who you think will win a poker tournament. This option is usually only available towards the latter stages of the competition.
2. SnapCam
This tool allows you to use your webcam or phone camera to capture a 15-second video of your reaction to a big win or a loss.
3. Staking Platform
There is more than one way to enjoy your time on a poker site and many ways to win cash. The staking platform will allow you to back multiple players in events. Alternatively, you can also sell your own action to others so that they might share in your experience and help with the cost.
4. Smart HUD
One of the most advanced HUDs in the industry. Track your and your player's stats. More on this subject in the special section below.
In Cash games, your record against a player displays next to your three biggest hands against that player. With All-In or Fold, the HUD shows detailed statistics about your opponent's tendencies to take the plunge for an all-in wager. It also shows their jackpot history and hand distribution in those wins. In tournaments, the Smart HUD displays the player's total tourney winnings and their current rank on the leaderboard.
5. Smart Betting
This is an industry-first innovation that works in tandem with the Smart HUD for mobile players. Smart Betting suggests bet size options based on the player's perceived betting patterns. It simply takes away the frustration of adjusting bets on small mobile screens and makes play so much easier.
6. Pokercraft
With the PokerCraft tool, you can have a look at your game history, check your winnings, losses, position statistics, and more. It is quite a useful tool considering that poker tracking software is not allowed. So, if you play often, make sure to keep checking it. Any game can be replayed, filtered, and analyzed, no matter the length of time spent at the table. PokerCraft can visualize any session or set of hands in a variety of ways, providing insights into your play that the raw data alone won't show. It is available on both GGPoker's mobile and desktop applications.
7. Final Table Features
There are various features that may present themselves at the final tables of a GGPoker tournament. These may include switching seats, deal-making, set time limits, and blind rollback.
8. All-In Insurance
When you are the favorite against another player and decide to go all-in on a hand, you can purchase insurance on the next tabled card in the sequence.
9. Card Squeeze
You can squeeze your virtual cards to take a glance at your hand. The lifelike 3D animations are remarkable.
GGPoker is a leader in innovation when it comes to value-for-money entertainment. This is showcased in the features listed above.
Smart HUD – The Stand Out Feature at GGPoker
This is a brand-new feature from GGPoker. Up till this point, external HUD software was not allowed on the site, and players, before, had to make do with only the VPIP percentages. Now the new integrated Smart HUD (pictured above) has been instituted by GGPoker, themselves, allowing you to keep track of your and your competitor's stats so that you can analyze their history and learn their style of play more easily.
The SmartHUD is an information wizard that can give you the finest details of all the players competing in any tournament you are in. Simply click on a live player and then the ''i'' button to get their stats pronto. Below is an example of how they are displayed and following that is what the stats indicate.
The SmartHUD also allows you to display all your badges and store your universal player notes. Keep track of your opponents and make pertinent notes for the next time you come up against them. Say, for instance, a player was given to bluff a lot. You could note that down in your universal player notes to remind you of his antics in the future.
"Ask Fedor" AI Learning Tool
AI and deep learning technology have come to the poker world via a helpful tool at GG Poker. Ask Fedor is a useful tool that analyses your playstyle and then provides helpful hints and advice to improve your game.
The feature's intuitive learning skills ensure that the feedback you receive is bespoke and suited specifically to your interactions on the platform. It helps bridge the gap between casual players and professionals.
GGPoker Casino Experience
For players who want a little break between tournaments and cash games on the poker platform, there is the option of loading up a few casino games to keep you busy. The nicest thing about the casino offering is that the Rakeback program applies to casino games as well, making it a great place to play and boost your rewards.
There is a decent selection of online slot games up for grabs. You'll instantly recognize many of Play'n GO's titles, like Book of Dead and Reactoonz. There is also a stack of titles from Pragmatic Play and other well-known studios. Some of these titles fall part of the Race & Go $2K Daily Jackpot. Other titles form part of GGLucky Slot Race, where you could be in the running to win your portion of $12K daily.
Table gamers can enjoy a good variety of table game options too. Blackjack, baccarat, roulette, and even casino poker is available. Video poker is also a selectable choice if you like Jacks or better or Joker poker.
For those looking for something different, hit on the casino menu and then select "Arcade". These chance-based titles offer exciting video gameplay which you can couple with real cash wagering.
Live Casino
If you prefer a more immersive casino touch with a lower house edge, GGPoker partners with The SkyWind Group, Playtech, Ezugi, and Pragmatic Play to provide some first-class live dealer casino games. These include titles like Blackjack, Baccarat, Roulette, and way more.
Gameshow fans can also get invested. There are numerous innovative titles available, including Adventures Beyond Wonderland, Spin & Win Wild, and a host of Live Slots.
Banking – Making your Deposits and Withdrawals
Banking is a fundamental part of playing poker for real money online. As such, the operator has partnered with various third-party payment and withdrawal methods to make the task of depositing funds and withdrawing wins a dream.
These are the payment methods available to GGPoker players. Deposits have no extra fees if you deposit in the same currency. Cashouts attract a $1 fee (except for Bitcoin).
Deposit & Cash Out Options
Visa
MasterCard
Bank Transfer
Skrill
Neteller
ecoPayz
MuchBetter
AstroPay Card
Interac
Bitcoin
Withdrawals usually take around 24 hours to process, however, it is not uncommon for certain requests to take up to 72 hours. If you withdraw more than $3,000 over the course of a month, you may have to verify your identity and the source of your funds. The operator caps the standard withdrawal to $15,000 per transaction.
Play Safely and Securely
Now, after you've seen that the entertainment meets your expectation, the next question that should be on your mind is, ''Will I be safe playing there?'' Fortunately, GGPoker is a legitimate gaming platform. There are five factors we take into regard when saying this:
Licensing and Regulation
GGPoker is fully licensed and regulated by the Isle of Man Gambling Supervision Commission to offer poker to Europe and beyond. It also has a UK-only site subsidiary which has certification from the UK Gambling Commission to offer games of skill to card sharks in that country. These licenses are a testament to the quality of the brand and the business ethic that they represent, as it is not easy to obtain them.
Game Fairness
The gaming software and Random Number Generators used by the poker site is regularly tested by BMM Test Labs, which is one of the oldest and most respected independent game testing laboratories in the world. This ensures that each game outcome is legitimately fair.
Security and Privacy
GGPoker provides you with a secure connection each time you log onto the site. All of your private details are secured by 128-bit Secure Socket Layer (SSL) encryption. This ensures that you and your information remain kept safe 100% of the time.
Responsible Gaming
GGPoker is a proud advocator of responsible gambling practices. As such, you can opt to use various helpful tools to manage your gameplay more suitably. These tools include limit setting, reality check notifications, and self-exclusion protocols.
Customer Support
There is nothing worse than feeling isolated on a busy online website, especially when you are spending real money on entertainment there. Fortunately, you are not alone when playing at GGPoker. You can contact a helpful and friendly customer support agent 24/7. Simply click on the ''help'' speech bubble for the option to wade through the site's helpful FAQ section or send a query to an operator via the chat function.
The PokCas Way!
There are very few websites that embrace the PokCas way better than GGPoker. Not only does it offer a sterling poker platform, but casino players can enjoy a host of virtual and live dealer games as well. When POKer and CASino entertainment comes together, it always intrigues us.
The quality of the offering is unquestionable, and the special features are unrivaled. For this reason, we recommend that you log on and get your account up and going without delay.
GGPoker FAQs
What is the best poker site in the world?
Three online poker sites are in contention for the best poker site in the world, it just depends on who you ask. The first is GGPoker and the other two include Party Poker and Pokerstars. With the introduction of GGPoker's new HUD and tools, it is probably just ahead.
Does GGPoker service the Asian Market?
Natural8, was developed specifically to take the experience of GGPoker to Asia. Make sure to use sign up code POKCASN8 to get access to our rake race.
Can US players play on GGPoker?
GGPoker is only available in 5 states in the USA. These regions include New Jersey, Nevada, Pennsylvania, Michigan, and Delaware.
Are there any famous GGPoker brand ambassadors?
GGPoker has several professional poker players on their payroll. The most famous ones include Daniel Negreanu, Jeff Gross, and Elky.
Is my country accepted?
Please check the accepted country list at the top of the review.
If your country is not listed - please get in touch with us so that we could check if there are any possible options for you to play on GGPoker.