The World's Most Expensive Car List Reveals Surprise Price Valuations With a Classic Sportscar Worth $143 Million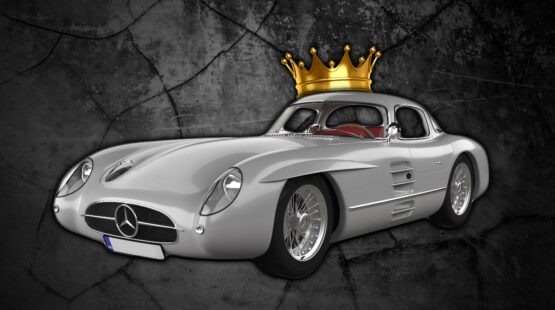 If you were asked to comprise a list that would ultimately culminate in the world's most expensive car, where would you start and what would you look for? As most know, cars come in all sorts of shapes and sizes. Fast and furious supercars cars are some of the costliest vehicles around, with prices running as hefty as $19 million a unit. Classic cars reach even more eye-watering heights, with valuations as high as a record-shattering $143 million. And what about luxury cars, and SUVs? Where do they fit in?
In the hunt for the most expensive car, it is important to cover all the genres mentioned above. After all, each person has a different taste, and each car category accomplishes a different function.
Most Expensive Super Car of the Modern Age
The first place a red-blooded man with a love for adrenalin may go when asked to evaluate the most expensive car in the world is a list of supercars. This category of cars is built with speed in mind. They offer refined performance from high-capacity engines with numerous cylinders and a turbo here and there. The growl of sports exhaust systems and the screech of tyres are all part and parcel of such a package.
Names like Ferrari, Lamborghini, Bugatti, Porsche, Pagani, and others all form part of this family of vehicles. While many a man might be happy with an entry-level Porsche Cayman, some brands push the envelope on performance, which of course, brings with them a very hefty price tag.
It's no surprise that the most expensive car on this list is produced by none other than Bugatti. The brand has regularly clinched the title over the years with the launches of their Veyron and then Chiron supercars.
This time, the $18.5 million Bugatti La Voiture Noire takes the top prize as the most expensive car in this segment. It is a one-of-one prototype which was revealed at the 2021 Geneva Motor Show and sold for the stipulated amount in a private auction shortly after. Packed with a 1,500 horsepower W-16 motor that produces over 1,100 pound-foot of torque, this beast runs from a standstill to 60 mph in just 2.5 seconds.
Runners-Up in the Supercar Race
But there are numerous other contenders that boast massive price tags in the most expensive supercar list. Most of them are ludicrously fast and boast no fewer than 8 cylinders. They include:
Pagani Zonda HP Barchetta (only 3 made) – $17.5 million
Bugatti Divo (once-off) – $5.4 million
Lamborghini Veneno – $4 million
Bugatti Chiron Super Sport 300+ – $3.9 million
Every few years a new brand brings in a car to rival the top place, as performance and price is a way that car manufacturers flex their muscles in this competitive market space.
Most Expensive Car for Sports Utility (SUV)
From the track to the dirt, there are drivers out there that prefer to strut around in tall vehicles with large tyres and 4×4 capabilities. Do all of them drive off-road? No! In fact, SUVs have become popular soccer moms' cars in the past few decades. This segment is getting far more popular among town drivers.
But there are SUVs and then there are SUVs. While some are quite affordable to the average middle-income household, others are reserved for the rich alone. Such is the case with the most expensive car in this segment – The Mercedes Benz G650 Maybach Landaulet. Yes, it was released back in 2018, but it sold for an eye-watering cost of $1.15 million. The Maybach brand under Merc only released 99 units of this motorcar, making it a sought-after item among the super-rich.
The Vehicle boasts hardtop refinement for the driver and front passenger, while the rear passengers can enjoy the open-air space afforded to them by a drop-top convertible roof.
Most Expensive Luxury Car
When you think utter luxury and leisure, Rolls-Royce must be one of the first vehicles that come to mind, right? Well, that's exactly what the brand wants you to think. And while we looked at Bentley, Maybach, and other top-class luxury car brands, Rolls-Royce is undisputably the most expensive car in the leisure class these days. And that is for both new and older custom cars.
Rolls-Royce's Boat Tail vehicle currently holds a price valuation of $28 million. According to Rolls-Royce, it is one of the most ambitious projects they have ever embarked upon with their bespoke Coachbuilding design department. Only three cars were built, each in collaboration with their predetermined owners. It is a vehicle unlike any other out there, hand-crafted by 20 expert designers and fashioners.
The boat tail has maritime lines and is built specifically for owners who love to host people. One of the boldest features of this vehicle is its hosting area in the rear.
But this is not the first time, Coachbuilders at Rolls have created a bespoke vehicle. Prior to the Boat Tail, came the Sweptail, which fetched a price tag of a staggering $13 million.
Custom Rolls-Royce
Before Rolls-Royce's bespoke building department was around, the mega-rich were left to customize their vehicles on their own. The Sultan of Brunei is the perfect example. While he allegedly has over 600 Rolls-Royces, the Sultan's Golden Silver Spur is worth the most at $14 million.
How could such an old Rolls fetch such a heavy valuation? Well, it was first stretched and then plated in 24-carat gold. It is one of the very few true gold cars on the planet.
Most Expensive Classic Car
When it comes to classic sports cars, there is no more ludicrous car market out there. The prices range as high as a buyer is willing to spend. Ferrari tends to keep its value best on average, with many vehicles having sold for tens of millions on auction.
But Mercedes-Benz managed to usurp their prestige this once, as a 1955 Mercedes-Benz 300 SLR Uhlenhaut Coupe sold at a Sotheby's auction in 2022 for a whopping $142.7 million. Its pedigree is unquestioned and it's extremely difficult to find this 60+ year car in top condition today.
When the Merc was released in 55, it was the fastest road-legal car in the world, capable of speeds topping 180 mph. This record-shattering vehicle was restored in 1988 by car enthusiast, Tony Merrick, and is confirmed by the auctioneer to be the only 300 SLR of its type in private possession.
Up till the point that the Mercedes-Benz took the record sale in 2022, Ferrari held the pole position as the most expensive car ever sold. It is rumoured that a private auction in 2018 fetched a price of $70 million for a 1964 Ferrari 250 GTO. While the figure is unconfirmed, a similar car with chassis number 3413 was sold publicly at an auction for just over $48 million.
A Summary of the Most Expensive Car Per Category
| Car Category | Vehicle | Price |
| --- | --- | --- |
| Modern Super Car | Bugatti La Voiture Noire | $18.5 million |
| Sports Utility | Mercedes G650 Maybach Landaulet | $1.15 million |
| Luxury Car | Rolls-Royce Boat Tail | $28 million |
| Classic Car | 1955 Mercedes-Benz 300 SLR Uhlenhaut Coupe | $143 million |
Classic Car Takes the Cake
Who would have thought that the oldest car on the list would take the prize as the most expensive car in the world? While rarity is a factor in the price, the likelihood of a manufacturer ever being able to replicate the vehicle is a bigger factor. While the Bugatti and Rolls-Royce cars are rare, both car manufacturers could build them again if they wanted to. That would be a far greater challenge in the Merc camp with the 1955 Uhlenhaut Coupe.