A Tour of Dana White's Triple Plot Multi-Million Dollar Vegas House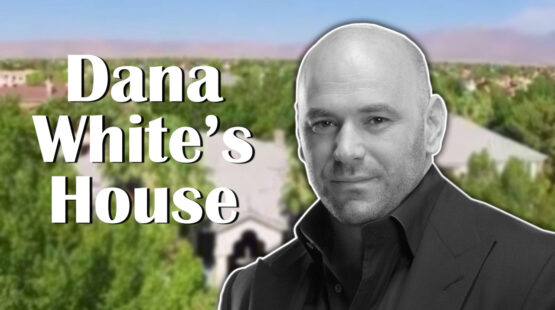 There are few people in the fighting world as well known as Dana White right now. He is the founder and chairman of the UFC (Ultimate Fighting Champions), which is the biggest professional MMA organization in the world.
White's dream was not an easy one to attain. Thankfully, some wealthy investors got on board to push the UFC into the stratosphere, making it a business worth billions of dollars in no time at all. A later sale of the UFC brought Dana a $360 million payday, yet he still reigns as the chairman of the foundation with a hefty salary to boot. The overall net worth of the fighting boss is estimated to be around $500 million right now.
So, how does a super-rich man like this live? It's a question that many fans must wonder. Well, we aim to do some serious searching into what Dana Whites' house looks like.
Two Dana White Houses Not to Be Confused with One Another
There are two big Dana White houses/mansions. We should not confuse the two. Here's all you need to know about the pair.
1. THE UFC MANSION
The first was the UFC House. Here, he once hosted several up-and-coming mixed martial artists under the same roof. These contestants formed part of the TUF Life competition series for the chance to win a contract to fight in the UFC. The reality show was televised.
That home boasted 9,500 square feet of space, 9 bedrooms, 12 bathrooms, and sat on 2 acres of property that was decked out to look and feel like an island paradise resort. Each bedroom was a master suite decked out with a luxurious king-size bed and its own full bathroom adjoined to the room. The communal area consisted of a huge open-plan kitchen and sitting room. Other facilities included a swimming pool, gazebos, and an indoor cinema.
White put the home on the market in 2019 for a whopping $5 million, but it's unsure sure whether the abode was sold or not.
2. DANA WHITES HOUSE – HIS PERSONAL ABODE
Dana has made Las Vegas his home. Not only is it a city that hosts the UFC, but it caters to Mr White's gambling pastime as well. He is known as quite the card shark, especially when it comes to high-stakes blackjack. Many of his high roller gambling escapades have been very profitable for the UFC boss. So, why not settle in a city that suits his bachelor lifestyle perfectly?
Once Dana had found the neighborhood he decided to settle in, there simply wasn't a big enough home to give him exactly what he wanted. So, instead of purchasing one plot, he bought three houses right next to each other for a combined price of $6.2 million. The first was a 6,600 square foot mansion which he purchased for $1.8 million, the second a 5,500 square foot home for $2.4 million, and the third a 4,700 square foot home worth $2 million. They were all bought within 6 months of each other.
Instead of renovating the buildings that he had on the properties, White opted to bulldoze the three homes and build one ultimate bachelor pad from the ground up. The bespoke home is filled with some awesome accommodations and features that boast luxuries that few people can enjoy in their homes.
Before We Explore Inside
Walking around the outside of the home is a spectacular sight on its own. White owns a large saltwater pool with two gazebos on either end. These are decked with couches and sun loungers. Of course, there is an outdoor bar which proves useful when hosting parties and get-togethers.
Dana White's house also comes with a jacuzzi for pure relaxation and enjoyment. Let's not forget his unique lap pool for training. It is fitted with water jets for extra resistance when swim training.
Inside Dana White's House
When you enter the doors of Dana White's palatial home, you just know that the finest interior decorators were involved with the trims and finishings. With plenty of bedrooms, bathrooms, and living space, the décor has been selected for comfort awhile remaining modern in design.
A touch of the UFC can be seen right through the home. There are larger-than-life posters of his fighters on the walls and other pieces of fine memorabilia. Some of the noticeable artifacts include his Samurai sword collection and an AK 47 covered in one-dollar bills. He purchased the swords from the famous Gold and Silver Pawn Shop in Vegas, which is known as the home of the "Pawn Stars" reality TV show. He purchased several katanas for around $69,000.
Gym and Fitness
The best features of the home include the fully-fledged fitness wing. Here, his gym rivals any commercial fitness center out there. It boasts both weight training facilities and cardiovascular exercise equipment. There is a cold plunge pool and a steam room just off the gym floor. In true fighting style, Dana installed a fully kitted grappling and sparring room. Both floors and the walls are padded for fighter protection. Lastly, he has a Pilates workout room for stretching and muscle/core work. There is even an infrared bed to help ease muscle pain.
Other Entertainment Facilities at the Dana White House
Dana White's house is decked out for activity. One of his favorite rooms is his arcade, which includes many of the most popular games you would have grown up with in the 90s and beyond. Also, if you want to play basketball, then no problem. Dana loves the game and has a full-sized court set up in one wing of his house. It's no secret that the man is a Boston Celtics fan. He's even imprinted their Leprechaun logo imprinted on his ball court's floor.
Other fun entertainment spaces include various sitting rooms with wall-mounted projector screens for lounging and relaxation and an indoor bar space with comfortable black leather furnishing. The house is a real entertainment showcase that suits the profile of such a popular mogul.
Round-Up
Dana lives a high life because of a huge amount of determination and an attitude to take risks that no one else is daring to. It is ultimately his winning mindset that has seen him become one of the richest men in sports. While men like Conor McGregor have become huge icons for the MMA industry, White is certainly the largest representative. He is the face of the UFC across the world and will most probably go down as the single largest contributor to MMA ever.