How Shaquille O'Neal Has Grown His $400 million Net Worth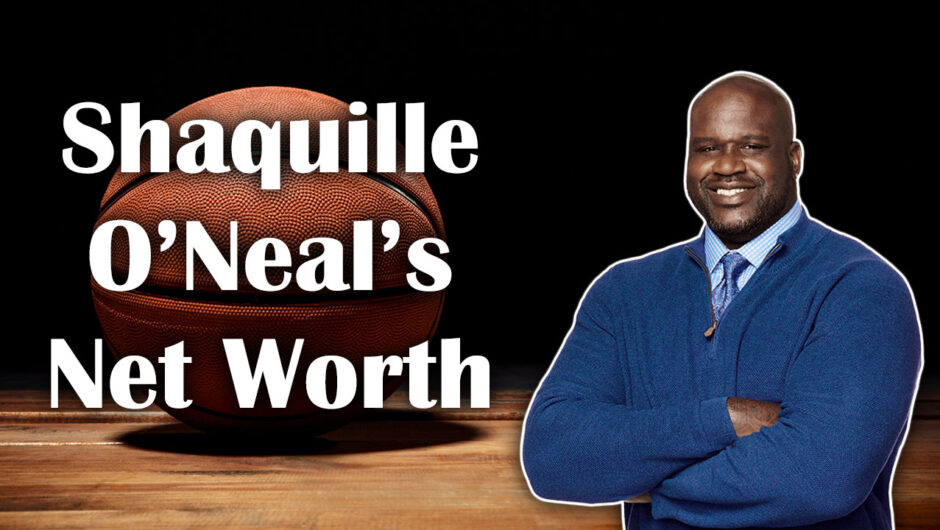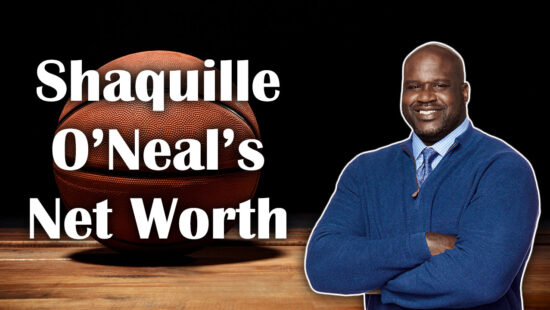 Shaq is probably one of the most well-known basketball sporting icons of the last 20 years. He is to basketball what guys like Tom Brady are to football. Standing at 7-foot 1 inch in height, he is a larger-than-life character. But the size of his stature is matched by the size of his wallet. Join us as we explore Shaq's net worth to find out how successful this sports mogul has been and how wealthy he is today.
Who is Shaquille O'Neal?
Shaquille O'Neal (Shaq) is most notably known for his time spent in the NBA as an attacking center. During his playtime in the 1990s, he was known as one of the most formidable scorers in the game and won many championships. He was drafted by Orlando Magic in 1992 but went on to play for several teams in the league, like the Los Angeles Lakers alongside Kobe Bryant, Miami Heat, Phoenix Suns, Cleveland Cavaliers, and Boston Celtics. The height of his career saw him represent the USA at the 1996 Olympics, where they won the Gold Medal. Today, his name can be found recorded in the Naismith Memorial Basketball Hall of Fame.
O'Neal was raised by his mother and stepfather and was admitted to LCU to complete his degree in business. He dropped out of college to sign for the NBA but promised his mom he would return to finish his studies. This he completed in 2000. The mogul has been married twice and has five children.
It's difficult to tie O'Neal down to one career, as the hefty Shaq net worth has been derived from various ventures in sports, advertising, business investments, acting, and music.
How Much is Shaq Worth?
Shaquille O'Neal is said to be worth around $400 million dollars. He has made his money in various ways, most of it coming from playing pro basketball and endorsement deals associated with the sport. Thankfully, unlike many other rich sportsmen, retirement only spurred the behemoth to invest his money shrewdly in various stocks and business opportunities. He also dabbled in music and television. This has all helped him secure a wealthy future beyond the court.
How Did Shaq's Net Worth Grow?
Shaq certainly didn't grow up with a silver spoon in his mouth. As such, Shaq's net worth figure has grown because of his hard work and determination. His natural talents combined with passion and a solid work ethic have given rise to his success. Here are a few ways he has managed to muster his money.
1. The NBA
There is no surprise when revealing that most of Shaq's net worth initially came from his professional basketball contracts in the NBA. Over the span of his career, he earned a whopping $292 million from team salary earnings alone. The height of his career saw him drawing an average return of around $20 million a year. It started at $3 million in 1992 and peaked at $27.6 million with Miami Heat between 2004 and 2005. His last year in the game was obviously for the fun of it, as he signed for the Celtics in 2010-11 for $1.3 million; down from $20 million the year before with the Cavaliers.
2. Endorsements and Advertising
With fame comes the opportunity for endorsements and advertising. Shoe brand, Reebok, became his go-to show maker in the early part of his career. In fact, they custom-made several series of Shaq shoes named after the icon.
While a full list of his endorsement deals would fill up this page, his most lucrative ones have been with Reebok, Pepsi, and Carnival Cruises. Other notable appearances in ads include brands like Nestlé Crunch, Gold Bond, Buick, The General (insurance), Papa John's Pizza, Hulu, Epson, and many others.
Shaquille has also appeared on the covers of multiple video games. These included NBA Live 96, NBA Hoopz, NBA Jam, NBA Live 2004, and many other basketball-related game releases.
3. Shaq Shoes
In a bid to make iconic basketball shoes more affordable for the man on the street, O'Neal left Reebok and started making his own brand of Shaq shoes. Though they became the meme shoe among the industry greats, he managed to sell 120 million pairs by 2016.
The brand has since grown its range to offer various forms of apparel including tops, caps, and more. The shoes range from lookalikes to professional quality basketball sneakers, all adding millions of dollars to Shaq's net worth number.
4. Music and Acting
The early nineties saw Shaq experiment with the movie world. He starred in films like Kazaam, where he played the role of a genie. Another was entitled Blue Chips, where Nick Nolte played the lead. These were never big box office hits though. He also made TV appearances on various other shows, including "Curb Your Enthusiasm" and "The Parkers." More effectively, he became a popular commentator at live NBA games.
On the music side of things, Shaq rebranded himself as DJ Diesel and released a platinum-certified rap album in 1993. He also featured alongside Michael Jackson in his 1995 album, History, on the song "2 Bad." Shaq also featured on Aaron Carter's single dubbed "That's How I Beat Shaq."
5. Pro-Wrestling
Shaq had always been a pro wrestling fan and had followed the WWF/WWE franchise since he was a kid. He's made numerous appearances on TV for wrestling since 1994.
The most memorable moment must be when he faced off against "The Big Show" at the Andre the Giant Memorial Battle Royale at WrestleMania 32. It's only then that you realise that this tall man compares in size to some of the biggest wrestlers out there.
6. Other Business Ventures
Shaq has followed the advice of so many that have gone before him. He certainly believes in the adage, "Never have all your eggs in one basket." As such. O'Neal has been involved in multiple business ventures and investments over the last three decades.
This has included a hand in real estate investment. A part of these escapades involved him buying homes close to foreclosure and then selling them back to their owners at more affordable rates.
Shaq's net worth has been bolstered by investments in companies like Apple, General Electric, Google, and PepsiCo. He had shares in the Sacramento Kings but sold them to fund a new investment in the betting company, WynnBet. He became one of the major shareholders in Authentic Brands and proved pivotal in their acquisition of Reebok.
To date, Shaq owns Shaq Shoes and apparel, 40 gyms, 150 car washes, a cinema theatre, and far more. In 2016, he even purchased a Krispy Crème store in Atlanta and became the global spokesman for the brand. Shaq also has shares in nine Papa John's Pizza stores in the Atlanta area and serves on their board of directors.
All these escapades add decent yearly revenues to boost Shaq's net worth figure. It won't be long before the mogul becomes a billion-dollar brand in his own right.
Luxury Buys – How Shaq Spends His Net Worth
Of course, if you earn like a king, there is really no reason you should not live like one. After all Shaq's net worth of over $400 million means that anything he buys really doesn't make a huge dent in his wealth. Here are some of the more expensive items that he owns.
A Mansion
Shaq owns a massive 36,000-square-foot mansion in Orlando Florida worth over $16 million. The building boasts 12 bedrooms, 11 bathrooms, a massive 17-car garage, a 95-foot swimming pool, and a basketball court (of course). It sits on 3 acres of land in an exclusive Orlando golf estate.
Private Yacht
Shaq purchased himself a $1,7 million Perishing 72 Yacht. The 73-foot long vessel compares nicely with crafts owned by other sportsmen, such as Conor McGregor's Lambo Yacht, Tom Brady's Wajer 77, and Tiger Woods' 155-foot vessel.
The craft boasts enough space to accommodate several guests. It has three bedrooms and three bathrooms. There is a galley, dining facilities, and storage capacity for a tender and other luxury toys.
Car Collection
Of course, like all warm-blooded men who like both speed and luxury, Shaq's net worth has been put to good use buying him a vehicle for every occasion. It's hard to keep up with his new additions as he buys and sells new vehicles all the time.
O'Neal has several Bentleys, three of which he bought at once when he was a bit younger. He purchased both a Ferrari Spyder and a Lamborghini, both of which he had to have specially made to fit his 7-foot frame. He owns a mammoth Ford F650 pickup with a ton of extra mods.
While there are many other cars in his garage (including many American classics), one of the most impressive is the custom-built Vador, created by Custom Crafted Cars. His most ridiculous car buy was probably a Smart Four Two. The mini car was also custom-made to fit his frame. All in all, his entire collection of vehicles is estimated to be worth around $5 million.
Round-Up
While O'Neal is a big spender, his net worth shows that he is a massive earner. But those who are close to him know he is a BIG giver. Hardly does he ever leave home without doing something good for someone else. No matter how big you grow, it's always worth remembering where you come from. Below is an inspiring video of how the big man engaged with the public. Of course, it's publicity but how many other celebs you know bring this type of joy to people?