Take a Look at Tiger Woods' Enormous $20 Million Yacht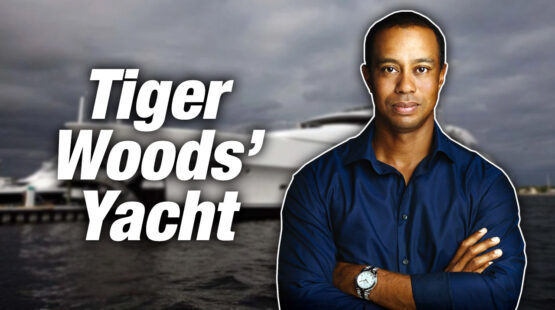 One percent of the world is classified as rich. Amidst that percentage is an even smaller group of multi-millionaires that can afford to purchase themselves luxury yachts without depleting their bank balances. As arguably one of the best golfers in the world, Tiger Woods is one of the fortunate ones, as he owns his own vessel.
Tiger Wood's Yacht
Other sportsmen with a penchant for the sea with yachts include Conor McGregor and his Lamborghini Yacht and Tom Brady's Wajer 77 vessel. However, even these stunning crafts are dwarfed by the sheer size and stature of Tiger Woods' yacht.
Some Privacy
Tiger Woods's Yacht is aptly named "Privacy", as it's the only place where he can truly escape the limelight. It is a 155-foot-long, 6,500-square foot luxury vessel designed by Christensen Shipyards that is worth a staggering $20 million. It boasts every amenity you could ask for including bars, hot tubs, staterooms, viewing decks, and more.
While privacy might be the main reason Woods purchased the yacht, he's hardly ever alone when on board. That's because the craft takes a crew of 9 to run efficiently. There is also plenty of room aboard for guests, which the golfer has made great use of. Tiger has entertained many celebrity personalities including Opera Winfrey, Bill Gates, and others.
Concept and Design
Purchased in 2004, the vessel may be on the older side but does by no means look aged. In fact, the Tiger Woods Yacht is truly a sight to behold. It generally dwarfs many of the boats moored to the docks whenever Woods is in town.
The vessel is all an American-built boat. Christensen Shipyards has been in the business for around forty years and boasts a crew of 120 boat builders that have a combined experience of over 1,000 years. It makes the company's workforce incomparable in the marketplace. If you walk into Christensen Shipyard's headquarters, you'll walk in under a sign that says:
"Through these doors pass the finest boat builders in the world and the world's most satisfied yacht owners."
Instead of speed and ferocity, the Tiger Woods yacht is built for luxury and class. Christensen Shipyard prides itself on high-quality woodwork, stonework, and metalwork, and only collaborates with the world's leading interior designers to customise the inside of their vessels to suit their elite clients' wishes.
All in all, the boat is a three-story high modern mansion on the sea made from a  fibreglass composite hull and superstructure which is designed to handle whatever the open sea throws at it.
Tiger Woods Yacht Performance and Specifications
While the enormous Tiger Woods yacht cost $20 million to buy, its running costs range anywhere between $1.5 million and $2 million a year. Of course, these costs are well within the sportsman's means. After all, he has a net worth of around $800 million, so some expensive luxuries are par for the course.
The vessel is not built for speed, though it can cruise the oceans at 16 knots. This can be turned up to a maximum velocity of 18 knots if the power is needed. At a whopping 498 tons, it's a mini lux-liner ship. Comfort is far more important than performance.
Nonetheless, the vessel is propelled by 2 high-powered diesel motors that churn around 1800 horsepower. Fortunately, there is a large fuel hold that can carry up to 12,000 gallons of diesel, ensuring a range of around 4,000 nautical miles.
Specifications
A summary of Tiger Woods' Yacht can be found in the specifications table below.
| Details | Specifications |
| --- | --- |
| Manufacturer | Christensen Shipyards |
| Year/Model | 2004 |
| Length | 155- feet (47 meters) |
| Width | 29.5-foot (9 meters) |
| Weight | 498 tons |
| Engine | 2x MTU Detroit Diesel Motors |
| Horsepower | 1800hp |
| Fuel Capacity | 12 000 gallons (45 424 litres) |
| Fuel Consumption | 3 gallons per nautical mile |
| Range | 4 000 Nautical Miles |
| Cruising Speed | 16 knots (29.63 kph / 18.41 mph) |
| Top Speed | 18 knots (33.33 kph / 20.71 mph) |
| Price Point | $20 million |
Up On Deck
Space is not a problem with the Privacy. The Tiger Woods yacht has various outside decks for lounging and taking in the fresh sea air. The lookout deck provides unparalleled views for miles and miles. There is also a scuba re-filling station and decompression chamber should divers need it. Take the elevator to the third floor to enjoy an outside bar facility with an eight-person hot tub.
There is plenty of storage for toys aboard which are put to good use. These include two Seadoo jet skis, two kayaks, and two Vespas. The Vespas can be unpacked for Woods to make use of in town once the craft is docked. The mini ship also comes with a Novurania LX tender to transport crew and guests to and from the boat if it is moored out at sea.
Living Space – A Floating Mansion
As we noted earlier, Privacy has three levels above the deck with multiple rooms and cabins. There are 5 staterooms that can sleep 10 guests. The main VIP cabin with restroom facilities can be found at the aft of the boat and there are other queen cabins and a twin cabin. Tiger enjoys a fully fitted gym with spectacular views of the ocean. The equipment includes treadmills, exercise walkers/bikes, and free weights.
The onboard amenities include a bar, theatre, multiple dining venues, a saloon, dining room, bathrooms, a three-person elevator, a glass staircase, and much more. The interior design was done by Carol Williamson & Associates Ltd, so you know no expense was spared on the finishings. A dark cherrywood theme is carried through the vessel with high-end silk and leather furnishing.
There are also 4 cabins below deck for the crew of 9, along with a large fully equipped galley fit for a chef to prepare gourmet dinners.
Our Verdict of Tiger Woods' Yacht
It seems like yachts get bigger and bigger by the year. While Privacy is enormous, there are still many vessels available on the market that make it look small. Does Tiger need to upgrade? Well, maybe it's time. The photo below shows his big boat alongside two other larger vessels.
There is always room for upgrades in the leisure lifestyle. However big or small celebrity boats are, we're certain each one carries a bit of magic that makes sailing the seven-seas loads of fun.