The GOAT Football Quarterback, Tom Brady, buys a Massive $6 Million Yacht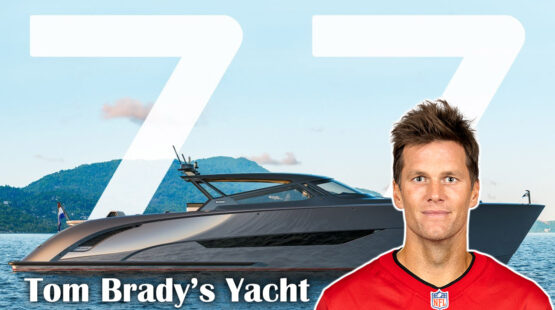 It seems that it's the season for some of the richest sportsmen in the world to treat themselves to luxury water vessels. Not only did Conor McGregor receive his Lamborghini Tecnomar 63 vessel in 2021, but a famous ex-NFL quarterback of 22 years, Tom Brady, is gearing to receive his superyacht later this year after ordering it in 2021.
Our review of the Lambo water beast was certainly impressive, with a 63-foot vessel that could reach speeds of more than 60 knots. While Tom Brady's yacht, the new Wajer 77, may be more sedate, it does boast 77 feet of deck space and a few more cushy amenities than Conor's sporty speedster.
The Tom Brady's Yacht
Dubbed the 'Viva a Vida' ("long live life" in Spanish), NFL quarterback superstar, Tom Brady has back-ordered Wajer's brand new "77" superyacht. It will make him the first owner of the $6 million Dutch vessel which boasts 77 feet of deck space and luxury sleeping quarters for 9 people and two crew members.
For more information on this superb vessel, read our full review of this Wajer-made beauty.
The Concept and Design for the Wajer 77
The managing director of Wajer, Dries Wajer, has noticed through market research that there has been a growing desire for his customers to travel the world on the water and spend longer times at sea. Many of the same boat owners expressed a desire to be able to pilot their vessel themselves at the same time. It was for this reason that Wajer introduced their largest craft to their fleet in 2021. The Wajer 77's comfort and ease of control were, therefore, designed to meet the needs of this target market perfectly.
Testament to this fact is Tom Brady's own admission that he wants a boat that is better suited for longer trips. He purchased a smaller Wajer 55S a couple of years back but admits the 77 is more suited to what he and the family need right now. While he loves his smaller craft, he says:
"The 77 is a little more suited to what we need it for down here, which is a few more day trips and weekend trips. We spend a lot of time in the Bahamas, so going from the east coast of Florida across to the Bahamas and around the Bahamas would be really great trips for us as a family."
And why wouldn't he upgrade to a $6 million vessel from a $2 million boat? After all, the same year the purchase was made, Tom Brady's estimated net worth was around $250 million. So, in the grander scheme of things, the Tom Brady Yacht price tag is really a drop in the ocean for him.
But $6 million is still a lot of money. However, you are getting your money's worth with this craft. In fact, to make it the perfect vessel, the Dutch Maritime company joined up with both Sinot Yacht Architecture and Van Oossanen Naval Architects to make sure that the vessel had a refined balance of maneuverability and luxury in one optimal package.
Tom Brady's Yacht's Performance and Specifications
While Tom Brady's yacht is no speed boat, it's certainly built to cruise the open seas with ease. The vessel is driven by not one but three Volvo Penta IPS 1200 D13 diesel engines that churn a massive 900 horsepower each.
While that is a lot of grunt in the engine bay, the mini ship does weigh a whopping 51 tons, so it really needs that pulling power to perform optimally. It comfortably cruises around at 30 knots but can be pushed to achieve 37 knots if the need truly arises.
The boat is built for leisure and not racing. As a family vessel, this craft achieves exactly what you should expect of it. With naval-designed hydrodynamics and a super light Aluminium hull, the vessel boasts a performance advantage over most boats in its size category but it's the plush interior and amenities that truly stand it apart from its rivals.
| Wajer 77 Review | Specifications |
| --- | --- |
| Length and Width | 77ft x 19ft / 23.5m x 5.8m |
| Weight | 51 Tons (half load) |
| Engine | 3x Volvo Penta IPS 1200 D13 (Diesel) |
| Horsepower | 900 HP per Engine |
| Fuel Capacity | 1.270 gallons / 4.800 litres |
| Fuel Consumption | 79 gallons / 300 litres per hour @ 26 knots |
| Range | 400 Nautical Miles |
| Cruising Speed | 30 knots (34mph / 55kph) |
| Top Speed | 37 knots (42mph / 68kph) |
| Price Point | $6 Million |
With a vessel of this size, the buying price is certainly not where the price point ends. Wajer staff in satellite offices around the world make sure to keep up the maintenance and service the yacht needs regularly. The overall running costs amount to around $600K a year. In fact, the fuel alone costs an estimated $135,000 per annum.
Up on Deck
The slogan that accompanies the Wager 77 is "The World is Not Enough". It's a statement that communicates that you really haven't lived till you've enjoyed the leisure of this floating mansion. It all starts on the deck; from the moment you step onto the craft.
Firstly, it comes fitted with a state-of-the-art deck cooling system. It automatically cools the teak wood floor on those hot days when the sun bakes them like an oven. It also boasts an electrically adjustable deck layout to suit your needs on board. Part of this includes a fully automatic roof that opens and closes at the touch of a button. When docking the boat there is even a hybrid fender system that pops out from the side of the hull. They inflate automatically at the flick of a switch.
You can easily seat up to 20 people on the vessel thanks to spacious seating arrangements near the bow and stern of the boat. The front is perfect for those enjoying cocktails under the sun, while the two rear seating areas are most ideal for enjoying your meals.
There is also space for four in the cockpit area, which is based mid-ship. A glass windscreen and side windows protect the instrumentation. The seats hug the body well to provide stability in choppier waters. The retractable electronic roof does provide some respite on hot days, allowing a cool breeze to flow through your hair while you are coasting along.
Of course, the mini ship accommodates sunbathers, as well. In fact, those who want to tan can lie down on the pads just in front of the cockpit windscreens or near the rear of the boat to catch a few rays.
Below the Deck Luxury
Below the deck is an impressive experience all on its own. Decorated in a dominantly minimalistic style, it's not without some warmth and comfort. The yacht has three sleeping quarters that can hold up to 9 guests.  Each cabin has an ensuite bathroom with a shower, toilet, and hand basins. The Tom Brady Yacht is super silent, as Wajer implements special sound dampening and noise reduction into the walls of the craft. In fact, the company claims that the  Wayer 77 is the most silent vessel in its class.
The 16-foot master suite has a king-size bed, 4K mounted TV, sofas, and a dresser. It looks like something you would expect from a 5-star hotel.
There is a junior suite situated in the bow of the ship. It's a little cozier than the main suit, but still boasts a double bed and flat-screen TV. The final room is much smaller, with a queen bed and single bed in a double bunk-like format to save on space.
The Galley is where all the food preparation takes place. It's a decent 7ft x 7ft space with storage cupboards, a sink, and a modern oven and hob. The breakfast nook is situated down three small steps, a whisper away from the galley. There is bar stool seating for two with a view out of a rectangular porthole with great vistas of the ocean; the perfect place to start your day. One thing is for sure, Tom Brady's Yacht lacks nothing when it comes to ensuring comfort on the waters.
Wajer 77 Special Feature Add-Ons
What sort of luxury service would you be getting if you could not customize your craft just a little? It's currently available in 6 hull color variants, 6 different upholstery finishings, and 6 unique waterline colors. This ensures that each buyer can create a bespoke appeal to suit their own taste. Little has been revealed bout the Tom Brady Yacht colors, so we'll have to wait till its launch to get the full scoop.
Like all rich man's toys, there's always more than meets the eyes. There is some space for some hidden toys in a hold near the stern's water deck. Many of them are optional extras, which, we are sure Tom Brady's Yacht would include. These include sea bobs, electrical jet surfboards, optional diving equipment, kiteboarding gear, and even a jet ski.
The company also offers its buyers the option of a Williams Turbo Jet 325 tender for an additional $48,000 price tag. It's a real need for yachties looking to dock offshore and travel onto the mainland in style.
The Yacht's Reception
While Tom Brady's yacht may be the first one on the order list, Wajer managed to sell 15 units when they revealed the vessel in May 2021. All of them are on current backorder. There is allegedly a hearty list of celebs and business magnates behind Brady in the queue.