10 Most Expensive NFL Player Luxury Homes Right Now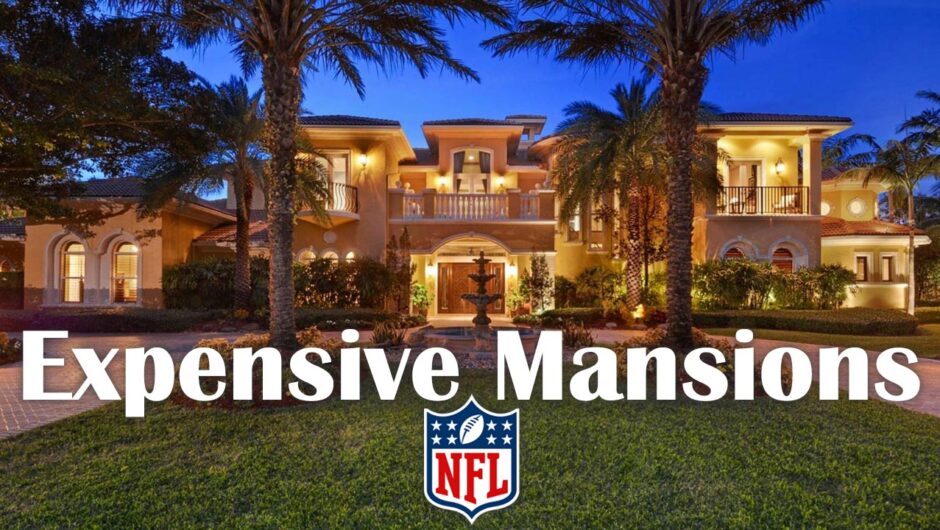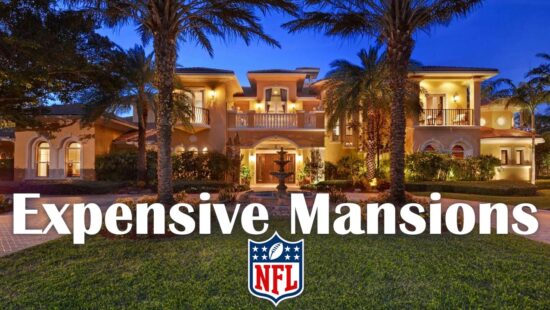 The NFL is a multi-billion-dollar sports industry that is exclusive to the United States of America. Top national football players are some of the richest athletes on the planet and they surely live that way. Join us as we visit some of the most expensive modern mansions owned by these sporting heroes. This way, you'll get to see part of the payoff for being a naturally talented sportsman.
The Hottest Big Mansion List in the NFL
The most expensive luxury homes owned by NFL stars belong to players like Tom Brady, Aaron Rogers, Adrian Peterson, Tony Romo, Reggie Bush, Brandon Marshall, Peyton Manning, Carson Palmer, Matt Forte, and Marshawn Lynch. These all vary in value between $4 million and $33 million in value.
Enjoy exploring our list of big mansions, where not one home holds a price tag a cent under the $4 million mark.
1. Matt Forte's Big Mansion in River North, Chicago – $4 million
Former running back for the Chicago Bears and New York Jets, Matt Forte, purchased this face brick luxury home for a little over $ 4 million in 2014. The home boasts 9,000 square feet of space spread over four stories. This big mansion in River North features many luxury amenities, including a movie theatre, walk-in closet, a rooftop terrace, 5 bedrooms, and 5 and a half bathrooms.
Forte likes to keep his private life out of the press, so not much more is known about the décor inside this home. We can only conclude that it must surely fit the illustrious price tag attached to the premises.
2. Brandon Marshall's Luxury Home in Florida – $4.25 million
Brandon Marshall's successful NFL career saw him play for the Denver Broncos, Miami Dolphins, Chicago Bears, New York Jets, New York Giants, and Seattle Seahawks over the course of his 13-year career in the sport. When playing for the Dolphins, he and his wife purchased the 14,318 square-foot mansion pictured above. It was their home for 10 years until Marshall offloaded it in 2020 for $4.25 million.
The Landmark Ranch Estates luxury home boasts 6 bedrooms and some super amenities in the entertainment wing of the house. These include a theatre, large game room and bar, a master suite, sports court, gym, and a swimming pool. The big mansion showcases high ceilings, a spacious kitchen, more than one sitting room and so much more.
3. Reggie Bush's Encino, LA Abode – $5.65 million
The hot suburb of Encino in Los Angeles is attracting high-profile stars from all walks of life. In 2019, former NFL pro, Reggie Bush, purchased his luxurious big mansion for almost the full asking price of $5.65 million. The ex-pro footballer is now an analyst and pundit on Fox's pregame football show, called "Big Noon Kick-off". We guess this means that this luxury home could be considered his retirement villa.
The home is a decent 8,750 square feet, which includes 6 bedrooms with ensuite amenities. There is an impressive foyer with double-height ceilings and huge open-plan living quarters. You can stand at the entrance of the house and enjoy the vistas of the swimming pool out the other end of the home.
The hardwood floors throughout connect the double island kitchen, dining room, and living room. The lighting throughout the home is made possible with tons of downlights and huge windows for natural brightness in the daytime.
Some of the luxury amenities include a games room, home theatre, and a maid's quarters. The main bedroom showcases a fireplace, a private sitting area, a massive bathroom, and a private balcony. We believe that this is the perfect palatial luxury home to relax in after a hard football career of more than a decade.
4. Marshawn Lynch's San Francisco Bay Home – $5.27 million
Marshawn Lynch is a former American running back who was dubbed "Beast Mode" for his aggressive and powerful running style. He was a pro-NFL baller for 12 seasons, where he spent most of his time playing for the Seattle Seahawks.
He is in the process of trying to sell his current Californian home for around $5 million. It's an impressive big mansion indeed, so we don't see it taking too long to find a new owner. In the meanwhile, the ballplayer can continue to enjoy his waterside digs.
The mansion boasts 5 bedrooms with 5.5 bathrooms and plenty of other spacious open-plan facilities. The kitchen and dining room present superb water views with loads of natural light coming in through the large safety-glass windows.
There is a double-height ceiling entertainment/games room with equally impressive views, media space, and an outdoor alfresco dining area. There is also a huge patio on the water with a large dock that can moor a decent size boat or yacht. The main spa-like bathroom comes with a gorgeous soaking tub, fireplace, and separate counters and basins.
5. Peyton Manning's Denver Home – $6 million
Former Broncos quarterback, Peyton Manning has a net worth most athletes would dream of. Of course, this means he gets to live in ultimate style in a luxury home that is now worth just over $6 million. That's around $1.5 million more than when he first purchased it in 2012.
The secluded home is located in Cherry Hills Village, a security estate that ranks as one of the most affluent areas in the United States. The retired baller is in love with his home and is sold-out to living out his days in Denver.
The big mansion was built in 2004 and is modeled as a Georgian-style home. It boasts 7 bedrooms and 8.5 bathrooms, a 7-car garage, elevator, games room, wine cellar, and a study. In fact, it even has a dog room with a heated kennel. The kitchen is fitted with bespoke cabinetry and granite tops, and all the flooring is decked out in black walnut wood. All this fits into a massive 16,464 square-foot shell that stands on 3.37 acres of prime property.
Surprisingly, the property does not come with a swimming pool or jacuzzi, though there is plenty of space to build them in should the need ever arise.
6. Antonio Brown's Florida Home – $6.6 million
Pittsburgh wide receiver, Antonio Brown, joined the list of expensive mansion buyers in 2016 when he doled out $6.6 million on a 18,000-square-foot mansion in the neighborhood of Hollywood Oaks in Florida. The home sold for what was then a record price for the area.
The mansion was built in 2009 over a double lot. In addition to the main household, a synagogue was added to the plans. Brown has left the place of worship intact. He said that he has a lot of Jewish friends and that a synagogue is a place where you can "bless up."
On the outside, the home presents itself as a tropical island paradise with palm trees and a swimming pool. Enter the main household and you are met with palatial-like décor. The floors are lined with Italian marble and the decadent chandeliers were imported. The main foyer is presided over by a dual staircase with ornate finishings throughout and gold paneling in just about every room.
The home constitutes 12 bedrooms and 14 bathrooms. There are large lounging areas, a massive dining room, in-home cinema, and of course the synagogue. The home is fully wired with smart technology, ensuring that climate, security, and entertainment systems can be controlled remotely.
Outside, near the pool, he has another kitchen with a wet bar and a sheltered entertaining area. There is very little lacking when it comes to leisure and luxury with this expensive NFL mansion.
7. Tony Romo's Brand New Texas Mansion – $9 million
The Dallas Cowboys Quarterback, Tony Romo, has finally finished his new luxury home in Dallas. The castle-like mansion is a spectacular sight that stands on a 3-acre plot that originally cost him $3 million to purchase. The house build dented his wallet by another $6 million, making the total property worth a hefty $9 million price tag.
Far larger than his previous 5,551 square foot home, which he sold for $1.05 million, this house boasts 32,515 square feet of living space. This all includes 7 bedrooms, 7 bathrooms, 2 wet bars, a pool, and loads more.
8. Carson Palmer's Recently Sold Digs – $18 million
In 2015, former American football quarterback of 15 years, Carson Palmer, had a luxury home built to spec. It was designed to his bespoke needs, covering 6,500 square feet of living space. He only recently sold the big mansion to a venture capitalist for $18 million.
The beautifully modern house has everything you could want from a modern home. It showcases 6 bedrooms and 8 bathrooms inside, along with living quarters, a hardwood-fitted kitchen and floor, and a whole lot more.
The highlight is outside. The big mansion has amazing views of the ocean, an infinity pool, an outside kitchen, spa, rooftop deck, and more. A great home for car enthusiasts, this crib comes with a 10-car parking garage. You just know that someone who can afford an $18 million home has more than one car.
9. Aaron Rogers Malibu Palazzo – $28 Million
This next home goes to show that sometimes NFL stars have more money than they know what to do with. This is not a big mansion in comparison to the other homes in this article. Instead, it's a quaint seaside resort house modeled like an Italian Palazzo. While it's smaller than most houses on this page, this home was bought by NFL legend, Aaron Rogers, for a whopping $28 million. It's prime real estate on the shores of Malibu.
It's still a beautiful home though. It boasts 4 bedrooms, 4 bathrooms, a gourmet kitchen, a high ceiling living space, and more. The resort-style outside quarters includes a pool, spectacular views, a lounging area, a fire pit, and a view deck. The home also comes with a 3-car garage and is only a few yards off the beach.
10. Tom Brady's Old Boston Luxury Home – $33 million
Tom Brady is probably the world's most successful quarterback ever. The NFL millionaire is currently finishing his career off in Tampa, Florida, for the Tampa Buccaneers. He has been renting a mansion overlooking Tampa Bay during his stay, but he's owned some whopping houses in the past. His $33 million Boston house takes the cake when it comes to grandeur. But Tom has never been shied to spend money. In fact, he recently bought a Wajer 77 superyacht for a whopping $6 million. That's more money than many of the houses listed in this article.
His 12,000-square-foot Boston luxury home had it all, which must have made leaving it behind quite difficult. He originally listed the home for just over $39 million in August 2019 but settled on a $32.5 million sale.
High ceilings, wooden beams, and plenty of windows give the property stacks of natural light. There are so many rooms and amenities to go with this big mansion, including:
Two family rooms
Multiple bedrooms with ensuites
Entry hallway
Dining room
Dual kitchens
Eat-in kitchen
Chef's kitchen
Laundry room
2 offices
Master suite with seating area and ensuite
Wine Cellar
Million-dollar gym
Home spa with sauna, tanning beds, and more
Swimming pool
The list could really go on and on. We wonder where Mr. Brady will settle next. We believe he is intent on staying in Florida, as he has plans to put his new yacht to good use down there.
Round-Up
The sort of money made in the NFL sure is able to change players' lifestyles for good if they use it wisely. The top players are able to live high lifestyles without much concern for cost. It's more about the appeal for them. If they like it, they buy it. But this has become a problem in the sport. Statistically, around 78% of NFL players are either bankrupt or are under financial duress shortly after retirement. Most top NFL athletes are keen to purchase expensive property during their peak but not all of them are able to maintain it till the end of their retirement.