Extremely Rare Kobe Bryant Non-Rookie Card Sells for a World Record Price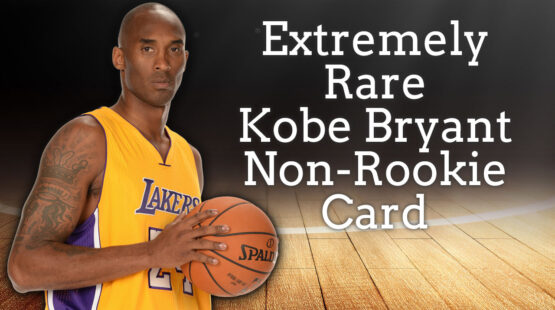 The world of sports memorabilia is an intriguing marketplace that can be a little daunting for newcomers to the hobby. While many jump into the card collection market to make money, others are collector purists who are involved solely in the love of the game and the appreciation of the hobby.
While sports card collection hit a lull a few years back, it seems that the shutdowns in 2020 had a huge impact in upping the interest in the industry again. It does, however, mean that the market has gone a little crazy right now. For instance, a Kobe Bryant card was recently sold (February 2022) for a whopping $2 million. The craziest part is that the card is not even a rookie card!
Who was Kobe Bryant?
Kobe Bryant was an American professional basketball player. He played as a shooting guard for the Los Angeles Lakers for his entire twenty-year career. Many will remember the force that Kobe and Shaq would bring to the court together, causing the Lakers to dominate the NBA for several seasons. He was voted into the Naismith Memorial Basketball Hall of Fame in 2020.
Some of his personal accolades include:
5 NBA Championships.
He was an 18-time All-Star.
A 15-time member of the All-NBA Team.
A 12-time member of the All-Defensive Team.
NBA MVP in 2008.
2-time NBA finals MVP.
Won 2 Olympic Medals for Basketball with the USA team in 2008 and 2012.
Honored as one of the greatest players in history and named to the NBA 75th Anniversary Team.
Unfortunately, Bryant died along with his daughter and several others in a helicopter crash in 2020. As such, he hasn't been around to witness the growth in the value of his Kobe Bryant cards. However, that's probably because the value has most likely grown due to his tragic passing.
What Makes This Kobe Bryant Card So Valuable?
Those of you familiar with sports-card collecting will understand that there are certain traits that make cards more sought after than others. The 1997 -1998 Metal Universe Precious Metal Gems Emerald Kobe Bryant Card lacks some of the key traits found on popular rich cards. It's not a rookie card, there's no autograph on the card, and there is no jersey swatch on it. And to top it off, it only scored an 8.5 from Beckett Grading Service. However, someone thought it was worth $2 million and completed a private sale to land the collectible.
So, what has made it so costly, you ask? Well, firstly it is one of only 10 cards of its type to exist. It's extremely difficult to find one. Then, finding one in decent condition is like finding a needle in a haystack. PWCC Marketplace is the largest trading card marketplace in the world. Their director of business development, Jesse Craig, had this to say of the card:
"This is arguably Kobe's best card in existence. It's [difficult] to find them in any condition and because of their delicate nature, to find one in such good condition is incredibly rare."
Up till now, the highest-selling Kobe Bryant Card was sold in 2021 for $1.8 million. It was a 1996-97 Topps Chrome Refractor. Even that price tag was considerably higher than the sale of the same type of card in 2017. That one only went for $33,000, which was already considered an outstanding value.
The Kobe Bryant card joins a shortlist of basketball cards to push the $2 million mark. But what separates it from the others is that every other card in the group is a special rookie card.
They include:
A LeBron James 2003-04 Upper Deck Exquisite Edition RPA parallel (sold for $2 million)
Michael Jordan All-Star Game Used Jersey Auto Card (sold for $2.7 million)
Luka Dončić Logoman Auto Card (sold for $4.6 million)
But the world record selling card is a 9.5 rated LeBron James 2003-04 Upper Deck Exquisite Edition RPA parallel. The card is only 1 of 22 copies and sold for a blockbusting $5.2 million in April 2021.
How to Find Rare Cards and Cash in
Collector purists have a love for the game, and we motivate that anyone wanting to make money in the card trading market should at least balance the business with a little passion for the sport.
If you are wanting to position yourself for a decent payday with NBA cards, you are going to have to learn some of the basics of what makes a rare and sought-after card. It's these cards that will pay you best. There are millions of cards out there. From base sets to parallels, inserts, autos, and memorabilia pieces. So, you are going to have to look out for specific items. Here are some basic tips to help you identify valuable cards.
1. Rookie Cards
Cards that are released in the player's rookie year (first year) will normally be the most valuable. There are very few exceptions to this rule (like the Kobe Bryant non-rookie card). So, if you are looking for potentially valuable prints, look out for these. This applies to all sports leagues, including the NFL, where rookie cards from Tom Brady and other top players fetch a mint.
2. Rarity
The rarer anything is, the more valuable it becomes. This rule applies to all sports collectibles, too. This is one of the main reasons the Kobe Bryant non-rookie card is so valuable. There were only 10 ever made. The card serial numbers help you ascertain the rarity of a card quite easily. A quick search online and you'll be able to tell if you have a common piece or not.
3. Grading
Grading speaks of the condition of a card. Even the rarest prints in a poor condition are not worth much. There are several renowned grading companies in the sports memorabilia market in the USA. The best ones include Beckett® (BGS), PSA, and SGC.
Public grading of cards is very subjective, so the market turns to grading companies to act as an objective arbiter of the condition of cards. Card ratings range from 1 to 10, where 10 is the best condition possible. You can, however, consider anything from 8.5 and up to be rather decent.
Grading involves checking four facets of the card and rating each of them out of 10. The average score of these traits makes up the overall grading of the card.
The facets include:
Checking the centering of the print
The quality of the edges
Quality of the corners
The quality of the card surface
They place a graded card in a protective case and include the name of the grading company, the type of card it is, and the breakdown of the grading scores.
Patches and Autographs
Some cards include a patch of the player's jersey. These are often highly sought after, especially when coupled with a rookie card with an autograph on it. These are known as RPAs (Rookie-Patch-Autograph). You'll notice that many of the highest-selling cards in the world are often RPAs. Of the patched cards, the 'Logoman' is usually the most sought after. After all, there is only one logo on an NBA jersey. As such, these are 1 of 1 cards.
Going Digital
The digital landscape is the future. While purists may never see the point of buying an NBA card they cannot touch, the modern generation is starting to see blockchain assets as the future. As such, NBA Top Shots produces NFT collectibles for the basketball space. Its first year of trade (October 2020 to October 2021) saw the brand earn a massive $750 million in sales over the course of 10.5 million transactions from more than 350,000 purchases.
The NFT allows for greater modifications/features and does away with the need for grading, as there is no way the digital asset can perish. Up-and-coming collectors may want to consider going the digital route, which is not as overpopulated as the physical card market, yet.
Round-Up – Be Patient
If you are only starting to collect cards, be selective but be patient. Latch onto new rookie cards. In a few years, they could be worth heaps of cash. Also, be sure to keep a close eye out for rare collectors' items. You never know if you're sitting on a card with a similar value to the Kobe Bryant card. Try and stick to our collector's tips above but always remember there are exceptions to the general 'value rules'.
At the end of the day, a card is only worth as much as a buyer is willing to pay for it. Fortunately, it looks like the market is in the right place for big sales right now.