Twitch Has Been Adin Ross' Net Worth Maker, And His Latest Gambling Deal is Set To Make Him Multiple Millions More
Categories:
Money
|
Published by:
Sean van der Merwe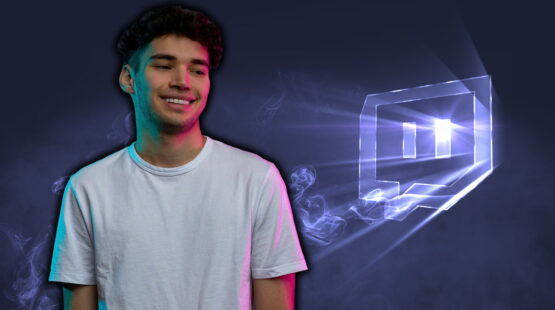 The word 'controversial' is certainly an apt application for one of Twitch's latest streaming sensations. Adin Ross' net worth is skyrocketing, and his viewing channels are exploding. A big part of his current involvement in the headlines revolves around his close friendship with Andrew Tate, especially given the Tate brothers' arrest in Romania on allegations human trafficking.
Despite these charges, Adin Ross has made clear that he will visit Andrew in jail after he learned that he was on the allowed visitor's list. According to Ross, Andrew is allowed 5 visitors. Four of them are family members, leaving the leftover spot to Adin, which the Twitch streamer is elated about.
As a result, Ross is planning an immanent Romanian trip. If there is one thing that can be said of Ross, it is that his attitude reflects the sentiments of the American penal code which states that you are "innocent until proven guilty." His friendship has remained strong despite the allegations against his friend. View his announcement below:
His constant well wishes and positive sentiments toward Tate are alleged to be the reason Twitch issued Ross with a ban for seven days in January 2023. Thankfully, that chapter is behind him and he can continue to provide the popular content that he does.
Adin Ross' Net Worth
With 55k subscribers on his Twitch streaming channel, it makes Adin Ross the platform's 4th most subscribed to channel on the platform. This rise to prominence has put him in a lucrative position where he earns an estimated $3 million – $5 million per month and has grown the Adin Ross net worth portfolio to $24 million, in total, since he started streaming regularly in 2019. His income has only recently hit such a massive valuation, thanks to a new "secret" gambling deal he has in his pocket (more on this later). We can expect that Adin Ross' net worth at the end of 2023 will be a lot greater than it is now.
So, there is certainly no faulting the man's million-dollar mindset, something he may have developed in collaboration with Tate, who is well known for his courses on how to make money online, under the banner of Hustler's University.
It is worth noting that there is a disparity between Adin Ross' net worth and his overall earnings. But this is often the case with financial portfolios. Net Worth is how much liquidity and material wealth someone has after expenses and spending are calculated. Earnings are never a true reflection of this as they are always impacted by overheads and spending.
Who Is Adin Ross?
Adin Ross is a 22-year-old Twitch streamer and YouTube content creator whose rise to fame comes from playing video games like NBA 2K20 and Grand Theft Auto 5 on the streaming channel alongside his famous sister, Naomi Ross. In fact, NBA2K20 saw him hook up with Bronny James for a while too. For those who don't know, that is the son of NBA legend, LeBron James.
Since his formative days on the channel, his content portfolio has expanded, making way for a bubbling Adin Ross net worth figure that is underpinned by the revenues that come from his 5 to 7 video uploads every week over several YouTube channels.
While gaming is still in his genes, his repertoire has expanded to cover comedy and other lifestyle-related topics these days. He has even ventured into collaborations alongside NELK, whom he seems to be very friendly with (see the video below).
Ross even started interviewing celebrities on stream and has featured well-known rappers and hip-hop artists like Travis Scott, Soulja BoyCordae, Lil Tjay, and Tory Lanez, to name some. He was also set to host a Kanye West sit-down. However, the Kanye interview was canceled after Ross called West out on his anti-Semitic comments over the phone. Being a Jew himself, Adin Ross felt it best to be upfront with Ye before sitting down online with hundreds of thousands of listeners.
A Bit of History and Stats
Adin was born in Boca Raton, Florida, but is currently living in Los Angeles, California. The 22-year-old started streaming full-time on Twitch in 2019 and has incrementally built his followership into the millions.
On the personal side, he was rumored to have hooked up with Corinna Kopf, after the two kissed on livestream. However, Ross has rubbished these claims, which leads us to believe that he is currently single. Here's some more interesting info about the man behind the lens:
| Adin Ross | Biography |
| --- | --- |
| Date of Birth | 11 October 2000 |
| Gender | Male |
| Height   | 5 feet 5 inches (1.67 meters) |
| Weight | 154 pounds (70kg) |
| Nationality | American |
| Religion /Cultural | Jewish |
| Monthly Income | Est. $3 million to $5 million |
| Profession | Social media icon |
| Income | Estimated $40 million + per year going forward |
Controversy Abounds
Adin Ross' latest Twitch ban is one of several, dating back to April 2021. Living on the limit is bound to get you in trouble every now and then.
In April 2021, Twitch banned the streamer after a guest (Zias) used a homophobic slur live on Adin's stream in front of 85,000 viewers. While it wasn't Adin who made the slur, he was still excluded from the platform for several days before having his channel reinstated.
In April 2022, he was handed another ban for hateful 'conduct', which lasted until June of the same year. While it was not made clear by Twitch the specific instance in which hateful speech was used, it is most likely to have occurred during a stream on YourRage's channel. Adin allegedly used a homophobic slur against the host without realizing that YourRage's stream was live.
Of course, the recent Twitch ban in January 2023 is most likely down to the fact that he openly supports Andrew Tate on his streams and videos, even though the misogynistic celebrity is in police custody on heinous charges. Twitch has since unbanned him again.
How Did Adin Ross Earn His Net Worth
Most of Adin Ross' net worth has been earned through his online presence on platforms like YouTube and Twitch. His earnings in the last year were around $9 million, but he is on track to dwarf that as his popularity grows. Just a look at the net worth earnings of Adin Ross over the last few years shows the trajectory he is on.
| Year | Net Worth Figure |
| --- | --- |
| 2019 | Est. $8 million |
| 2020       | Est.  $14 million |
| 2021 | Est.  $20 million |
| 2022       | Est.  $24 million |
Here's how his growth on Twitch has escalated since 2020:
July 2020 – Crossed the 100K follower mark on Twitch.
December 2020 – Increased his followers fivefold and had over 500K followers.
February 2021 – Had just under 800K followers
April 2021 – His numbers jumped to over 4.4 million followers after he fell victim to follower botting.
Both Twitch subscriptions and ad revenues on YouTube have a major impact on his wealth, paying massive sums of money into his coffers each month.
Brand Deals
Of course, those who have prominent followings are often approached to punt brands on their streams. This has been the case for Adin Ross too. His biggest brand deal to date is with a currently undisclosed gambling platform that is set to pay the streamer $2 million a month to market their gaming products.
The information and earnings were leaked by mistake when Adin accidentally showed a private DM on his Discord channel live on stream. It has since been removed from the channel.
This is a relatively new deal and while it immediately impacts his earnings, Adin Ross' net worth will begin to increase over the months ahead, once the funds accumulate in his banking accounts or are used to buy assets of worth.
Investments
As all men with money should do, Adin Ross has increased his net worth portfolio by investing his money. He owns stocks and shares in numerous companies that you and I know, including Elon Musk's Tesla, Boeing, Intel, and several other businesses. The streamer also has a hand in property and real estate, despite the fact that he lives rent free in the Wizza communal mansion. More on this later.
What Adin Spends His Money On – House and Cars
Lifestyles of the rich and the famous rarely exclude exotic mansions and expensive motor cars. With Adin Ross having entered multi-million-dollar status, he is no different. When it comes to cars, he owns a Green Lamborghini Urus, a Porsche Targa 911, and a Bentley. 
As for his home, Adin Ross was included in the Wizza commune and lives in a $30 million mansion along with Faze Banks, Sommer Ray, Mike Majlak, and others.
The home includes multiple bedrooms and bathrooms, a massive kitchen with an open-plan living area, and a dining room. There are multiple garages, gaming rooms, a massive lawn space, a swimming pool, and plenty of guest facilities.
Where to From Here?
Well, social media loves controversy. So, Adin Ross has a lot going for him there. The fact that he features video gaming and addresses pop-culture and lifestyle topics means that he has a broad audience base, which is spectacular for his earnings. With the rate of growth of Adin Ross' net worth, we expect a year-on-year improvement, unless Twitch decides to perma-ban him soon.