LeBron James Signs New Contract Extension – What Does This Mean For The Future of Lakers?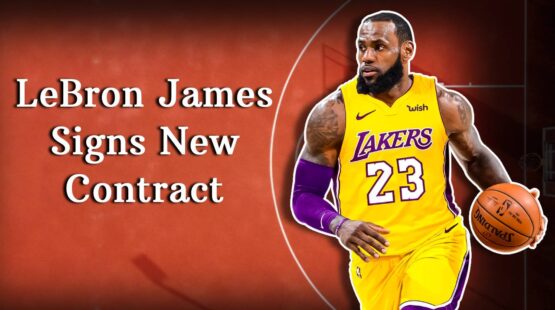 LeBron James and the Los Angeles Lakers have agreed to a two-year, $97.1 million contract extension, keeping James with the club through at least the 2024-2025 season. As a result, LeBron has surpassed the $500 million total earnings mark for his NBA playing contracts alone and has retaken hold of the #1 career earnings spot in front of Stephen Curry.
The contract represents more than just an agreement to play basketball for two years, though. For LeBron, his team, and his family, it creates a heightened level of excitement for what can be considered a new chapter of LeBron James' focused and dominant professional life.
LeBron James Contract Details
King James' new extension includes a player option for 2025 and a no-trade clause, which guarantees that LeBron will be a Laker past his 40th birthday. During this time he projects to become the NBA's all-time leading scorer, as well. As his current contract would expire at the end of the 2022-23 season, this deal will keep him in Los Angeles through 2024-25.
Additionally, this extension duration syncs Lebron's projected tenure with the Lakers to his star teammate, Anthony Davis. Davis and James joined the Lakers in 2017 and 2018, respectively, and led the team to their first NBA championship in a decade with their win in the shortened 2020 season.
Now that LeBron has added two more years to his first deal – a 4 year, $153 million agreement, he and Davis are looking to make another run at a championship in LA. There is some more intrigue to the implications of this contract, though – including a potential teammate who hasn't even sniffed the NBA yet.
LeBron's Contract by the Numbers
Despite entering the league at a time when the maximum contract rate was far lower than it is today, LeBron has outpaced his peers who have benefited from his outsized effect on contract negotiations. LeBron will add $46.7 million in 2023-2024 and $50.4 million in 2024-2025 in guaranteed money to his career totals.
With all of the money guaranteed in his contract, James' career NBA contract earnings will sit at $528.9 million alone. This does not include any endorsements or other earnings, and LeBron's net worth is estimated to be over 1.2 billion dollars. Kevin Durant and Stephen Curry are both nearing the $500 million career earning mark, and while it is likely they will eclipse LeBron eventually. Those are massive numbers when compared with what older veterans like Jordan and Shaq were being paid a few decades ago.
Will LeBron and His Son Bronny Play Together in LA?
One of the reasons LeBron's next two years of playing time have been drawing so much interest from fans is the superstar's stated goal of playing with his son, Bronny, if they both are in the NBA at some point. While this has seemed like a far-off dream for the better part of a decade, it is becoming closer to reality as Bronny graduates high school this year.
NBA rules mandate that Bronny cannot play in the league for a minimum of one year following high school. This means he could either play college basketball (he has an offer from Memphis), or sign with an NBA G-League team to further his development. If he chooses the latter, it would make entirely too much sense for him to end up with the Lakers' G-League affiliate in 2023, and join LeBron on the Lakers in 2024. There are some potential hurdles to clear, but this contract makes it far more likely that LeBron and his son get to play together in the near future.
Is This LeBron James' Last NBA Contract?
LeBron maintains that he wants to play well into his 40s if he can, just like Tom Brady in the NFL. James has certainly shown the ability to stay healthy and play at a high level – almost at an unprecedented clip for an NBA superstar. This would make it increasingly likely that he will be able to play into his forties – but no one knows the future.
What we do know is that LeBron is very focused on his legacy, and a big part of that is showing he has longevity at a level of greatness that no one else has ever shown in the NBA. In order to do this, LeBron would be able to sign another big deal when he becomes an unrestricted free agent in 2025 – meaning he could add to his astounding career earnings and continue to compete with some of his much younger contemporaries.
How Else Has LeBron Earned Huge Money?
In order to acquire over one billion dollars of net worth, LeBron has had to be savvy, successful, and consistent. He is one of the most heavily endorsed athletes in the world, including a lifetime contract with Nike.
Lebron's Top Endorsements:
🔹Sprite

🔹McDonald's

🔹Beats Electronics

🔹Dunkin' Donuts

🔹Samsung

🔹Verizon

🔹Kia
These are just a handful of the dominant global brands in partnership with Mr. James, and the results have paid off for both parties. For James specifically, the contract is just another jewel in his crown as he continues to build his brand in Los Angeles and globally. It is truly impressive to see someone manifest results for themselves, their city, and their family at every turn.