Kanye's Net Worth Isn't The Only Thing Plummeting; Adidas Reports -$246 Million Loss After Yeezy-Adidas Breakup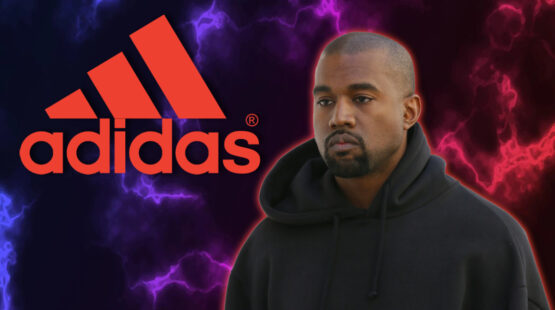 First, he changed his legal name, and now he's lost billions in his net worth. Kanye West, currently known as Ye, has been making headlines everywhere after being dropped by Adidas. Following his anti-semitic rants on social media, the sports giant Adidas cut ties with Ye on October 25, 2022. 
Although the split has cost Adidas 250 million euros ($246 million) in net income and very successful collaboration over many years, Adidas did not have a choice in the matter. Kanye's anti-semitic rhetoric sparked US-wide debate about the sportswear company's support of the artist and Adidas faced extreme backlash. Adidas dropping him means that Kanye is no longer a billionaire. 
WHAT IS KANYE 'YE' WEST'S NET WORTH IN 2022?
Kanye West (Ye) has a cumulative net worth of $400 Million in 2022. Prior to his anti-semitic scandal, he was a billionaire. The source of his net worth is music, real estate investments, and a minority stake in his ex-wife -Kim Kardashian's company, Skims. Before being dropped by Adidas, Kanye had an additional 1.5 billion in net worth. His net worth is expected to deteriorate even more considering that brands have begun to distance themselves from him.
KANYE WEST 'YE' AND ADIDAS GO THEIR SEPARATE WAYS
Adidas began its collaboration with Kanye West in 2013 after he severed the contract with Nike for the Yeezy brand line. Adidas sought collaboration, and the company let Kanye retain 100% ownership and creative control and gave him royalties. This deal turned out to be highly successful and Adidas Yeezy reached $1.2 billion in annual sales in 2018. Kanye earned $191 million in royalties from Adidas in 2020. The Yeezy line was generating $1-2 billion in yearly sales for Adidas.
In October 2022, following anti-semitic comments from Kanye, severe public backlash forced Adidas to put its partnership with Kanye under review. The partnership was eventually terminated and Adidas has withheld all future payments to Kanye as well as halted future Yeezy production. The move has cost Adidas $246 million in profits and the company lowered margins to 2.5% from the previously projected 4%. However, Adidas owns the rights for a majority of the Yeezy line designs and it has been reported that they will relaunch the current inventory under a possible new brand name. It is unclear how successful the relaunched line will be since Kanye will no longer be associated with them.
KANYE WEST LOSES EVEN MORE MONEY AS BRAND DEALS AND SPONSORSHIPS ARE RETRACTED 
When Forbes projected that Kanye West had a net worth of $2 Billion, he wasn't happy. According to the rapper, he was worth much more. Kanye's previous accumulative net worth was based on a number of factors including brand deals and sponsorships with the likes of Balenciaga, GAP, Vogue, CAA, and of course, Adidas. 
As of October 2022, Kanye West is no longer a collaborative partner of any of the above brands, who have chosen to distance themselves from him following his anti-semitic comments. JP Morgan Chase, the US banking giant has also issued a letter to Kanye instructing him to transfer his business by 21st November 2022. Instagram and Twitter temporarily locked Kanye's account following troublesome social media posts. With only real estate, investments, and his music catalog, Kanye has lost his billionaire status and is no longer worth $2 Billion. 
GAP AND FOOTLOCKER REMOVE YEEZY PRODUCTS FROM STORES
Both GAP and Footlocker announced that they will no longer support the Yeezy line after Adidas cut ties with Kanye. In separate statements, both brands acknowledged that antisemitism and hateful behavior were against their brand values, effectively putting an end to any collaborations with Kanye. 
"Foot Locker, Inc. does not tolerate any form of antisemitism, or hateful and discriminatory behavior. While we remain a partner with adidas and carry a wide assortment of their collections – we will not be supporting any future Yeezy product drops,"
"Antisemitism, racism, and hate in any form are inexcusable and not tolerated in accordance with our values," – GAP
CREATIVE ARTISTS AGENCY (CAA) CUTS TIES WITH KANYE FOR GOOD
After fashion brands and companies faced mounting pressure to drop Kanye, CAA also cut ties with the artist. CAA had been representing Kanye since 2016. The talent agency represents numerous A-lister celebrities including the likes of Will Smith, Zendaya, Ellen DeGeneres, Tom Hanks, Vin Diesel, and Jennifer Anniston to name a few.
Additionally, MRC studios canceled an already completed documentary about Kanye. SpringHill, founded by LeBron James has also decided not to air a recently filmed episode of 'The Shop' featuring Kanye. Although Apple Music did not remove Kayne's albums and songs from its streaming service, the company has removed a curated essentials playlist from the platform. Spotify has condemned Kanye's anti-semitic comments but "will not remove Kanye West's music until his label requests it."
WHAT'S NEXT FOR KANYE WEST?
Kanye West has gone from being the wealthiest black American celebrity to someone Hollywood used to know in a matter of days. His problematic opinions have led him to a career suicide that has slashed Kanye's net worth by more than half. People everywhere are wondering if Kanye West will ever recover from this fiasco. The truth is that Americans have forgiven much worse (remember what Kodak Black did?). 
Kanye has managed to rake in money and fame even after having public meltdowns before. While his anti-semitic comments are unforgivable, he still has a loyal fan base, 50 million Spotify listeners every month, and $400 Million to his name. Kanye has been a culture creator for a very long time in America, meaning there is tons of nostalgia to draw from. It remains to be seen what Kanye will do in the future and if he even intends to address the backlash he is facing. Until then, PR specialists everywhere agree that Kanye's fate is in the hands of his fans.