Sylvester Stallone's Refusal to Sell Rocky Has Led to an Outstanding Net Worth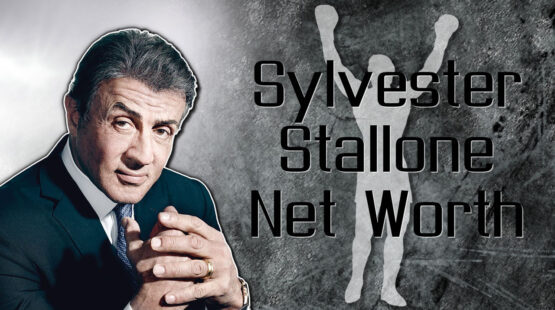 Almost all movie lovers know Sylvester Stallone. But that almost wasn't the case. A slight deviation in his initial plans with his Rocky Balboa script could have resulted in the world being deprived of one of its most prominent action stars we've ever seen. In the 1990s either Sly was getting the parts or Arnold Schwarzenegger was. This inadvertently turned into a hugely unpleasant rivalry between the two that eventually culminated in a great friendship many years on.
The film character, Rocky Balboa, began Sly's journey to prominence. The story is truly one of zero to hero. Today, Sylvester Stallone has a net worth of an estimated $400 million earned from movie writing, production, and acting. That's a far cry from the hundreds he started his career off with.
The Genesis of Sylvester Stallone's Net Worth Building Journey
Well, the "Rocky" movie franchise has earned over $1.4 billion at the box office since its start in November 1976. The early days were a bit of a challenge for Sly though. He was a struggling actor trying to make ends meet when he stumbled onto a great idea for a movie. He wrote the 90-page Rocky screenplay in three days.
After appearing for an audition for another movie, Stallone realized he and the part were not a match. But he took the opportunity to pitch his film idea to the executives while he was there. They loved the script and offered Stallone $360,000 for the story.
At the time, Sylvester Stallone's net worth was a mere $106. He had sold his dog to pay bills and had no car to speak of. Yet, despite all of this, he turned down the monetary offer on the basis that he wanted to star in the film, himself. He knew that it had huge potential to generate a massive income and set him up for the future.
The producers finally relented, and the rest is history. He was given $1 million to make the movie, which was not much. However, Sly used some of his family members for the flick which slashed the costs nicely. Off the back of a personal salary of $23,000, the first thing Sylvester Stallone did was buy his dog back. The first Rocky movie surprisingly grossed over $115 million at the box office and went on to land 9 Oscar nominations, winning three of them, including the award for "Best Picture".
Where Rocky Propelled Sylvester Stallone's Net Worth To
Rocky's success made Stallone one of Hollywood's highest-paid actors in the 1980s and 1990s. But acting is only part of what he does. Like with Rocky, Stallone continued to go on and write and star in Rambo and the Expendables. These are without doubt Class-A action films.
Together Sylvester Stallone's movies have collectively earned more than $4 billion in global revenue. He's done so many films since, with most of the later ones pocketing him anywhere between $15 million and $20 million a piece. Earlier movies like Rambo: First Blood paid him $3.5 million. However, you need to remember that it was a lot of money in those days.
Sylvester Stallone's Payday Per Movie
| Movie | Individual Earnings |
| --- | --- |
| Rocky | $23,000 |
| Rocky II | $75,000 |
| Rocky III | $120,000 |
| First Blood | $3.5 million |
| Staying Alive | $10 million |
| Rhinestone | $4 million |
| Rocky IV | $12 million |
| Over the Top | $12 million |
| Rambo III | $16 million |
| Lock Up | $15 to $16 million |
| Tango and Cash | $15 to $16 million |
| Rocky V | $15 to $16 million |
| Demolition Man | $15 to $16 million |
| Judge Dredd | $15 to $16 million |
| Assassins | $16 million |
| The Specialist | $16 million |
| The Expendables | $16 million |
| The Expendables 2 | $16 million |
| Daylight | $17.5 million |
| Driven | $20 million |
| Eye See You | $20 million |
The list is missing some of his later movies like Creed and Creed II to name some, but you get the picture. Anyway, he was arguably a supporting role in those two films, anyway. Sylvester Stallone's net worth has certainly looked more and more impressive as time has gone on.
Sylvester Stallone's Net Worth in Property Terms
There is no hiding the fact that Sly is doing well for himself these days. He loves his mansions. In 1999, he purchased a huge home near the top end of Beverly Hills, in an area called Beverley Park. The property was a massive 3.5 acres in size with a 20,000-square-foot home showcasing astronomical views of the valley. In January 2021, Stallone reportedly listed the property for $130 million and by August he had lowered the sale price to $85 million. He eventually accepted $58 million from singer, Adele. The sale is the highest price fetched for a home in Beverly Park's history.
In February 2022, Sylvester paid $18.2 million for a luxury estate in Hidden Hills, California, where he spends most of his days now. But he has owned many other homes over the decades, all of which were impressive.
He even owns what has been dubbed the "Sylvester Stallone abandoned house." It is situated in Palm Springs in the Madison Club golf community. It neighbors homes owned by the Kardashians and the Crawfords. It's reported that he has tried to sell the house off many times, as it continues to lose value.
Sylvester Stallone's House Art
Well, we know that Sly loves big homes, but what goes on inside them is amazing. The man has a huge love for art. No matter which home people have visited over the years, the array of paintings and massive statues play a big part in the overall décor of the abode.
Speaking of art, Sylvester Stallone has a Facebook page full of it. That's right, in his time off he has always found time to put paint to canvas. Some of his own pieces fill his home, while others have found their way onto the market.
Sylvester Stallone's Cars
As an action star, you would expect that Sly is a man's man – and you are not wrong. He loves his fast cars and has an impressive collection. The vehicles range from American Muscle cars to hot rods, and supercars. The most expensive car in his collection is a $1 million Bugatti Veyron. There aren't too many of those out there.
Other vehicles include a Chev Camaro, Bentley Continental GT, Ferrari 599 GTB Fiorano, 1932 Highboy Hot Rod, Ford Mustang GT, Corvette C8, Rolls Royce Phantom, Porche Panamera, Mercedes Benz G63 AMG, and a classic Corvette.
A Family of Celebrity Status
Sylvester is not the only celebrity in the Stallone family though. His brother, Frank has done a little acting, but excelled in the music industry, using his art to write scores for films rather than star in them. Frank Stallone's Net Worth is nowhere near his mega-rich brother's, expected to be around the $5 million mark at most. That's about $395 million shy of Sylvester Stallone's net worth standings at present.
Sly is in his seventies now and realizes that his roles are certainly going to change. For instance, he announced his retirement from acting in the Rocky franchise. Instead, Creed will go on without Balboa as a regular feature. But when you are at the peak of your game, there is always something to produce or invest in. As such, we don't see Sylvester Stallone's net worth figure decreasing much over the coming years.