Stephen Curry and Under Armour Set to Ink a Lifelong Brand Deal Worth $1 Billion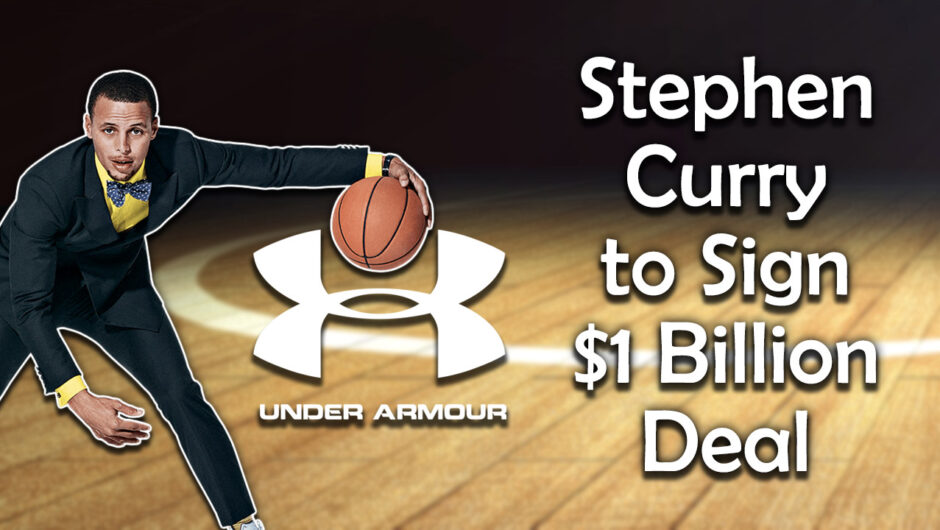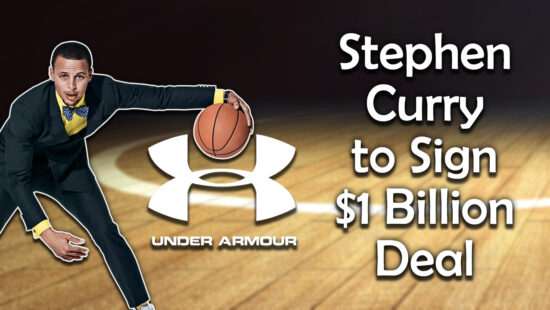 Stephen Curry is on his way to legendary status in the American basketball world. Not only is he a 4-time NBA champion, but a 2-time MVP to boot. He was part of the Golden State Warriors team which took home the title last year.
Most high-profile NBA players, like Lebron James, are certainly not short when it comes to money in the bank. Curry is no different, already boasting an impressive net worth in the vicinity of $150 million. But his current wealth and status may be set to skyrocket impressively this year as a new Stephen Curry Under Armour endorsement deal is about to be signed that will see the sportsman and business mogul tie his name to the brand for life, earning him $1 billion in the process!
Stephen Curry and Under Armour Until Now
Born in 1988, this 34-year-old point guard for the Warriors is still under contract with the brand till 2024. This endorsement is already worth a nifty $20 million a year. This is 5 times the $4 million sum that Nike was paying him as their brand ambassador until 2013. Stephen Curry signed with Under Armour in 2013 and by 2015 they released his first signature sneaker, called the Under Armour Curry 1.
With the deal coming to its end in two years, Under Armour has moved to hook Stephen Curry for the long run. They've allegedly moved to sign him again before he has a chance to consider other options for the future. The $1 billion deal is massive and is certain to maintain his support of the brand indefinitely unless another sporting apparel company has an ace up its sleeve, which is doubtful.
Stephen Curry and Under Armour have made great strides up to this moment. In 2020, they collaboratively released an offshoot apparel brand dedicated to Curry called the "Curry Brand". As such, Steph has become the international face of the company on the sports front.
Steph Curry's dream is to compete with Nike and their Jordan line. This is a massive conquest, as the Nike's Jordan empire is worth $3 billion and has earned Michael $1.3 billion in personal wealth in the process.
Another hot ex-player like Shaq had a great relationship with Reebok. But it was nowhere near the type of partnership held between Curry, Jordan, and their brands. However, the Shaq/Reebok partnership has changed massively of late. For those of you who don't know, Shaquille O'Neal is the second largest shareholder in Authentic Brands, which is the company that owns Reebok in its entirety.
Up till now, Under Armour has released Stephen Curry branded shoes and basketball apparel. With a billion dollars in the pipeline, one can only imagine what plans and strategies lie ahead. However, the prospect of living the billionaire lifestyle must be a comforting thought for now.
A Few Loose Pebbles on the Path
While solid at first, the relationship between Stephen Curry and Under Armour has endured a little shakeup along the way. Despite Curry's obvious business side, he is also a strong political leader, activist and humanitarian. As such, he took great umbrage with Under Armour's founder, Kevin Plank's, pro-Trump activism. As an anti-trump loyalist who pushed hard to endorse President Biden, it was a sore point between Stephen Curry and Under Armour that almost saw their relationship come unstuck. But money talks and the introduction of the "Curry Brand" seemed enough to smooth things over.
After the tension, Curry and Plank met for talks. Coming out of the negotiations, Curry stated: "Certain things needed to change, or else." Nodding toward his crotch, he adds, "I put it on the table." After the meeting, Plank agreed to establish the Curry Brand as its own subsidiary, in the mould of Jordan's Nike subsidiary.
Could Steph Curry's Life Get Any Better?
Well, in short, it couldn't get any worse. He already owns a $50 million mansion and many other expensive luxuries that only wealthy men can buy. But moving from multi-millionaire status to billionaire status is a big leap. The types of toys that become available are hugely different. One graduates from flashy sports car shopping to buying massive yachts and luxury planes.
A Tour of Steph Curry's $50 Million Mansion
Of course, the investment and business opportunities grow exponentially too, which will only increase Stephen Curry's net worth even further. He already owns a company called 'SC30' which is an investment company that likes to dip its fingers into the tech industry. He also has his own collection of NFTS. All proceeds from the 2974 portfolio go to charity.