Top 6 Eco-Friendly Super Yachts Suitable for Elon Musk, The Richest Man in The World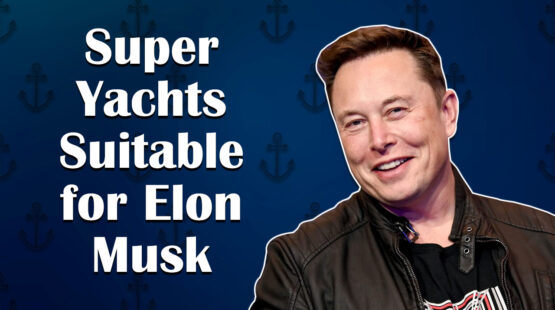 Elon Musk is the richest man in the world, with a net worth of over $250 billion and growing. As such, the man could afford to buy just about anything he wants to. Funny enough though, Elon is not the lavish spender that you might expect. In fact, Elon Musk hardly ever takes holidays and owns very few luxuries when compared to most other billionaires. In fact, he doesn't even own his own home anymore and avoids excursions that will distract him from business and work.
That means that the wealthy tycoon doesn't own an Elon Musk branded yacht like many other people in his position do. His most "out there" purchase to date is his private jet, but that's because it makes air flight faster and more convenient for business. He has expressed over and over that his money is geared toward projects that will change the face of humanity in the future.
Tesla aims at cleaning up carbon emissions from motor vehicles. SpaceX's final goal is to provide commercial space flight to Mars to explore the capabilities of human habitation beyond the limits of the Earth. His latest acquisition of Twitter (still in the purchase process) was bought with the intention to provide people with true freedom of speech. As such, the mogul truly isn't interested in self-indulgent escapades.
However, everybody needs to retire sometime. And with wealth like Elon Musk's, a fancy yacht is the ideal resting place from a lifetime of hard work. But, in keeping with the man's energy and carbon emission concerns, Elon Musk's new yacht would have to be energy efficient.
TOP 6 ENERGY-EFFICIENT BOATS SUITABLE TO BECOME ELON MUSK'S YACHT
We've compiled a list of 6 of the most energy-efficient watercraft there are out there. Each design would probably appeal hugely to the billionaire if he ever wished to buy a new Elon Musk Yachting asset in the future.
1. Eco Yacht's White Rabbit
The 84-meter (20-meter beam) White Rabbit is the world's largest trimaran sailing vessel. It was built in 2018 by Eco Yachts in Australia and boasts some of the most eco-friendly attributes of a yacht this size. The White Rabbit is powered by a hybrid diesel and electric motor which reduces this craft's carbon footprint dramatically when compared to its competitors. The vessel provides a range of an impressive 5,000 nautical miles with less fuel on board than conventional yachts. A boat like this would be an excellent addition to our Elon Musk New Yacht list of potentials.
The naval architecture of the vessel increases its efficiency by carving its way through the waters with less resistance. The impressive boat is made for large crowds – able to sleep 28 guests and 36 crew members.
The interior of the boat is like a mansion, with all the finest first-class detailing. The entire interior was designed and finished by a renowned specialist, Sam Sorgiovanni. The yacht boasts a grand entrance foyer, port lounge, interior bar, a master cabin, guest staterooms, an onboard cinema, coffee lounge, media lounge, jacuzzi, multiple sun decks, and way more.
2. 100 Sunreef Power Eco Yacht
Sunreef Yachts are a design marvel and are certainly top of the range when it comes to catamaran/dual hull boats. While they come in various sizes, the technology on the vessel is designed to provide one of the most eco-friendly cruises available. They are available as either sailing vessels or motorised craft.
Sunreef yachts are fitted with the world's first and only composite integrated solar panel system used to charge some of the lightest lithium-ion batteries in the business. If Tesla were to produce an Elon Musk Yacht, it would probably resemble something like this.
Of course, eco-friendly does not mean minimalistic. Both on the deck and in the vessel are built for comfort and leisure. It makes the adventure of cruising the open seas on such a vessel an amazing experience. The varying 60, 70, 80, and 100-foot designs each offer something special, with state-of-the-art dining decks, lavatories, galleys, and staterooms.
Nobiskrug's Artefact
The Artefact is the 2021 Winner of the Boat Design and Innovation Awards. Not only is she beautiful to look at, but the appeal of this vessel's eco-friendly mechanics makes it a real contender for the list of Elon Musk yachts we would recommend to the multi-billionaire. In fact, it's one of the first superyachts to meet IMO Tier III emissions regulations and is the largest-volume 80-meter boat in the world.
The vessel is driven by an innovative diesel-electric hybrid motor that propels the mini ship using 6 blade propellers for maximum efficiency. As such, she can deliver an enhanced range of 5,300 nautical miles at cruising speeds. The boat also includes a wastewater recycling system for reuse as technical water.
The exterior of the craft was designed by Gregory C. Marshall and the interior by Reymond Langton Design. She boasts 7 staterooms that can sleep up to 14 guests with crew accommodation for 24 staff members.
The Artefact is certainly one of the most impressive German-built luxury yachts in the world right now. The interior and exterior designs are second to none. Take a tour of the boat with this video to capture the full essence of this magnificent vessel and see why we think it's worthy of the Elon Musk's yacht profile.
Tankoa's 'Solo' Yacht
The 74-meter Solo Italian craft was launched in 2018 at the Monaco yacht show and was considered the "Best in Show." It received a visit from the SAS Prince Albert who was eager to come aboard the vessel that was awarded the "Most ecological yacht of the year" by RINA (Registro Italiano Navale).
While the vessel is not hybrid-driven, the two Caterpillar 16-cylinder diesel engines provide low carbon emissions. As an ecologically enhanced craft, she would certainly pique the interest of environmentalists and would be a suitable addition to our Elon Musk New Yacht listing.
The motor-yacht can house up to 12 guests in 6 cabins and 18 crew members. Both the exterior and interior design by Francesco Paszkowski is masculine in nature. With huge storage space for water toys, Solo is an exciting vessel to own for the water sports lover.
The multi-decked craft boasts some great amenities and rooms. These include a panoramic saloon with a fireplace and bar. A dedicated owner's apartment adjoined to the helicopter pad, jacuzzi, sun pads, lounge, and bathroom facilities.
5. Feadship's Viva Yacht
This 2021 vessel is one of the most modern vessels on our listing. As such, it implements ground-breaking eco-friendly ingenuity to propel its 94-meter-long structure. Feadship installed an advanced hybrid propulsion system that consists of diesel-electric powered engines. These allow the superyacht to cruise easily at 12 knots.
The Viva boasts a "less is more" design approach. It showcases an open beach house-type interior design, styled by Peter Marino Architects. The exterior design received a collaborative finish by Studio De Voogt Naval Architects and Azure. This ensures that Mr. Musk can enjoy not only a tasteful visual design but one which is built for maximum efficiency in the water, too.
6. Royal Huisman's Ethereal Yacht
If old-school sailing yacht design would pique Elon's interests more, we have just the boat for consideration. The 2009 Ethereal sailboat by Royal Huisman is a 58-meter yacht known to be the very first superyacht to feature a true hybrid system onboard. A 500kWh lithium-ion battery powers the vessel, which recharges while it is cruising.
While there is a diesel motor aboard, it's hardly ever in use. Between the electric power and the wind, Ethereal can cruise the coast of the Caribbean or Mediterranean with ease. It is certainly one of the smallest boats on our Elon Musk yacht list, but it provides the most authentic sailing experience of the bunch.
The interior boasts a classic dark hardwood design by Pieter Beeldsnijder Designs to suit an older maritime theme. If Elon wants to feel the motion of the ocean, this lighter and more rugged yacht should definitely be up for discussion.
The Skipper's Report
Knowing Elon, he would totally side-swipe our ideas and build his very own Tesla watercraft and introduce it via a surprise tweet. Why rest on the expertise of others when you have some of the best minds in the world under your employ? It really wouldn't surprise us if he took over the electric travel water world if focussed his mind on it. Fortunately for those in the yachting industry, he hasn't shown any interest in that market…YET!