Russell Crowe Could Have Gained $100 Million by Owning 10% of The Lord of the Ring's Revenues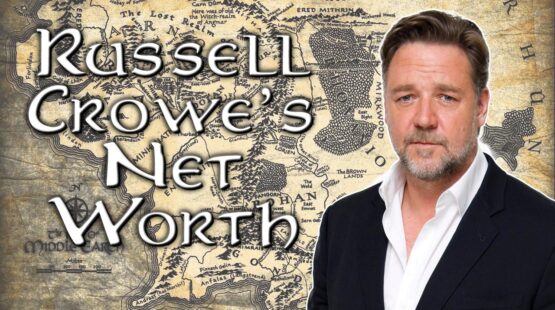 Russell Crowe is certainly a name that many movie watchers from the 90s and early 2000s will remember very well. The New Zealand-born performer has acted in numerous hit movies over the decades, with his defining moment owed to his portrayal of Maximus Decimus Meridius in the iconic ancient Rome-based feature film, Gladiator.
Joining the ranks of several other famous Australasian actors, like Hugh Jackman, Nicole Kidman, Margot Robbie, and others, Crowe has proven that the best stars are not always American-born. With both film work and music in his past, Russell Crowe has mustered an incredible net worth of over $100 million strong already. But that figure could have easily doubled by another $100 mill had he made different career choices.
How The Lord of the Rings Could Have Changed Russell Crowe's Net Worth 
In a radio and streaming interview with Howard Stern, a rather surprising fact arose in Stern's questioning. Howard asked Crowe if it was true that he had turned down a role in The Lord of the Rings film, to which he acknowledged that he had.
He had been offered the role of Aragorn (which was eventually played by Vigo Mortensen) along with a 10% cut of the movie's gross earnings. Stern goes on to explain that the percentage is tantamount to turning down $100 million.
Of course, Crowe had no way of knowing that the film would gross over a billion dollars but had a very good reason for declining the role.
In his interview with the director, Peter Jackson, Russell got a feeling that he was not the first choice for the part. He felt that the producers were applying a huge deal of pressure on Jackson to go for Crowe, as he was one of the biggest rising stars at the time. Movies like Gladiator, Proof of Life, and Master and Commander had made him one of Hollywood's most sought-after actors and, of course, one of the highest-paid stars at the time.
Russell admitted to Howard that he really never gave the money much thought in the past, and it's only when reporters and interviewers, like Stern, do the math for him that he realizes just what he's missed out on. He admits that an extra $100 million would certainly not have "gone astray." You can watch a brief portion of the interview below.
Not The Only Hit that the Actor Turned Down
But Russell Crowe seems to have built his net worth the way he wanted to. He was at the height of the industry, so picking and choosing roles was a luxury he could afford. Not many people can. Another possible career-defining role that he turned down was that of Wolverine in the X-Men and Wolverine standalone movies.
But Crowe is adamant that he honestly would not have given the part the same level of "grace and direction" that Hugh Jackman did. In fact, few know it, but Russell turned down the part and then recommended Hugh, who was an up-and-coming actor, to Brian Singer (the Director). It takes a high-value man to realize that some people would do a better job than you in certain situations.
Other Actors Who Have Done Similar Things
Of course, Russell Crowe is not the only actor in history whose net worth has taken a dent by turning down massive hit films. Here are some other notable A-list celebrities who have done similarly:
Denzel Washington turned down Se7en. His role was later played by Morgan Freeman.
Leonardo DiCaprio turned down featuring in the film, Boogie Nights, which is the movie that ultimately launched Mark Wahlberg's fame.
Madonna regrets turning down a role in The Matrix which went on to become a massive hit franchise.
Brad Pitt turned down the starring role as Neo in The Matrix, which definitely blew open Keanu Reeves' career.
Will Smith also turned down the role of NEO. Seems that not too many actors believed in the vision of the Matrix film.
Michelle Pfeiffer turned down several massive roles, including leads in The Silence of the Lambs, Basic Instinct, Pretty Woman, and more.
Bruce Willis declined the lead in Ghost. But could you really see anyone but Patrick Swayze in that role?
Ian McKellen, who played Gandalf in the Lord of the Rings films was also offered the role of Dumbledore in Harry Potter. He turned it down, paving the way for Michael Gambon to slot in instead.
Russell Crowe's Net Worth Is Just Fine, Don't Feel Sorry for Him
Picking and choosing roles are the perks of the job for a Hollywood A-lister. While Russell may have made a mistake or two according to his fans and critics, he made some great decisions too. He has starred in some top roles that have bolstered the Russell Crowe net worth portfolio superbly.
Russell Crowe's Top 5 earning movies:
Robin Hood – $20 million
Master and Commander – $20 million
Cinderella Man – $15 million
A Beautiful Mind – $15 million
Gladiator – $5 million
All in all, Russell Crowe has boosted his net worth by featuring in over 40 movies in his lifetime. And has played alongside massive moguls in the business. To think, it all started in a New Zealand theatre in a 1986 rendition of "The Rocky Horror Picture Show." From there, he played in various Australian films and even managed a 4-episode stint in the iconic "Neighbours" soapy.
His career has spanned nearly four decades, and he has quite a bit to show for it. His display cabinets at home boast:
An Oscar (Academy Award) – Best Actor in Gladiator
4 Australian Academy of Cinema and Television Arts Awards
2 Golden Globe Awards
A Screen Actors Guild Award
He received a prestigious star on the "Hollywood Walk of Fame" in 2010.
Russell Crowes Net Worth in Real Estate
Like all A-listers, Russell Crowe knows what it's like to live a luxurious life. His property purchases since 2001, especially, have been a testament to that. However, Crowe's headlining homes today include a Woolloomooloo penthouse for which he paid $14.4 million and a $10 million mansion in Rose Bay.
He purchased the mansion in 2011 but signed it over to his ex-wife Danielle as part of their divorce settlement. It was a 1909 home which was updated with a 1927 Arts and Crafts-styled second floor.
As a lover of New Zealand and Australia, it would be remiss of Russell not to own a home in beautiful New South Wales. After all, it is one of the prettier parts of the country. Unfortunately, the Australian bushfires of 2019 spread havoc in that area and scorched his home badly.
A Career Lost or Gained?
Russell Crowe was certainly a huge Hollywood name, but his status has dwindled in the last decade or so. Younger actors have crept onto the scene to hog much of the prime work. However, you have to wonder… Had Crowe snapped up the roles like Wolverine and The Lord of the Rings, would he have etched his name in Hollywood with greats like Stallone, DiCaprio, Pitt, and others? After all, these older actors are still landing top roles. And if they aren't they certainly are producing top-class films.