Johnny Depp's $900 Million Net Worth Has Dwindled Due to Gross Mismanagement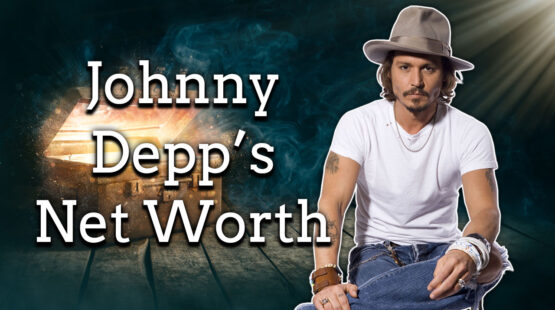 Johnny Depp held the headlines for a good part of 2022 as he and his ex-wife, Amber Heard, fought out a 'defamation of character' trial on public television for the world to see. The famous Pirates of the Caribbean star came out on top, winning the suit and clearing his name of the vicious rumors circulated by Heard that he was an abusive wife-beater.
He was rewarded with a $10.35 million payout, which Amber was ordered to pay over to the Hollywood actor, even though he is one of the most well-paid actors in the business and certainly does not need the money. It was, however, still a welcome addition to Johnny Depp's net worth portfolio, which is slowly beginning to recover from gross mismanagement and rigorous spending in the past.
So, what is Johnny Depp's Net Worth?
Johnny Depp's net worth in 2022 is around the $100 million to $150 million mark. This is a far cry from his wealth at the peak of his career. It was understood that Johnny Depp's net worth hovered at $900 million in his prime, but massive spending between 2003 and 2016 allegedly saw the high-value male actor burn through over $650 million. Much of this was spent on meeting his living expenses which peaked at $2 million a month. He found himself in debt to the tune of $40 million by 2017.
Depp is adamant that the cause of his indebtedness was mismanagement by his business managers (Management Group) at the time and claimed that his ex-wife Amber Heard did not help matters with her heavy spending of his wealth. He filed a lawsuit against the management firm for gross mismanagement and fraud.
His grievances against them include:
Racking up $40 million in debt without his knowledge
Failure to pay property taxes on time
Unauthorized loan applications
Overpayments on security and other services
Heavy Spending Diminished the Net Worth of Johnny Depp
When it came to denting the bank balance, Johnny Depp has not been coy. His expenses have gone through the ceiling in many areas, but here's where a huge portion of it has gone:
Real Estate
While real estate is seen as an asset over the long term, excessive running costs for expensive property can land you in hot water. The interest along with the upkeep of massive estates is hugely expensive. Johnny's property portfolio is said to be worth over $70 million. This is spread over 14 different properties, including palatial mansions, several private islands, and even a $3 million Kentucky horse farm.
Luxury Vehicles and Transport
One of the biggest proponents of the decrease in Johnny Depp's net worth was his lavish spending on expensive vehicles and transportation. It's not enough that he owns over 40 different cars, he even purchased a yacht for several million dollars, which he eventually sold to JK Rowling.
Then to top it off, Depp's monthly private jetting expenses amount to a cost of $200 000. That's $2.4 million a year just on air travel, alone. These are expensive luxuries to have to fork out your hard-earned money on every year – no matter how rich you are!
Other Expenses
Johnny was maintaining a massive bill of $3.6 million on staff salaries. This included a full-time complement of 40 individuals. This allegedly excluded another $1.8 million a year on his security detail. With all of his properties, it's not difficult to believe that you need to fork out a small fortune in wages. The only question that burns is… if Johnny Depp was so bad at keeping track of his net worth, how was he ensuring that his staff complement was not ripping him off blindly, too?
Johnny Depp's net worth before Amber Heard was also certainly more impressive. It doesn't help that he paid her $7 million in the divorce settlement deal either. Fortunately, it turns out that he made a profit off her after all. The defamation suit will see him recover that $7 million and add an additional $3.35 million to the Johnny Depp net worth coffers in the process.
It's also no secret that Depp loves art and memorabilia. His penchant for collecting expensive pieces may have gone a bit far though, as he has had to make use of more than 10 storage facilities to house all of these items.
How Johnny Depp Earned His Net Worth?
To get to the point where you can afford to spend $650 million over several years and remain extremely wealthy, you need to have had a stellar career. Well, this is the case for Johnny. Here are a few ways the actor has earned his net worth.
1. The Film World
While Johnny Depp has had a short romance as a professional musician, without doubt, Johnny Depp's net worth has been bolstered mostly by his acting talents. The man has been in the TV and movie business since the 1980s, with his debut appearance in the 1984 horror film, A Nightmare on Elm Street. He did a few other small gigs before co-starring in the original series of 21 Jump Street, where he earned $45,000 per episode.
Tim Burton really put him on the map with Edward Scissor Hands in 1990, which led to the pair working on many films together thereafter. Sleepy Hollow (1999), Sweeney Todd (2007), and Alice in Wonderland (2010) are just three of several films they created together.
Of course, there are way more movies under the actor's belt, with the Pirates of the Caribbean franchise really solidifying his place as a top-ranked star. He now commands a hefty $20 million salary per movie.
2. Production Business
Johnny Depp established a film production company in 2004 with his sister, Christi Dembrowski. You will know the company as "Infinitum Nihil", where Depp holds the position of co-founder and CEO. The company has been involved in many of Johnny's movie ventures and put-up funds for films like Dark Shadows, Hugo, City of Lies, The Rum Diary, Minamata, The Lone Ranger, and several others.
3. Art
There is no hiding the fact that Johnny loves art, but you may be surprised to hear that he is quite an accomplished artist himself. Earlier in 2022, he exhibited some of his fine artwork through Britain's Castle Fine Art Gallery. The collection of prints included portraits of other popular celebrities, such as Bob Dylan, Al Pacino, Elizabeth Taylor, and Keith Richards. In a matter of hours, he sold all 780 prints, earning himself $3.6 million in the process.
4. Brand Ambassador for Dior
Johnny Depp had been the brand ambassador of Dior Sauvage fragrances since 2015. The fashion and fragrance house was one of the first companies to reach out to the Hollywood star after he won the Amber Heard trial. While Pirates of the Caribbean and Fantastic Beasts dropped him, the fashion and fragrance house has shown solidarity in its recommittal to have him as their brand ambassador once again. In October 2022, Johnny put pen to paper in what is touted as a seven-figure deal. Depp uploaded his first partnership post on the 17th of October with the caption "Fearless yet Human, just like Sauvage." The deal will most certainly add a neat rise to the Johnny Depp net worth portfolio.
The Household Name Resurfaces Stronger
2022 has certainly put Johnny Depp in the good graces of his adoring fans. His victory over Amber Heard has only done his brand a favor. Johnny Depp's net worth is due to recover remarkably over the next few years after dwindling in the past.