The History and Net Worth of Paul Bilzerian and His Troubles With the SEC
Categories:
Money
|
Published by:
Sean van der Merwe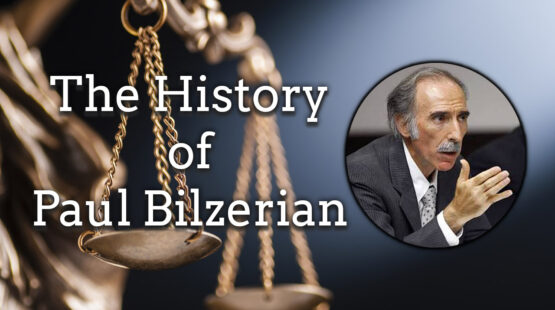 Paul Bilzerian was an American businessman and stock investor who made his name with his penchant for hostile takeovers in the late 80 and early 90s. The father of the now famous Instagram personality, Dan Bilzerian, defied the odds of a difficult upbringing and made a success of himself in business circles until he ran into trouble with the SEC in the early 1990s. His history depicts a man who endured much hardship and defied the stacked odds life threw at him. His financial success was a testament to this.
Paul Bilzerian Led the Way with His Net Worth
Paul Bilzerian is the man behind the money in the Bilzerian family, and it is believed that he set up both his sons for success. This is despite his current exile in the West Indies and his plight for bankruptcy in the 1990s.
While the family tries to keep it quiet, Paul Bilzerian still boasts a net worth estimated to be no less than $80 million. The SEC certainly believes he has more money than he claims, however, they were forced to give up on their fight with him a long time ago.
How Paul Bilzerian Built His $80 million + Empire:
Hostile takeovers
Stocks and bonds
Business
Paul Bilzerian: The Early Days
Paul Bilzerian grew up (according to him) as a juvenile delinquent. In fact, a young Paul's rebellion climaxed in high school after multiple infractions and confrontations with the headmaster. As a result, he dropped out of school and joined the military at the age of 17.
He served in Vietnam, where Uncle Sam must have instilled a modicum of self-discipline into him, as he left the war with multiple medals for his service. These included:
The Vietnamese Gallantry Cross
 A Bronze Star Medal
 An Army Commendation Medal
After leaving the army and surviving the war, Paul Bilzerian decided to go back to school where he earned a Bachelor of Arts (with Honors) in Political Science at Stanford University. He graduated with distinction. He then went on to join Harvard Business School in 1975 and completed his MBA. His education opened great doorways, which were later squandered under litigation.
Paul Bilzerian, American Businessman
Paul Bilzerian's first venture as an American businessman after leaving college was joint ownership of a Tampa-based radio station, called WPLP. However, the business was a bad investment, and they went into bankruptcy. As the hardcore entrepreneur he was, Paul Bilzerian then fixed his sights on stocks with the view of embarking on hostile business takeovers.
The first corporate takeover attempt targeted clothing company Cluett Peabody & Company. The second aimed at the takeover of H.H Robertson – a large construction company based in Pittsburgh. His third attempt was the takeover of the Hammermill Paper Company. In each instance, he failed to acquire the companies, as they managed to either merge with other businesses to offset the risk he posed or insert various other poison pill clauses to stop him in his tracks.
However, the mere fact that these companies hit the headlines during his attempted takeovers, drove their share prices up. So, despite his failure to procure ownership, he still walked away having made tens of millions of dollars after selling his shares each time.
Finally, Paul Bilzerian hit the lottery with the successful takeover of the Singer Corporation. While the brand is now well known for its sewing machines, at the time, they were a defense contractor. But his acquisition was purely by mistake. His intention was to purchase a small stake and threaten a hostile takeover. He simply wanted the board to buy him out at a premium, but instead, he ended up with full ownership.
The SEC Brings a Spanner into the Works
The acquisition of Singer Corporation could not have come at a worse time for Paul Bilzerian. Because the company was a high-profile defense contractor, Paul's takeover caught the attention of the Security and Exchange Commission (SEC). It didn't help that the economy was going through its worst slump since the Great Depression. As such, they were desperate to investigate a select few high-value investors.
After some thorough investigation, the SEC accused Paul Bilzerian of "Stock Parking". According to US law, any investor who owns more than 5% of a company is legally required to disclose it to the SEC. This in turn attracts investors. So, to avoid unwanted attention, some investors get their friends to buy stocks with their money so that the 5%+ in stocks is split over several individuals and, therefore, hidden from the SEC and public interest.
Paul was taken to court in 1989 and was convicted of 9 counts of fraud, conspiracy, and making false statements. He was charged a $1.5 million fine and was sentenced to 4 years in prison. Fortunately for him, he was out after 13 months. But that was not the end.
The SEC continued to gun for him. Paul Bilzerian had professed to an $81.4 million net worth during his previous court trials and the government believed that it was only right that he pay back any illicit profits conjured from parking stocks. In response, Paul pleaded bankruptcy. Despite this, the SEC won its case in 1993 and was awarded a $62 million judgment against the man. The judgment was broken down as follows:
$12 million in illicit profits.
 $50 million in penalties, interest, and partner's profits.
Paul Bilzerian Loses Multi-Million0Dollar Tampa Mansion
One of Paul's greatest losses as a result of the hardships that came upon him in the USA was his famous Tampa mansion. In 2013, a Louisiana bank repossessed the sprawling estate which was built in the 1990s. The 28,000 square foot mansion sat on 3 acres of ground and boasted lakefront views, 10 bedrooms, 13 bathrooms, an indoor basketball court, a racquetball court, and a wine room.
The estate was initially put up for sale at $6.5 million, but the lack of interest saw its price drop to $4 million in 2015. This is a far cry from its estimated worth of $18 million + in 2008. The sold sign was eventually erected in September 2015 for a measly $2.85 million. That's a bargain buy by anyone's standards.
Lawyers and Exile Bring Reprieve for Paul Bilzerian
After 25 years of court battles, the SEC finally admitted defeat after spending $8.6 million to acquire an equivalent of $3.7 million from Paul through seized real estate.
To evade the authorities ever initiating any more investigations against him, Paul Bilzerian, the American businessman moved to St. Kitts in the West Indies. There, he lives a wealthy life. It is expected that Paul Bilzerian's net worth has surpassed the $100 million mark now.
The now greyed 64-year-old Paul Bilzerian maintains his innocence and said he fought hard to protect his money. When asked in an interview about his bank accounts, he answers: "What bank accounts? Do you think I'd be stupid enough to have a bank account?"
Rumor has it that he is the main man behind the success of Dan Bilzerian's company, IGNITE, and is the prime reason Dan managed to save his company from going under a few years back. It seems that Paul Bilzerian, the American businessman is far from finished making money and putting his savvy tactics to good use for the benefit of him and his family.