Tony Parker Enjoys His Retirement From the NBA by Spending Just Over $15 Million Dollars on a Brand-New Explorer Yacht
Categories:
Money
|
Published by:
Sean van der Merwe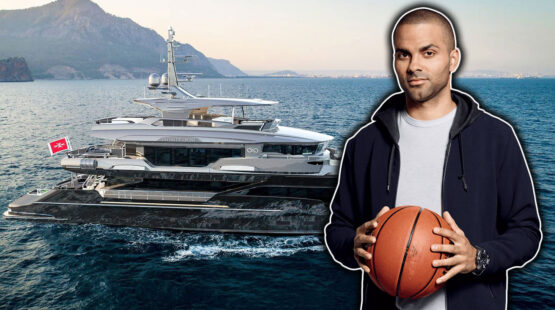 Tony Parker has a lot to be thankful for this Thanksgiving. The former French American 4-time NBA champion received his brand-new Kando 110 Explorer Super Yacht in November 2022. Only a virtuous few can afford such expensive toys, but Parker had an incredibly successful career that came with high rewards.
Now retired (since 2019), the wealthy sportsman can spend a lot of his time off on the high seas in luxury and leisure. The $15 million+ Tony Parker Yacht is crafted for trans-Atlantic voyages, enabling the ex-baller to chase the good weather between the Caribbean and the Mediterranean. In fact, with the craft's impressive range, it can almost make it across the Atlantic and back again without refueling.
The Tony Parker Yacht
Dubbed the Infinity Nine, the vessel is expressly named after the ex-pro baller's San Antonio Spurs jersey number. This hull marks only the second vessel in its class by the Turkish Yacht makers, AvA. Despite its 115-foot length, the Kando 110 series of yachts is the second smallest craft in the fleet. The largest explorer yacht is the Kando 150 XL, which boasts a 153-foot length.
Tony Parker's Yacht meets all the requirements of a luxury craft, impressing with everything from an onboard gym to a jacuzzi and multiple comfortable cabins that can sleep 12 guests.
The Concept for the Infinity Nine
Tony Parker's Infinity Nine yacht is not any old vessel though. It is an explorer yacht. While it maintains luxury status, it serves as a long-distance voyager rather than a harbor cruiser like the Lambo Tecnomar and Wajer 77 vessels owned by other famous athletes. It is purpose-built with the intention of being able to traverse large oceans without the need to find port.
The steel hull structure can take heavy sea battering while the massive 12,000-gallon fuel tanks ensure that they can maintain course uninterrupted. This is the perfect boat for someone who wants to follow the good weather from coast to coast.
With European descent, it's expected that Parker will do a fair deal of his cruising along the tropical coastlines of the Med. However, the yacht is also available for charter. So, it seems that Parker may mix business with pleasure with his new buy. This is a shrewd way to cut back on the expenses of running the vessel.
Like a child during Christmas, AVA reported that Tony Parker followed his yacht build with great anticipation of its completion. He allegedly visited the shipyard multiple times during its construction to keep tabs on the process.
On AvA's website, it states that a Kando 110 Long Range Explorer Yacht can take up to 20 months to deliver, which means that Parker must have lodged his order shortly after retiring from the NBA. The vessel finally fit the high seas on August 5th, where it would have to prove its sea legs before being turned over to Parker in November.
Tony Parker's Yacht's Performance and Specifications
Tony Parker's yacht is a 35-meter superyacht handcrafted by Ava Yachts's shipyards in the Antalya FreeZone. The base of the craft is a steel hull followed by a lightweight aluminum superstructure which brings the gross tonnage to just 320GT. Despite its weight, the yacht can cruise at 12 Knots, which is more than sufficient for a vessel of its caliber.
According to AvA, the craft is designed by specialist Naval Architects who appreciate what is expected of a long-range ship. It bolsters some state-of-the-art equipment on board to make the craft function properly. This includes the adoption of Volvo-Penta Commercial Marine Engines, and Kohler Marine generators, with navigational instruments and electronics from Simrad. The vessel also comes fitted with both bow and stern thrusters and stabilizers to assist when docking and launching the boat. The caliber of this yacht has earned it a "Bureau Veritas Charter" notation.
Here's the full range of specs for Tony Parker's Yacht:
| Details | Specification |
| --- | --- |
| Model | Kando 110 |
| Design | AvA Yachts |
| Length | 115 foot 6 inches (35.2 meters) |
| Beam | 25 foot 7 inches (7.8 meters) |
| Weight | 320 Gross Tons |
| Engine | Dual Volvo Penta Engines |
| Fuel Capacity | 11,887.74 Gallons (45,000 liters) |
| Range | 6,500 nautical miles |
| Cruising Speed | 12 Knots (13.8 mph) |
| Maximum Speed | 14 Knots (16.1 mph) |
The Infinity Nine is like a floating mansion. The only difference is that the upkeep on the boat far supersedes that of a static home. Tony Parker's yacht costs around $1 to $2 million in expenses every year. That includes fuel costs, licensing, maintenance, docking fees, and crew wages.
Deck Life and Amenities
The Infinity Nine is the perfect charter boat. It comes with a lot of deck lounging space and first-class amenities. The vessel comprises four levels, of which the top one contains a fully equipped spa resort and gym. There is also a jacuzzi on the flybridge for those who want to relax with a cocktail and enjoy a beautiful sea vista.
The swim platform on the Infinity Nine is slightly longer than most boats of its size. This is because the yacht is made with fun in mind. It provides a bigger area for Tony Parker and his guests to catapult themselves into the ocean from.  It's also easier to launch and dock all the exciting sea toys that are stowed away on board, as there is more room to maneuver.
Talking about sea toys, the vessel comes with its own Jet Skis, towable blow-up rides, paddleboards, snorkeling equipment, and even sea bobs for those who enjoy diving the coastline in style. It also comes with a tender which is useful for transporting guests to and from the yacht while it is anchored offshore. The tender is also necessary for towing the inflatable water toys.
Luxury Interior of the Infinity Nine
There is no compromising on comfort when it comes to Tony Parker's yacht either. The interior provides 5-star accommodation. It provides space for 6 crew members and 12 guests. The guests can be split up over 6 different cabins with double and single beds available.
The main VIP suite is 312 square feet (29 sqm) and comes with a private balcony. There is a massive 488 square foot (45.4 sqm) main salon on the main deck providing space for inside lounging and dining, while the main deck aft provides space for a five-star open-air dining experience. The galley sits just off the salon lounge for easy catering access.
Have a look at the detail of the yacht's design in the blueprints provided below:
The design of the interior is modern and clean with very light tones. The large windows provide plenty of natural light to all areas of the vessel. So, wherever Tony Parker is on the yacht, he is provided with great seascapes.
All Good Things
It seems that Tony Parker has been into Yachts for at least a decade now. It was in 2012 that he tweeted that he was at the yacht show with Boris Diaw in Monaco. We wonder if the desire to own his own vessel was developed back then already. Well, his dream is now a reality and should come as an encouragement to all budding millionaires that good things often come to those who wait.