10 Best Songs To Pump You up, Best Music for Work, Gaming, or Exercise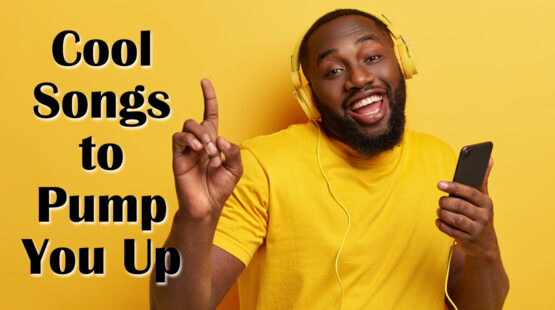 Music is a universal language that speaks deep into the soul where mere words simply can't reach. It has the ability to make you mad, sad, or glad, depending on the particular song you are listening to.
But there is enough negativity in this world, let's use music to pump us up instead! Sometimes we all need the motivation to work or to persist with a life mission. Sometimes, we just need a cool song or two to get us in the mood when we game or when we workout. Few things work as well as great lyrics and a catchy tune.
Our Top 10 Cool Songs with Positive Vibes
If you need to pump yourself up in any way, why not use the magic of the music in our top 10 cool songs list to motivate you. They include top titles from the 80s to the 2000s, each with a timeless message of positivity and energy that you can sing along to.
1.
Eye of the Tiger –

by Survivor
While this cool song originates in the 1980s, "Eye of the Tiger" is a timeless classic that provides both a message and a rock tune to give you the 'get up and go' you need to face any challenging situation. Made famous by the Rocky movie, it's the perfect accompaniment to a hard gym workout or a sike up session just before settling down to enjoy a competitive video game.
The song speaks about the thrill of the fight and the need to rise to the challenge of our rivals. Work, play, workout, it's all a rivalling challenge that could use this sort of harmonious motivation.
2.
Don't Stop Believing –

by Journey
Looks like 80s tracks are going to headline the start of this list. Maybe it's giving away my age, but don't worry we'll get to some modern cool songs later on. This classic speaks about the mundanities of life and how we should not stop believing in something better.
You may have heard successful people telling you, "No matter what, keep going". Well, this song rams this ethos into your heart and soul with famous lyrics that most young and old music lovers will know. Whether you are trying for that promotion at work, working hard on a new business venture, or simply wanna stand out – Don't Stop Believing in yourself!
3.
Make A Way –

by Aloe Blacc
"Steady on my grind and got no time for playing games
Money on my mind, I'm kicking as I'm taking names
The heat is on, get out the kitchen if you can't handle the flames
I'm hustling, I was born to win, ain't never gonna change
"Let me tell you now, I don't know how
But the whole world's gonna know my name
Just wait and see, they gon' talk about me
Things ain't never gon' be the same"
If ever there was a mantra worth speaking over your life, it is this one. Let this cool song's message settle in your heart. It's not worth settling for second best when you were made to be someone special. Those of you looking to excel in the workplace, play this song in the car on your commute. Remind yourself that what you are doing is serious and that you are going to be recognised for your efforts.
This song speaks about being a winner. Perhaps it's the greatest precursor to a competitive game or gym session, especially if you're trying to hit real goals in the fitness realm.
4.
Good Morning –

by Max Frost
Common, we all know there are those days we all struggle to wake up with a positive outlook. If that's where you are at, you need to listen to this cool Max Frost song. It's about writing off the irritations and failures of yesterday and about creating a positive fresh start today.
Not only are the lyrics catchy, but the rhythm and beat are sure to put a spring in your step. It's a great starter for that early morning jog or cycle. By the time you've invigorated your body for the day with your workout, this song will have your heart in a happy place, ready to spread the cheer in your workplace.
5.
Watercolour –

by Pendulum
If you need a fast tempo song to get your heart racing, Pendulum's 'Watercolour' is a song worth lifting weights or skipping rope to while it jams. The speedy vibes have the ability to raise your heartbeat before you even start your workout.
And the lyrics of this decade-old cool song are all about breaking beyond the boundaries by stoking your passion and changing your old visions. Instead, throw your fists up and head for victory. The chorus is clear:
"Feed the fire, break your vision
Throw your fists up, come with me
Feed the fire, break your vision
Throw your fists up, come with me"
6.
Rise –

by Jonas Blue, Jack & Jack
The risk is worth the climb. Nothing is worth chasing unless there is risk involved. If there is a cost involved, it means that it is worth something. Rather set your heart on rising till you fall than sitting idle and never trying anything and failing anyway.
The singers are turning their backs on their old ways and the words that have been spoken over them in the past. Perhaps, you don't have supporters around you and are surrounded by naysayers – your determination needs to be enough. This should be a cool song that you use to set your aspirations in order every time you face a challenge.
If you are looking at those skinny arms and wish for bulging muscles, then rise. If you are struggling to compete with your friends in sports or games, then rise. If you're facing an obstacle at work or business, rise above it! Are you pumped yet?
7.
Unstoppable –

by the Score
This cool song is the perfect feel-good track. If you are wanting to be a champion at anything in life, this music is perfect motivation. After all, we can all be heroes. There is no point chasing second best when the gold medal is up for grabs. Put your all into your fitness, into your gaming, into your work, and develop a mentality that believes you are unstoppable.
This song comes packed with a steady thumping beat and a catchy lyric that when repeated over and over may make you feel like all things are possible to those who believe.
8.
Don't Stop

Me Now –

by Queen
This classic only comes with good vibes. Queen is one of the best bands this planet has ever seen and Freddie Mercury had a way with words that communicated both powerful meaning and emotion. If you want to stir up positive emotions, this is the song for you. It's all about living life to have a good time.
What's the point of doing anything unless it's fun? Freddie is appealing to people and circumstances to get out of his way and to quit trying to steal his fun. This cool song comes with a high tempo, and stacks of blood-pounding enthusiasm. If you need a catalyst to turn up the fun factor and help you enjoy anything you are doing, this is the track for you.
9.
High Hopes –

by Panic! At the Disco
It's always good to have a vision and high hopes. Whether you're aiming at building your physique, climbing the corporate ladder, looking to become a game-winner, or simply succeeding in life, you have to shoot for the stars and not get discouraged.
The song arrangement is as jovial as the lyrics and the tune is super catchy. As such, it has to make it onto our list of cool songs with motivating values.
10.
Stronger –

by Kelly Clarkson
There's an old adage that says, "what doesn't kill you makes you stronger". Well, Kelly Clarkson has turned the saying into an anthem with her song, "Stronger." It's a great song to sing when you need to remember that nothing is that bad.
Don't let anyone have the last laugh over your life. Negativity in the workplace, social circle, or anywhere else should be harnessed to make you stronger next time around. Celebrate this ethic with this pumping cool song.
Bonus Track

– Fight Song –

by Rachel Platten
All great albums come with a bonus/hidden track, so we thought it would be great to leave one of the best songs as an encore in this article.
Everybody needs a fight song! A song that can turn a frown into a smile and negativity into something positive. A song where you turn your power up and take your life back and be the master of your own destiny. Don't let working your 9 to 5 claim power over your joy. There is more to life. Make your aspirations real and fight for them!