Who is Dr Disrespect? Top 10 Facts Including His Net Worth
Categories:
Gaming
|
Published by:
Sean van der Merwe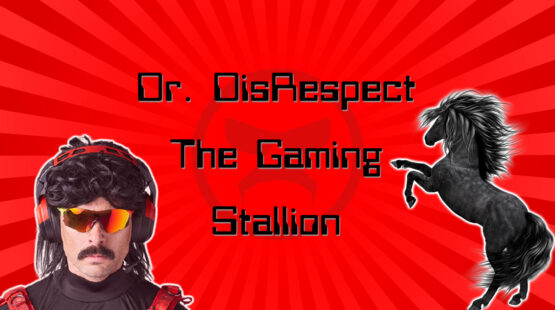 In the 90s, the pinnacle of video gaming was when a bunch of your friends would come over and you took turns playing 2 player games like Tank, Super Mario, and other Nintendo spin-offs. Nowadays, the world of gaming is quite different. It's far more spectacular if you ask me.
Not only can you play state-of-the-art games that provide cinematic effects, sounds, and visuals, but you can watch other top players strut their stuff on streaming channels like Twitch, YouTube, and Facebook.
Video gaming has become a paying job for so many. Fans spend hours watching and supporting their favorite streamers and content producers online. There are some famous personalities on the circuit right now that play host to interactive and entertaining gaming communities. Perhaps few are as well-known as Dr Disrespect.
In this article, we'd like to explore some of the facts about this notoriously controversial video game entertainer and uncover exactly what it is that his fans adore, and his haters abhor.
Learn More About Dr Disrespect with These 10 Facts
In the sections that follow, we will uncover 10 interesting facts about Dr Disrespect. Each will explore various details of both his personal and business life so that you have a basic idea of who he is and what he does.
1. The Persona of Disrespect
Most game streamers on the popular streaming channels present themselves just as they are to their communities. Their engaging personalities and their ability to create good content usually determine their level of success. Very little of what they do is an act, and people either love them or hate them for their natural ability to engage or disengage their audiences.
Dr Disrespect is a completely different sort of entertainer. Also known as "Doc" or "The Two-Time," Dr Disrespect is a stage personality conjured for the pure sake of entertainment. The bombastic and egotistical persona is a big hit among many video gaming fans, and he amasses thousands of views on each stream. He can almost be likened to the "in-your-face" wrestling entertainers of the WWE. However, in this case, the stage isn't a wrestling ring – it's a multiplayer video game.
The Doc is the self-proclaimed "Ultimate Gamer." The character portrayed on the screen adorns a long black mullet, cycling sunglasses, a large caterpillar-like moustache, and a bright red tactical vest. His snarky comments, quick-witted nature, and combative persona are his standout character traits.
He is well known for streaming multi-player shooter games and battle royales, such as PUBG, Call of Duty Modern Warfare 2, H1Z1, Player Unknown Battlegrounds, Fortnite, Apex Legends, and now Call of Duty: Warzone.
2. YouTube Streamer and Content Creator
Dr Disrespect currently runs a YouTube streaming account that boasts 366 million subscriptions (as of December 2021). While he is a proficient gamer, most people will agree that it is not so much his gaming skills that draw the crowds, but rather his engaging persona.
He's only been on the YouTube streaming platform since August 2020. Prior to that, he streamed on Twitch. However, he was banned from the channel in June of the same year (more on this later).
The Doc is no newcomer to YouTube though. He has been posting videos to the platform since January 2010. His first ever clip was entitled "Dr Disrespect: The Docs Very First Video" and it covers Call of Duty: Modern Warfare 2 gameplay.
3. Streamer of the Year 2017 and 2019 – What makes Dr disrespect Stand Out?
The Doc won a 2017 and 2019 eSports Industry Award for Streamer of the Year. As such, I think it is safe to say that his original gaming brand has reached legendary status. But what is it that makes him a cut above when it comes to holding a crowd?
Well, Dr Disrespect's streams are generally a lot more elaborate than those of other top streamers. He often uses green screens and immersive camera angles to bring the fictional world of his online persona to his audience.
He can often be viewed riding various vehicles or exploring different locations right on stream during his intros, outros, and interludes. This creative difference sets a new benchmark in entertainment and makes him completely unique from his peers in the business. Some can't stand him, some love him, but all need to agree that his antics draw viewers.
4. The Man Behind the Disrespect
The real man behind the mustache is Hershel "Guy" Beahm IV. He was born on the 10th of March 1982 in California, USA. At close to 40 years of age (at the time of writing), Beahm is one of the older prominent streamers out there. The gaming veteran has been playing computer war games for over a decade now, proving to the world that video games are not only for kids.
Guy Beahm currently lives in Encinitas, California, and is married with a child. He keeps his personal life extremely private, so we do not know too much about his home environment at all. What we do know, is that once you remove the wig, glasses, and tac vest, you have a person who is virtually unrecognisable in public. Perhaps this was his witty plan all along. At least this way he gets to live a normal life without attracting 'fan boys' when he is out and about with his family.
5. A Man of Controversy
The Doc's risqué demeanor has landed him in hot water a few times, but it's all part and parcel of selling his audacious business brand.
To date, there are three controversies that stand out:
Dr Disrespect was suspended by Twitch for 10 days for violating their privacy laws. He and his cameraman took a live camera into a public bathroom at the 2019 Electronic Entertainment Expo (E3) in Los Angeles. The channel was not amused!
The Doc was accused of being racist by Asian musician, Jimmy Wong. All because he used to stereotypical caricatures of Chinese accents while on stream. Beahm laughed off the accusations, citing that some of his friends were Asian and that he would never wilfully offend them in this way.
Dr Disrespect's final controversy with Twitch wound up with a permanent ban on his 4 million follower Twitch account. Read on for details.
6. Ex-Twitch Streamer
Yes, that's right, like many of the top names in the streaming business, Dr Disrespect began his video gaming career on Twitch TV. By June 2020, he had amassed a whopping 4 million followers before the streaming channel canceled his stream account without warning or explanation.
It took Beahm ages to get a straight answer for their reasoning behind the ban. After months of pressure, he eventually received his answer. As a result, he has begun litigation against them for loss of income and defamation of character. While he has not publicly revealed the reason for the ban, we will all undoubtedly find out when the matter goes to court.
Unfortunately, the matter has had a ripple effect. Even EA games have put him on their shadow ban list, meaning that he couldn't partake in the new Battlefield launch in November 2021.
7. Mrs Assassin and Co.
Well, we did mention earlier that Dr Disrespect is married. However, the real names of his wife and child are unknown in the public space. His wife is simply known by her Twitter handle – "Mrs Assassin" and their child has been dubbed "Baby Disrespect". Unfortunately, they lost a second child to a miscarriage in 2018.
While the two make a beautiful couple, it has not always been so peachy at home. In 2017, Beahm took a hiatus from gaming to concentrate on his marriage after he admitted to his followers that he had been unfaithful to Mrs Assassin. He, however, returned to gaming in 2018, after having seemingly saved his marriage.
8. Basketball Giant – Dr Disrespect's Height
Well, if you looked at the photo on fact number 7, you probably noticed that Dr Disrespect is a towering figure. Well, Dr Disrespect's height is a lengthy 6 foot 8 inches (2.03 meters). Yes, that means he will need to duck down to walk in his own front door.
It should come as no surprise then that Dr Disrespect's height advantage made him the perfect candidate for competitive basketball. He played college call for California State Polytechnic University in NCAA Division II.
9. Gaming Developer – News Just in!
The Doc seems to be investing his interests further afield in the video game market, too. In fact, he was recently involved with the launch of a new "AAA game studio" in December 2021. Dubbed, the "Midnight Society", the Doc and some of the early game developers of Halo and Call of Duty have banded together to develop fresh new gaming concepts.
It's been touted by the company that the player base will be involved in the vetting phase of new games> this will include the testing of PVP sessions, gun recoils, and firing patterns, etc. While no specific game project has been revealed for 2022, it's believed that their first release will be some sort of multiplayer shooter game.
10. Dr Disrespect's Net Worth
Whenever celebrities reach a certain status, people want to know how much they earn. It's just the way it is when you are in the spotlight. Working out Dr Disrespect's net worth is not an easy job. Remember, he keeps much of his personal life under strict wraps.
Some have endeavored to guess at his income. These figures include numbers from between $3 million to $6 million, but it could honestly be much higher than this. What we can say for sure, is that the man has the mindset of a millionaire and probably a bank account to support it.
He has several streams of income that provide a pretty good source of revenue every month. This includes kickbacks from YouTube on viewer counts, Google ad revenues on his video uploads, donations from subscribers, brand deals, and Champions Club merchandise sales.
And to bolster our opinions about his wealth, the Doc was pictured in a beautiful matt black Lamborghini Aventador when he rocked up in it to the Call of Duty Championships in 2019. Everyone knows that the Lamborghini car and boat brand is only available to moneyed individuals. The vehicle must have set him back between $400K to $500K, alone.
Round-Up
Love him or hate him, he cannot help but make an impression on you. Because he stands out, his business brand is a success. It's admirable how well he has disconnected his personal life from his entertainment business. This is something that most other top streamers fail to do. It gives us the impression that Guy Beahm is a very different person from Dr Disrespect.