Research Shows that Nick Cannon's Net Worth Has Ballooned by $20 Million in the Last 4 Years
Categories:
Money
|
Published by:
Sean van der Merwe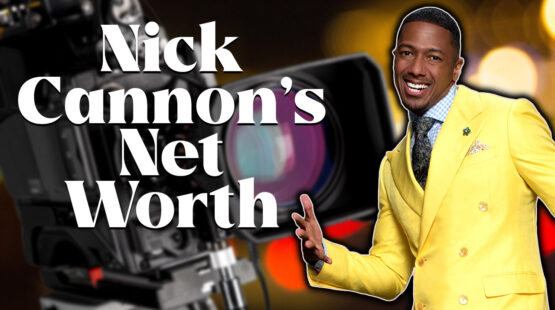 Ever wonder what it takes to graduate from zero to hero with a little help from your family? Well, Nick Cannon's millionaire net worth story is one that transcends the lines of poverty, family success, and then individual prosperity. The son of a preacher and a father to many – Nick's faith, love for his children, and sheer tenacity have brought him far.
Nick Cannons Net Worth in 2022
Cannon is a celebrity rapper, presenter, actor, comedian, and producer. His friendly face is often most fondly associated with his time as a presenter on America's Got Talent between 2009 and 2016.
Since his stardom on the show, Nick Cannon has managed to almost double his net worth status to approximately $45 million in just the last four years. What's impressive is that the industry shutdown in 2020 didn't seem to make a dent in his growth rate either. Instead, resilience and an able mindset have positioned him to flourish in the public eye.
From Poor to Rich and then Richer
Nicholas (Nick) Scott Cannon's history is not all a story of hardship and struggle, though. Yes, his early childhood did see him grow up in the Projects in a rough area, but that season of life soon passed. At the time, he was looked after by his paternal grandparents, as his father, James Cannon had moved out to try and make something of himself.
Thankfully, by the time Nick was 8, he was reunited with his father, who has become a popular televangelist and multi-millionaire as a result. But Nick Cannon's current net worth was not bought in any way, shape, or form. What he has, he earned himself! He did have his very first stand-up gig on his father's show as a child, but by 16 he was on the road, forging his own path.
In 1999, he kicked off his career in rap music and by 2001 had landed his first album with the Jive Record label. Through some dogged determination in the music industry, Nick finally started his own label, called 'Ncredible Entertainment, where his millionaire status started to take shape.
Onwards and Upwards Despite His 10 Dependents
There is so much more to Nick Cannon than meets the eye though. He is a family man in the truest sense. What we mean by that is he has lots of children, and by lots, we mean ten! That is a huge amount of responsibility for one man, but a responsibility that he doesn't intend to shirk.
While he is one daddy to ten, the kids do not come from one mother. Instead, Nick has had children with six women. One of which was singer and diva, Mariah Carey. They married in 2008 and announced that they were having twins in 2010. The babies were born on April 30, 2011. Unfortunately, Mariah's and Nick's marriage turned into another statistic for Cannon, as they split in 2014 and finalized their divorce proceedings in 2016.
Despite the obvious costs that come with alimony and rearing children, Nick Cannons Net worth has been on the up and up, especially since 2019.
Investigation into Nick Cannon's net worth earnings over the past four years shows an annual growth of between 2 and 5 million dollars, give or take. Figures in 2018 revealed a gross net worth of around $28 million. His growth rate year on year since then is estimated to be as follows:
2019: +- $32 million
2020: +- $34 million
2021: +- $40 million
2022: +- $45 million
How Nick Cannon Made His Net Worth as a Celebrity
Nick is certainly not a master of one art. He embraces multiple roles, which is one reason he managed to grow so well in entertainment. Music led to production, production led to radio, and radio to TV. It's been on television where he cultivated a familiar face and a name that is known in millions of households today.
Below is a timeline of Nick Cannon's radio and music career. With experience like this, it's no wonder he managed to graduate to weightier roles on the silver screen.
| Date | Radio and Music | Role |
| --- | --- | --- |
| 1999 | Music Career Started | Rapper |
| 2001 | Signed by Jive Records and cut his first album | Rapper |
| 2010 | 92.3 NOW FM    | Radio Host/DJ |
| 2010+ | Cannons Countdown (92.3 Now FM) | Radio Host/DJ |
| Current | Power 106 (Los Angeles) | Radio Host/DJ |
Nick Cannon's net worth has been influenced most by television and movie roles. The list is also way longer than any other in his career. All in all, he has acted in a handful of movies and presented several top TV shows.
His defining moment may have been with America's Got Talent, where he managed to muster a payday of around $70K per episode. By the time he was done with the show, he had earned upwards of $4.5 million for one of the world's largest variety shows.
Here's a synopsis of his television timeline:
Date
Movie or TV Show
Role
2003
Love Don't Cost a Thing (Movie)
Actor
2005
Underclassman (Movie)
Roll Bounce (Movie)
Wild 'N Out (TV Show)  
Actor
Actor
Host & producer
2006
Bobby (Movie)
Actor
2007
Goal II: Living the Dream (Movie)
Actor
2008
American Son (Movie)  
Actor
2010
Nightlife on Teen Nick (TV Show)
Actor
2014
Drumline: A New Beat (Movie)
Caught on Camera with Nick Cannon (TV Show)
Actor
Presenter
2009 – 2016
Americas Got Talent (Variety Show)
Presenter
2013 – 2016
Real Husbands of Hollywood (Comedy Show)
Actor
2014 – 2015
Brooklyn Nine-Nine (TV Series) 
Actor
2016
King of Dancehall (Movie)           
Actor
2012 – 2018
TeenNick Top10 (TV Show)
Presenter
2017 – 2018
Lip Sync Battle Shorties (TV Show)
Co-Presenter
2019 – Present
The Masked Singer (TV Show)   
Presenter
What has Nick Cannon got to Show for His Sizable Net Worth?
With money comes the ability to splash out a little. While not as crazy as many other multi-millionaires out there, Nick lives a life of modest luxury and pleasure. He has the perfect home to house all his little "replicas" along with his numerous luxury cars.
1. A Palatial Home
No American celebrity is complete without a mansion or two to showcase in their portfolio. Nick Cannon's net worth is bolstered by a 6-bedroom, 8-bathroom New Jersey home. It is situated in the Saddle River neighborhood not far from New York.
The 8,371-square-foot home sits on 2.06 acres of land, boasting a giant living area, a two-story foyer, stone fireplaces, a pool, and a sprawling lawn. The house cost Nick just over $3 million dollars back in 2018.
2. Boys' Toys
All real boys like their toys, and Nick is no different. If you open his garage, you're likely to find some of the best wheels money can buy. Nick Cannon's net worth has been put to good use on a variety of sportscars, luxury vehicles, and SUVs.
Nick's car collection comprises a 2008 Ferrari 599, a 2006 Ford GT, Rolls Royce Phantom Drophead Coupe, a 2013 Ferrari California, bespoke Toyota Tundra from West Coast Customs, and more. His collection is estimated to be worth between $1.2 million and $1.5 million in total.
Hard Work and Determination
Yes, it takes loads of hard work to cut it in the entertainment industry. But Cannon is worthy of a hat tip. It must be an immensely difficult job to look after 10 children and deal with 6 exes on a regular basis. But, then to still muster the Nick Cannon net worth figure he currently has accrued – well that's something!
His rate of growth is comparatively good when you take into regard the type of work he does. Sure, he isn't an A-list actor, like Dwayne Johnson, that earns the equivalent of his growth in the past four years with one movie, but you cannot dispute his success nonetheless.