Eminem Overcomes the Adversity of Drugs, Ethnicity, and a Broken Family to Top the Charts as a Top Net Worth Rap Artist
Categories:
Money
|
Published by:
Sean van der Merwe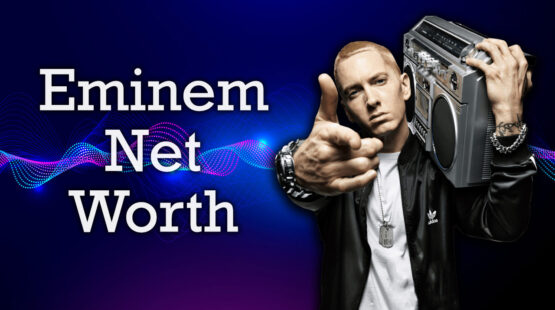 If you were a youth in the late 1990s and early 2000s, there is very little chance that we will need to introduce you to the Real Slim Shady – Eminem. Matthew Mathers defied the stereotypical odds of the rap and hip-hop world to become not only one of the only A-listed white rappers around but also the top record-selling artist of his era.
Know the world over as Eminem, Mathers disappeared from the limelight for a while but has recently come back to the entertainment world. He's been a big player behind the scenes in the music production industry. No, he didn't go bankrupt! In fact, he's one of the richest rapping celebrities in this music genre. Join us, as we uncover the net worth of Eminem.
What is Eminem's Net Worth?
Eminem (also known as Slim Shady) topped the charts and was listed among the top five wealthiest hip-hop artists in 2018, with an estimated net worth of around $100 million. This brought him on par with the likes of Drake and a bit behind industry leaders like Dr. Dre, Diddy, and Jay-Z. However, times have changed, and his wealth status has grown significantly. Eminem's net worth is now around $230 million, due to continued royalty earnings and revenues churned from his record label.
From Zero to Hero in Music
Marshall Mathers originally dreamed of being a comic book creator but was drawn into the rap scene in his teens. At 14, he adopted the stage persona of M&M (Marshall Mathers) which later became Eminem. By the time he was 17 years old, he had dropped out of high school. Instead, he worked odd jobs while exercising his musical talent by participating in freestyle rap battles around Detroit. Here, he gained recognition and respect in hip-hop circles, despite his white ethnicity
He finally joined a crew called Bassmint Productions, which later rebranded as Soul Intent. They managed to release his debut album in 1997, but it did not get the recognition it deserved in the marketplace.
Between 1996 and 1997, Marshall rebranded his stage image to that of Slim Shady, a slightly rougher alter ego. His music and rap now involved storylines involving sex, drugs, murder, and other darker topics. He moved forward with this identity and released the Slim Shady EP in 1997 through Web Entertainment.
Explosion
His career really took off after Dr. Dre heard his EP. Mathers had decided to enter the Rap Olympics in 1998. Here, a record agent enjoyed what he heard and forwarded his Slim Shady album to Dr Dre, who was currently looking for new talent. Dre was excited about what he heard and signed Eminem to a new contract almost immediately. Their first order of business was to re-record the Slim Shady EP.  The rest is history… That album went on to go quadruple platinum in the USA and landed Mathers a Grammy for the "Best Rap Album." And so started the journey of a mammoth net worth yield for Eminem.
He's enjoyed a great deal more success in the industry:
Eminem has won 15 Grammy Awards, 8 American Music Awards, 17 Billboard Awards, and an Academy Award for the 8 Mile movie soundtrack
The Marshall Mathers LP (2000) sold 21 million copies
The Eminem Show (2002) sold 27 million copies
8 Mile Soundtrack (2002) 11 million copies
But it did not stop there. All in all, Eminem has sold almost 200 million albums worldwide. That places him firmly among the ranks of the top-selling artists of all time. As such, Eminem's net worth ranks among the highest in his music genre.
Record Label
Eminem's Record label, Shady Records, has probably been one of the biggest contributors to his net worth over the past decade. He has represented, recorded, and produced music for some notable names. For a start, 50 Cent was the first solo artist signed to the record brand. The 8 Mile soundtrack was also produced under his own flag, which was a resounding success.
50 Cent's first EP mustered a sales volume of 14 million albums while 8 Mile crossed the 11 million mark. Current artists signed to the brand also include Boogie, Bad Meets Evil, D12, Slaughterhouse, Westside Gun and Conway, Yelawolf, and of course Eminem.
Movie Magic
In 2002, Eminem released a biography of his life story on the big screen, courtesy of Universal Pictures. The movie told a tale of the struggles of a young man being brought up by a single mom in a rough, predominantly black neighborhood. It was a rough life. He ended up in court. Both Eminem's mom and his ex dragged him through litigation for various reasons. Fortunately, the rapper came out on top each time.
Not only did the film turn $242.9 million at the box office, but the soundtrack went on to land Mathers an Oscar at the Academy Awards for his song "Lose Yourself." This hit became the longest-running No. 1 hip-hop single in history. Unfortunately, it is the only film on the Eminem movie list.
Other Business Ventures
Eminem opened a new restaurant in Detroit in 2021 called Mom's Spaghetti. However, he has also made a name for himself in the decentralized digital asset realm too. Not only does he have his own NFT collection called Shadycon on Niftygateway NFT market, but he's become an owner of one of the iconic Bored Ape Yacht Club art pieces (the estimated price of $450K). This Bored Ape collection has attracted celebrity buyers like Shaq and many of Hollywood's elite.
Eminem's Bored Ape NFT can be seen on his Twitter profile. It boasts a gold-chained avatar that bears a remarkable resemblance to the music man himself.
Going! Going!… Still Here?
While Slim Shady's face has not been in the news for a long time, he has resurfaced at the forefront after a long, yet triumphant battle against drugs and alcohol addiction. In fact, Eminem's net worth is higher than ever before. Thankfully, through it all, the rapper managed to invest in a business that could keep the money rolling in even when he had paused his public performances.