The NELK Boys Do It Differently by Launching Their Own Happy Dad Alcoholic Beverage Instead of Following the Endorsement Trend
Categories:
Money
|
Published by:
Sean van der Merwe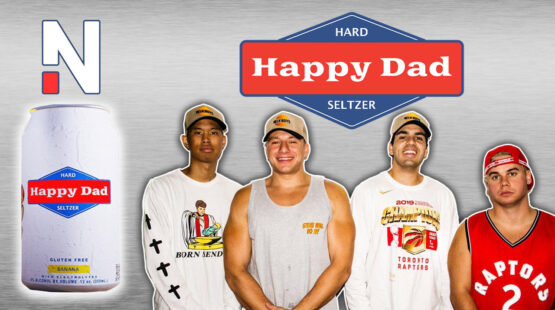 YouTube is full of influencers with large fan bases that tune in to watch streams and vlogs about gaming, fashion, music, leisure lifestyle videos, and so much more. The popularity of some of the biggest channels draws big brand sponsorships, which are welcome, as it provides a healthy income stream.
But NELK has always done things a little differently. The controversy behind much of their content has seen many of the team member's channels demonetized and even canceled by YouTube, which has forced them to go another route, as they refuse to tow the party line.
But they're not into short-term flings with brands, hence the introduction of their very own Happy Dad alcoholic beverage. The seltzer is literally blowing up in the market and making the YouTubers stacks of cash. In fact, Kyle Forgeard, co-owner of the brand, revealed that Happy Dad, alone, will be worth $250 million by the end of 2023. See the short TikTok insert below for a short clip of an interview he had with A1CONNECTED.
Happy Dad – The Seltzer for Men Who Want Healthy Beer in a Fat Can
The branding behind the Happy Dad Seltzer line has been the ultimate success story behind this business model. Unlike other seltzers and beer equivalents, Happy Dad has no hops and is, therefore, gluten-free. As a result, it appeals to a more health-conscious generation.
Alongside that, is the fact that it contains less carbonation than many of its rivals, making it a far smoother beverage to drink. It also has electrolytes included, a low-calorie count (100), low sugar content (1 gram), and no artificial sweeteners. That's not to mention the selection of flavors on offer. These include Wild Cherry, Pineapple, Watermelon, Lemon Lime, and their latest addition, Fruit Punch. Each option contains only 5% alcohol per tin.
One of the most notable changes they have made, and one which appeals to the man's man, is the size of their beer can. While most seltzers come in skinny cans – the marketing strategy behind Happy Dad is – "No more skinny can bullshit." The about page on the official website is very clear that "holding a skinny can is just not cool."
NELK has always thrived on Merch sales. It is what got them through when YouTube revenues dried up. They've carried that trend into this brand, with all sorts of Happy Dad Merch available online. This adds huge numbers to the revenues earned via this business model.
The Happy Dad and NELK Business Model
The frontmen for the Happy Dad brand are Kyle Forgeard and Stephen Deleonardis (AKA SteveWillDoIt), two members of the NELK franchise, and among the founding fathers of the Full Send podcast. While they, and the rest of the team, are the influencers behind the branding, John Shahidi is the president of Happy Dad, Shots Podcast Network, and Nelk Boys. He works alongside his brother, Sam, who is the CEO. They head the team that turns the fame into a successful business empire.
In a 1 hour, 17-minute interview with Anthony Pompliano, John Shahidi goes in-depth about the brand and why Happy Dad was the obvious choice for their business model. 80% of the NELK viewership is men, and with the heightened popularity of seltzers as a beer replacement, Happy Dad directly targets that demographic. It offers a product that NELK's very audience is likely to enjoy.
While this has seemingly been a key to their immense success story, women have certainly gravitated to the drink because of its flavoring and low carbonation. As a result, the Happy Dad business model will be launching a Happy Mom variant in their drinks range, according to Shahidi.
At the moment, Happy Dad is produced by the Minhas Craft Brewery and rolls out its distribution in 16 states. These include California, Colorado, Texas, Florida, Kentucky, Nevada, Arizona, Illinois, Massachusetts, Georgia, New Jersey, New York, Alabama, Rhode Island, South Carolina, and Tennessee.
Big Names Driving Happy Dad
While YouTubers usually endorse brands, NELK gets others to endorse their brand for them too – such is the power behind the brand right now. Of course, their own 7.75 million subscriber channel is a great platform to promote their product, but what's the harm in getting others to air it as well?
Druski Signs Endorsement Deal
Drew "Druski" Desorbes is one of the latest internet personalities to sign with Happy Dad. Druski or Drewski2funny is well-known for his collaborations with popular US rappers like Drake and Jack Harlow. The endorsement partnership became official towards the end of 2022. See him signing up below.
Pivot Podcast and Ja Morant
NBA star, Ja Morant takes a Happy Dad Seltzer during an interview on the Pivot Podcast. Seems that the endorsement was none too subtle here and most probably resulted in a fine payday for the hosting platform.
Pivot Podcast and Charles Barkley
If you ever doubted that the Pivot Podcast was an official endorser of Happy Dad beverages, that should stop now. During an interview with NBA legend, Charles Barkley, they take a few minutes to crack open the six-pack and hand the ex-sportsman a can. It is official though, Happy Dad is an official sponsor of the show.
Aside from those endorsing the seltzer, the FULL SEND team also gets many of the famous celebrities they bring onto the show to give the drink a try on air. It's another great marketing strategy. They've managed to get the thumbs up from Elon Musk, and Post Malone remarked that it was delicious.
Celebrity Beverage Empires Are Big Right Now
While NELK's Happy Dad beverages are raking in the big bucks, they are not the only celebrities to go the route of producing their own iconic alcoholic label. In a similar fashion, we've seen several other releases over the past few years.
UFC legend, Conor McGregor established Proper No. Twelve Irish Whisky in 2018. He then went on to sell the business for $500 million only 4 years later, in 2022. Other top celeb entrepreneurs in this arena include names like:
Post Malone with Maison No. 9 Rosé
Kendall Jenner with 818 Tequila
Ryan Reynolds with Aviation American Gin
It seems that fame is a tremendous springboard for launching new brands into an already highly competitive market. It arouses a sense of curiosity amongst fans, which is great for exposure. With the millions of fans devoted to NELK and the FULL SEND team, it is no wonder the repeat sales in the various US states are hard to keep up with.