Will Smith Gave Freely from His Own Pocket to Pay Extras Who Played Dead in the Extreme Heat During the Filming of His New Movie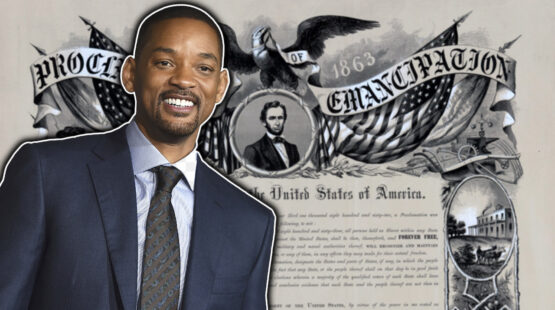 Will Smith received a huge amount of bad press following the fateful night at the Oscars back in March 2022, when he slapped Chris Rock for poking a joke at Jada's bald head. His outrageous actions came back to haunt him with very little delay, as numerous movie productions set to star Smith pulled the plug on him immediately.
However, the 52-year-old star seems to be bouncing back as the heat on him has cooled. As an A-list celebrity actor, it's not easy to have your name erased from the cast sheets forever. And if Will Smith's new movie is anything to go by, we should all be glad to have him back.
Will Smith Back on the Horse after Oscar Slap with New Movie "Emancipation"
Will Smith's new movie, Emancipation, is just the lifeline the actor needs, and critics are adamant that his lead role may be Oscar-worthy once again. Many in the industry think that the actor could possibly be nominated for another Oscar despite his Academy ban which is fixed until 2032.
While Will Smith's new movie is only officially due to release on the 2nd of December 2022, the official trailer showcases brand-new footage that has got tongues wagging in the most positive way possible. Some critics got to see the film a little earlier when it was screened in Washington on the 19th of November during the Annual Legislative Conference for the Congressional Black Caucus Foundation.
The epic tale is inspired by the story of 'Whipped Peter' whose photos contributed to the growing American public opposition to slavery in 1863. Peter's photos were made public after they were taken during a Union Army medical exam. They first appeared in Harpers weekly.
Emancipation follows the storyline of a slave who managed to escape his captives and eventually join the Union Army to fight against his oppressors. You can find the dramatic footage of the official trailer in the clip below.
"Will Smith is The Nicest Guy"
While it may take a little more proof to convince Chris Rock, Emancipation's director, Antoine Fuqua, openly lauded Will Smith for his nice guy attitude in an interview with Vanity Fair. He called him, "The nicest man I have ever met." Fuqua revealed that Will Smith openly contributed cash from his own pocket to many extras who had to play dead soldiers on the battlefield in sweltering heat that topped the 100-degree mark. Fuqua said:
"He's funny. He's fun. We had certain extras that were the dead bodies in the graves, and he would go give them money for lying there in that heat of over 100 degrees."
When he wasn't giving out cash bonuses, he was hugging and shaking hands with the more than 300 extras on the set during filming, including actual military Marines.
This is the Will Smith that we know and grew fond of. Every interview you watch on TV, he's joking and laughing, and you get the sense that he is genuinely a nice guy. It just goes to show that all niceties can go out the window at a moment's notice when people touch the ones you love. Sure, there is no condoning the assault of another man, but a person's whole life and reputation cannot be reduced to one ill-thought-out action, can it?
Can Will Smith Be Nominated for an Oscar for His Role in the New Movie?
Headlines are headlines and many people would love to believe that Will Smith could win an Oscar with his new movie epic. But can he win the award after his ban? Here is what we know:
The official statement by the Academy of Motion Picture Arts and Sciences did not clarify the terms of Will Smith's 10-year ban when it comes to his eligibility to receive nominations. It's widely believed that the ban merely extends to attending AMPAS events and not the eligibility to win awards.
Entertainment Weekly Awards Correspondent, Dave Karger sums it up:
"Although Will Smith resigned from the Academy and has been banned from attending the Oscar ceremony for the next 10 years, he is still technically eligible to be nominated and even win another award."
Furthermore, Will Smith's resignation from the Academy excludes him from voting for roles in the awards ceremony. His exclusion from the event will also mean that someone else will have to present the best actress award at next year's Oscars. It is tradition for the best actor of the previous year to award the best actress winner of the next year with their award (and vice versa). However, Smith's ban would mean someone else would have to do it.
However, the unfolding of events at this year's Academy Awards may certainly place a damper on Will Smith's likelihood of attracting votes for his new movie, unless he absolutely wows his acting colleagues.
WHAT ABOUT OTHER REWARDS?
Smith is open to winning other movie awards unhindered though. It's only at the Academy that things are so complex right now. He could very well be up for a Golden Globe Award. This award ceremony is bestowed by the Hollywood Foreign Press Association and awards those who have excelled in film in both the US and internationally. Will won a Golden Globe Award for his role in King Richard earlier this year and could be poised for round two.
Where to from Here for Will Smith?
While some movie makers have either canceled or put films on the back burner after Will Smith's "Slap Gate" saga, there are some roles that will continue as normal.
The film, "The Council" has been a struggle from the get-go, so after Will Smith's Oscar night performance, the filmmakers called it a day on that production indefinitely. Netflix's "Fast and Loose" was put on the back burner, and nobody is yet sure if Disney will replace Will Smith with Dwayne Johnson for "Aladdin 2."
Thankfully, there are some great films that are going ahead unhindered by the events of that fateful night. Neither production on "I am Legend 2" nor "Bad Boys 4" has been slowed by the controversies surrounding the actor. This means Will Smith may be hitting the silver screen again sooner than you think. Soon, the talk of the 2022 Oscars will be a distant memory, replaced rather by the chatter of Mr. Smith's talents and inspiring performances.