Trevor Noah's Mother Owes the Revenue Services in South Africa $1.4 Million in Unpaid Taxes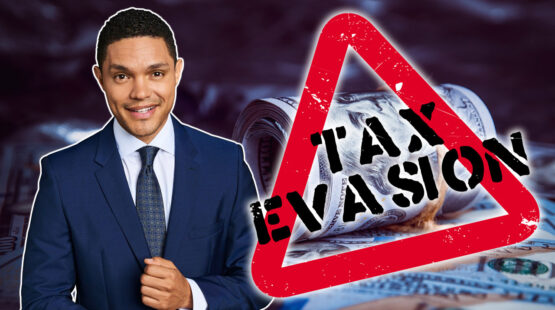 For the last seven years, Trevor Noah has hosted "The Daily Show" on Comedy Central. The satirical late-night show served as a platform to leapfrog the South African comedian into the US celebrity limelight. Having been almost unheard of internationally (except for in his homeland), Trevor appeared on the show with Jon Stewart a few times before it was announced that he would be taking over. Since then, he has certainly crept into the hearts of the American public and has cemented his place among Hollywood's elite. He's even formed strong friendships with world-class celebrities like Will Smith, Gabriel Iglesias, and Chris Rock, to name a few.
He has rarely hidden his upbringing in apartheid-ridden South Africa. In fact, he has been really open about the fact that he came from a mixed family, which was forbidden in the country at the time. Trevor Noah's mother was a black Xhosa woman from South Africa, while his dad was a white man from Switzerland. As Noah would say, "you know how the Swiss like their chocolate."
So, while he has become a figure in the public space, his fans will have become familiar with Trevor's mother, father, and Gogo (grandmother) from all the stories he shares and the jokes he makes at their expense. So, it comes as a huge shock to many that Trevor Noah's mother is being pursued by the South African Revenue Services (SARS) for unpaid taxes.
Trevor Noah's Mother, Patricia, Was Given 10 Days to Cough Up $1.4 Million
Allegedly, Patricia Noah is in the red by R24 million ($1.4 million) with SARS, which issued a final letter of demand for her to pay up within 10 days. Of course, she was allowed to come to a payment arrangement with them on the matter if she didn't delay. The letter made note of the fact that Trevor Noah's mother had failed to pay her taxes due for one or more years.
The demand provided several ways for Patricia to remedy the situation:
"You may, within 10 business days from the date of this letter of demand, apply for any of the following remedies: payment installments where you are unable to pay the full amount; suspension of the debt where you intend to submit or have submitted a formal dispute; compromise of a portion of the tax where this will provide a higher return to the fiscus than liquidation, sequestration or other collection measures."
The letter goes on to stipulate that failure to make payment arrangements would result in a warrant of execution to be issued for the court to attach and sell her assets in a bid to recover the funds. It also states that SARS may claim payment from a third party that owes Mrs. Noah money in the future. So, instead of her receiving her due, the money would be diverted to SARS instead.
However, it seems that Trevor Noah's mom has thrown caution to the wind and has not settled her debt within the given timeframe, which may ultimately lead to legal action against her.
How Could Trevor Noah's Mother Have Earned Enough to Owe This Much?
The big question on the minds of the public is how a woman, who was touted as a struggling single mom from Soweto managed to muster a net worth that would result in such a heavy tax bill.
The thing is Patricia was never a slacker. She managed to break the stereotypical mold of the 1980s where black women were reduced to either hard laborers, domestic maids, or farmhands. She took a typing course as a young woman and applied herself, despite the slim chance of getting to use the skill.
Thankfully, the 1980s saw a mass reform in the country as the South African government received increased pressure from other nations to start rolling back the apartheid restrictions. This allowed for certain firms to hire the odd black staff member to work desk jobs. Trevor Noah's mother managed to secure work as a secretary at a massive pharmaceutical company in Johannesburg.
Years later, with the apartheid dead for almost three decades, Patricia's tenacity has remained. She has been a successful entrepreneur, who has owned a property business, dubbed PN Noah Estates, for twenty years.
Unfortunately, her successes as an entrepreneur may not have been matched with the savvy needed to manage her financial well-being. This has resulted in yet another high earner falling victim to tax evasion.
Conspiracies Are Quick to Arise
At times like this, the public tends to have a lot to say, and social media came alive with opinions and comments. One of the most notable comments on the ordeal was from South African rapper, producer, and entrepreneur, Nota Baloyi. Instead of leveling fault a Trevor Noah's mother, his tweet is shrouded in conspiracy, blaming Trevor for this entire ordeal. He wrote:
"I have a suspicion that Trevor Noah has been using his mother to launder money, how on earth would you be able to explain why she owes the tax man R25 million? It's starting to make sense why he quit the Daily Show. He didn't want to go out like Wesley Snipes! Will Cyril (SA's president) save him?"
The rest of Twitter seemed to put his accusations to bed quite quickly by coming to the rescue of their beloved countryman. South Africa is undoubtedly proud to have Trevor as its ambassador on the international stage. And why wouldn't they be? He is arguably one of the most well-known South Africans in the world, alongside figures like Elon Musk and Charlize Theron.
The only evident fault Trevor Noah shares in his mother's debacle is an indirect one. His fame has drawn attention to her woes. Had he not been a celebrity, Patricia's tax issues would have gone unnoticed by the world.
Trevor on The Situation with His Mother
Trevor Noah has remained silent about his mother's tax situation. It's a rather private matter; one that we probably won't hear too much more about from the family's end. Trevor has referred to his mother as his "teammate in life" in his book "Born a Crime". So, we doubt that his support for her at this trying time will diminish.
After all, he has the ways and means to meet her obligation quite easily. It is alleged that the comedian earns around $16 million a month for his work on The Daily Show and has a net worth of around $100 million.