The World's Most Expensive Piece of Ancient Art Sold on Auction for $57 Million – $20 Million More Than its Nearest Rival
Categories:
Money
|
Published by:
Sean van der Merwe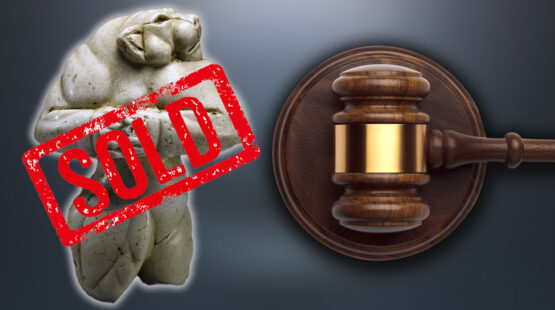 The collection of ancient art and antiquities is certainly a popular pastime across the globe. You can buy various artifacts at auctions or online for as little as a few hundred dollars. However, there really is no limit as to what collectors will pay for ancient art pieces. As with all art, the beauty of a piece lies in the eye of the beholder. The value of these ancient treasures is determined by how much someone is willing to pay for them.
Of course, things like rarity do factor into how desirable an artifact becomes. Likewise, when pieces are connected in some way to myths and legends, buyers are more likely to fork out the big bucks on the purchase.
But unlike modern art, which is freer and more open to interpretation, ancient art is rigid in its representation. "It is influenced by the distinct cultures of its origin, religious background, and political climate."
The "Guennol Lioness" Ancient Art Piece from 3,000 BC
Ancient art is as desirable as a Monet or Picasso painting – it all depends on personal taste at the end of the day. Some art collectors pay tens of millions for rare pieces. Such was the case with a near eastern ancient art piece called the "Guennol Lioness". A private British collector purchased the 3.25-inch-tall limestone statue at a Sotheby's auction for a whopping $57.2 million back in 2007. This makes it the most expensive ancient art piece to have sold on open auction, ever.
The lioness sculpture dates as far back as 3,000 BC, making it around 5,000 years old. It is believed to have originated in ancient Mesopotamia, which is an ancient region situated where Iraq is today.
When the piece sold at auction, it claimed the world record as the most expensive sculpture to be sold at auction (ancient or modern) to that point. However, on the 3rd of February 2010, Alberto Giacometti's L'Homme Qui Marche (Walking Man I) auctioned off for a massive $104 million. Nevertheless, the Guennol Lioness remains at the top of the list for ancient art pieces.
Ritual Wine Vessel, Fangzun – 13th to 11th Century BC
The value of the second most expensive ancient art piece goes to a Fangzun Ritual Wine Vessel, which stems from the Shang Dynasty in ancient China. While it is the second most valuable piece in its historical genre, it still falls around $20 million shy of the Guennol Lioness' value.
The vessel was sold by the Fujita Museum in Japan to an unknown seller for an impressive $37.2 million back in 2017 at a Christies auction.
This immaculate vessel is made of solid bronze and measures 20 + 5/8 inches (52.4 cm) tall and originally came set on a gold and silver in-laid wooden stand (which was not included in the auction). The design includes intricate hybrid dragons, birds, and animal mask motifs which highlights the crafting skill that went into making this piece. It stood out amongst the other bronze statues put forth by the museum at this auction and fetched more than six times what the auction house had estimated it would go for.
More Ancient Art Pieces Worth a Mint
You'd be forgiven for thinking that the above two ancient art pieces are the only ludicrously expensive pieces to have ever sold. However, you'd be wrong. Numerous ancient artworks have retailed for tens of millions over the years, showcasing the fact that collectors are not scared to dish out the cash on one-of-a-kind items.
Here's a list of the top 5 most expensive selling ancient art pieces of all time. Each one went for over $30 million:
| Art Piece | Date Sold | Sale Price |
| --- | --- | --- |
| The Guennol Lioness | 2007 | $57.2 million |
| Ritual Wine Vessel, Fangzun | 2017 | $37.2 million |
| Statue of Aphrodite | 1988 | $18 million (around $42 million today) |
| Min Fanglei Ritual Wine Vessel | 2014 | $30+ million (est.) |
| Assyrian Relief | 2018 | $30.96 million |
The Statue of Aphrodite – 400 BC
In 1988, the Statue of Aphrodite was purchased from a private seller by the J. Paul Getty Museum in Los Angeles for $18 million. Now you might be wondering how an $18 million statue gets onto this list. Well, that sale was many decades ago and with inflation, the purchase equates to an equivalent of just under $40 million by today's standards.
While devoid of myth and legend, the ancient art piece certainly is soaked in controversy. That's because Italian officials insisted that the 7.5-foot tall, half-a-ton statue was stolen from Sicily. Unfortunately, the Getty had not purchased the piece with any form of provenance or trace of historical ownership.
The evidence presented by Italy was damning, which led to the repatriation of the historical piece to its rightful owners. That is a lot of money to dish out for something you can't even keep. Thankfully, the ancient art piece is well preserved and is available for the public to see in all its glory.
Bronze Ritual Wine Vessel, 'Min' Fanglei – 13th to 11th Century BC
The Min Fanglei is a huge ritual vessel made out of bronze. It dates back to the Western Zhou dynasty in China. It was one of the most important Chinese ancient art pieces to ever make it to auction and its price was a testament to this. The piece brought a top bid which is alleged to have been around $30 million +. The actual sale price is secret.
Unlike the Statue of Aphrodite, it was sold with impeccable provenance. In this case, it was both owned and handled by several traceable 20th Century Asian art dealers. Published records of the piece were said to go back to 1928.
The Hunan Museum purchased the item from a Christies auction with the intent of bringing the ancient art artifact back to its rightful homeland. On its original journey from China to the US, the body of the vessel had been separated from its lid. In 1924, when the vessel's then-owner, Shi Yuzhang, offered the lid as tuition for his studies at the Xin Min School in China. Once the artifact was returned to China, it was repatriated with its lid and now sits completed for all to see.
Assyrian Relief Winged Genius – 883 BC to 859 BC
It seems that the east had a way of producing ancient art that could stand the test of time. The "Relief of a Winged Genius" is just another piece that showcases this fact. Carved on Gypsum, it is said that this adornment formed part of a collection of ancient art pieces that lined the interior walls of King Ashurnasirpal II's palace in Nimrud, Assyria.
This ancient artwork was sold by Christies in 2018 to an unknown buyer. It fetched a sky-high price of $30.96 million. Up to that point, the piece had been owned by archaeologist, Sir Austen Henry Layard, the very man who discovered the palace at Nimrud.
The test of time did however wear all trace of color from the artwork. It's believed that it was once adorned brightly. Christies Auctions reconstructed a digital image of the piece to display what it would most probably have looked like all those centuries ago.
What Makes Art Valuable
There are several determining factors used to evaluate art. The price someone will pay certainly helps decide a value. But both modern and ancient art usually become more desirable when they manage to tick off the majority of the following qualities:
Authenticity – How genuine the piece is.
Provenance and backstory – Tracing its history and ownership.
Condition – This is applied to anything you sell.
Significance – Does it tie to a significant time in history that is already documented?
The popularity of the artist – This is more for classical and modern artworks.
Recognition – Is the artwork typical of a specific artist or period?
Medium – What the artwork is made of.
Color – Historical paintings that included colors that were rare for the day (like red) always fetch more.
Subject – Certain types of ancient art sell for more than others.
Rarity – Rarer artifacts are usually costlier than common artifacts.
History is Priceless
Expensive purchases by the world's richest people are certainly not reduced to expensive cars and costly mansions. The richest of the rich evidently have artifacts on their mantles that far outvalue the four walls they live in or the wheels they drive.
Where we come from is important and that significant importance is worth a lot of money to a handful of people. Art is one of the best ways of time-traveling. The lucky few that can fund its preservation ensure that the rest of the world that can enjoy its rich history.