$100 Million in Treasures Were Found on The Whydah But Millions in Pirate Treasure Chests Remain in Their Resting Place
Categories:
Money
|
Published by:
Sean van der Merwe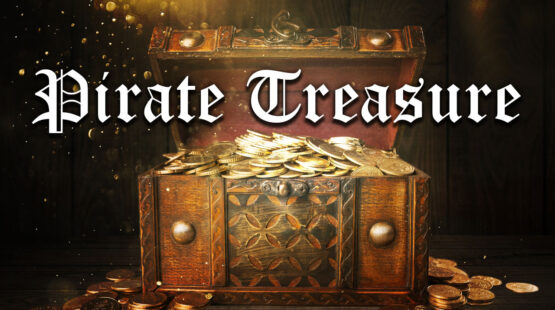 We've all grown up either reading tales of pirate adventures in books such as "Treasure Island" or watching movies like Johnny Depp's "Pirates of the Caribbean". Many a young boy has cosplayed as a pirate with a hook for a hand, an eye patch, and a parrot perched upon his shoulder. There is just something mysterious and exciting about the entire culture and notion of maritime robbers, pirate treasure chests, and sword duels upon the deck of a wooden barge.
While many of the tales and legends may have been heaped in fiction over the years, pirates, in the sense that we've come to know them, did exist. In fact, many of the tales we have heard of captains and their treasure chests have some semblance of truth behind them.
However, for all the stories and adventure, only one authentic pirate ship )along with its treasure chest) has ever been found. That means that there may be troves of unfound artifacts out there waiting for the taking still.
The Whydah's $100 Million Treasure Chest Fortune
In 1717, a pirate ship under the command of Black Sam Bellamy called the Whydah, sank off the coast of Cape Cod. It was carrying a large ransom of gold and coins from the sale of slaves in the Caribbean. The coins along with 200,000 other artifacts you wouldn't expect in treasure chests were recovered. Some of these treasures included African jewelry, muskets, buckles, and cannons.
A man by the name of Barry Clifford began his search for the ship and its treasure chests in 1982, after hearing stories of the wreck as a child. When it sank, 180 pirates died, but 8 survived and were tried in Massachusetts. Evidently, Clifford homed in on a patch of sand just over 100 feet from the shore. After excavating 30 feet deep, the first coin was found embedded in a cannonball.
The Whydah was the 50th and last ship that Black Sam Bellamy took, and it is believed that the treasure chests found inside it represented his life's work as a pirate. It was such a large haul, that the state of Massachusetts tried to get Clifford to sell the treasure, claiming that a third of it was theirs. He, however, took them to court where a judge gave Clifford full ownership of his find.
Three Pirate Treasure Chests That Remain Hidden
Like we said before, there are tales of lost treasure that remain in treasure chests under the sand or hidden in caves out there. Here are three of the most notorious legends.
1. Blackbeard's Treasure
Perhaps one of the most well-known names in the Pirate world is Blackbeard. Known to a few as Edward Teach, this ruthless seadog sailed the West Indies and East Coast of America in the late 17th to early 18th centuries. His targets were the ships leaving the South American coast on their way back to Spain.
Treasure hunters were believed to have found his ship, The Queen's Revenge (or Queen Anne's Revenge), in 1996. Unfortunately, it lay bare of any treasure chest and instead housed only a handful of gold coins. They were able to extract some precious remains from the wreckage, including the anchor, cannons, and some other ship fittings.
At the end of his life, Blackbeard's wealth was only recorded at around $12.5 million, according to his ledgers. However, before he met his demise in 1718, he foretold of a location where his real treasure chest lay. However, he stated that the location would remain known only to him and the devil.
2. Amaro Pargo's Treasure
Amaro Pargo started off as a Pirate, however, the Spaniard later became a privateer who attacked and plundered ships aligned against the Spanish crown. He ran the route between Cádiz and the Caribbean and sailed the seas around the same time as Blackbeard.
He died the wealthiest man in the Canary Islands and much of his net worth went to his sons. However, he wrote of a treasure chest of carved wood in his will. He explained that it housed gold, jewelry, porcelain, silver, and other expensive artifacts. In fact, his last will and testament reveal that he itemized the haul in a book wrapped with parchment with the letter "D" embossed on it.
He, however, failed to tell anyone where the book could be found. As such, treasure hunters have been on the search for the treasure chest for years without avail.
3. Pirate Gold of Adak Island
Millions of people around the world have become familiar with the treasure of Adak Island. That's because Netflix recently released a reality show that follows the journey of treasure hunters as they search for this immeasurable booty. It is alleged that it is worth more than a mere treasure chest or two.
As the tale goes, a Pirate named Gregory Dwargstaf hid gold coins in 150 food and milk tin cans. The value of the treasure is said to be worth $365 million dollars.
While some think it to be mere legend, the story seems to have a ring of truth to it. American soldiers used Adak Island as a base during World War II. During the construction of the barracks, a worker found a can with gold coins from the 17th century valued at several thousand dollars. In 1959, another tin turned up, this time with $2.5 million worth of gold inside it.
With gold like this dangling like a carrot before a donkey, it's easy to see why the Adak treasure hunters are determined to find the rest of the treasure and why Netflix has chosen to follow their escapades. If there was any proof that treasure chests still exist out there, this would be it.
The Odds are Not Great
The odds of finding buried treasure chests have proven slim. There are so many myths and legends out there, with very little material proof to validate them. But every now and then, those who do the work reap the dividends they deserve and end up self-made millionaires by chasing treasures that others would write off as pipe dreams.