L'Oreal and Aquaman 2 Might Wash Their Hands Of Amber Heard Soon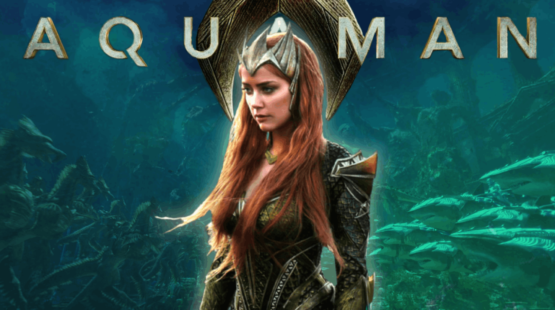 Currently steady at the top of the most despised celebrity on the internet, Amber Heard has had a massive PR setback in 2022. Ever since the infamous defamation trial with ex-husband Johnny Depp, Amber Laura Heard has fallen from grace and her activism and charity work has been unable to prevent it. In fact, 4.6 million people signed a petition for her removal from 'Aquaman 2' or 'Aquaman and the Lost City' due to the domestic abuse allegations against her.
For the time being, Amber Heard is in hot waters. Insider sources claim she has been denied help from her former friends in Hollywood, Margot Robbie, and Cara Delevingne to name a few. Even Elon Musk, her former boyfriend, has distanced himself from her. A-listers aren't the only ones. There is speculation that a once steady supply of Hollywood projects is also drying up for Heard. Of course, this means that Amber Heard's net worth has taken a significant hit in 2022.
What is Amber Heard's Net Worth?
Amber Heard's net worth in 2022 is reportedly $3 Million dollars, but things could be gloomier for the model and actress. After the court verdict, she sold off her 2,450 square feet estate in Yucca Valley and relocated to a smaller house. Although she was earning millions of dollars in brand deals and Hollywood projects, her career stalled after 2019 due to the Depp v. Heard trial.
How Much Is Amber Heard Earning?
During the Depp v. Heard trial, Amber heard disclosed a pre-tax income of $10 million. In addition to income from her acting projects, she was also in contract with L'Oreal for a two-year period for a sum of $1.625 million. However, insider information has revealed that L'Oreal might reconsider its engagement with Heard due to the Depp v. Heard trial proceedings.
Amber Heard's Movie And TV Shows Career
Amber Heard is renowned for her roles in popular movies such as 'The Rum Diary', 'Never Back Down', 'The Ward', 'Magic Mike XXL', 'Zack Snyder's Justice League' and 'Drive Angry' among a few. She became extremely famous after starring as Mera in the Warner Bros DC film, 'Aquaman'. In fact, Heard signed a 4-picture deal with the studio for Aquaman. Warner Bros paid her $1 million for the first film and agreed to pay her $2 million for the sequel 'Aquaman And The Lost Kingdom'. She was also paid a total of $1.8 million to star in the popular miniseries 'The Stand'. Some popular TV shows starring Amber Heard include 'Criminal Minds' and 'The Playboy Club'. 
Is Amber Heard Being Recasted In Aquaman 2?
Syl Abdul, a popular YouTube creator has recently claimed that Amber Heard has been recast in Aquaman 2. He has reported that Heard has been missing from the sets of Aquaman 2 in recent reshooting. Abdul has leaked media news that turned out to be accurate, so there is a high chance that he is right about Heard's recasting. Especially since she has brought a lot of negative press for Warner Bros. If true, she has potentially lost out on millions and her net worth might drop even more. 
Industry consultant Kathyrn Arnold is also of the opinion that Amber Heard has been negatively impacted career-wise following the legal battle.
'In the industry, they like her work. But they can't work with her right now. Every time she appears anywhere, the social media negativity campaign starts up again.'
Since Johnny Depp has a lot of support within the industry and from fans, Amber Heard will not be able to gain public favor anytime soon. 
How Will Amber Heard Pay Back Johnny Depp?
Amber Heard was charged with defamation in the infamous Depp v. Heard trial by a Virginia jury in 2022. She has been ordered to pay approximately $8.35 million in damages to Johnny Depp as he lost work opportunities due to her Washington Post op-ed in 2018. Although the legal costs of the proceedings were paid for by Heard's home-owner insurance, it is not clear if her payments to Depp will also be covered. Heard's lawyer, Elaine Bredehoft admitted publicly that Amber is unable to pay for the court-ordered damages. 
Spending Like There Is No Tomorrow
Heard's inability to pay is not surprising given that in addition to losing work opportunities, she has an extravagant lifestyle that she doesn't want to change. She had formerly received $7 million in divorce settlements from Johnny Depp. Heard pledged to donate $3.5 million of this amount to the Children's Hospital of Los Angeles and the ACLU. However, the 2022 case findings show she only paid ACLU $1.3 million quoting financial difficulties. In addition to the above failure to pay, Amber Heard also supported an extremely lavish lifestyle. Here is a breakdown a Amber Heard's monthly expenses revealed during the trial.
| | |
| --- | --- |
| Expense Type | Monthly Expenditure |
| Rent | $10,000 |
| Groceries & Eating Out | $4000 |
| Gifts & Entertainment | $5000 |
| Holidays | $5000 |
| Clothes | $2000 |
| Healthcare | $3000 |
| Total Expense | $29000 |
She had asked for additional spousal support from Depp to cover her basic necessities since she claimed to have only earned $27,000. However, in 2014 alone, she managed to blow through $210,000 of her total $250,000 earnings for the year. Her spousal support request was withdrawn subsequently. It does not take a genius to figure out that her frivolous spending did not leave her with a cushion to fall back on in times of uncertainty. Her payments to Depp mean that Amber Heard's net worth is definitely not bouncing back anytime soon. 
Recovering From Depp v. Heard Will Not Be Easy!
Turned tables have left Amber Heard in a tough spot. She has been avoiding the spotlight and keeping a low profile ever since the 2022 verdict. In August 2022, she sold her California home off-market. She had been living there with her daughter Oonagh. In the aftermath of the infamous trial, people have been left wondering where Amber Heard is. Recently, many news outlets have reported that she has spent the last few months in Spain with her daughter and a new girlfriend. She is said to have been renting a place in Mallorca, a small town in Spain, under a fake name. 
Heard has taken the decision to leave Hollywood because she no longer has support there.
Amber Heard 'knows she's toast in Hollywood since Johnny Depp's got the most powerful players lining up to cast him and the majority of A-listers firmly on his side. By moving somewhere like Spain, she hopes to reinvent herself, leave her money woes behind, and start fresh with her daughter,' claims an insider.
Unlike A-lister Will Smith, Amber Heard does not have a financial plan in place to help cruise through the industry backlash she is facing. With very few assets to her name, we wonder what she will do next.