Spin and Go Poker Strategy Guide
Spin and Go is a fast three-person poker format where players have a chance of winning huge amounts of money. Classic version has three minute blinds and a starting stack of 500 chips. Fast Spin & Go poker tournaments have become one of the most popular online poker formats over the past few years.
Thanks to the possibility of winning a big jackpot in a fast 3 player tournament, these games attract many casual players looking for some excitement. Spin and Go's were first introduced on Winamax (Expresso), but the idea has spread to other rooms. These SNG Jackpot games (Spins) have impressive stats, it is one of the most popular online poker formats.
This Spin and Go guide will teach you everything you need to know about Spins which also have other names such as Jackpot Sit & Go, Expresso and Spin & Gold. These are some of the main topics which will be covered in this detailed guide:
Best Spin and Go strategy and tips
Variance & Agression
Best poker sites to play Spins and other variations
Preflop charts
Probability, Rake and Bankroll Management
Best Poker Sites for Spin & Go games
If you're interested in playing Spin & Go games, you can find them on these poker sites (click the name):
Regardless of where you choose to play, the fundamental strategy remains the same. All of these poker rooms offer low and high buy-in limits, however they have different traffic (amount of active players during peak hours), rakeback/bonuses, software, different percentage of regular (good) and recreational players.
If you are an active Spin and Go player or planning to be one, please get in touch so that we could provide you additional rakeback. In some cases, we can do that for old accounts or if you are just planning to sign up, we will help you to find the best deals for your home country.
Aggressive Play for the Win
Spin and Go tournaments feature a shallow structure, where players get to the push-fold stage very quickly. Many casual players fail to adapt to this fact and make far too many speculative calls, trying to see the flop and play from there. The winning strategy in these is to stay very aggressive and push your edge. Avoid limping and calling as much as possible. Don't be afraid to push your chips fairly wide and put your opponents to the test. This is especially true for Spin and Go's with high multipliers, where less experienced players are likely to play too tight, reluctant to bust out.
Of course, if you use tracking software (a poker tracker), you can rely on statistics to tell you how to adjust your game. Against someone who folds too much, you can afford to shove almost any two cards. Likewise, if you're dealing with a player who doesn't like to fold, adjust your range to exploit this tendency.
Win Rates & Variance
Even if you play better than most of the competition, Spin and Go games are in the group of high variance poker variations (especially the Nitro/Ultra format). A lot of your equity comes from finding and winning those high multiplier tournaments and, if these don't go your way, it could be bad for your bankroll.
However, like with other poker variations, you shouldn't care too much about the short run. In the long run, better players will always prevail and things will even out. Always make sure that you are happy with how you played, always review your hands, look for study material such as videos and if needed – get a poker coach. This way you will be ahead of your competition.
Jackpot SNG Strategy
Best Spin and Go Poker Strategy is to be 'Smart-Aggressive'. You have to be very aggressive but should not turn into a maniac. Pay attention to your chip stack and blinds. Remember, you can still fold some hands pre-flop, especially in the beginning. When it comes to Strategy, it is always best to maintain a healthy bankroll for your level of play and always strive to improve your game by watching training videos, live streams and examining your hands. Being in a stable or poker school is a great way to grow as a player. If you do these things and keep a cool head on your shoulders, you will be in a great spot to become a winning player.
If you are just starting, then PokerStars Poker School will teach you the basics and it is totally free. Their Spin & Go courses have 26 lessons which include:
Winning and Variance
Early Game Opening Ranges
Defending the Big Bling in the early stages
Basic Game Play
Blinds, Stacks & Position
Effective Stack Size
Dealing with Limps in the Early Stages
Bluffing the turn
River Play
Heads up with various stack sizes
Jackpot game reviews
Push or Fold
Preflop Strategy and Micros
Hand Ranges
Here you can see Spin & Go Small Blind and Button push – all in hand range charts which can be very helpful if you are a new Spin & Go player (Small Blind shoves a wider range of hands).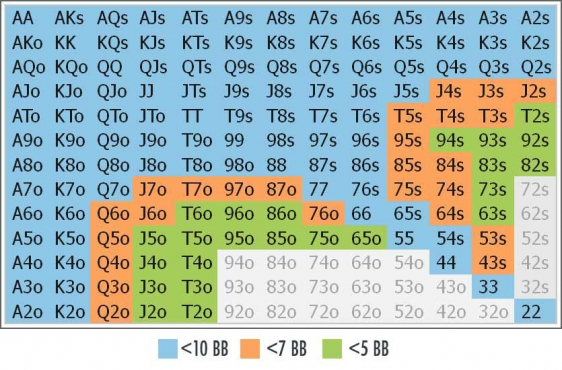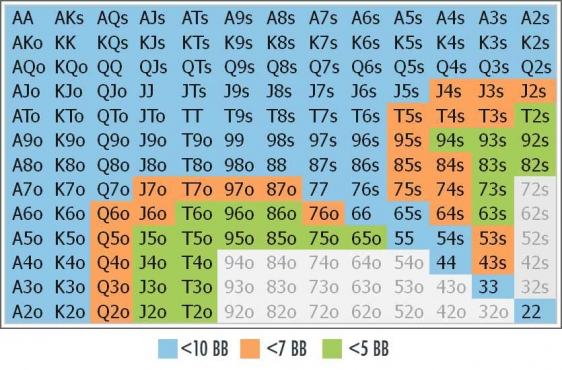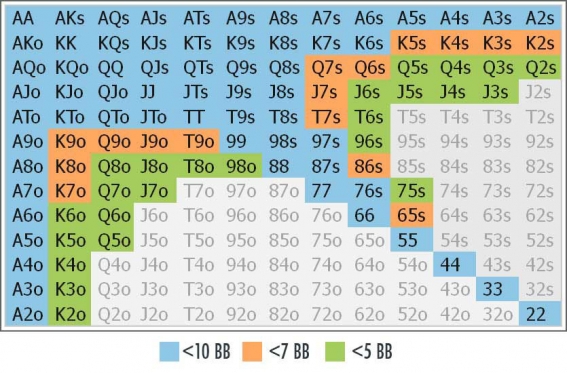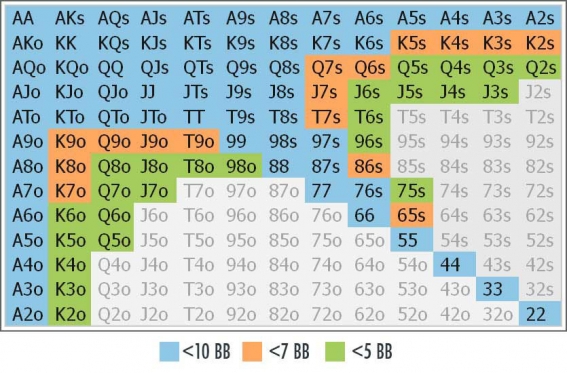 Push and Call Charts
Once you reach the Head-Up Phase and the stacks are small enough (around 8BB, more or less), then you need to apply this information to your gameplay. These charts will show you when to push (go all-in) and when to call instead. In other cases, you will simply fold.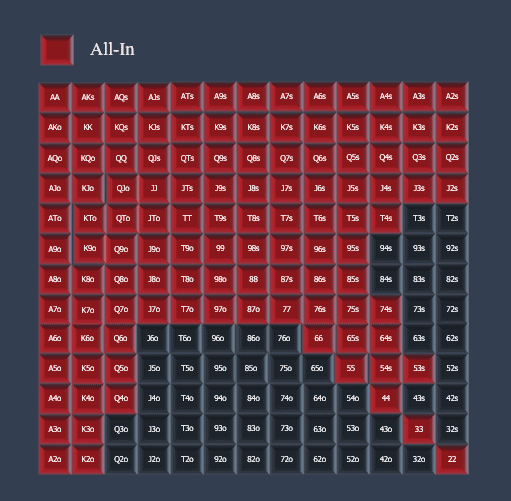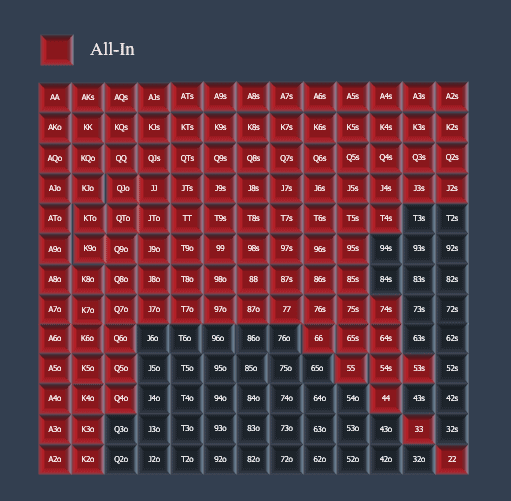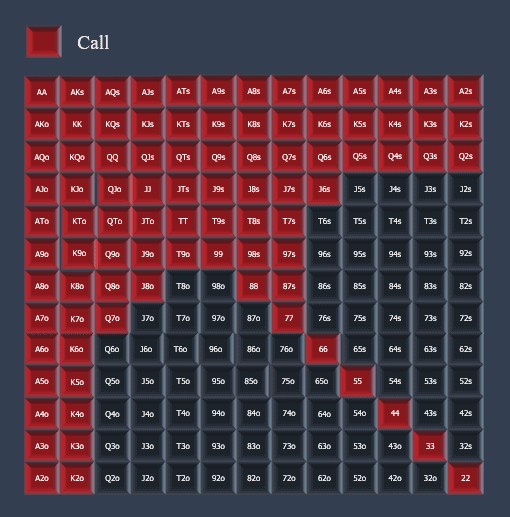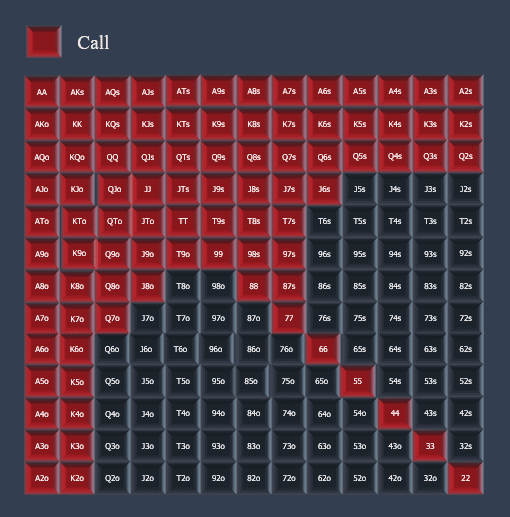 Tips for Spin & Go's
These are basic Spin & Go tips and suggestions which will direct you to the right way. If you are a new player, it is crucial for you to memorise these and other tips in this guide. If you are (or want to be) a high stakes player, you need to focus and pay attention to what is crucial for your learning.
Be aggressive, especially during Heads Up when blinds are high
Only focus on long-term results & manage your tilt
Only play stakes which you are beating (unless you play very rarely)
Find your opponent's weak spots
If not using a poker tracker (HUD) – play on a site where they are not allowed
Consider joining a poker stable or a training site
Game Odds & Probability
This Spin and Go table shows different odds and probabilities for two major Poker Sites which run Spins.
Here you can see the probability of catching a jackpot or a lower multiplayer.
x12,000

PartyPoker: 0.000001%  PokerStars: 0.000001%, 

x4,800

  PartyPoker: 0.000001%  PokerStars: 0.000001%, **

x2,400

  PokerStars: 0.000001% **

x240 

     PartyPoker: 0.003%,       PokerStars: 0.003%

x120 

      PartyPoker: 0.0075%      PokerStars: 0.0075%

x25    

     PartyPoker: 0.1%,           PokerStars: 0.1%

x10 

        PartyPoker: 0.5%            PokerStars: 0.5%

x5 

          PartyPoker: 8.5%            PokerStars: 8.5%

x3  

         PartyPoker: 41.4% – 54.1%, PokerStars: 41.4% – 51.36%

x2  

         PartyPoker: 36.7% – 49.48%, PokerStars: 39.52% – 49.48%
* These statistics do not include promotional spins where the highest prize is way bigger than normally.
** Only available for million dollar prizes.
*** Unibet's Hexapro has the biggest multiplayer of x1,000 therefore it is much more likely to hit lower prizes.
Spin Rake percentages
Different Spin and Go poker sites charge different rake (fee) for different buy-ins (except Unibet). So, you should make the your decision by comparing their rake and rakeback and only then deciding if you should play there or not.
1,000$

   PokerStars: 5%

500$

      PokerStars: 5%    

250$  

    Partypoker: 4%, PokerStars: 5%

100$    

  PartyPoker 5%, PokerStars: 5%

50$  

      PartyPoker: 5%, PokerStars: 6%

25$ 

       PokerStars: 6%

20$

        PartyPoker: 6%

10$  

      PartyPoker: 6% PokerStars 7%

3$    

      PartyPoker, PokerStars: 8%

1$ 

         PartyPoker, PokerStars: 8%

0.25$ 

  PartyPoker, PokerStars: 8%
* Unibet's HexaPro spins has the same %6.853 rake for all limits while GGPoker Network has 8%.
** Promotional spins not included.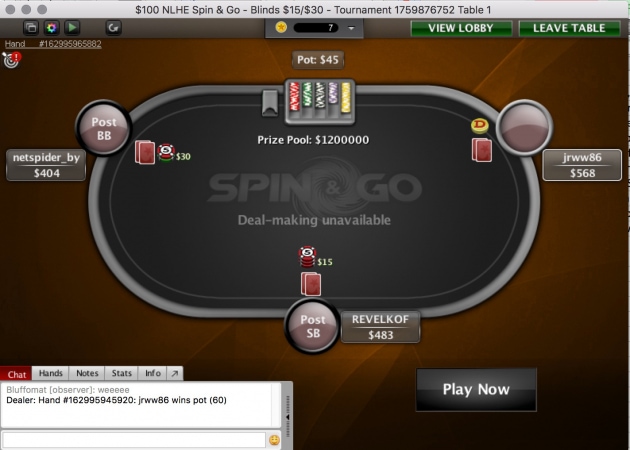 Bankroll Management
If you have a substantial Spin and Go poker balance (bankroll) or if you can make multiple deposits, then you should choose appropriate limits and have enough buy-ins (entries). There are the tips for managing your bankroll which you should keep in mind.
Have a minimum of 200 Buy-ins or if you are a beginner and want to be on the safe side, then 300 – 400 will be enough
If you are a regular player and win most of your games, 150 Buy-ins will be enough
Choose a poker site where an average player is not very strong
If you are a beginner, then start with one table, only add another one when you totally beat that limit
Avoid playing very late or when you are tired, this will decrease your bankroll
If you don't have a starting bankroll then look for a Spin and Go Stable which would provide you study material and a bankroll for a percentage of your profits
Make sure to review your hands, learn from videos and other material
Different variations
There are different versions and names for Spin & Go Jackpot Games. Some of them are identical, some can be slightly different (ante, different starting stacks, blinds) while some could have some major differences (such as Spin & Go Max).
Spin & Go

: Pokerstars

Spin and Go Max:

PokerStars*

SPINS:

PartyPoker

HEXAPRO:

Unibet

Spin & Gold:

GGPoker Network

Twister Poker:

IPoker Network

Expresso:

Winamax

BLAST:

888Poker*

Jackpot Sit and Go:

 WPN, Bovada, Bodog, Ignition
PokerStars Spin & Go
PokerStars was not the first site to introduce Spin and Go games since it did that as soon as they were launched elsewhere by Winamax. They noticed that this poker concept works really well. PokerStars went all in with Spin and Go format and made it very popular. It is great for both players and poker site since it is generating a lot of rake but is also very rewarding and can be beatable in the long run.
Spin and Go games have massive prize pools, you can literally win millions
Classic version has blind levels from 2 to 5 minutes depending on the prize pool
Very quick so you can play any time of the day
Very easy to learn the basics once you start
You don't get bored since the blinds keep increasing and you do not know what your next prize pool is going to be
UFC Spin & Go
Before 2019 April, PokerStars used to call their Spin and Go games 'Spin & Go'. However, The Stars Group decided to partner up with UFC in order to attract more players. This slight name change and different poker table graphics were among the changes for some of the Spin & Go games.
Omaha variant
Pokerstars also has Pot Limit Omaha Spin and Go games for those who love this poker format. It is different and has many bad players who are not used to playing Omaha. So if you prefer it over Texas Hold'em, make sure to give it a shot. PokerStars offers various buy-in limits and it is one of a very few poker sites for Omaha Spin and Go Games. If you have not signed up yet, scroll to the top to find a special link.
Spin and Go Max
PokerStars Spin and Go Max gameplay and strategy are little bit different from the original version. Here you have between three and eight players, an All-in mode after a certain number of hands and a choice to pick a random prize out of three allocated ones. Once you win a Spin & Go Max game, you will get the chance to pick your prize.
Three prize options will appear at the end of each tournament
Prizes go up to x10,000, whilst classic version goes up to x100,000 and more
All-in mode at the end makes it very quick, but takes some skill away
Picking your prize at the end might be fun, especially if you have someone watching you play
Up to 8 players which means you get better prize if you win
Try to become a chip leader before the timer runs outs in order to have an advanted over your opponents
Spin & Go Flash
PokerStars has introduced Spin and Go Flash Games as soon as Winamax introduced their Expresso Nitro spins.
It is pretty simple, everything is the same like in the classic version, but you get 300 chips and the blind levels increase every minute.
 Same as the classic version but quicker (300 chips, 1 minute blinds)
Requires similar strategy, but you have to be ready to raise and shove often
Same multimillion prize pools
Very fun, lots of crazy players
Spin & Go Flash Strategy
Spin and Go Flash version strategy is a little bit different from the classic one but it is easy to learn the basics. If you like fast poker games then you will like Spin and Go Flash. In order to master them you need to know how to take advantage of your opponents, you shouldn't get emotional and should be smart-aggressive.
More bad players if compared to the classic Spin & Go version
Skill wins in the long run but be prepared for swings in either direction
Very quick so you will never get bored
Same prize pools like in the classic version
Be prepared to be less selective and push all-in more often
If you play the classic version well – you will master your strategy quickly
Unibet HexaPro
Unibet has its own version of Spin and Go called HexaPro. The rules are the same, however the way they charge rake, their blind levels and the prize multipliers are a little different but that is a good thing for most of the players. Read a summary below in order to learn more.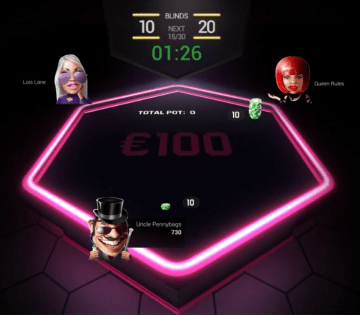 Same 6.85% rake percentage is charged for all limits
Very nice and modern graphics
Lowest prize multiplayer is 1.5x while the highest one is 1000x
Buy-in limits up to €100
BLevels are between 1 and 4 minutes depending on how big the multiplayer is
To read more about Unibet Poker Site, please Click Here.
PartyPoker Spins
PartyPoker site has classic Spin and Go games called Spins, they have various buy-ins and even million dollar jackpots. Its first Spin and Go version was called Sit and Go Hero (SNG Hero) which hand antes and short blind levels. Since the first version was not very successful, while upgrading their software, they introduced SNG Jackpot Spins which were a little similar but with some positive changes like a better structure and more buy-ins. The last name did not stay for very long and together with further massive software updates PartyPoker Spins were introduced. Spins got even more buy-ins, a proper structure and nicer graphics.
Massive prize pools and great traffic
Great Poker App for multi-tabling Spins
Spins on Party Poker Mobile App have very nice graphics and sounds
Great promotions for those who play Spins and other games, a lot of added value
Great rakeback (up to 60%)
PartyPoker Ultra
In 2020 PartyPoker has released Ultra Spin Games which are the same classic spins but with smaller starting stacks and 1 minute blinds. For now Ultra spins are up to 20$ buy-in but these should increase in the future. So if you were playing these somewhere else, consider switching since here you get a massive rakeback plus private cashback from PokCas (get in touch for more information).
Spin & Gold
GGPoker Network curently have Spin & Go Jackpot SNG games called Spin & Gold. They topjackpot  prize is 2 million dollars! GGPoker Network has also added a Spinsurance feature for more excitement. Starting stacks and blind levels depend on the multiplier so if you are a fan of fast games – you will like them. They also have huge leaderboard for Spin & Gold players very often.
Spin & Gold Challenges
Spin and Gold is a fast-paced format that introduced both casual and professional players with challenges they have never seen before. SThese hallenges will award you up to 63% Rakeback while you will be in a process of completing them. This process is called Gold Mining. You can select for how many hours you want to mine gold and keep playing in order to reach your goal. This is a very nice feature since it is fun and will provide you an extra rakeback.
GGPoker
GGPoker Sites have a VIP Program called Fish Buffet which is offering 15-60% Rakeback depending on how active you are. This excludes leaderboards, deposit bonuses, challenges and other promotions which can boost your rakeback even more. Our GGPoker and Natural8 players can also receive special benefits and gifts (if you already have an account – get in touch, we will transfer it for you).
Click on these GG Network sites to sign up. Once you sign up – send us an email so that we could confirm that you are connected to us and could provide you additional rewards and could give you tips regarding things like PVI index which affects your rakeback.

Profitability in Spin and Go Games
Spin and Go games are definitely beatable (especially the classic version) and it has been proven many times.
If you use a tracking software or if your games appear on a tracker like Sharkscope – you can see your ROI (Return of Investment percentage) without rakeback included. These are examples of what post rakeback ROI percentage was achieved by players who play very well. If you achieve at least 4% in a few thousand games – that's very good.
15$ Limit: 10% – 11.6%
30$ Limit: 6.8% – 7.5%
60$ Limit: 6.5% – 12%
100$ Limit: 5.5 – 7%
Summary
Thank you for reading our guide, if you have any feedback on how we could improve it – please let us know.
And if you have questions regarding online poker sites or if you are looking for a great deal – send us an email!
Good luck!